Cam sites may be great but one problem with them is that there are too many to choose from. Take it from me who has been watching cams for more than 20 years, and broadcasts regularly on several, that there is always too many to choose from.
There are big sites, small sites, established sites, and niche sites. And plenty of fake sites and white-labeled time-wasting sites. Navigating through the choices and finding the best option for you is a challenge, but one that I'm going to guide you through in this article.
First of all why "choose" a cam site at all? Don't you just go for Chaturbate and be done with it?
That certainly is an option, but it ignores the wide range of diversity and options you find out there. Consider that dozens of cam sites are successful, and hundreds exist, and you can see that there is something for everybody. Maybe you would be happiest, safest, or just more comfortable in one particular site,
If you haven't had much experience with camming then you might not know the options open to you, and that is part of what you'll learn as you read on here.
Let's look at the types of cam girl sites that are available first, before looking at how you decide which one is right for you.
There are four basic categories:
Tipping cam sites
Premium cam sites
Voyeur cams
Random chat
They do overlap to some extent, and you can use most sites in the way of another one, but each site is designed for one particular use and that is where you'll get the most out of it.
Tipping cams
A tipping cam site is one where more of the activity is girls doing things in order to earn "tips". They are called tips but just like the tips in a restaurant, they are basically mandatory if you want to do something in particular. You can and should give extra tips for good service, but without giving tips you won't see much.
Just like in a restaurant the cam girl is serving many customers and expecting to get tips from many if not all of them. When you join the crowd you get to tip her, and to watch her perform for other people who have tipped.
Although you can take her away from the public room into a private room for yourself, see the next section for more details on that. This isn't the normal way this type of site is used.
Prime examples are Chaturbate, Stripchat and MyFreeCams which is the original.
Premium cam sites
These are sites where the models are waiting for people to spend money on them in a private show. The models will flash and flirt, chat and talk, but there isn't anything else going to happen until they are in a paid-per-minute session with you.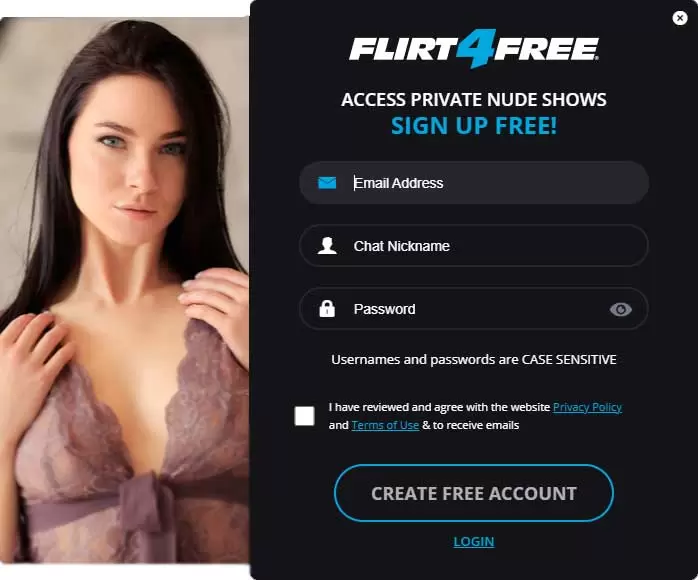 Expect this at sites such as Flirt4Free, LiveJasmin and Streamate.
Voyeur cams
Given that watching is mostly what you are doing at a cam site you may feel that watching without being seen is the most exciting part. In that case, voyeur cam sites may be the right thing for you. At a voyeur cam site the video feeds are of cameras that are "hidden" and just watch what girls are doing without any interaction.
If there is any chat then it is between people watching, and not involving the girls who are being watched.
The thrill is in seeing what girls are doing when they don't know they are being watched.
Obviously, at any legal site, this is an illusion, in reality they know and have given consent, but the sensation is of peeking or voyeuring and that is maintained throughout the whole site.
There is not a huge range of these, but the Voyeur-House.TV site and the Voyeur section of Camsoda should keep you busy for a while.
Random chat
Lastly, there are random cam chat sites. These are places where you get hooked up, entirely at random, with someone else who is using the site. The idea is that you get to see them, and they get to see you, and if you hit it off then you can chat and get to know them.
This randomness is key here and encourages you to feel like you are getting a lucky chance when you find someone you like. As the video is normally two-way it also means you get to show yourself, or one of your body parts at least, and this has some appeal to many guys.
Choose from one of the many random chat sites but check out also these two recommended ones.
Costs and paying for cam chat
Few if any girls are on video chat sites for the fun of it, sadly the thrill and excitement wears off pretty fast for most of us, and the ones who stick around are those who are doing it for the money. That might sound a bit blunt and mercenary but it is better to be upfront about it. This is no different from the server in your restaurant or the barista in Star Bucks. They are not there for their health, it is a job and although you can seek out someone who likes their job, ultimately they have bills to pay as well.
If the models need to get paid then you are the customer and there has to be a way to pay them. The cam site is a middleman and handles payments to protect people's privacy, both yours and hers and also to take a cut that pays for all the servers and other technology involved.
At tipping sites, the money is in the form of credits, tokens or coins that you buy and then spend on models. The models accumulate them and then cash them out to money.
Think of them as being like carnival, casino or poker chips. You buy them when you enter the place and spend them inside. The people who receive or win them will then cash them out later. While the organizer takes a cut because the value that you pay to buy a token isn't the same as what the receiver gets when they cash out.
Tiping sites focus on tokens, and premium sites also tend to use them for charging for private shows, but sometimes premium shows are just on a dollars-per-minute basis.
At voyeur cam sites and random chat sites you are more likely to be spending a flat monthly fee to pay for extra access, such as to more cameras or recordings for voyeur sites, at more filters and tools at random chat sites that help you to make it a little less random, and focus on the cams you would like to see, such as only females
What exactly do you want?
What are you looking for in a cam girl site?
Take a moment to think about that, particularly if you haven't used cam girl sites before.
At its core, a cam girl site offers a way for people to connect with performers who can provide a range of services, from live sex shows to companionship and parasocial friendship (don't Google that if you don't already know what it is). But within that broad idea, there are many different reasons why people might visit a cam girl site.
Some may be seeking a specific type of performer or show, whether it's a particular physical attribute, a specific sexual act, or a certain style of performance. Other people may be looking for a more personal connection, wanting to build a virtual relationship with a camgirl or simply enjoy some friendly banter and company, perhaps with the girls' other fans as well.
You might be taking it casually as a slightly more interactive version of watching porn, alternatively, you might be seeking a more intense experience and more like a lite version of seeking out a sex worker in person, hitting the bars for a dating experience, or joining a swingers club that might not be available you for whatever geographic or personal reasons.
Whatever your reason for visiting a cam girl site, it's important to remember that everyone has their own feelings, preferences and limits. That goes for cam girls as well, at heart they are just regular folk too and have their own reasons for being performers, and their own limits on what they are ok with. Matching up your needs with theirs is what it is all about.
Take a moment to reflect on what you want from a cam girl site. Are you looking for a specific type of performer or show? Do you want to build a longer-term relationship with a performer? Or are you simply looking for a way to kill time and enjoy some interactive porn?
Is it your hobby or your life?
Whatever your answer, remember that there's no one "right" way to enjoy a cam girl site. What you have to do is find the right girl and the right site for you.
It isn't just the girls
And I don't mean the guys or the trannies, though they can be great too.
At each site, it isn't just the girls who are there that make it good or bad, at least for you, there are a bunch of technical things as well.
Billing and payment systems, how can you pay?, is it discreet?
User interface, like does it work on phones?
Search features, do they make it easy to find the type of cam chat room you want?
Language settings, is it ok if you prefer not to use English?
Types of membership, do you have to pay just to be a member, can you get some kind of VIP status?
Features like translation, cam2cam, recording, fan clubs, membership levels, anonymous modes, and multiple user names.
Then there is customer support. Not everything runs smoothly at any site and there are times when you have to reach out to a website technical or customer support to get things working. You might not want to reach out to your local or office PC guy to fix a problem with your webcam or your audio, so how good is the response?
How do you find the right cam site?
There are popular sites that all have major things you might want, a range of girls, easy-to-use payments and video tech, but each has its unique features and style as well.
Going out and visiting multiple sites might be a bit time-consuming but that's the only real way to tell if you are going to feel a "fit" at any one. Some sites just are unattractive to some people and you won't know if that feel is off for you unless you look at it.
While browsing a site lets you see the basics it isn't until you have an account that you can see how things work, so setting up an account is a basic first step at each site. If you have a suitable email address ready then you can do that safely without any payment or committing to anything.
You'll also find plenty of reviews of cam sites here and in other places, but you need to take into consideration who is wrigint the review. Particularly at places like Reddit and Trustpilot there are plenty of reviews, but they are mostly written by people who have an axe to grind against cam sites, either in general or one particular site or even a particular girl. That doesn't tell you much except that there are some angry customers somewhere.
Instead, look for reviews and comments from people who are regular users, are fans, or in my case just an interested cam girl who wants to spread the news about what is going on with sites I broadcast on and others that may interest people like you.
You also have to watch out for "reviews" that are basically just one big advert. Because cam sites offer a fee to people who introduce new customers, which is known as the affiliate system, there are many articles out there that are promotional and nothing more.
When browsing cam sites you have come across, rather than been recommended to, then watch out to make sure that they really are new cam sites and not just aggregators or white labels. While whitelabeling isn't bad in and of itself, and aggregators can help you to find what you want, they do add another level of middleman and can waste your time thinking you have found a "new" cam site when it is actually just the same old same old but with a different name and logo.
That is why here at Adult Webcam FAQ I only look at the actual original cam sites, places that I as a camgirl can sign up to broadcast, rather than the marketing brands and white labels.
Where to start searching
You have to start somewhere, and choosing one important criterion first and then looking through the options based on that is a good way to start.
Here are some major breakdowns and, where I've written an article for that view, a link to that.
By the availability of ethnic groups, nationality or origins
By sexual fetish or niche interest
By payment style
By payment method
By size or number of girls
Which cam sites have the largest number of models online changes over time as they grow or shrink depending on whether the girls like the site, get a good deal there, or how they promote themselves.
At the moment the best choices would be:
But there is still a lot also at sites including:
By age or how well-established
Some cam sites are a lot older than others. While old doesn't necessarily mean good it does at least show that they know how to keep their customers happy, and that means keeping camgirls happy as well which is always a positive!
By technology
You might not directly care about what technology a cam site uses, but it will make a difference to how much you can enjoy your experience if the tech works right.
The way the video is sent to your phone or PC makes a difference.
Whether you use a website or a chat software.
By fairness to models
Models get the money you spend on them but minus a cut taken by the cam site.
If you are using cam sites instead of regular porn because you want the models to be fairly compensated for their work then you should care how much of a cut is taken, and if it is reasonable.
Major sites including Stripchat and Chaturbate take about 50%, which is half of the money and while it may seem a lot as a camgirl we know that is reasonable considering how much they do to match us up with viewers and fans.
Sites with a thinner tech stack can charge less though. So for Skype and messenger sites you can expect the cam girls to get 75% to 80% of what you spend on them.
Conversely, some premium sites including LiveJasmin, Flirt4Free and Streamate offer the models less than 50%. Sometimes a lot less.
Why do camgirls work there anyway? Partly because they still get decent pay because it is a smaller percentage of a higher fee. Why do customers willingly pay a higher fee? Because the models there are often more experienced, have a certain glamourous style about them, and may even be actual porn stars.
Safety and Security
One subject that deserves an entire section for itself is safety and security. While doing anything online has some risks there are a variety of reasons why cam sites demand extra care.
Firstly because they are basically e-commerce sites where money is sent and received they should be as careful of security as any online bank or shop like Amazon or eBay.
Secondly, sexually related entertainment is private and most people don't want their private business to be seen outside their own bedroom.
You'll want to set up a different email address or alias just for your camming, and make sure that you give only the necessary personal and financial information. For most sites that will mean you need to provide and email address, which will be kept private and not shown to anybody at the site.
Choosing a user name or chat handle typically happens at this point and can't be changed, though Flirt4Free lets you have multiple chat names on most sites you will only get some so you should choose wisely.
All cam sites handle the basics like encryption and secure connections so that isn't something to worry about. There is some risk that any cam site could get hacked, but that is true of anything these days so your best protection is to just not share any unnecessary information with cam sites or indeed anybody else.
Payments are typically the situation in which you have to give out some personal information, but even then this can be avoided by using an intermediary payment system such as branded gift cards, PayPal or even cryptocurrency for the best privacy.
Even if you don't do that most cam sites take payments via a general-purpose e-commerce gateway, which is a separate payment company that takes your money and passes it to the cam site. In those cases, the cam sites don't even get your full details, just your user name and the fact that you have paid.
Cam sites are very aware of the sensitivity of their business and know that they would be ruined in an instant if they let any of their customers' or models' personal information leak, so they take great care to protect their information. That isn't to say that mistakes don't happen, they have and probably will again at some point, but if you haven't been a fool and given out personal info then you will be fine no matter what leaks.
Security at cam sites breaks down into:
Use a separate email address for porn; if you have to create a new Gmail account then get a new phone number just for that.
Only give out payment information if you have to; depending on your risk tolerance use a privacy payment method
Don't give away your real name to anybody
Don't be an idiot
Don't seem hard really.
Making a Decision
What makes a cam site good is what's good for you. If you have read this far you should have given some thought to what matters to you and so finding the cam sites that have things you care about becomes easy.
Remember to consider whether a cam site is a good fit for you overall, not just whether can you find a girl you like right at this moment.
Is the range of girls good? Do they do the things you are interested in?
The best way to try out a cam site is to sign up for an account with a small amount of funds, not so small it runs out in 2 minutes, but enough that you don't care if it turns out not what you need. And then actually go and play with the girls in the way you want.
No amount of looking through the shop window will tell you if the candies inside taste good. You need to try some to find out.
Wrapping up
Work out what things you most care about.
Find sites that offer those things.
Sign up, safely and securely, and try out the models to find a good fit.
Try more than one site so you can see the difference and pick the best one, as well as get promos from multiple sites.