CamLust makes private webcam cam shows via Skype as seamless as privates on regular camsites. While they handle all the back-end of profiles, payments and tracking the costs the technical part of good quality video and audio is handled by Microsoft Skype.
There are pros and cons to using the same software that you use to video conference at work or with family for your private sex chat session. If you want to see if it will work for you then read on below for the full review.
Other websites A-C
Try something you haven't tried before!
While group chats and big open rooms with free chat are the overall trend of webcam sites such as MyFreecams and Chaturbate there is still a place for the truly one-on-one private chat experience. The "Skype Cam Girl" is more of a phenomenon than a product, with multiple "skype cam girl directories" and online aggregators assisting to make that connection between models and viewers.
Now there is a new entry into this small area which is growing fast.
For many cam girls, particularly those who have an active online persona and are effectively influencers on Twitter or Instagram, the option to give out a Skype address was more of an add-on, something like giving out Snapchat.
A few models have always focused on Skype calls as their main way of interacting with customers, it seemed secure and of high quality. The two-way video and audio was a forerunner of the cam2cam which is now a must-have feature for any modern website. Being able to see both sides helps to build up that relationship and work towards the on-line girlfriend-experience that is the goal for many customers of cam girls.
Free video – Not here
Payment handling and the fear of being cheated out of pay are an ever-present worry for the typical Skype cam girl and that combined with the difficulty of self-promotion tends to limit how far they can go.
CamLust addresses all these problems by providing a place to advertise Skype sex calls, to accept payment, and to do tracking and reviewing to make sure that everybody stays honest.
When you first visit the site you might at first think the home page full of thumbnail shots of pretty models, including some handsome guys and a few couples, would make this a regular camsite.
Individual prices as low as $1/m
But when you realize that there is no free video to see, even for those with the green dot for 'online" against their name. Hoving your mouse (if you are on a PC) over the thumbnail gives a brief video preview for some but not all. It is more like a GIF though and isn't live video.
Instead, each thumbnail leads to a profile page with plenty of detail about what each model is like, including video and picture gallery, and the services that they offer. Prices are individually quoted but for a per-minute show range from $1/minute to $3/minute.
If you are on a mobile device you can't mouse-over, but tap through to the profile page to see that promo video, if the model has uploaded one, but it will be just a few seconds.
Mousing-over the thumbnails also shows pricing for the basic per-minute shows, but do look closer on each profile to see what pricing they have for particular things.
Pre-pay for special shows
Some of the models also offer set fees for particular shows or services, for example, HappySloth offers a shower show for $25 or 1 hour of texting for $59. All these need pre-payment, where the viewer has to pay in advance for the show.
Pre-paid shows can even be arranged without creating an account at Camlust, just enter payment details and the money is sent directly to the model.
For better service though you'll want to create an account so that you can also leave reviews, and do pay-per-minute when you want an open-ended experience.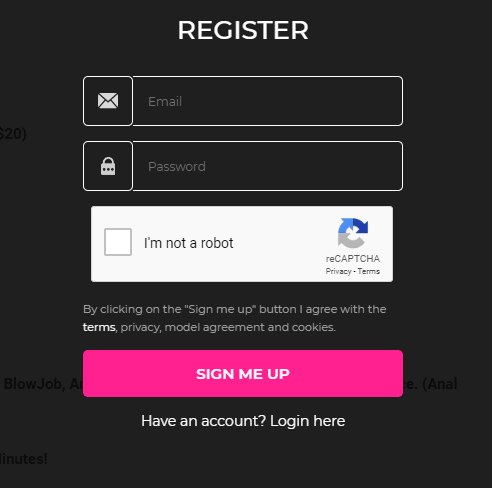 Clicking the Login or Register button lets you create an account, and presuming you are not a robot that should go pretty easily with just an Email and a password being requested.
You'll need to use a real email address here as there will be a verification email to click before you can fully use the account. But even before that you can start to browse the site and select which models you think might be right for you.
Discord Servers to chat with Skype Cam Girls
The detail available on each model is very variable, they can choose to show or not show contact information. And although Skype is the main way to do the actual video chat not all models display their Skype ID until you are ready to pay-to-play.
An account with privacy options enabled won't show the Skype ID of the model until you are at least logged in, or in some cases, until you have at least a particular amount of money in your account, typically $1 just to show that you are not entirely empty walleted.
Some models have a "Join" button that will take you to their Discord channel. Apart from gammers, there are not many people using Discord as a chat system, it is rather confusing compared to Skype, but it does have the big advantage of being adult-friendly so it can be a good alternative way to reach cam models. Just like twitter and skype you can either download an app or using Discord via the web.
At the moment Discord is only for text chatting, but perhaps in future that would be another way to do video sex chat. Camlust is working on that idea, but for the moment it would be something negotiated and managed privately between a viewer and a model, though perhaps with payment via Cam Lust.
When your verification email arrives it will be :
From: Camlust
Subject: Thank you for signing up with CamLust!
Not particularly discrete. You might want to get that clicked right away. As well as a button there is a full URL for verification at the bottom of the email, which doesn't quite match the wording of the email.
Pay by Card or Cryptocurrency
Whether you use the verify button or the link it takes you through to an "Add Funds" page, which is optional but if you don't have any funds in the system you are not going to get very far.
There is an unusually long list of different payment methods available, several of which I don't even recognize. If you include the "Cryptocurrency" option which has many sub-options then you are spoilt for choice.
Credit/Debit card including the usual suspects of Visa, Mastercard, JCB, Discover and Diners Club – Via Verotel of the Netherlands
Ideal – Which loads money from Dutch bank accounts
Bancontact / Mistercash – Paying via a Dutch QR code or stored value card
Cryptocurrency payment – Via coinpayments.net accepting Bitcoin (BTC), BTH, LTC, DASH, ETH and XMR.
EPS, Giropay and Sofort – Via girogate.de allowing transfers from German bank accounts
Whichever method you choose you will be paying some innocent-sounding company with a name that sounds like a generic online service. Nothing in the name that you will find on the credit card billing will show it is related to Skype or cam girls. The CamLust company is very careful about their privacy and even asked me to remove their billing company name from here in this review, they are not taking any chances.
With this level of care, you can feel sure they are trying their best to ensure and protect the privacy of their members. You will have to look carefully yourself when paying to make a note of the billing company names so you can match it against your credit card statement later.
Paying via Cryptocurrencies such as Bitcoin is a growing trend and there is now a wide list of sites that accept Bitcoins as payment for cam girl shows.
It is always good to see attention to detail when it comes to privacy. Variety is certainly the spice of life when paying for your Skype sex chat at Camlust!
Browser Notifications
Given that most of the skype models are charging a few dollars a minute it will be worth putting a suitable amount into your account. There are buttons for $10 to $300, which strangely are written the wrong way around as in "300$", an indication of a programmer not familiar with using $ signs!
Once your account is working, with or without funds, you can start doing things like following models. On each model profile page, you can click the three dots beside their offline/online indicator and choose "Follow". The option is a bit hidden but it is there.
The first time you follow a model you are promoted with the option to get Browser notifications:
Link your Skype ID
Then you when one of your selected models comes online you'll get a notification from your browser; that will be some kind of pop-up depending on which browser and what sort of computer. In my test case on Windows using Chrome it looked like this:
Although that is a great idea it is a shame that it seems to be all-or-nothing. Either you get notifications of models you follow, or you don't. There is no way to follow a range of models, and mark some as being ones you want real-time-notification about.
Once you have your CamLust account set up you need to connect it into your Skype account. There is an exclamation mark icon at the top of your screen prompting you to "Link your Skype ID".
When you click that link it gives you the chance to activate your connection between CamLust and Skype so that you can then do pay-per-minute calls. It will need the model to be running the Camlust pay-per-minute "LustApp" which not all are, but more should be in the future.
At this point you need to make that decision about whether or not to use your regular Skype ID, the one you would use for video calling your friends and family, or whether you are going to go and register a new one.
New Skype ID recommended
For privacy and to avoid accidents you probably should get a new one, but of course, that means you'll be having to switch back and forth between two accounts. Managing two different Skype accounts can get confusing, remembering to log out from one before logging into the other and so on.
One good solution is to use two different ways to access skype, such as using the desktop client for your friends and family, while using the web.skype.com browser-based Skype for the skype cam girl calls.
It only takes a few moments and another email address to create a separate Skype ID. Make sure you cut-and-paste the ID which will start "live:.cid." and then a long number.
Once you have saved the new Skype ID, or used your regular one if you are ok with that, then you are ready to start making calls to the girls on the system.
Model reviews on private pages
The rest of the process is the same as you would have any Skype call so if you have used that then you are good to go. Skype provides good quality two-way audio and video calling, dependant only one the quality of your inherent connection and computer power. You can also do Skype calls from your phone, and for some people that may even be better quality than their PC if you have good 4G coverage on your phone.
After you have completed a Skype sex chat call that was arranged with CamLust you will receive an email with a link for you to review your session with that model.
On each model's profile page, near the bottom, if you scroll all the way down, you can see past reviews. They are mostly just one-liners saying if the model was hot or not. You don't see the lengthy love letters to models that you get in the reviews at Soulcams, but there is enough info there to tell if a model is delivering.
The place that LustCam shines is in the separation of the payment process from the video chat. By leaving the video call itself to a third party, Skype/Microsoft, and handling the payment and coordination through their own site, they allow a level of privacy that you don't get with sites like Chaturbate where everything is owned by one company.
Skype and Crypto for Privacy
Relying on Skype to handle the technical aspect of the video also means that the site can be quite lean, they don't need video servers or high-end programmers, and that shows in the low costs of shows. A much larger percentage of the fees are paid to the models under this system as well and that makes for a happier model for them as well.
The main downsides for a viewer are that there are not that many models online, and there is no way to see them for free. That has to be balanced against the fact that a Skype video call is really one-to-one, there can be no "spy mode" here, and that the per-minute costs are really very low compared to a typical cam girl site.
Whether CamLust, or Skype sex cams in general, are for you depends a lot on your comfort with Skype, concern for privacy, budget, and ultimately whether you find a Skype model that you like enough.
You certainly should consider setting up a Skype account for sex chat and having it registered on CamLust just to be prepared, particularly if you want to pay via Crypto and care a lot about privacy. It only takes a few minutes and can open up a whole new camming world!
CamLust for Models
If you are already a Skype Cam Girl then you can't help comparing this with CamModelDirectory.com and SkyPrivate.com which have both been around for a lot longer. However, neither of those has the type of growth that CamLust.com is showing.
With payouts of up to 85% this can be just as well paying as competitors and gives you a chance to grow with a new system.
If you are a model another site such as Flirt4Free or ImLive then the percentage payouts offered by CamLust may seem very attractive. Chaturbate hosts may be pleased about not having to perform in open rooms, though if that is a concern then Camcontacts has had you covered as well.
Switching from a typical camsite to such as Bongcams to a Skype Cam Model style site is quite a transition, but worth exploring as a different way to make your camming profitable and fun.
CamLust in the Forum
Have some comments about CamLust or about Skype Camgirlling in general? Leave a comment below or better yet make a post in the Camgirl forum on this site.