Updated 2023: Firecams no longer exists and the domain is now a whitelabel of cams.com.
Firecams.com is a medium sized but thriving cam site with a good mobile option. Offering a range of blonde and European models it has a good range of choices of studio and a few individual models. Guys and trans are only given a little space but also do have a presence.
Reasonable pricing for shows makes it a choice worth checking out as long as you can find the model you like here. With a good set of filter options, it doesn't take long to find someone who appeals. For details on how to get the best out of Firecams.com read on or click the button to visit it for yourself right now.
Many of the models found here are also seen on Cams.com, LiveJasmin and other major cam sites.
Other websites D-L
Try something you haven't tried before!
The very first impression when you arrive at FireCams.com is that this looks a lot like every other modern webcam site, and that is both a good and a bad thing. Sometimes that means sites are not really a separate service and are just a white-label of a more famous brand. In this case, though FireCams is a real camsite in its own right and not just a clone of Chaturbate or Streamate as you might imagine at first glance.
The look of the screen is very clean and modern, it almost looks mobile even when you are using a desktop, that is what web designers call "mobile-first" design and while sometimes that seems too dumbed down on a big screen on Firecams looks great.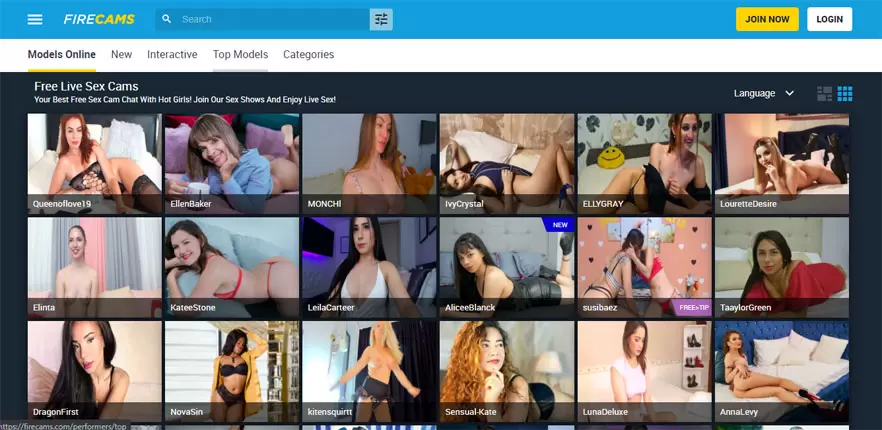 This clean and simple design focuses on the pretty images of the models, and their names are also shown which is better than some sites that de-emphasize the names. The thumbnails vary with some being live images and others are glamour-style photographs or posed frames from earlier in the show, but they are all in the typical studio setups of bed-and-Ikea-decore once you click through.
Don't come to Firecams to find badly lit, out-of-focus cam feeds of girls in their own homes, everybody here, at least on the from page, is a professional performer and knows how to create a good impression.
Even this simple screen has quite a lot of subtle controls and indicators that you need to check out. In the top right of some thumbnails is a blue indicator that, not surprisingly, shows that this is a new model. You'll see this little blue flag.
On the day I was here AliceeBlanck was new, and while she might have been new to Firecams she wasn't an inexperienced model and knew how to make a room interesting to watch and to read the chat.
If you are a regular then you might be on the lookout for new additions to the cast of models and this blue flag will let you know that you've found one.
Another flag you may see is Free > tip which means that the model is waiting for tips in free chat to do a show. Typically these models are in bra-and-panties or lingerie and when you enter it says "YOU ARE IN FREE CHATROOM!" but you can't chat without an account. If you try then you will be told:
Every now and then there is another pop up reminding you to join, and while you can just click away from it and continue as an unregistered guest it does become irritating after a while, as is the intention.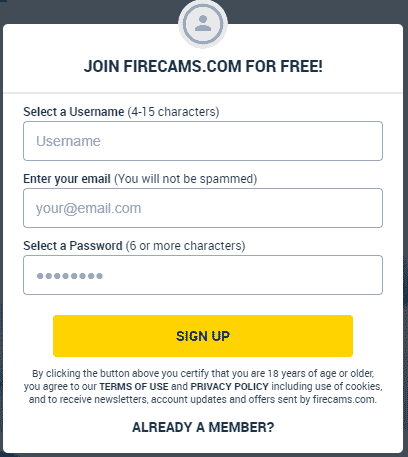 Is that irritating enough to make you sign up for the free basic membership? Probably, at least if you are enjoying watching the models that are available, and there are plenty of attractive choices here.
Other rooms may be marked as Party or Private, those being two different levels of private chat, with Party being like a "group" on most sites. More on that below.
Always look on the positive side! It isn't a private that isn't private, it is a party!
Different types of room at Firecams
It probably doesn't matter much which type of chat room you enter, but there are distinctions between free and private that models need to comply with.
The most common type of room you'll see is Free Chat. In this type of room, you can chat, presuming you have credits or the model is allowing people with no money to talk, and generally just hang out and admire. This is the starting off point for private or party chats. In free rooms, there is no nudity, but you'll see plenty of cute lingerie outfits and probably a few flashes even though that's not supposed to happen.
Each performer would like it if you started a Private Chat. The privates are typical in that they are not that private. Yes, the chat part is just you and the model as nobody else can see the text or hear the model audio, but people may still be voyeuring into the room. Models like this as they may get some extra income from viewers who just want to watch but don't need to interact. All the attention of the model will go just to the person paying for the private so that's all good. Privates start when you click the 'Start Private Show' button and the model accepts.
The group type of chat called Nude Chat is quite similar to Party Chat. In both cases, multiple people can interact with the model, and so it is a group show. The distinction between the two is that in party chat the viewer cam2cam sending is available, if the model has enabled it, and there is an extra charge.
If you do send your own webcam video during a party chat then only the model who is hosting the party will see it, the other party attendees will not see you.
When a model is doing private chat with one or a group of people, then other members can still go into Voyeur View, or "take a peek". That means you get to see what is happening, but can't hear or see the text or have any interaction. If you like just watching, say if reallifecams, voyeur house tv or camarads is your thing, then this is a similar experience. Except that it is not necessarily a cheap option.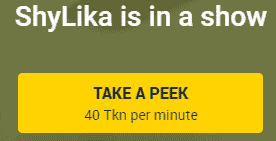 The pricing is determined by each model and in this case, ShyLika is obviously shy enough to regard being peeked or voyeured on something of value, and charges accordingly.
In any type of private show, you can broadcast your own webcam by adding in Cam-to-Cam if the model allows that. Not all do as some find it distracting from their own ability to perform, but if you want to be seen and have an experience more similar to a Skype call with a camgirl then cam2cam is the way to go.
Filters and searching
Finding the right room is not that hard given a great set of filters and categories that easily let you narrow down your choices. Some smaller sites don't bother with filtering but when you start to have hundreds of models online then it is impractical to just look at each one. At busy times on Firecams, you will find a few hundred models broadcasting, though only less than a hundred in nude chat, so it can still take a while to find what you want.
The filtering options therefore are included and do help to navigate the site.

Filter options only work if you notice the filter button next to the search box though. It functions well but is rather more subtle than I was expecting.
When you click that filter button, without entering anything into the search field, it expands into a very wide range of choices, particularly if you "Show additional filters" as in this image.
There is plenty to unpack there. If you want to filter by the body type, age, ethnicity, and other similar attributes then these are a good start then choose from these options.
Gender
Orientation

Straight
Bi Girls Sex
Bi Guys Sex
Gay Guys
Lesbian Sex

Status
Age

18 to 19
20 to 25
26 to 30
31 to 40
Mature (Over 40)
MILF

Origin

White Girls
Ebony Girls
Asian Babes
Latina Girls
Indian Girls
Middle Eastern
Other Ethnicity

Hair

Black Hair
Blonde Girls
Brunette Girls
Gray Hair
Red Hair
White Hair

Eyes

Black eyes
Blue eyes
Brown eyes
Green eyes
Gray eyes
Hazel eyes

Body Type

BBW Cams
Curvy
Petite
Huge Tits Girls
Big Boobs Girls
Small Tits
It won't let you find "happy girls" or "models who like gaming", but then none of the sites do. That would be a great thing to see at some point, but that is asking for more than is practical here and nothing against Firecams.
Once you do filter the list down by the options available it will show you both offline and online models. That means you have a chance to find and mark as a favorite any model who interests you because of their look, even when they are not online at the moment.
Good quality video for guests
When you go into a room, even as an unregistered guest, there is good-quality video and you can see the text chat.
What you can't do is participate in the text chat when you are a guest. If you try to write in the space that says "Write message" you get :
Guests are not allowed to send messages in this room.
What you can do is use the various controls on the video to get a better look. The sound can be turned on or off, and it starts off as "on" which may not be great depending on where you are of course. It isn't as though you would be browsing an NSFW site at work, is it?
Looking around the video chat screen you can see a few additional controls.
One good one is that there is a full-screen button that works even as a guest.
Click it and you don't get what you might expect, it is not really full-screen video. Instead, the whole video together with the text chat interface expands to fill your entire screen. A bit like the wide-theater mode that Youtube and other video sites offer. Bigger, with less distraction, but not actually using the entire screen area.
This partial fullscreen works ok on a desktop but doesn't do much useful on mobile. The desktop full-screen look is basically the same but without the browser bar and other miscellaneous controls.
If you press F11 in Chrome it is almost the same result, though on Firecams.com the website search bar goes away in this mode and gives you a little more space..
A switch for SD / HD on the video works as expected, and the HD is sharp but a bit slow and at times had stuttering video for me. It worked better if I didn't click the quality button and let the site automatically switch to the best choice for my connection, then it was a bit fuzzy at times but generally ok.
You can't get away from that constant pop-up to register so it is time to go and create a basic account at Firecams.com.
Click the Join button or simply wait for that registration pop-up and complete the little form. You need to give:
Username of four to 15 characters
Email – and they promise "You will not be spammed"
Finally a Password of at least six characters
When you complete this form you are agreeing to the terms and conditions, including receiving newsletters and offers, so choose wisely what email address you use.
Unusually for sites of this size, the email address is not verified by clicking on a link, so you could theoretically put in anything you like, but if you want to be able to reset your password you had better ensure that you give a real email address. Obviously false email addresses such as mailinator, example, or things that don't exist at Gmail are rejected right away, so might as well give a real contactable address here.
A few moments after signing up a welcome email does arrive, but it doesn't need you to click and verify, at that point you are already logged in as a basic unpaid member.
From: FireCams [email protected]
Subject: Thank you for joining FireCams!

The firecams.com welcome email
The email contains your username, password in cleartext, and email address. I don't think security experts would really approve of the idea of sending the username and password in the clear in an email. As we all know, internet email is not exactly secure. Don't lose that email or let someone else get at it as there isn't any security left after that information is revealed!
This email is good to keep as the links and buttons are automatic logins as well, no hassel worrying about remembering passwords here.
It is worth clicking on the link in the email anyway, although not strictly necessary, to see if you will get a special offer.
What offers you get depends on where you are and probably some randomness, I saw at different offers at different times so it is worth trying more than once to see if you get a good offer.
One offer was :
75 free tokens
Which turned out to be only if you made a purchase of tokens. When you buy you get 75 "extra" tokens as a bonus. This is not an uncommon offer and it makes you feel good, but means you need to do a little mathematics to make sure that the per-token price you are paying makes sense.
The prices are all automatically converted into your local currency depending on where you are, so it is dollars if you are in the US but Euros when you are in Germany for example.
You may, or may not, see an offer for a "payment live chat". That isn't going to be a sexy nude type of chat! But rather support from someone who wants to make sure you are able to pay. Unfortunately, they are not available all the time, so that isn't good for the impulse purchase.
For most people, the token purchase will be a simple matter of giving a valid credit card. Remember that this is an optional step, you can continue to use Firecams as a registered but unpaying guest.
When you go into a room where the model is wearing a tip-activated toy then it really emphasises this, and a click anywhere will trigger a buzz for a few tokens.
The prices for the basic buzz and the "super buzz" vary in different rooms according to their model's own pricing. I've seen from 5 tokens for the basic buzz, to 30 for the SuperBuzz.
WIth a registered but unpaid account, you can go into rooms and watch without being interrupted. But models may choose to block text chat for members without tokens, it is the same as in most sites where "greys" or people without money often don't get to talk.
Half the models were allowing greys while the other half was not so it is a lucky draw if you just find someone who is available to talk without tokens. When you do try to talk to a room that allows it the site does encourage you to go into a private.
On the day I was there the top of the line rooms were all filled with very beautiful European models. In their moderately detailed bios some said they were from the US but from their style and names I think somewhere in Eastern Europe was a more likely origin for the majority of them. Many more openly stated their country as being Romania or other places in that region.
As well as being disarmingly attractive they all seemed to be experienced cam models and chatted pleasantly while flirting and flashing a little skin. Most are dressed in lingerie or skimpy outfits and are waiting for tips or a private. Unlike a site such as Chaturbate, you won't see hardcore shows for free here.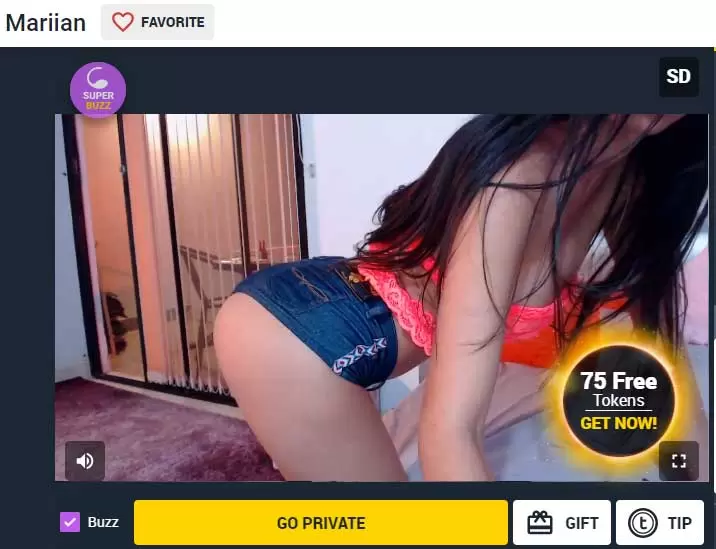 30%-off offer
There are lots of different offers for discounts, extra bonus tokens, and special offers that vary over time and depending on where you are paying from. One common offer is the 75 free tokens offer, but you may also see a 30% discount choice.
In that case, the discounted bulk buy pricing is reduced by an additional 30%.
Tokens are needed to do any teledildonic buzzing, send tips, start cam2cam, or go private. The offers and payment terms vary according to your origin, so if you sign up using a VPN or while away from your home country you will see pricing in the currency of that place you came from.
Bulk buy discounts
In addition to special discount or bonus offers the pricing does get cheaper as you buy more tokens, so bulk purchasing is rewarded with a lower per-token price, more on that below.
When a model goes into a private chat you can follow into a Party Private, so a type of group chat.
As with the buzzes the pricing varies according to the model and but are mostly pricing tens of tokens a minute.
Here is an example of a 30% discount offer with larger discounts for larger purchases.
Token mathematics
The minimum purchase is 75 tokens for $7, or 9 cents per token. That is already the "30% off " discount, up from a list price of $10 for the 75 tokens which works out to 13 cents each. At that price you would be paying about $4.55 per minute for a private chat, that is presuming a typical privates cost of 35 tokens a minute, and the 13 cents each pricing.
Some models offering chat 25 tokens, and a discount pricing of 9 cents comes out to only $2.25 a minute, so a really large variation there.
Pricing for bigger packages of tokens is on a sliding scale that gets you a higher percentage discount the more you buy. This type of rational discounting is good to see.
Fan clubs
Some girls are offering fan clubs, and if they do then the per-minute charges for shows are lower for fans than for the non-fans. Otherwise, what is the point of joining? Fan clubs can also be a way of showing support for a model you like and having access to the archives of her galleries if you really can't get enough of her.
Prerecorded shows that this model has posted will be available for no extra charge to members of her fan club.
Popular models
At different times of the day, a wide variety of different models can be seen, so any list is only going to be a snapshot. But these three are particularly notable in the amount of interest they get.
Whenever you visit you'll find a big enough range to be able to find someone to interest you.
FireCams Mobile
Although there is no Firecams.com app for your phone it works just great if you load the site using a mobile device. Considering that the whole website has a "mobile-first" design in the first place it isn't surprising that it works well on small phone screens.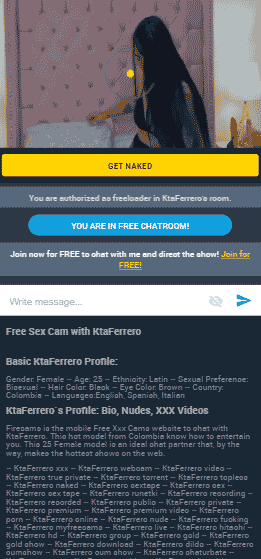 The layout might be different but the functions are all there, merged together into a single column and with some things squashed together, but the whole thing just works perfectly well.
As with the desktop view you can skip the tokens and continue to watch the free show and occasionally you'll see prompts inviting you into a private such as this.
Apart from the missing indefinite article, why is it not "invites you to a private show", there is no problem with this. Cliking No, Thanks works as expected while choosing Start a private does just that, but only if you have tokens.
Purchasing tokens using the mobile interface is just the same as well and is billed directly by firecams.com, though not under that name if you are worried about your card statement showing anything cam related.
We care about your private life and respect your privacy. WebCam Services won't be mentioned on your bank statement.

Your payment will be shown on your card statement as "billkua.com"
There is a footnote there, same as in the desktop version of the payment screen, that the benefit described as "Unlimited Access to Recorded Shows*" that you get with a bulk purchase of tokens doesn't mean you can have those for free. Just that you will have the chance to pay to watch them. The rate for members who have purchased this will be 50 tokens per viewing of each recorded video.
Trans models at Firecams
Not everybody likes tranny models and while one approach is simply not to look if you don't like them, firecams.com goes one extra step by providing a on/off switch in your account to display or block transvestite webcam models from appearing at all.
When you go into "My Account" from the main menu and look all the way at the bottom there is a switch that looks like this.
Even when this box is turned off you can still use the search and filter functions to find the trans models, and I found over 30 online so that is quite a good selection. Therefore what turning this off and on does isn't too clear, perhaps it stops them from showing when you are searching through Females? Because most trans on cam sites are male-to-female, and that may not be what some viewers who want cis-female are looking for.
If you have actively wish to avoid TS models then consider turning on this setting, but don't expect it to be 100% effective. To really want to never see transexual cam models you will have to restrict yourself to some websites that don't accept them at all.
Model signup for firecams.com
While Firecams is actively accepting new models, they don't advertise the fact via the website at firecams.com. You'll have to contact them indirectly to ask about the deal. One way to do that is to use livecammates.com which describes itself as a partner of Firecams.
The fact that nothing is said about the payout terms or conditions before you signup is not great, but is sadly increasingly common. Perhaps it reflects that cams sites are more likely to reach out directly to models, via social media typically, or work with studios, rather than expect individual girls to signup directly.
A little digging around in the wiki and livecammates.com shows that payout percentage to models is on a sliding scale from 30% to 50% each pay period, depending on how much customer spending on live the model received during that time. While it is probably not hard to get into the top tier when working regularly on the site, it would mean that if you were just trying it out you would have to expect less than a third.
There is an expectation of high quality broadcast, you have to have good cameras, internet connections and some proper skills on how to perform. That is very clear from the quality, both technical and service provided, in the rooms that are online.
About Firecams in the forums
Come and post any information, questions, or thoughts you might have about Firecams.com in the forums, or scroll down and leave a comment on this post.