XCams is one of the most well known of the European camsites, with headquarters in Switzerland and languages covering all of western Europe it is a well-known choice on the European continent but less in other parts of the globe. For French speakers, Xcams is one of the go-to sites for live camgirls.
The X in Xcams.com stands for eXplicit and isn't a cross or indiciation you shouldn't enter. In fact entering right away lets you get an eyeful of several hundred models, almost all female, who have plenty to offer. Read the detailed review below to learn how to get the best out of the site.
Other websites S-Z
Try something you haven't tried before!
When you first arrive at XCams there is a full set of controls to search and select the webcam chat room you might want to go into. Choose between different languages that the model can speak, between women, couples, or trannies and select by other major choices including whether they have a "Connected toy" such as a Lovense Lush.
Glamour photographs
The thumbnail pictures are mostly glamour shots contributed by the models which therefore range widely from holiday snapshots to professional fetish photography. Nothing explicit here, and pointing to each model gets you only a brief slide-show of similar images, nothing about what the show will be like or how she is dressed right now.
You have to enter into the room to see what is happening right now.
15 Seconds to Choose
If you click on a thumbnail to enter a room as an unregistered guest then it does go in and load perfectly well, but only for a really brief time.
It is quite normal for camsites to limit the free video rights enjoyed by viewers who have yet to sign up, and if after 5 minutes or 30 minutes you can't see any more then that would be quite normal.
At xcams.com however the timeout is a mere 15 seconds.
There is barely enough time to read the warning about the timeout before it happens.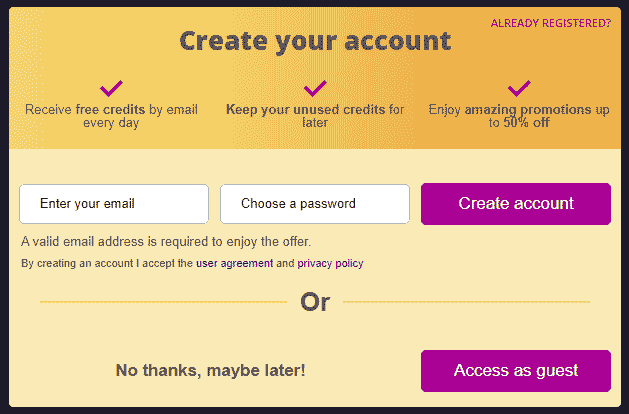 At xcams they really want you to create an account before you interact with, or even see very much of, the models. And although there is an "Access as guest" button here that will ask you to do a credit card verification, which means you might as well create an account anyway.
Visa, PayPal, Paysafecard, Skrill, Crypto
Any email address will work and it doesn't need to be verified right away. As soon as you have specified the address and password then your account is created and you can login, but it won't do very much yet as a free unregistered guest account.
You can continue to look into rooms but each one will have that 15 second preview limit which is really very limiting. In that time I didn't even manage to try chatting and I'm not sure it would work anyway.
After the 15 seconds is up the prompt for getting tokens, either the free credits or a package, will reappear.
Choices for payment are Visa/Mastercard credit cards, PayPal, a PaysafeCard, or Skrill payments.
Bitcoin Cam Girls
Finally, Bitcoin and other Cryptocoin payments are also accepted here at XCams as they are on a growing list of bitcoin-friendly cam sites.
The options vary a bit according to where you are in the world, PayPal, in particular, doesn't appear in some countries but is fine in the USA.
If you just want to do the email verification for a free account go into your email the email and click the link. The email will be:
From: Xcams [email protected]

Subject: Welcome to Xcams! – Confirm your email address
Inside the email, there is a link to click that takes you straight back to xcams.com with a bonus of 2 free credits.
Two credits don't mean much of course with chat priced at 10 tokens a minute, but at least it means you are not zero credits.
Purchase more credits
Those two tokens disappear almost immediately when you go into a room though. At Xcamsany access to the rooms charges you credits right away, you don't have to click "private" or start a show. Just entering a room starts to use up the credits so two credits is enough to have the model say Hi to you and that's about it.
Then you are back to the purchase offer to buy some more credits. By this time you should understand the system a bit more and understand exactly how far those credits are liable to take you.
Some models don't charge as much and you can see at the top of the list the more popular models may be 10 tokens a minute, but that drops to 7 or 5 credits as you scroll down.
No matter how far down you are the price won't get less than 5 credits though, and with no free chat at all it can be hard to choose who to talk to.
Buying credits
Your four choices for paying for credits include:
Visa/MasterCard
Paypal – at least in some countries but not others
Paysafecard
Skrill
Bitcoin – which is coingate and so many choices
If you select Visa or Mastercard then you just have to enter Cardholder name, card number, Expiry Date and CVC/CVV. At that point, XCams automatically checks if your card is valid. Billing support is via epoch.com, at least for USA and Canada.
Paysafe, or paysafecard.com, is one of the anonymous payment systems that allow you to buy stored value cards in shops or online. From Belgium to Kuwait and most, but not all, places in between you can buy credits and then spend them here. It gives you an extra level of security between your money and the site if you are concerned about that.
Skrill is a similar system that works in a different range of countries. With a digital wallet, prepaid cards, and the option to trade in BitCoin, Ethereum, and many more crypto coins it gives you a wide range of payment options. There is even a loyalty program to encourage you to spend more!
Although you could pay in crypto via Skrill the choices are larger if you select the Bitcoin option at Xcams. It leads to coingate.com which of course has a much wider range of choices. Bitcoin, XRP, Ethereum, Litecoin and many more.
Free credits and discounts
Every package boasts free credits, and there are more the bigger the pack you buy, that is how you get a discount. It is notable that the largest pack you can buy at Xcams is quite small compared to what most sites suggest.
| | | | | | | |
| --- | --- | --- | --- | --- | --- | --- |
| base credits | bonus free credits | total credits | cost | price per credit | price per minute | bulk discount |
| 225 | 110 | 335 | 49.99 | 0.149 | 0.74 | 3.02% |
| 85 | 50 | 135 | 19.99 | 0.148 | 0.75 | 3.66% |
| 40 | 25 | 65 | 9.99 | 0.154 | 0.76 | |
There are valid discounts for buying bigger, but really only a little. And my mathematics does not match up with the sites entirely in that they say the price per minute goes ever-so-slightly down as the package size goes up, but it doesn't look like that to me. Perhaps I'm rounding it differently.
Whatever the result, there isn't a lot of incentive to buy a bigger package, except for the fact that the credits don't last long and if you don't buy the biggest pack then every few minutes you'll run out.
The option to buy via PayPal is an unusual one and makes for an easy way to get started, but the other options are probably better for safety and security in the long run.
Private vs VIP vs Voyeur
As with many sites, there is a basic private, which isn't very private, and then another level up of something special. At Xcams the basic is Private, while the extra is VIP shows which could be 4 times the basic price. Peeking in as a non-interactive spying model or voyeur is priced in between these two extremes.
Chat with your voice
Want to engage with the models using your own voice or your cam for a cam2cam session? That is supported at xcams, but you will need to use the Flash plugin on your PC to make that work, so doesn't appear to be a mobile option.
Xcams Mobile
The mobile browser version for your phone works just fine and gives a nice big image with clear video and audio.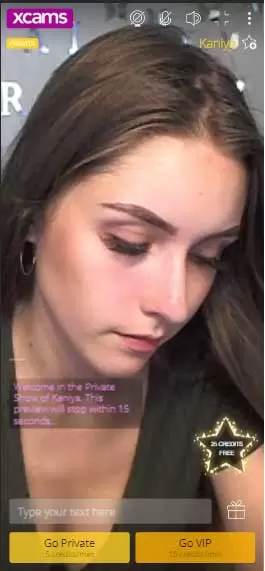 WhatsApp messaging with Xcams girls
The xcam system is integrated with the phone messenger called WhatsApp which is quite popular in Europe, Asia but less so in the US. That isn't to say many people don't have it and you can always install it for free, it is part of Facebook and is just another phone chat program.
Models at Xcams.com can use WhatsApp to write to you, or to all their fans, and once it is set up with her Xcams WhatsApp number then you will receive all her messages without additional charge.
Using this platform to talk to the model costs though, 1 credit per message sent via Whatsapp.
Joining Xcams as a Model
To be a model at Xcams and the associated sites such as EveLive you should signup at XModels.Com by clicking this link.
Although the payout at 45% is a little lower than average it still is reasonable given that all chargebacks are covered and there are plentiful European customers available on the site. If you speak French or another European language then this is a no-brainer to sign up and test the site out yourself to see if it works well for you.
Individuals, including males, females, or transexual are accepted as are couples. As long as you are of legal age and have the required hardware and internect connection you can get acepted.
Not having to perform free shows is a positive for many models and is probably the biggest attraction here. While viewers will get their 15-second previews, there is no need to be interactive with viewers unless they are paying customers.
Being an Xcams Affiliate Webmaster
Want to earn passive income as an affiliate webmaster for XCams? You need this link and sign up with their CamsPower back-end.
Xcams in the Forum
If you have any more information about XCams.com, please leave a comment below or drop me a note in the webcam forum, thanks.
Xcams Also Known as:
Xcams NL
Xcams.FR
Xcams.Show
Xcams com
evelive.com
WebCamSex.com
Cambabes.com