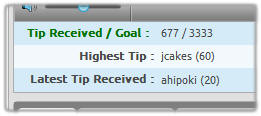 One of the few new success stories Chaturbate has followed the lead of MyFreeCams but taken it a step further, and in my opinion has really got something right.
Other websites A-C
Try something you haven't tried before!
General Review

of Chaturbate

A very recent offering it only started operating in mid-2011 but has generated fantastic growth both in overall traffic and in terms of usage. Jumpstarted by free cams and some major prizes in the early months it has a cool combination of nice atmosphere, a professional feel, and smooth technology.

What interests me most is that they have taken whole concept of free-shows-for-tokens which seemed to have been really perfected by MFC and have fine-tuned it by baking the process into the technology.
Chaturbate Free Chatrooms
Each of the free chat rooms has a section beneath the video where the hosts tips and goals are clearly shown. By putting the goal up there in bold and by highlighting who is giving tips, the host is relieved from some of need to "work the room" that otherwise free-for-token shows need. Indeed generally speaking the rooms on Chaturbate are free from begging, either for flashes or for tokens, and so there is a happier atmosphere of fun.
Additional tweaks that have been implemented just in the last couple months include optional disabling of emoticons in chat, some people hate them, searching and filtering chatrooms geography, optionally spy-on-private, easily resizable video windows and sorting nicks by tokens.
This constant fine-tuning in response to customer demand, and in this regard it is both the hosts and the viewers who are customers, has made it a very friendly site to use. No struggling with clunky web interfaces, everything makes sense and is easy to use and doesn't get in the way of the party atmosphere.
Chaturbate Private Chat
Yes there is private chat as well, and you do sometimes see hosts go into private, but as with MFC this is not really where the fun or the business is happening. If you want to be old-style with privates then imlive or camcontacts are probably more your style.
Chaturbate makes no distinction between viewer, performer and indeed webmaster, once you signup for a free account your are all of those things and just choose which you want to do. Create your fee account with username/password/email/birthday/gender. Notice that the e-mail is actually optional, only required if you want to get notifications.
Tick the box for agreeing to T&C but watch out there is also a pre-ticked box for "Also give me a free dating membership" which means getting email promos from fling.com if you leave it checked.
Free signup to Chaturbate
This free signup gets you a "Basic account" which is actually plenty to view cams and even broadcast yourself. Though you can't accept payments including tips until you have submitted age verification documents. (See "For Models" below to see how to sign up as model and start your own show)
Either choose a chatroom from the thumbnails or set a filter first. The filters are pretty basic with only geo selections like Asia, North America etc. Only the Philippines is broken out as a separate country for obvious reasons.
Once in a chat room the video and text load fast and you can easily adjust for comfortable viewing. Most of you will want to immediately click on the "contest" tab though to see who is doing best at the moment. This is the hourly content for $10 for basically the most viewed room.
Best chaturbate chatrooms
The best and most interesting chatrooms are always at the top, though you'll see a few basic typical types which may or may not be to your liking. Some are basically a free hardcore show. Others are all tease, often clothed, perhaps jiggling to music or simply chatting. While a few are waiting not doing much until they get their goal of tokens when a show will start.
Whatever style the room is you can feel confident that if it is at the top of the competition list it's going to be good. It typically doesn't take more than a few clicks to go through the top few and find one to your liking.
There is no shortage of hardcore both in the thumbnails and in the live shows. So this is not a place for the shy viewer or for the host; though that said there are a few hosts who do little more than remove their shirt and still have fun and profitable rooms.
At that point of course you can settle down to watch, and participate, and finally throw some tokens in.
Chaturbate Fetish Rooms
Being a large site you'll find a wide range of fetishes catered for here. By using the Chaturbate Tags feature you can quickly find rooms with girls that can serve your particular fetish. It is the second-best site, after Streamate, to find foot fetish cams.
Cheaper Chaturbate Tokens
Basic purchase is 100 tokens for $11 so around 10 cents a token. It's cheaper if you buy in bulk (down to 8 cents a token) and there is a "free" startup 200 tokens given once you hand over your CC details.
Credit Card billing is handled directly by Chaturbate, which is pretty unusual, and means you are being charged by Dusktone Limited in the UK which is the company that owns it.
Big spenders can use wire transfers to buy tokens at the cheapest rate in bulk.
Bitcoin for Cheaper Chaturbate Tokens
Want your chaturbate tokens cheaper, but don't want to buy large quantities? Then Bitcoin payments could be what you want. By using cryptocurrencies to buy your tokens you can get the lowerest possible price for them, and 8 cents a token, without buying large quantities or using wire transfer.
How much it costs you in the end depends a lot on how you come by your Bitcoins in the first place. If you mined themyourself then they are "free", not counting power and hardware costs. Those of you lucky or foresighted enough to buy them a long time ago will have got them for cheap.
Buying Bitcoins today in order to buy Chaturbate tokens only makes sense if you are doing a bunch because of the fees and margin spreads, but you can still end up well ahead if you are careful and not in a hurry.
Chaturbate joins a growing list of cam girl sites that accept cryptocurrencies such as Bitcoin and Ether to pay the cam girls, and while some bitcoin cam girls accept crypto coins directly, the majority do not and you need to go via a site like Chaturbate to turn coins into private shows.
Broadcasting on Chaturbate
They really do want as many people to be broadcasting, and doing shows, as they can. Hence the very prominent link for it at the top of their chat page.

The bold "Broadcast yourself" option at the top of the page is right beside the Chatroom link and encourages you to have a go. Will this tempt regular viewers into trying to be hosts? Maybe, maybe not, but the admittedly-unrealistic competition link is certainly going to bring in some fresh blood.
Throw in a blog with regular Model Spotlights, a sort of take on the chathost interviews which I've failed to keep up, special competitions for tokens on days like New Year and Valentine's, HTML support in Bio pages allowing for formatting and color, and it is a very friendly place.
There are also restrictions now on how many tokens the viewer can buy at a time, and this has put a limit on the big spenders. Also bad for the best models as it means their big fans cannot give us much tips.
If you'd like to comment more on Chaturbate please drop me a line in the forum. Thanks.
News and updates
Update 07 Jun 2012:
Like many sites Chaturbate how has a "Fan Club", each chathost or broadcaster can turn on their fan club from their broadcast settings page and choose how much it should cost to join. Notice it is organized by tokens the host earn, which are normally 5 cents each. So if host chooses the minimum then the viewer pays basically $6/month and the model gets $2.5 or 41%. Given that this whole site is very much for those looking for the free/cheap things I don't think there will be many sales at the $31/month level which would earn the model $15 or 48%. I can't see any way to pay for fan club membership using tokens which is a bit strange. So what to fan club members get? A green username, and acess to all of the videos and pictures posted by that broadcaster. And additional respect in the chatroom from your fellow fans of course!
For Models
In order to be a model in Chaturbate, you have to first sign up as a generic member as mentioned above. You then submit the age verification and wait for their reply which is quite prompt for me (within 24 hours).
To earn money on chaturbate you basically are working for tokens which you can then cash in for money. Each token is worth $0.05 or 5 cents which means that your "percentage" is not as easily calculated as other sites because cost to the viewer of a token is variable. But it is at least about 50% so that's pretty good. Once you reach the minimum payment of $50 and complete a claim form with address etc details, you can choose to be paid via check or bank wire. Payments are sent twice a month, about a week after each period ends.
Update 28 Mar: Tokens are only worth 3cents to chathosts from the Philippines.
To start broadcasting, click on the "Broadcast Yourself". You will start to see your actions being shown on the screen once your webcam is talking to Chaturbate's software. However, it's not really broadcasting yet. You have to click on the "Start Broadcasting" button under the video to really start.
When viewers come into your room the system will announce "horny345 joined" but unlike Freecamstars, it will not tell you how much tokens this viewer has. You only know he has tokens if he is some shade of blue or purple while the grey viewers have none.
Every time someone tips you, your chat window shows a yellow block:
I have seen a successful girl who her fans have decided to give her a "yellow wall" by asking everybody flood the wall with yellow tips block!
Money earned does not automatically get sent to you. Rather you have to go into Token Stats and use the token converter to turn tokens into money. Tokens transferred on the 1st-15th of the month will be paid by the 22nd. Tokens transferred on the 16th-31st will be paid by the 7th.
You have quite fine control over who can chat and who can view you. For example:
or by countries or states in the U.S.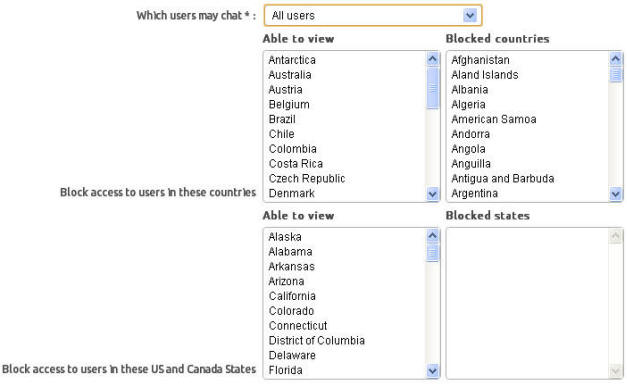 And if you really want to do something special to your big tipper and don't want other viewers get to see, you can even set a password to view your cam. This way, only your chosen viewer get to see you.
Ok so what is the downside, everything has problems right? Well as with any site focused on competitions, points and tokens there is a very tough barrier to getting into the top where all the money is for a new chathost. Recently they also added an "Exhibitionist" category which does not accept tips. Presumably hosts in that area are working just for the prize money, but that seems a bit strange. This has annoyed a lot of the models who are working for tips and caused them to leave.