LiveJasmin – now rebranded simply "jasmin.com" – (which I used to confuse with "JasminLive") is by far the largest live webcam chat site, at least measured by the number of viewers, and is probably leading on other measures like the number of rooms open at any one time.
Other websites D-L
Try something you haven't tried before!
They have come a long way since the original site was done using the FireCracker video system but with their own look and feel but now it is Flash based like almost everybody else. The overall design is heavy on the red and could get a bit intense, alternatively, they have other sites called JoYourself and LivePrivates.com (but not the same as liveprivates.tv which is part of dxlive). Livejasmin and Joyourself seem to have identical girls but LivePrivates has some different chathosts.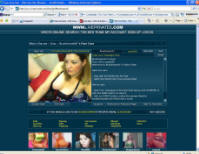 As to the chat – Livejasmin has free live video chat, both the video and text chatting are entirely free without any registration at all. You don't even have to specify a nickname for your chat and you are straight into the room with the host as a "guest", or select your own nick.
Live Jasmin Cam
Even free chat now has double and full-size videos. The full size is particularly nice — it isn't full screen but it is big and with the chat text overlaid over the video — but only if your mouse is in that area. It's hard to describe; best to see it yourself but it's something like this:
Free chat also has sound by default, so mute those speakers if you are in the office! But the fee chat will timeout eventually and prompt you to join, which will get rid of those prompts and let you stay in free as long as you want.
This site just gets bigger and bigger — the first time I looked at (probably two years ago) it had 6 performs online. In June 2004 they had 50. Today I can see 575 online on a Friday night, though mid-week it might be a hundred less. There is a good spread of different types — 54 guys and over 60 gay hosts online which is nice for a change.
In the main chat site there is a section for LiveJasmin Performer Awards — no prize to you to recognize this as a successful concept seen elsewhere notably at imlive and ifriends. The difference here is that the performers are not just getting recognition and stars to put on their bio page, they are getting cash as well. The #1 place in each category gets a $100 bonus (there are 13 categories)– and that's out of LiveJasmin's pocket, not the viewers — at least not directly!
There are also "TopMember" awards for members to encourage viewers to behave nicely to the chathosts.  Each time you purchase credits you receive points.  Plus the chathosts will vote for you on various aspects: masculine, generous, nicest, most sympathetic and wisest.  Results will be published every two weeks and free credits will be given to the first 500 awarded members.
Credits can be purchased using Credit or Debit cards, Paypal, Skrill, Gift cards (Walmart, Best Buy, etc), or by using Cryptocurrencies (Bitcoin, Ethereum, etc). Since 2018 LiveJasmin has joined the growing list of cam girl sites that accept Ethereum and other crypto coins as a way to buy tokens.
Voting as always is very controversial — and I'm not talking about Iraq — so vote with care, but be sure that though the top voted performs are going to be great there will also be great hosts who are not in that list.
"BlondeGirl19" aka Dana is the #1 as I speak and has a very kinky tartan-skirt-and-white-thigh-high-socks outfit in her profile pic.
If you want to go beyond free chat into a private show then you have to buy credits, Visa and Mastercard both accepted. Prices start at $1.50/minute which is pretty good, but of course, it varies with the model so some will have premium pricing as well.
There are a certain range of sections to choose from: Girls, Couples, Lesbians, -Group, Fetish, Trans, Matures, Boys and Gay.
Livejasmin Gay Guys
The Gays make up the Livejasmin gay webcam section, which is smaller than the girls but still bigger than some sites. At peak times over 80 guys are online. Some of them look like girls to me too — anyway if you want a large range of guys you still have to go to a site like flirt4free or iFriends.
AKA
AKA lots and lots of names including LiveSex Awards, MYCAMS.COM, LiveSex Asian, 4mycams and MaturesCam.
LiveJasmin Forum
Comment on LiveJasmin in the forum here.
For Models and Performers
Signing up is pretty easy if you still look like your passport or any identity document you are going to submit to them for age verification:
Choose "easy account" if you have only one performer or "advance account" if you are couples or studio.
Fill in the form with your personal detail and ID/passport no. and click submit
Submit model agreement with LJ
Take a webcam snapshot of yourself
Take a webcam snapshot of you holding your passport/ID
Choose the category that you are going to be listed in LJ in future, e.g. girl, mature women, fetish, hot-flirt, or various other non-nude categories. Notice that you can't change it later so do think twice on this.
Update your profile data
Choose a payment option – check, Payoneer or Wire transfer
Unfortunately, I was rejected when I tried to register because both my passport and local ID documents with photos are all nearly 10 years old and LJ has decided that the snapshot of the real me doesn't look like my passport (which is not too surprising for most people!) so I am stuck. They are more strict than the immigration department!
As of 1 Sep 2005, they announced their payout schedule for performers would be:
40% Free video and Chat
33% No free video (Members Only)
39% Pre-recorded Video
This is a reduction from what they used to pay and I suspect addresses the reality of the expenses in the cam area. At 40% it's still less than the newly rising myfreecams which pays 50% — but it is still more than some sites, and it really comes down to how much traffic you get. There's no point in getting 50% or 100% if you are not getting the paying chatters.
Comment on LiveJasmin in the forum here
Pro for Exhibitionists

: Lots of traffic – Signup here

Con for Exhibitionists

: 40% commission is not the highest

Pro for Voyeurs

: Free live video chat is available

Con for Voyeurs

: Not much
LiveJasmin Versions
The older versions of LiveJasmin are still popular with those who liked the previous old design more than the current one.
Live-Jasmin News:
7 Dec 2012: Once independent cam site Needlive is now whitelable of Livejasmin.
11 Nov: I noticed that LiveJasmin is now using a Flash based video chat instead of the old Firecracker. It looks pretty good. One thing I noticed is that supports multi languages; even Arabic and Chinese! Now all you have to do is find a host who understands one of those languages.
28 Oct: LiveJasmin's performers awards is on. You can find it in LiveJasmin's Who's online page. Awards include: best show, best chatter, best face, best tits and best ass. Take a look! See if you agree with their ranking. It could be better, however, if they can mark the award winners on the who's online page so that we know who's good.
23 Aug: Someone wrote and said he couldn't view the video feeds in LiveJasmin. The most common problem is related to the Microsoft Java Virtual Machine. Click on the link on the bottom of Livejamsin's video feed page. It says:"If you have problems viewing the feeds (mostly with Microsoft XP), install the latest Microsoft Java Virtual Machine from msjavx86.exe"
8 Mar: LiveJasmin has grown a lot since I check them last time. At the moment, they have over 50 cams featuring girls, couples, lesbians, matures, and boys. The quality of girls are very high for most of them are studio girls. Though LiveJasmin is still open to amateur performers.