Is CooMeet a good way to do live video chat? Are CooMeet Camgirls real women or are they recordings? As an App as well as a website, and with only face-to-face random chats, CooMeet is quite different from most of the camgirl sites I've reviewed here, but it certainly is a possible choice, particularly for exhibitionists.
It does include a way for tips to be given and earned, so there is some motivation for everybody to try this out.
Other websites A-C
Try something you haven't tried before!
The website encourages you to install the App from the Playstore, but when I install the CooMeet Android App and say that I'm female it says that this is "currently under development" and says I should go to the website.
On the website there is no "login" as such but only a "Free Trial".
At the website I only have to choose that I'm a female.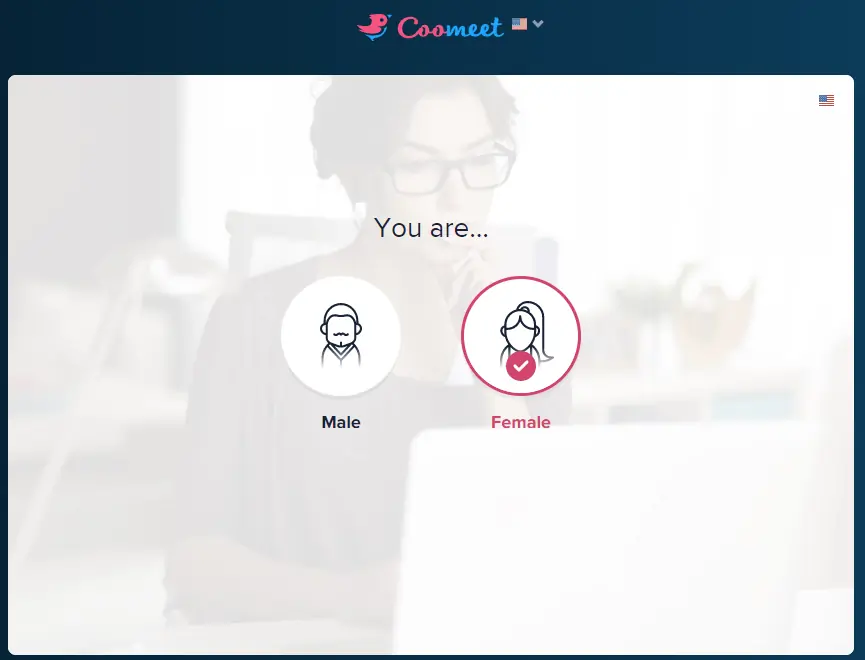 After confirming that I want to see guys I just read the terms and conditions about cooks and then I'm into the site.
The site then picks up my Google / GMail account and wants me to log in with this. Although I'm ok to do that in this case not everybody will be and the fact that there is no choice isn't great here. Hopefully, you have your own Gmail account just for camming so you won't accidentally mix your family or work accounts with your adult entertainment one.
After that you have to give a name and an age range as your Introduction.
Your Gmail will be used to confirm your email address with a verification link.
After verifying you have to do an identity check if you want to be a broadcaster.
Girls who are broadcasting on CooMeet are looking to earn "points", where 100 points are equal to $1.
When you have a minimum of 5,000 points you can withdraw to either a VISA card, to Bitcoin or to USDT (TRC-20, ERC-20).
---
When you join up as a man looking to meet girls then the experience is different. You have to use a credit card to pay for a subscription and watch out for bundled extras.
The subscription to Coomeet.com gives you a set number of minutes per month to chat. It starts at 10 minutes but they don't seem to roll over if you don't use them.
Video chatting with girls uses up the minutes in your account and then you need to buy more. Camgirls also want gifts that convert to points they can cash out as described above.
The site presents itself as an online dating site, but most people here are just doing it for the points or the laughs, perhaps both.
Generally don't expect to get a girlfriend from any live video chat site, and despite the word "dating" on this one you shouldn't expect to here either.
If you want to chat with girls around the world and engage in conversations, and the occasional cybersex, then coomeet is certainly one of the great options.
I'd compare it to Cam4 for international choices, but for face-to-face camming it is more like a Skype camgirl site.
So is CooMeet worth your while signing up?
If you want to be a girl and broadcast to guys for points, without necessarily doing any hardcore shows, then this may be a good option for you.
For guys trying to find a date, no that isn't really going to happen when you are being matched up with random cams around the world.
To have some random fun chatting to different people? Sure that works but is it worth the $20 a month fee and the extras you will end up paying?
Lots of people like other random chat sites such as Shagle instead of this one, but it is certainly an option to try out if you are tried of the regular camgirl sites.
---
When you visit and sign up as a man looking for girls then there are more options available to you. Registration or signing can be done with a bunch of different methods.
Again Google or gmail is at the front and they would like that but you can also use facebook, email and a few others. The "msn" logo is for login in with a Microsoft account.
Your free login gets 5 minutes for registering, but beware you can burn those up quickly by flipping between girls as each "next girl" costs you a minute.
After that the same name/age introduction and the email verification is just like signing up as a girl.
The sign is very cam2cam oriented, you can't enter video chat without your camera being on.
Even if you do turn on your camera the system expect you to be doing a face-to-face video call and it won't show your video if you haven't got your face in the picture. Even if you are zoomed out a bit or are facing sideways you will get a "no face" warning.
At first I thought this was strange but then I realized this is the solution to the dick-pic cams. Because no guys we don't want to see your cock.
The number of guys who come into my live chat room and the first thing they say is "do you want to see my cock", as though that was some kind of treat for me.
While guys are not able to realize the problem with dick pics CooMeet has automated a semi-soultion to this problem. YOur cam won't broadcast if it doesn't include a face.
Once you have your video working then you are placed immediately into a live video chatroom with a random girl.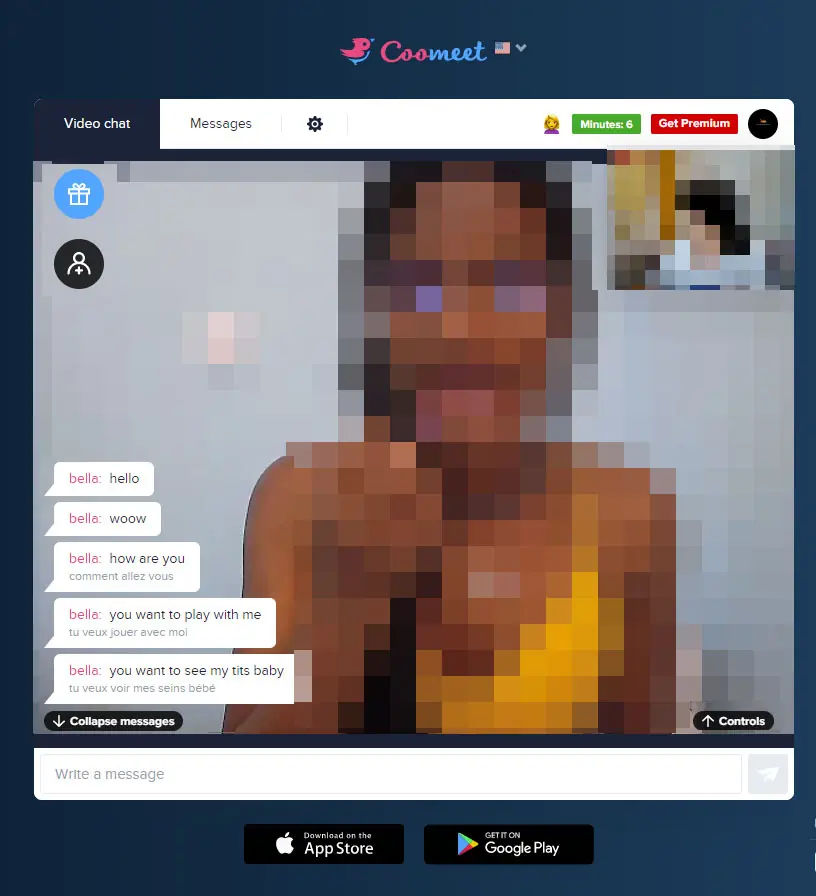 It is quite a standard video chat room with a large image of her, a smaller image of yourself and a text chat bar at the bottom where you type.
it works well and the ones I looked at all had satisfactory, while not excellent, video quality.
There is a constant reminder at the top about how many, or how few, minutes you have remaining and a button to sell you more as a premium member.
But despite some complaints I've seen the counter is quite generous, it didn't count down too fast and when the video stopped the counter didn't increment. From what I've read if I were to just go "next next" it would use up my "minutes" but if I just stop and chat to the girls it seems reasonable.
After not very long the system does try to get you to sing up for premium.
Although there are also symbols for Bitcoin I didn't see any way to choose that for payment. The premium purchase form only asked for a card.
The initial payment of $1.99 gets you 1 month of Premium access and a pack of 40 minutes of video chat time.
If you don't have some "minutes" in the system you will keep being interrupted. This isn't a free-forever type of chat where you just get to watch forever for free.
Given that this is a one-to-open chat experience it is fair enough that you have to contribute if you want to keep that girl engaged, in a way every chat is like a private show however brief it may be.
You can pay with a Visa or Mastercard and the basic deal is very cheap. Each different subscription level comes with a different number of minutes, though the basic is a promo that will give you a great deal for your first month.
As well as spending minutes with the girls there is also a bunch of "Gifts" you can give using the gift icon. They have cute names but basically it is a type of tipping where you give the girl something extra, that she can cash out for cash later.
The models broadcasting on Coomee that I saw were from a range of different backgrounds, but I did notice more African than I would have expected. I don't mean "Ebony" or "African American" but actually girls in Africa, or at least that's what it looked like.
At least one of them was typing in French and the system was automatically translating back and forth from French into English. That makes sense in that some of the North African countries were previously French colonies and speaking French there is probably a normal thing for an educated person.
Sadly my written and spoken French is very limited so I was glad for the help of the translator which worked quite well, at least for basic stuff.
---
Are Coomeet Camgirls worth a visit? Yes, they are, particularly if you are interested in a one-to-one or cam2cam show without having to pay anything extra, it is just the normal chat here.
The big downside of the site is that it is very random, which is part of the whole concept, so you are not "choosing" which girl you want to talk to. This takes a bit of getting used to and you may or may not find the experience rewarding.
It is certainly worth a try and given that you can have a trial for free, or take a paid month for less than two bucks, it looks fine.
Do look out for rebills at a higher rate, that is a common complaint on sites like this, but even the "higher" price is still very reasonable.
Getting the premium membership will let you be more selective about who you get to chat with.
But I'm not even sure if that is necessary as randomess and meeting real people is part of the whole idea with CooMeet Camgirls being just regular girls out for a chat and a little income.
---
Let me know in the comments if you have tried the site either as a man or as a woman!