If you have seen Stripchat you know that you can watch the webcams of many girls who model there, but have you wondered "can the Stripchat models see into my computer and see me while live streaming?" Normally we are used to the idea that a video phone call, like a Skype or Facetime, is a two-way thing. Therefore it is natural to consider if this is true of the video chats with the live porn models at Stripchat, after all, they are chatting to you, why not see you as well?
This makes people wonder "Can Stripchat see you", meaning can the cam girls see a picture of you on their screens?
Visit Stripchat to see what the options are:
Having a cam girl see you, while you also see her, is called Cam2Cam. You can do it on purpose at many sites.
The answer is NO – but…

…it is possible if you want it
The direct answer to the question is "no".
Stripchat cannot see you.
And the models at Stripchat can't see you either. Except there is an exception, and this is if you wish to be seen by a model. Then you can arrange that. There is no way it could happen by accident as you need to set up your camera, allow permissions, and pay extra for it.
See and be seen; if you want
Some people prefer to be seen by the models, and they are willing to pay extra for that privilege. At Stripchat this is known as "Video call (Cam2Cam) available". If you choose to do so then the Stripchat Cam2Cam function of Exclusive Private is what you want.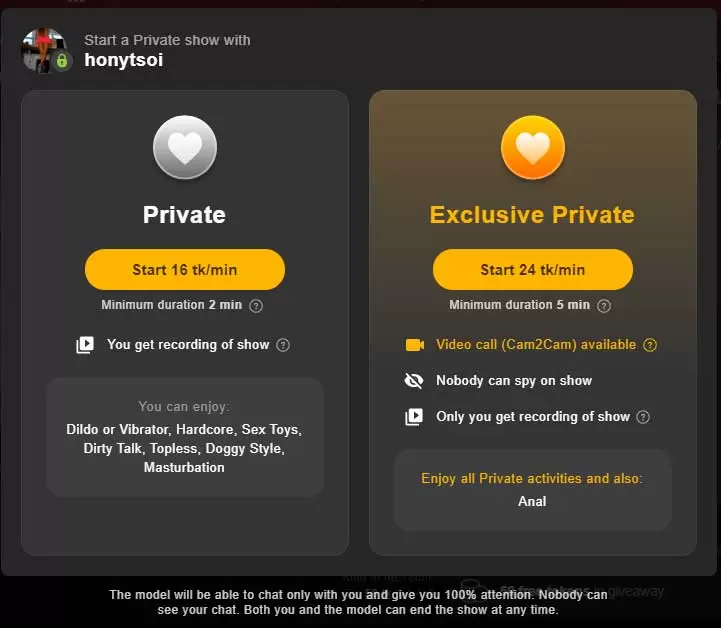 You can turn on your camera and/or microphone during show, but only if you want.

The emphasis is "if you want", it isn't automatic
What you can't do under any circumstances is be seen by other people in a Stripchat room. Only the model can see you if you turn on Cam2Cam, and then nobody else sees you, only her. That doesn't mean she couldn't take a picture or screen capture of her screen and then show that to someone else, but it isn't part of the Stripchat system.
Extra precautions; block your webcam
If you wish to avoid being seen while you are chatting with the girls at Stripchat then you can take additional precautions to avoid any accidents.
First of all, cover your webcam. If your computer has a camera then cover it. You can use a PostIt note, a sticker, or buy a custom-made sliding door to cover it.
When using your phone then cover the self-camera in the same way. Use a sticker, use a band-aid or anything that obstructs the view. Again there are specially made sliding covers that you can use to cover a phone camera, but open it when you need it.
All of that shouldn't really be necessary as the camera isn't supposed to turn on unless you have paid for it, and allowed the security, and specifically asked for it.
There is nothing wrong with being extra cautious though, and it isn't wearing a tin-foil hat to cover the camera with tin-foil. That is just being safe.
---
Let me know in the comments, have you been seen when you didn't want to be seen? Have you had trouble showing yourself when you did wish to be seen? Leave me a comment to let me know how it went for you.