CameraPrive.com is a Brazilian site that also has an English version. The words Camera Prive in Portuguese simply mean "private camera". That is private as in secret and not public, but it doesn't mean you can't watch these Brazilian Webcam girls here.
There are lots of rooms available for free public chat, and that includes automatic translation so that you can converse with your Brazilian favorite girl!
Read on to know how to find the best Brazilian Cam girls at CameraPrive.
Other websites A-C
Try something you haven't tried before!
CameraPrive has been a successful cam site providing for the Portuguese-speaking people in Brazil and Portugal with cam girls since 2014 and quickly added a US English section that year.
Today the site comes in different languages: English, Portuguese, either as spoken in Brazil or in Portugal, Spanish, French, Italian, French, and German.
As with many translated sites, the English is a little strange sometimes but doesn't stop you from using it. All you need to know is where the girls are and how to chat with them.
"Girls Online" tab you'll find plenty to choose from.
You can scroll down a long way and still see the green "online" tabs that indicate those models are indeed available. They are also typically "Exclusive" which means they are available for a fully private chat, with no spying, if you wish to take them into that sort of chat room.
The thumbnails are the glamor pics that the girls have uploaded themselves. Therefore to see what they are doing right now you have to go into each room to see their current pose and what they are doing.
If you are not logged in then you get to be a guest viewer and can see the video and read the text chat, including with automatic translation. This doesn't last very long though and within a few seconds you are asked to create a free account.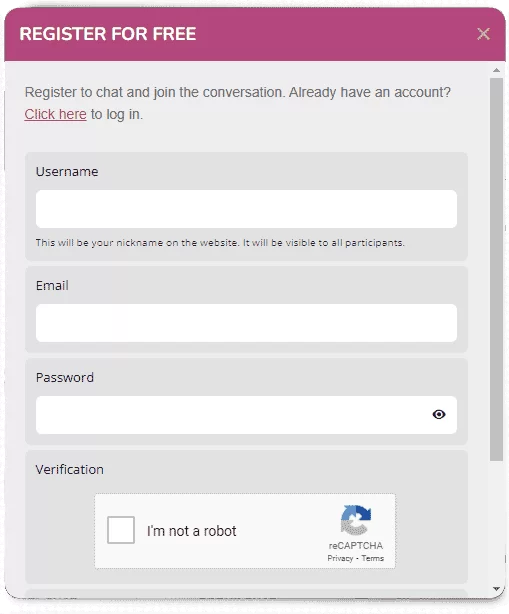 You can cancel the prompt and go into the free room again but you'll just be asked again so you might as well make that free account, it is free and doesn't need any payment. All you have to provide is your choice of username, an email address for verification, and a password.
Free accounts only get you the chance to browse the models and watch their free video for a few seconds at a time before you get kicked out. That's similar to many European sites where there isn't much for free.
If you want to stay around longer you will have to load your account with some credits.
Camera Prive Models
Once you have some credits in your enabled account you can start to look for camera prive models that you like.
Although there are many models online they don't have any categorization or tagging to find different types. Instead, there is only a "search" which is a text search, or you can browse and scroll.
Brazilian webcam
As you scroll through the list of webcams at CameraPrive the thing you will notice is that they are all Brazilian. You may not realize this at first as their profiles are not emphasized by the screen layout when you are watching her live stream.
To see her profile first go into the video chat room and then click on her name:
This takes you to her profile page which will explain more clearly who she is, and what she is doing online. There is also space for viewer reviews and star ratings that can give you seem feedback on whether you want to spend time with her.
Brazilian camgirl
Each cam girl has a profile with some description, in English and written well so perhaps edited by an English speaking. In addition, they get to specifically say what they will do in each of the different types of chat available.
Types of chat
At CameraPrive.com there are three different types of chat:
Group Chat:
You and other users take part in the chat and watch the show.
Private Chat:
Only you can take part in the chat and you can turn on your webcam if you like, but other users may spy on the show. Users who are spying can't read the chat or see your webcam. They can only see the performer.
Exclusive Chat:
This is an exclusive show for you only. Other users can't spy anything and you may turn on your webcam if you like.
Brazilian cam model
If you want to find a Brazilian cam model then this is the best place to go. Find the profile page of the model you like and you get a lot of choices on how to interact with her.
Each model gets to have a "timeline" which is like her personal social media page, and you can look at her PHotos and videos as well. There are details about how many followers, how many likes and reviews she has.
Buttons also let you see how you can contact her.
If she is offline when you try to send a message then you get to send an offline message. This is a great feature that sites like Stripchat also have but is strangely missing from Chaturbate despite many people asking for it.
Loading account
To get the best out of CameraPrive you will need to get some credits. There are a bunch of different options here but they boil down to paying in Brazilian Reais, US Dollars, or Euros.
Once you have any amount of credits, you get unlimited access to the free chat rooms and won't be disconnected. Basically, you are proving that you are a potential paying customer, then they let you hang around and get to know the girls.
Choose the size of the package you want and then the payment method. There is no discount for bigger packages so you can take any package size you want. The pricing is the same in Euros. As in the same number of Euros gets you the same number of credits, which makes no sense. Seeing as a Euro is worth more than a dollar you should pay with dollars if you can, even if you are in Europe.
If you choose Epoch then you will have a PayPal option. Generally, it is hard to pay for porn with PayPal, but this is one way to get your PayPal payment turned into credits at a live cam site.
Epoch is the only choice if you want to pay in Euros.
Only if you are in Brazil will it make sense to pay in reais, but if you do then you get some more options.
Brazilian customers of CameraPrive can use PicPay or Billet Bank, but that will not be available to most people outside the country.
CameraPrive Mobile
Many models are broadcasting from their phones, and that means a rather shaky video but also a more personal touch as they keep the phone in their hand while they masturbate or just hang out.
Transgirls, Guys, Transguys at CameraPrive
Although CameraPrive is mostly about the Brazilian girls there is also a section for Guys, Transgirls and Transguys. This later distinction between guys who are girls and girls who are guys is a bit confusing, and after watching who is in each section I think they are a bit confused as well.
In the transguys section of CameraPrive find people who look male, but presumably were not born that way. The section tends to be very quiet and you may only have one Transguyonline at a time.
Try out CameraPrive if you want to see what a Brazilian cam girl can do for you! Let me know in the comments how your experience was at the site.
Cameraprive Models
Want to be a model at the site? They are accepting models from all over the world and boast about their huge viewer base. It is true that even if they only serve Brazil then that is one giant country!
Several features are offered to make it a more attractive place to cam.
The site advertises that the split of income with the model and the platform is 50%, but how exactly this is calculated is unclear.
Another average they offer is that the withdrawal of your earnings can be done daily. Get paid right away without delay. That's quite a benefit for many models so worth checking out.
There are withdrawal fees, but they do support multiple methods. The minimum is calculated in Brazilian Reais ("R$") though the fees are in US dollars.
Paypal ($2.00 fee for each request)
The minimum amount for this type of redemption is R$ 150.00.
Paxum ($3.00 fee)
The minimum amount for this type of redemption is R$ 150.00.
International Wire ($47.00 fee)
The minimum amount for this type of redemption is BRL 500.00.
Domestic Wire ($12.00 fee)
The minimum amount for this type of redemption is R$ 250.00.