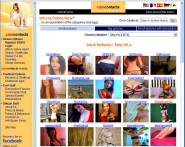 Camcontacts (not Camcontact or Cam Contact) is like a clone of iFriends (see ifriends review) by people (Exhibitionists and Voyeurs both) who didn't like iFriends.

Although Camcontacts is now well established (started in Nov 00) - and probably building up on ifriends in terms of number of girls, it doesn't really seem to have the growth rate of other sites like Cum TV or stream mate.

However now that things have settled down in terms of growth they are adding lots of features in like cam2cam (one2one they call it) with two way sound as well. Though there is quite a bit of debate in their forums about this feature because the hosts there are trying to offer specific things only if viewers go into one2one, which has a higher per minute cost.

Not all the hosts do this, in fact not even many, and the camcontacts management have said they will crack down on it. The feature is advertised as, and they intend to keep it as, just a chance to be in private with one girl without other viewers distracting her from you.

Hosts are broken down into a variety of different categories, and I think they invented a few of them like "a little shy" which are now used by other sites.
Non Adult

Friends and Family
Make New Friends
Long Term or Marriage

Adult

Girls Home Alone - A little shy
Girls Home Alone - Not so shy
Girls Home Alone - Instant Action
Girl-Girl
Girl-Boy
Couples
Groups (3 or more)
Gender Benders (TV, TS, CD)
Boys Home Alone - Straight
Boys Home Alone - Gay
Boy-Boy
Escorts & Massage
Dungeon
Video PLAYBACK of PAST session
I think that covers just about everything don't you! Of course some of the more obscure categories don't have a lot of hosts online at any one time, but you'll generally find at least one. Even "Long Term or Marriage" has 20 or so, though I wouldn't take the category name too literally. Boy-boy is the hardest section to fill and sometimes is empty.
You can also browse through cams by country if you are looking for someone near your location. Click "search" in the left border then "View by country" in the middle of the screen above the search box. View by language and works in the same way; this time giving you choices from English through the obvious Latvian and Romanian to Japanese(!), Arabic (!!) to Hebrew (find a nice Jewish girl for you me boy?). This is not entirely accurate though, I saw one person who apparently claimed to speak every language which is a large exaggeration I'm sure unless you say "ahhh ahhh, oooo ooo" counts as valid in any language!
Text chat is free in every section, just browse around until you find someone who appeals then click the text chat button. This gets you a static picture of the person to look at together with a text chat window where you can get started in conversation. No signup at all is needed for this.
Video chat however requires a login and per minute fees, there is no free video on Camcontacts. It can be pretty cheap though, you'll see some hosts advertising $0.69/minute which is almost as low as extasycams.
You'll need a "register for free viewer account" first which will need your credit card details to "verify your age" etc, usual thing. This account will allow you to see some more archive pictures than you would otherwise see; all the explicit ones are screened and not visible to unregistered guests.
Once you have an account of course you can then get into paid chat which will be billed to your card "discretely" as CC Network. The way billing works at Camcontacts is quite different from most other sites. With the majority of sites you "buy credits" and load a bunch of money into their system, which leaves your bank/card immediately they stays on their system until you spend it.
With CamContacts though they use "Continuous Billing" which is a way of saying that once they have your CC number they bill you immediately you do any chat. Advantage of this is that you don't have to leave cash lying around in their site before you use it, and you don't get interrupted by being out of funds, but the bad side is that you can end up spending more than you intended as the money just drains out of your credit card as you chat.
Camcontacts also run "myfabsite.com" which is where any chathost can put her own web pages which is similar to the free hosting deal that is provided by ifriends. I believe Camz also provides some free hosting. I don't know any other site that provides free hosting, let me know if you do.
You will also find Camcontacts running under a bunch of other names:
That last one is interesting isn't it? Addresses one of the underlying drives of webcam viewers -- to actually meet and have a relationship with ladies they meet on cam sites. Not to say this doesn't happen (I know a couple of married couples like this), but it has to be very rare. Cam chathosts are performers providing a service for the most part.
On the whole the per minute charges are much less than sites like Flirt4 free, and probably average a little under ifriends. Of course there is a large range though so you'll find some higher priced hosts as well.
Uniquely amoung major sites they cover chargebacks, so if the customer refuses to pay, the host still gets their payment. Sounds nice for the host but this is a risky business model for camcontacts to be giving out money for shows for which they have not been paid!