List of webcam chat sites by alphabetical order:
List of sites under Webcam Sites A-C:
TL;DNR:
The old Amsterdamlivexxx voyeur house and live naked reception desk is gone. For similar things try:
http://www.peepholecam.com/ (inactive)
https://www.voyeurhousecams.com/ (currently down)
https://www.adultrealitycams.com/ (currently down)
Whatever happened to Amsterdamlive xxx:
For a while there the Amsterdamlivexxx nude reception desk was one of the hottest options for a no-charge look at live nude girls on the internet. In the days before first MyFreeCams and then later Chaturbate made nudity in free chat the norm there were few places you could go to see a model wearing nothing.
At the time when this site launched the big choices in online cams were iFriends, now long since defunct, and Camcontacts (still going strong) which both require payment before seeing any video at all, let alone nude.
Going to Amsterdamlivexxx.com and being able to immediately see a webcam view of a girl and then to chat with her for free, that was a revelation and enormously entertaining. The girl typically wasn't literally nude, but wearing little enough and being hot enough to make it well worthwhile.
The whole idea of the "reception desk" was that it would give you a taster of what you'd find if you joined the site and got access to all the other cams placed around the house, letting you voyeuristically peek into the lives of the girls who lived there.
This kind of blended voyeurism and cam sex show still has a market but apparently, it was never a very large one and so the company who ran this site, Interclimax.com, wasn't able to keep up the shows.
Founded in 1997 by the adult porn star Claudia van Lubek aka LittleC from Rotterdam in The Netherlands it soon became one of the major online-adult companies. Started together with her ex-husband Werner it operated under the name Interclimax for several successful years.
Together with her husband and their CEO Ben Jelloun, an ex-stockbroker, the company went beyond what was the norm at the time and explored a lot of different options. Perhaps they were too far ahead of their time as by taking their experience with live shows around the world, and with what visitors to Amsterdam where expecting, and putting that online worked; but only just.
Limited by the technology of the time the video feeds were good, but sometimes too much for a typical consumer to handle with the slower internet speeds of the time. In 2004 they already had invented two-way video chat with models, they branded it as "i2i" but now we know it as cam2cam and it has become a standard, but then it was new.
Marketed through the umbrella of AmsterdamCash they had issues in 2005 with payments that started webmasters not trusting them. When the founder Claudia left the company in 2006, and started to use her maiden name the business started a gentle slide down.
Today the domain still exists but is simply a white label for Jasmin.com which is one of the older companies that still run, but not in any way associated with the Amsterdam live.
Amsterdam Voyeur House Cam:
What exactly is a Voyeur House Cam? And why are the ones in Amsterdam special?
The whole idea of voyeurism, of watching people when they don't know they are being watched, is one that has been around for ages. Think Lady Godiva and Peeping Tom and you can see how this theme has some solid history behind it.
What Amsterdamlivexxx did that hadn't really been done before was to take this onto the internet so that the peeking could be done at a scale never before dreamt of. You can't have 100 people all peering their heads into an open window to see who is taking a shower, but if you install a webcam in that bathroom and live stream the video feed to a website, then thousands of viewers is perfectly possible.
But why in Amsterdam? Well partly because it has a reputation for tolerance to sex work, you only have to think of The Red Light District of Amsterdam which is worldwide famous for its many red lid prostitution windows, from which behind prostitutes attract their customers. You can even get guided tours of them, though the sex workers are not that keen at being gawped at instead of being hired.
That and the fact that the owners are also from The Netherlands and you have a perfect combination. Let's use Amsterdam for the Voyeur House they must have said. And soon we can have a website dedicated to Voyeur House Webcam live cams.
The attraction of Hidden Cams
Watching without anybody knowing you are watching is a fundamental part of voyeurism, but it is hard to reproduce that online.
Without breaking any laws the people being watched have to give some kind of permission in advance. For many watchers that is good enough. It doesn't have to be literally real. Just as that pizza boy with the 10inch cock probably is really delivering pizza for real, so staged voyeurism is acceptable to most.
Having a hidden camera makes for great fantasy, but poor video quality. The best live voyeur house cams are actually professional DSLRs wired up to computers that stream their video feed live on the internet.
Old Review of Amsterdamlive xxx as it was:
Someone asked me where is the Amsterdam voyeur house and that free reception desk with the hot girl. The answer is: I can't find them either.
All I can see is a typical who's online page with 9 to 10 models to wait for private shows.
If you are into voyeuring, you may try Bongacams where they have a category called "In Spy mode". You can peek into the girls' private shows either on Bongacams or in other cams at a very low cost.
Alternatively, if you are looking for European cam girls, Chaturbate and jasmin.com are both good choices with Chaturbate has more varieties in terms of girls and games they play in the chatroom.
oh well… I do miss that transparent see-through chair the Amsterdam girls sat on. What a fun idea! What a pity it's gone.
******************* ********************** ******************* *********************
Also known as the Free Reception Desk, or Amsterdamlive, this site seems associated with voyeur dorm, and 1on1world, not sure how. Anyway, it is a purely commercial site to watch models, however, the special part is that free reception desk.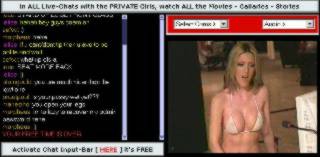 Really free and quite fun to watch the girls chat there, and with multiple cameras that give you face, legs, ass or back view. So if you see a girl chatting and want to look up her skirt you can just choose that camera.
The "BabeTracker" in the chat will tell you when something is moving on another cam (because there are so many cams some of them are watching empty bedrooms or toilets) — then you can switch to that cam to see what is happening in that room.
Video quality is good and smooth, provided you have broadband internet connection. Unfortunately Amsterdamlivexxx has recently started using a plug-in of some sort, not sure why but it annoyingly gives a "security warning" in IE. Anyway, it works and I haven't seen any issues with it. Make sure it says it is from "Com Ned" which is the legal name of the company that owns "interclimax" which manages all these webcam sites.
So far I've had no problems with the Amsterdam Live cam software.
With your own webcam installed you can also "expose yourself to your favorite model" — I didn't say it, that's exactly how they advertise the option on the site! They call this i2i member's cam — which is like the cam2cam function in spread4u, camcontact, imlive and many others, for example. It has one more twist though — you can show yourself to other viewers who are online as well.
Creating an account is easy: choose your username, password and provide them your email address. Once the account is open, they will give you a free email account from www.easysender.com which enables you to have an email account for adult purposes.
It is one of the best video quality out there, the only one I've seen do better is LiveBabes.TV.
---
Be a chathost
Look for the "models wanted" link and follow the instruction. Not mention how much you can get from your work. Though they have many studios around the world, so if you don't have a PC or don't want to struggle with technical problems you can go and work in their studio.
If you ever want to live in Romania for a while, you can stay in their webcam mansion in Romania. Basically, it's a voyeur house where you will be watched plus perform some cam chat. Free meal, makeup artist and photographer to help to promote you. Parties every 4 weeks and payout every 2-week, with a bonus for the top 3 girls.
Some Amterdamlive video chat links
NudeRoom – this section is more like CumTV or LiveJasmin. It has thumbnails of about 50 girls (used to be 20 or 30 girls). You click on the thumbnail to go straight into teaser chat. Girls are either dressed full-size video or tiny thumbnails if they are doing shows and you are watching for free. You do not need to create an account to watch, you can be a "guest" viewer. However, your free time may run out quite soon. Nude chat is charged at $2.49/min, $66.99 for 30 minutes ($2.23/min), $126.99 for 60 minutes ($2.12/min) or $238.99 for 120 minutes ($1.99/min).If you have a webcam, you can turn on the i2i (eye to eye) so the model can see you. Some webcam girls there also speak French, Italian, German and Spanish. (Other European languages spoken sites are: Spread4u and the German sites Privat_Flirt, PrivatFuck.de)
Bitchtalk – this takes you directly to the voyeur cams in the house, starting with the reception desk. You can change to the leg cam etc. If you want to look into the cams in the other part of the house you have to give an email address, and yes they will keep sending you emails afterward but all about the house and what offers are being made and you can unsubscribe afterward if you want. If you are a voyeur, you should choose the next one though.
Voyeur – pretty much the same as the last one but it has a lot more places you can go – lounge, ladies' room, showers, gym, kitchen, makeup room, Jacuzzi and 9 bedrooms. Just like VoyeurBrazil House, it's for real voyeur.
Liveshow – this is similar to bitchtalk.
LiveBox – same as Liveshow
Private Archive – no membership required to see session pics of the girls.
SinCity gallery – somehow it took me to a 'receptionist' but with 2-way cam option such that the girl can see me. It has nothing to do with the gallery.
SinCity Flix – same as Liveshow
These sites are also called: 1on1, 1on1world, camsathome, sexandfun, sincitydorm. It is all the same company called "interclimax" that runs this house in Amsterdam, you can get into it via lots of different entrances. They are all part of Amsterdamlive I think, at least clearly it is the same house.
Amsterdamlivexxx Party Player
The guys in Sincity House have unlimited fun ideas. They run lots of parties every year including Easter Bunnies Party, ExPorn Star Party, Bodypaint Fun, Clay Modeling and Dirty Dancing Party. Take a look at these hot video clips of the parties.
Pro for Exhibitionists:

?? I haven't worked there so not sure!

Con for Exhibitionists:

Pro for Voyeurs:

Mostly model class girls, great smooth video quality if you have broadband

Con for Voyeurs:

Really models, not

amateurs

. A few very bored looking studio girls mixed with the good stuff.

Pics:
News:
17 Aug: AmsterdamLive has been well known for "the house" for some time, where you can use a large number of cams to look in for free on the girls who live there, as well as chat to the girl on duty at the free reception desk. Well now their parent company is up and moving to a new house, so it sounds like it won't be "Amsterdam" anymore as the new one is in Romania! They are promising that at least some of the same girls will be there — they've all been offered places in the new house but you can imagine that not everybody is able to move to a new country for their job. I predict more Romanians living in the house in the future, though they state as a goal keeping the international nature of the site. The new house will be ready end of Sept and will have 55 cams over 4 floors.
21 Jul: Unlike imlive's party, Amsterdam-livexxx runs real parties from time to time. You can click on this party-player to view the various parties they have, like 4 July, Bunny's Booty Party, Catwomen Party and etc. They never run out of ideas!
19 Jan: The multiple cams idea of Amsterdamlive is great and it won't be surprised if someone tries to follow. But ifriends has not just introduced multiple cams, it even allows you to have four views at the same time, unlike Amsterdamlive you can see only one view at a time.
30 May: Amsterdam live has a new feature in their chat called "BabeTracker". This helps with the problem that there are so many cams in the sincity voyeur house you spend a lot of time changing channels to see where the girls are. At quiet times of the day when most of the girls are sleeping, you used to hunt around to see where they are (unless you're just content to watch them sleep using the night-vision cameras in all the bedrooms). So the BabeTracker is a robot that sends you messages in chat with things like "Makeup room on 1st Floor: moved"; then you can change to that cam to see who's there!
Variously also called: