DSCGirls.com
Other websites D-L
Try something you haven't tried before!
Despite the origin as an Indian-focused camgirl site the DscGirls.Com camsite now offers a range of different nationalities and supports viewers from around the world. They haven't forgotten their South Asian roots though and the main part of the site is dedicated to Desi-girls [https://www.dscgirls.vip/meet-our-xxx-girls/], but the substantial "international" section has models from other parts of the globe.
The best for Bollywood Fans
If you are a fan of Bollywood or just find Indian girls a different type of exotic, then dscgirls.com needs your attention right now!
Unlike Imlive which has an Indian section, and a desi-girl themed front end called www.sssiindia.com, the models on dscgirls.com give you a wide range of locations and languages within India to choose from.
Indian teens and twenties
When I was looking at the site the most common location of the models was Delhi, Kolkata or Mumbai. But there were many other areas represented from Goa to Chennai. A few of the models are over the border in Pakistan and broadcast their chatrooms from Lahore or Karachi.
Most of the Indian models are in their mid-20s though I saw a few 19-year-olds, and some in their 30s. You won't see any mature models here so it is not like Soulcams or other European sites that feature older women.
Although you can view the model galleries and go into free video chat rooms for many of them without signing up at DscGirls, once you have got an activated account you will be able to chat with more of them because some girls turn off chat for guest mode visitors.
Signup to get free chat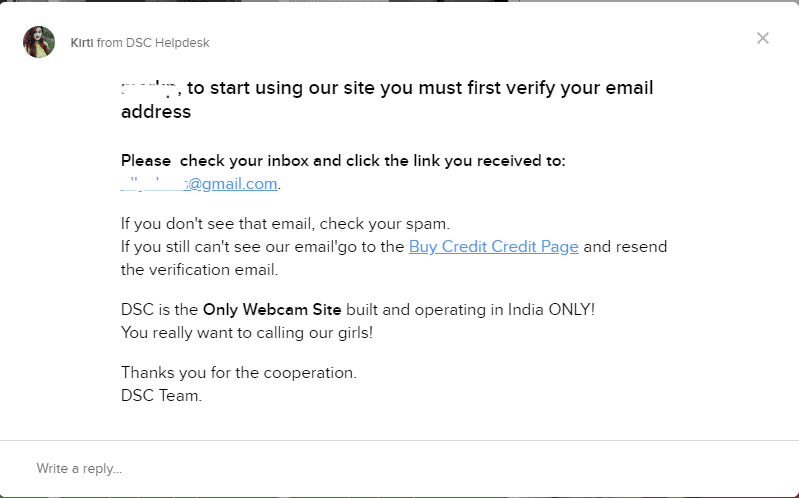 It only takes an email account to get verified, but I did have some trouble using a private email account at first. Even though my email address works it was rejected by DSCGirls.com as invalid, but when I switched to gmail.com that was ok. The verification email did end up in the Gmail spam folder unfortunately but that is easy to fix.
If you don't do it yourself you'll be prompted by the online support, of course, it is automated, to verify your email address.
You get two days to use the activation email so don't delay.
Immediately after verifying there is a one-time special offer, so don't miss this as it is hard (though not impossible) to find your way back to it.
Particularly in the international section, some models will turn off text chat for free or basic users, so having a card-validated account will let you get more out of the site. It doesn't cost anything to do card-validation, either CCBill or Epoch will do a "0.00 charge" against your card, so you do have to give valid card details but there is no subscription cost.
Any valid credit card should work, but although Epoch takes Paypal for some things it doesn't work on this site so a credit or debit card is essential. The site warns Indian customers that they may find that their Debit cards are "India-only" and will have to talk to their bank about activating international charges. This is because the billing for DscGirls is handled by non-Indian companies.
Once you have a working account it is time to navigate the site and select the desi girl of your choice.
Bra-lovers rejoice; bra-wearing Indian camgirls
In the gallery view of the site, you can see casual pictures of the models, as well as some lingerie shots and plenty of cleavage heavy ones. There are also a few garden pics and other snapshots which give almost a dating-site feel to it. What you won't find is much nudity in the gallery, at most I saw was a few bare breasts. Overal the gallery is mostly are softcore but you see enough to tell what sort of model they are. Hiding faces is common though as perhaps the Indian girls are a little more careful of their privacy.
A common thing that you see on the site is wearing Bras under their clothes, even under lingerie. After sites like Livejasmin where girls wear as little as possible, that is quite a difference but I think, from watching Bollywood and Desi-girl porn, that Bras are more of a thing in India. If you like bras then that is a big plus point for this site and you need to check it out right away.
Icons above the thumbnails tell you what sort of services each model provides, and a green flashing dot shows they are online and available right now. Voice-only sessions for sexy chat are charged differently from Video and "XXX Video". A model I saw named Arushi charged 1 credit for voice, 2 for video and 5 for XXX. Her profile stated that she spoke Bhojpuri and Hindi and included her "About me" written in a casual Hindi/English mix that I couldn't read or translate. Google translate doesn't have an option for Hinglish even though it is a real thing now.
Discounts for regular buyers
Presuming your Hindi or Hinglish is good enough and you are a real desi then you'll be ready to read the bios and choose the model you want to talk to. Get your free but verified account ready and then there is a range of options. The free text chat with video lets you see and hear her while you type your questions and answers.
Most rooms have only a few people chatting and the rooms have a nice friendly atmosphere though of course a bit quieter than somewhere like chaturbate, you won't find rooms here with hundreds or thousands of viewers. That could be seen as a good or a bad thing, but probably overall an advantage.
Tiers like Airline Miles
Payment for chats on dscgirls.com is via "credits", and each performer charges a particular number of credits for which particular thing they provide. The cost of the credits depends on how you buy them though, there are different membership levels which get different prices, and special offers may get you discounts as well.
It is a bit like airline miles and getting higher Tiers. When you start off you are a Bronze member and you have to pay $1 for each credit you buy. It comes in packs of 10 with the prices rounded down just 5cents. The minimum 10 credit purchase costs you $9.95, while the largest credit you can buy at Bronze level is 50 credits for $49.95.
English or Hinglish speaking Camgirls
Each purchase brings you closer to a higher level. They go Silver, Gold, Platinum, Diamond and ultimately King. If you make it to the King level then tokens only cost half as much at $0.50 each, with a purchase of 500 credits costing $249.95.
Unlike Airline miles, the membership levels at dscgirls never go down, so if you take a break for a while and then come back later you will find your discounts are still available.
Many of the Indian models can speak some English. That is common in India where English is taught in schools and spoken in the street, and so most of the desi models were happy to chat with me a little in English. However, you can see that most of the visitors to the dscgirls.com site are mostly writing in various Indian languages.
Over on the "International" section, there are a lot more live rooms, but sadly they don't have as much information in the gallery and you have to go into each one to check them out. These models are more typical of what you'll see on other major sites.
The gallery pictures are mostly lingerie poses and again there is not much nudity, going into the free chat rooms and you'll find lingerie-clad girls in bedroom sets from South America. English and Spanish are commonly spoken here.
Cross-over Indian Desi-girl Models
I found that XXX Video on the India site was priced at around 5/credits a minute which is similar to the international site. If you are paying full price for credits then this is a bit expensive, similar to what you'd find at Flirt4free, but if you have got up to King member status and are buying credits at a 50% discount then it suddenly seems much more reasonable.
Video quality was a bit higher in most of the international rooms, I suspect that the Indian rooms probably suffered from slow-broadband. But even in the international section, there was some buffering and stuttering to the video in some rooms and not in others
A few, but not many, of the models are what you might call "cross-over" in that they are clearly ethnically Indian and even boast about that in their bios or with their choice of names yet still broadcast in the international section. Look out for with girls nicknames using Indian terms. One such is "indianpie", a chubby Indian BBW, who were in the international section, and charging international prices.
Online support chat for camsite customers
The Indian and international sections work slightly differently, it isn't just a filter on the same list of models. For one thing in the international section the thumbnail picture change to live video if you mouse over them for a few seconds, which makes it easier to see what the girls are really doing now rather than just judging from their glamor pictures. That is different from the "home" / Indian section. Perhaps that is a privacy thing again.
A very unusual thing about DSCGirls is that there is an online support team that can real-time chat with you to help with any technical or usage issues. Down in the bottom left of the screen is a chat button and that opens up a support chat window.
If you get stuck they can even pop up to offer you help, so if you have a problem with credits you can just chat online with support. I'm not sure if they would help with any problems or disagreements you might have with the models though.
One thing I was surprised to not see was any options here for Cam2cam. Perhaps DSCGirls doesn't support that, I will update this review if I find out any different as c2c is now such a common thing.
Hiring Indian camgirls
For models who want to work on DSCGirls then only the Indian section seems to be open, there is a brief help page on the site that invites you to email them for details. No information on commissions or payment is mentioned, but you are expected to be working from home, they are not looking for studios for desi-girls so that is unlike the international section. Go to their hiring page here.
The site previously operated as "Delhisexchat.com".
Descigirls on Telegram
This is the first camgirl site I've seen that makes use of the Telegram chat program, which focuses on privacy and security so it is quite a good match. If you are already a telegram user then it is easy to join their channel. news and special offers will then come straight to you.
DSCGirls.com / Indian Girls comments in the Forum
If you know anything more about DscGirls.com website let me know in the comments below or in the webcam forum post about DSCGirls.com. Thanks.