This is an updated review of flirt4free. The very old original review is to be found here.
Review of Flirt4free aka Flirtforfree:
One of the really old gang of adult cam sites is Flir4Free.com which has been running since 1996. That is over 20 years! Together with camcontacts and cams.com, Flirt4Fre was one of the pioneers in this field and continues to be popular with its fans although it has to face the rapid growth at livejasmin and Bongacams. Today you'll find around 100 girl cams online at a time, and the same in the discretely separated Guy section.
Other websites D-L
Try something you haven't tried before!
Although there is not the great activity in free chat that you will find at the tipping sites there are a few hosts who are trying to work their rooms and make them fun, but sadly most of the camgirls are waiting around for privates which by modern standards is a bit boring. However it is easy to find the more interesting chatrooms by sorting them according to "power score" or by type, but more on that later as it does require at least a free account.
Free Flirt4free Account
Visit the site and go straight into a free chat, then click "Next Model" a few times though and you will find someone who is a bit more active and perhaps worth hanging out with to watch.
Creating a free account needs only username, password and a working email address. Regardless of whether you click the link in the email or not you are going to have to give your credit card details. The banner everywhere saying "120 Credits for FREE" doesn't mention that you do have to give your credit card details for "verification", but there is no initial charge.
How to get Free Flirt4free Credits
You get 120 credits and no charge on your card, but of course once you have done this they have your CC # so you can spend easily later! Charges on your statement will be from "[email protected]" which is only mildly discrete as a quick Google will show that this is Flirt4Free even though the website vs3.com doesn't itself reveal that.
Either way, via email or credit card, you are going to be given 120 free credits if you give them your CC details.
If however you don't give your details at this point you have got yourself a free chat account, but not a validated one, so just go back to the home of the site and you can now go into free chat with a real name instead of something like "California_1234" or "Spain_456789"
This kind of account is a "basic" account though and just like at other sites the models are not that interesting in chatting to you, and may indeed "mute" you so you can't type in chat. It may take a while to hunt around for a cam girl who is willing to talk to guests, or at least tolerates them, but they are there.
What do you get from a Free F4F account
A free account even if basic does get you a lot of useful things, like you can now sort by number of people in the room. It doesn't say how many there are, but it's easy to guess that the more popular rooms have the more interesting hosts working, so this sort is helpful.
Other nice controls are the ability to change your nick at any time in chat, though you can't use one that would conflict with the "reserved" nicks of VIPs. Basic registered users can also have "full" video which is bigger though not huge.
Cost of Flirtforfree Credits
Of course once registered a lot of buttons appear suggesting you buy credits and spend them! A typical cost for a show is 60 credits per minute, so those "free credits" you got are worth only two minutes which is a bit disappointing. Some hosts suggest that you use them instead to pledge towards a group chat; that way something like 50 credits can get you a 5 or 10 minute show, though shared with others of course in a group.
viewer can control each other's sex toy. This of course requires you to own and configure an interactive toy that works with their system.
Sexy Flirt4free Recording and VOD
All over Flirt4Free there are also prominent links to "VOD" or "Video On Demand" which is recorded videos both of the host you are chatting with and lots of others as well. A recorded video can be like 40 credits per minute, which is not a lot cheaper than live! Previews for free are available if you are a confirmed (e.g. have give CC details) user. The previews are 12 seconds from the middle of the recorded video, so you can see what sort of action is there in the recording.
For reasons I don't quite get cam girls can, and do, set their VOD to only be viewable by the person who originally paid for the show, but if and only if the host is a top ranking one. So medium or low ranking hosts have no choice but need to let their show recordings be available for people to watch.
VOD shows are available from as far back as 2007, including many vids of people who no longer seem to be doing shows. I wonder if they get a payout when people view them? Current hosts do get paid I know, though they say it is a very small fee.
Pretty much everywhere in the system tipping is possible but of course only if you are confirmed, verified, and of course have credits. There are pre-set amounts from 5 to 1000 credits
Private Show costs at Flirt4free.com
As well as privates for around 30-60 credits a minute you can watch as a voyeur for about 10-40 credits a minute. Which of course means the "privates" are not truly private, even though the voyeur can't hear your conversation. Flirt4free doesn't seem to have a "super private" like that at freecamstars which is really just you and nobody else.
Down sides to being a free basic registered user? Well the "Next model" button disappears which actually makes it harder to browse quickly through each room to see what is happening. Not a big thing, but I would have like to see that button retained.
Back to the room sorting and another way is by "Type" of room and this gives another interesting view on the different ways you can use flirt4free.
Premier

Extra expensive shows – from 70 to as much as 500 credits a minute. Only the highest rated chathosts are able to do a premier chatroom as it is expected that they are the best possible performers.

Standard

Is well.. Standard private. A normal private session where you are paying by the minute, typically 60 credits a minute privates though it can be as low as 30 for less established girls.

Voyeur

That's when you are peeking in on someone else's Standard or Premium, and all you get to see is the video. No audio and no text chat, not even reading. Costs 10 to 40 credits per minute

Multi-User

Like a private but not just for you, other people get to enter into the private as well. This can have by far the largest variation in pricing, from 10 credits to 120 credits a minute! Depending on how many models there are in the chatroom and their rankings it would seem.

Combo

A combination, hence the name, of multi-user and private. Meaning you can get to join in on someone elses private and participate.

Semi-Private

So pay when enter, other people can join, but invisible for you. So this isn't Voyeur, it sounds pretty confusing as of course the host will see everybody and will want to interact with them or take directions. It's more like free-chat-plus I feel rather than anything private.

Group Chat

These are rooms where the host has started to collect pledges of 50 tokens each, not tips, towards doing a show. There is a little countdown timer and a running total of the credits pledged in a graphical jar. Once her target is reached within the time then she'll do the show she has promised for those who have contributed to the group. She has 30 seconds to start the show. If the timer runs out though without hitting the target then nobody pays. So this is quite a different idea to MFC or Chaturbate where people throw in tips, and sometimes get nothing if the host doesn't meet her target.

Much fairer for the viewer, but probably frustrating for the chathost. Of course if she "fails" she can try again with a lower target based on how close she got to her goal last time. During the build up to a group show the flit4free performers don't accept tips at all.

It's a bit like watching an auction, and honestly not that fascinating. Even the girls who are chatting during that time are not really that fun as they are focused on hitting their target. Some of them don't even do sound during this period which kills it entirely for me. And boring also for others I guess as those without sound seemed to get a lot less pledged. A few girls did manage to still stay interesting during their wait for pledges, and I think that helped them get all the asked for.

Is begging for pledges better or worse than begging for tips? Begging is never glamorous and this seems even less to me.

Party Chat

Only for verified users this is an open free-for-all in which the hosts are encouraged and permitted to do shows for tips. So you can think of this as the official Flirt4free clone of MFC.

Feature Shows

These are scheduled show which originally had named "Porn stars" in them, but these days it seems to just be major girls from the site. The shows are free to VIP members and I've heard only some of them are very impressive, I guess that just depends on if you like the particular performer doing the show.
Flirt4free Cam2Cam
Flirt 4 Free was one of the first live cam sites to introduce 2-way live video between viewers and models. That was back in 2008 so it isn't surprising that today they have one of the most comprehensive c2c implementations.
Just click the icon to "Start Your Webcam" to get started.
As well as offering cam2cam during private shows for any member who wants to have one, a VIP member can use cam2cam any time they like, even in free chat rooms. Only voyeur or "spy" shows are excluded. That makes sense but is different from Camplace where premium members can even show their cams while spying on other people's privates.
The cam2cam facility at Flirt4free supports both the old Adobe Flash technology as well as the modern WebRTC style which is now the preferred one. Regardless of whether you are using a new PC or an old one, it will always be possible to do cam2cam at Flirt4free, presuming you have the actual working webcam of course.
Doing two-way audio and video between two computers and keeping the audio and the video in sync is challenging, and Flirt4free admits it doesn't always work right if you are using the old Flash tech. But with the new HTML5 player and the WebRTC sender, it should all sync up correctly.
Flirt4Free Mobile Cam2Cam
Cam2Cam now also works correctly on mobile phones at Flir4free, since it was updated in mid-2020 it doesn't matter if you are on a PC or a phone, you can still do c2c.
Adding cam2cam to your private show doesn't cost anything extra at Flirt4free, unlike some sites where c2c is a separately priced product, at F4F it is an included extra with any private show. It won't cost you more to "facetime" with the cam girls at F4F, at the same time it can't be cheaper to cam2cam either.
VIP members can utilize Cam2Cam during all room states and show types except voyeur shows. Once you login to the show you will have the option to start broadcasting your webcam. Once you start streaming, a window will appear on the performer's interface with your live stream! Only the model will be able to access your video stream.
Note: VIPs will only be able to access Cam2Cam in all room states if they're using the plug-in free WebRTC option available with Firefox and Chrome. VIP members still using Flash plugins will only have Cam2Cam available during private and multi-user shows.
All other members can utilize Cam2Cam during private and multi-user shows.
The F4F C2C feature uses pop-ups to display your video, so any built in pop-up blockers like the one inside Chrome may prevent it from working until you have given permission.
If you see this message:
To use the cam 2 cam feature you may need to disable your Pop-up Blocker.
Then you need to click the pop-up icon and allow pop-ups from flirt4free.com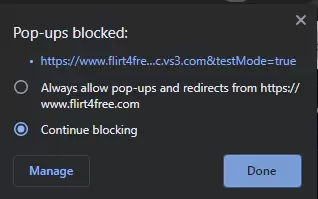 Interactive Sex Toys at F4F
Unlike other old cam sites that have lagged behind modern technology, Flirt4free provides a full range of interactive sex toys experience. Look for the colored ribbon across the models' thumbnail. The pink, blue or purple ribbon represents different kinds of "interactiveness". Pink is tip-activated only. Blue ribbon means the toys are controlled by tips or compatible devices, while purple ribbon means either the cam girl or
Free Chat
Of course there is also free chat rooms, and you can spend plenty of time in free chat just well…. chatting. There is a nice vibe in many rooms and it can be fun to hang out and watch girls just talk about what is happening.
When you enter a chat room it pre-loads the text chat area with the last few comments made, before you actually entered, this is great in that it immediately gives you a feel for the vibe in the room.
What happens when free video runs out
Now while you are hanging out watching all this your "free chat" ration for the day will expire and to get back into it you basically are supposed to buy credits, or at least hand over your CC details so you can get those free 120 credits, or wait until the next day.
It's kind of annoying, and of course that's the reason. to bug you into signing up for a credit card verified account.
Time to buy credits and you are basically paying $1 for 10 credits, hopefully with some bonus. There are bonuses for the first time you give your credit card details (120 credits bonus) and sometimes there are special offers like "buy 1,000 credits and get 100 extra free". Note that the way F4F lists it always shows the total credits you will get including your free ones. e.g. for your initial purchase it will say " 420 Credits for $29.99 (120 Credits for FREE) ", that means your $30 gets you 300 credits and they are adding 120 free giving you a total of 420 for that purchase.
Like any big and old web site flirt4free seems to have a lot of different features, some of which don't seem to make much sense or gel with the rest of the site. I'd guess that they were "experiments" or "good ideas" which were tried out and were not bad enough to be removed, but never great enough to become a major feature. Things like the "Flirt Game" where you collect points for doing various random stuff and then use them to boost your favorite performers positing in the rankings. Or virtual gifts were you give a chathost a cartoon balloon or stuffed animal.
The Gay Side of Flirtforfree
There is a whole gay/guy side to Flirt4Free as well which I won't go into detail about here, but basically everything said in this review about the girls also applies to the guys. There is a very discrete link in the top right of the screen which lets you switch between Girls, Guys and Shemales. Shemales has less than 10 online, while Girls and Guys both have around 100 online at a time.
Other related sites
They have a fake tube site called bigcamtube.com which basically shows recorded shows as a promotion, hosts can opt out of this I believe, but probably many don't realize their shows are being used for promotion.
Then also just like imlive and years before ifriends they have tried to set up an entirely non-adult/sex related webcam chat site, in one case they set up one offering psychic advice. Although the project was abandonded the psychicslive.com was an interesting idea, it seems to have been abandonded.
Misc features
They have blogs supposedly made by hosts and top members, but they are really not that interesting and seem just like self promotion. There is a forum for users and models where some discussion goes on and is moderately lively. If you use the site a lot of course this forum would help you to be part of the community of the site.
VIP Memberships
If you join as a VIP, which means a monthly subscription of $29.95, you get to:
| | |
| --- | --- |
| | reserve multiple nicknames in chat, |
| | Your name is also bolded in the text chat rooms. |
| | free access to your own recorded shows |
| | email attachments to chathosts (but please don't send pictures of your privates, nobody wants to see that!). |
| | free access to live "feature shows" by porn stars, |
| | the archive of videos and photo galleries. |
| | larger video preview than standard users |
Flirt4Free as a model
If you are going to be using Flirt4free as a model you need to be aware that they are really set up to work with studios. If you don't need a studio to support you then make sure you sign up directly otherwise the studio will pay you. It seems that some geographic areas are already assigned over to a studio and so even if you try to join up directly if you come from that area you will be put under the studio, be paid by the studio, and they will take a cut.
The way out of course if possible is to sign up directly, or I see some US girls are their own one-person studio.
The pay percentage is poor, and variable according to lots of things that are not clear. Around mid twenty something percent for starters, though if you make it into the top rankings then you can certainly ask and get more. What makes up for this is the very high prices that F4F charges of course, so a small percentage of a big fee may (for some people) end up as more earning. Hosts seem to not want to talk about this in detail, and it isn't mentioned anyway on flirt4free.com or videosecrets.com.
Regular viewers at flirt4free tend to be more wealthy, given they are not scared away by the high per minute prices, and so may end up giving you super long shows. Two and a half hours would not be strange.
There are also contests to win for bonuses, but of course it is the regulars who work there many hours every day who tend to always win those.
As for technical use, you will have to be using Windows and install their special software. Unlike some other sites you can't just use Flash, it needs to be .Net 2.0 and their webcam software.
While you are in a private there is a count down timer, visible to both chathost and viewer, which shows how much longer the show can go before the wallet is used up.
When people enter your free chat room the system "Receptionist" may tell you that someone has "a history of being a good customer", whatever that means.
Doing good during a day and getting an award like "Flirt of the day" can get you a bonus for as much as $100. Even if you don't win a contest the site will show you your list of "best days" so you can keep track of how you are doing. To get into the top 10 you'd probably have to work a 40 hours week based on what some girls have said.
Models can see their own VOD recordings which is a great way to know what you did before that worked or didn't work!
As with any site that allows rankings or ratings or even a "popular rooms" view there is the problem that the most popular rooms get more popular and hosts with higher ratings get higher ratings! It's hard for new hosts or those down the list to get as much attention, this is hard both for the host and for the viewer who will find very bored looking hosts indeed lower down the list.
Signup as a model for f4f directly by going to at webcam4money.com.
Other Names of Flirt4free
Videochat.com

White Label such as HomeGrownCams.com (used to be an independent site)
Flirt4free forum
f you'd like to comment more on flirt4free.com please click here, no registration is required for review comments. Thanks.
News
18 Jan 2021 : Support for cryptocurrencies has been available for a while but they have now switched to SpankPay instead of Coingate for accepting cryptocoins. Use Ethereum, Bitcoin, Litecoin or the USD Stable coin to buy tokens. There is no discount, but you get to use your privacy-first payment method. Flirt4free joins other major cam sites that accept Bitcoins to pay for cam girl shows.
8 – 12 Aug 2012: Sex Games Model Competition 2012 is up and running. Models in Flirt4free will set the no. of credits required for a certain length group chat show and it will be tagged as one of the theme like blowjob, tits, ass, anal or fetish. Cam girls with the highest total credits in each of these theme wins. You help to support your favorite model by pledging towards her/his special group chat show. There are different competition for guys and girls models.