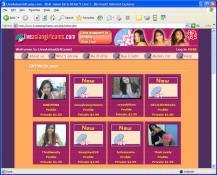 Another Asian specific site is now online at LiveAsianGirlCams.com, it's been going since early in 2007 and has been building up smoothly.
There are around 50 girls online, all really Asian and quite a few non-studio hosts as well. It's most Thailand and the Philippines represented here as is often the case with "Asian" site such as AsianBabeCams etc, if you want Japanese or Korean you're better off with somewhere like DXLive.
Other websites D-L
Try something you haven't tried before!
Live Asian Girl Cams Review
A four wide grid of thumbnails greets you when you are past the warning screen.
The video and text chat itself is Java based, a version of the popular "Sidekick video" system used by many sites.

Sadly the little plus and minus signs beside the video actually change the TEXT size, not the video. Still a plus if you are short-sighted I suppose!

That's only free chat though, in paid chat you will be able to zoom the video
portion as well.
After just a few minutes of free guest chat though it does prompt you do a
free membership join.
"Please register as a member to continue chatting.
It is free and takes just 1 minute".
This only requires a valid email to go with your username and password, then agreement to terms and conditions (just a summary, they do ask you to "take the time to read Full legal version available here" but I don't see a lot of people doing that. </sarcasm>
NSFW Verification emails
When I signed up the notification email arrived very promptly with the subject "LAGC – Account Verification" so not exactly safe for work, not that you should be browsing from work anyway right?
Curiously the confirmation page you get to after clicking on the link in the
email is still the out-of-the-box sidekick page from nearlythere. An
oversight I'm sure they'll see to once they read this! Yes, they
fixed it.
Free chat is not private
They back into free chat — note you click on the name of the host to go into
free chat, don't be confused by the fact that below that it says private.
You don't have to do private chat.
Private sessions for 1.99 or less
When you are ready for a private session though most of the hosts are charging a dollar or at most 1.99 a minute, so this is really a low-cost chat place. Lowest I saw was 75 cents a minute which I think is unreasonably low, the hosts should not undercut each other so much. The host in question was young and cute too. Name of Sexxxy Kiki.
But if you think a host deserves a little more (and don't we all!) then there is a tip box which lets you type in any amount you want. Remember though that the site takes a 40% cut from your tip.
Buy a gift for an Asian Cam Girl
According to notes I read on the hosts page there will also be the "buy a
girl a gift" type of thing coming soon but that's not here yet. Generally
speaking, I think most hosts would prefer the cash though.
If you try to tip a performer but have no credit it just says "You don't have
enough credit" — without prompting you to buy some, a lost marketing
opportunity there surely. Still, it isn't a long way to the top of the
screen and the link for purchasing credits.
Discounts for buying cam credits
And here now is one of the rare sites that understand quantity discounts are important to large purchasers — if you buy $100 credits you get $15 free, but even a minimum purchase of $20 gets you $21 in spending on the site.
Payment for cam credits by ccBill
Choose an amount and you are immediately taken to ccbill, without any warning or choice of other payment systems, where you can use the usual credit cards to pay.
Friendly chat rooms with polite Asian cam girls
Each of the rooms I went into was mostly friendly, with very few guest
chatters, and the hosts being quite polite. Only one of the rooms was
empty when I entered but that happens though it's not supposed to.
A few of the girls looked really young, but then Asian girls do sometimes —
it can be hard to tell the age — particularly from a fuzzy cam image.
Cheap cameras make for fuzzy video
And it has to be said that most of the video was pretty fuzzy, I'd blame that
on cheap cameras and poor lighting. Not a lot of investment there and I'm
afraid it does take away from the experience of watching video sometimes.
I'm not seeing a lot of guests in chat so though the traffic to the site
seems to be building up it is still not what you could call a busy site.
If you want the sharp video of Flirt4free let alone PrivateFeeds then this is not for you.
But if you love Asian girls and want a small selection of models many of whom seem to be new, then this is cretainly work checking out particularly given the low prices charged by many.
Models can signup to be hosts here:
http://www.lagc.info/. They are offering 50% of chat income, 60% of
tips and there is a 20% referral program as well. So added all together
it's pretty good. The major downside would be lack of traffic at the
moment, I think you'd really need to multi-task here.
LiveAsianGirlCams Forum
If you have any more information about LiveAsianGirlcams, please drop me a note in the webcam forum, thanks.
Summary: LiveAsianGirlcams
Pro for Exhibitionists

: New site, growth potential, tips

Con for Exhibitionists

: Small number of visitors

Pro for Voyeurs

: Asian, cheap, bulk purchase discount

Con for Voyeurs

: Small selection, only ccbill