Amateur.TV (or Amateur TV) really got going in the last few years and now regularly has 100 hot rooms going. Not all of those are large, but the top few rows of the site will certainly have some good stuff to watch. The site boasts about having 2 or 3 thousand "users online", but that includes viewers and not just broadcasting models.
What can you see at AmateurTV? Like Chaturbate and MyFreeCams before it the emphasis is on the non-professional models. Not surprisingly what you mostly find is amateur cam girls broadcasting, mostly naked and frequently also doing hard-core shows. Just as often you also see girls, and couples, just chilling and getting off on exposing themselves. Visit the site now to see for yourself, or scroll on down to read the rest of my thoughts about the site.
Other websites A-C
Try something you haven't tried before!
Free chat at Amateur TV
You don't have to log in at Amateur.TV to browse the rooms, watch videos or just browse.
Most of the cams are of Latina girls or Spanish speaking, often literally from Spain rather than South America, and their English may not always be the best. A picture is worth a thousand words though and once you go into the chat room you can watch the live video and read the chat as well as listen to the sound.
Want to participate or broadcast? Then you will have to do a free signup.
Before you do that watch some of the top rooms as see how it goes. You may initially be surprised to see tips of "100" or "500 or more, but these are "coins" and not the same as tokens on other sites. They are not worth much so 100 coins on Amateur TV is a basic minimal tip like a one-token tip on Chaturbate or Stripchat.
You don't have to tip or pay to watch, you can just watch the shows go on for as long as you want.
Real amateurs?
Are these really amateurs? In the sense that they are not super-professional studio girls as you see on many sites, nor are they perfectly made-up glamorous models that many cam girl sites host.
You'll see a lot of very ordinary girls and couples here. That means not necessarily perfect bodies, and very frequently poor quality video quality. Even the best rooms at amateur.tv look as though they are using $10 webcams and not the professional DSLR that the pro studios set their rooms up with on quality sites like Streamate.
That means on the one hand you are seeing a bit more of a slice of real life, but on the other hand you are not seeing it particularly clearly.
Drag the slider between the video and the text chat all the way to the right to make the video as big as you can and you'll see a much larger, but probably also fuzzier video image.
Want full-screen video?
You can have full-screen but you'll need to sign up first, and honestly, with this video quality you probably won't want it anyway.
There are a few rooms offering the high-quality video you've come to expect from the best girls at places like Flirt4Free or LiveJasmin, but they are in the minority and really aren't what amateur.tv is all about and rarely rank along the top rooms there.
Cam-to-cam at Amateur.TV
Want to not just watch but be watched as well, then Amateur.TV is a good choice because anybody can convert their free account into a model account. All you have to do is click the "Broadcast" button and your account becomes a broadcaster.
LIke any other cam site that lets you be nude in public you need to prove that you are over 18.
To authorize a person, follow these steps by using a passport or an official document where the full name, date of birth, photo ID and the document number appear:

Amateur.TV rules for broadcasting
How to sign up
They are really quite anxious for you to join and so there are various special offers such as "500 free coins", the details vary at times but idea is the same. Create an account and have some coins to try out the system.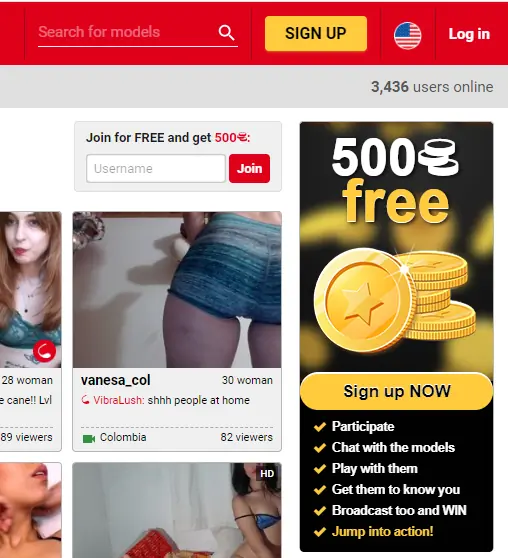 The signup process is quite straightforward and asks the regular details.
Choose a username, specify an email address and a password. Choose your gender and agree to be on their mailing list.
A couple of notes here:
The email address is optional, that's unusual but in practice you really want an email address so you can reset passwords and receive free offers.
You do have to give that email address and agree to getting emails otherwise no free coins for you.
When the verification email arrives it is:
From: amateur.tv

[email protected]

Subject: Complete your registration – Welcome to amateur.tv
Not a very discrete email so best to ensure that you are using a porn-friendly private email address for this.
Click the button or cut-and-paste the verification link and you are good to go. If the email verification fails, as it does sometimes, then click the "Resend it" link in the banner and try again.
Once you are in then it is time to go and chat in some amateur rooms!
Amateur.TV Webcam Video
There is plenty of video to watch here, but when it comes time to chat you may need to have some coins to get you started as most cam girls turn off the free chat for people with no coins.
If you spend time searching the different rooms you will find some that have chat-for-free users turned on, but they are in the minority.
Scroll down the listings in Amateur.TV and you soon get past the actual amateurs and into the range of the Colombian studio models who are split camming here, meaning they are broadcasting in multiple cam sites and may not be paying any attention to this one.
Buying some tokens is a good move then.
Particularly as Amateur.TV has a particularly low minimum purchase. You can get 1,000 coins for $2.99. That isn't a great rate but it means you can try the site out without a big expense.
If you like it then consider buying in bulk at 40,000 coins for $45.99 which is a much better deal. Credit cards are excepted here, or you can pay via PayPal for greater safety and security, but you pay a premium for that.
Using PayPal at Amateur.TV to buy coins means that 1,000 coins basic package costs $3.29 instead of $2.99. Not a big deal in dollar terms, but it shows the difference.
Private shows
Amateur.TV has free public shows, tipping shows and also private shows.
The private shows are charged in coins, and at first it seems expensive as the minimum is 1,500 coins a minute but then you realize how cheap the coins are.
If you want to take a private then most of them are charging the minimum 1,500/minute. It is rare to see anybody charging the max of 6 thousand though there are a few.
Join Amateur.TV as a model
Being a model at Amateur.TV just means creating and account then using the broadcast button to turn it into a model account. You'll need to give ID and also a payment method but then you are set to broadcast.
The broadcasting is similar to Chaturbate with a choice of web-based broadcasting or an external broadcaster like OBS. They don't expect much bandwidth so if you only have slow broadband then you'll be fine here.
Lovense Lush toys are supported but the way they operate at Amateur TV is a bit different and you have to watch out.
Basically, you have to start a Lovense "game" with a target and a description, when you get tipped towards that goal then you get buzzes and the coins are owed to you.
Where it is different from other sites is that the coins don't yet belong to you, the game has to be "completed" for the coins to move to your account. If you just close your window then you lose the coins. Don't worry about accidental disconnects, those are ok if you restart your window, but eventually, you do have to complete the game by clicking the completed button.
Once a Lovense game is completed then the coins are yours, and you can start another one.
Amateur.TV Gay
Switch to the "Men" tab at Amateur TV and you'll see a small range of mostly Spanish guys showing off. The first line or two is real amateurs and then it starts to be Colombian studio guys again.
A good but small range of gay webcams.
Summary of Amateur.TV
Good for Exhibitionists: People are expecting amateurs so you don't have to have perfect video or body
Con for Exhibitionists: Not that many viewers. Can't avoid identity paperwork
Pro for Voyeurs: Real amateurs to watch. Prices for tips are low.
Con for Voyeurs: A limited range and if you scroll down past the first screen or two it starts to be Colombian studio girls again.
Alternatives to Amateur.TV
Comments on Amateur.TV
Want to let me know about your experiences with Amateur.TV? Let me know in the comments or reach out to me on social media!