Cam girls are fun to watch and chat with, but the ultimate experience is to take one private. If you wonder how to go private with a cam girl then read on!
Every site where you see camgirls has a button for private shows, and these are where the real personal interactions happen. Whether you want a specific service or fetish catered for, or you simply want to take her away from the crowd and get to know the real her, then private shows are the way to go.
Some sites specialize in private shows, Camcontacts is one of those.
Read this guide to learn all about private shows if you haven't tried them, or if you are experienced in privates then see if what you've experienced is the same as for everybody else!
What is a Private with a Cam Girl?
You've seen the button, you've heard the requests, maybe you've waited outside while she has been in a private with someone else. But what exactly is a private show?
The word "private" means two different things when it comes to camming. One is a private cam girl, which means a cam girl who is running her own site and doing shows via Skype or Zoom instead of a big cam site. You can read about that here.
That isn't what I mean in this article. This is about private shows you have with a cam girl that nobody else can see, but are on a webcam site where other girls and viewers may be present.
How do Private Cam Girl Shows work?
Every cam site has a way for you to browse through the girls who are online. Normally there is some sort of "who is online now" page, and from there you can go into a profile page for each model. Free teaser video chat is often availbale, and often it may include public shows.
Most viewers just enjoy the public shows and perhaps contribute some tips to keep the show moving and the cam girl motivated. But always there is also the offer of "private".
Browse through the girls until you find one you'd like to have just to yourself. Maybe because she is in a big crowd or maybe because you are on a site where she isn't allowed to get naked or do much in public.
Once you have chosen the model to do a private show you click the button marked "private". On some sites, it is very obvious, while on others it is quite small. Want to know how to go private on Chaturbate? It is just a small link saying "Start Private Show" that you need to click.
After clicking the private show link or button there is some confirmation of the price per-minute. Typically this is a pop-up box with the details of how much you pay and what you will get.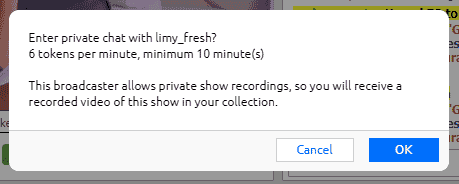 Click the appropriate button such as OK or Private to agree.
It is only at this point that the cam girl will be notified by the system that you want to start a private, she will have to click a button to accept.
Not all models are willing to do private shows, or even if she is generally willing she might not want to do it at exactly that moment.
It is up to her to accept the request, and it is only that, a request from your side to which she has to agree.
When she clicks accept on her side then the private show actually starts.
If this started in a public show then this is the moment when everybody else gets excluded from that show.
The screen doesn't change much for you, the video of the model stays the same, and there is still a text chat box. But what is different is that nobody else is in the text chat, it is only you and her, and the video and audio stops for everybody else.
Anybody else who was watching at this point will no longer see the video or hear what she is saying. The video stream becomes private to you only. Unless the site allows "spying", more on that later.
Other people who were in the room before will be told to wait.
How can I stop a private show with a cam girl?
The private show will keep going until something runs out. That might be your interest in the show, her willingness to continue, or the number of credits or tokens available.
In a typical show where you've asked for a specific thing the cam girl will provide what you've wanted and once you've enjoyed the show and typically cum then you'll click the Stop or End button to finish it. Do say "thank you" before you click it though, a cam girl likes to know she has done what you wanted.
Try a private cam show at Stripchat.com, there are two types to choose from.
If you run out of credits then the show will also stop, though on some sites such as Camcontacts you can have set your account to automatically top-up from your credit card if you run out mid-show.
Finally, sometimes a model will decide that she has done all she can for you and will stop the show from her end, or perhaps she has to go for another reason.
Occasionally technical issues with the internet, either your connection or hers may interrupt the show. In those cases, the cam site will detect this and stop the charging within a few seconds.
Why should I take a Cam Girl Private?
Private shows are mostly about getting rid of the crowd and being able to really have the conversation focus on just you and her. Rather than being part of a big audience now it is just the two of you in a room, and that means you get her undivided attention.
What you do with that attention is up to you. Perhaps you want her to do something specific. Cater to a particular interest of yours. Or just pose or masturbate just the way you prefer.
Take a model private at MyFreeCams where the All-American girl-next-door cam girls are always available.
Alternatively, it may just be that you want to be alone with her so you can talk to her about things you don't want to share with others. Although some models will chat with you via Private Messaging (PM) in a public chat room, they tend to be busy and won't give you as much attention until you take them private.
Sometimes you take a cam girl private just because you can. Being able to sweep a girl off her feet and take her away from the party to just be yours might be hard in real life, but it only takes a click of a button to do it on a cam site.
Lastly, fans of a cam girl who does public shows can take her private regularly just to show their appreciation. A private show means money to her, and nothing says you really care than actually helping her pay the rent.
Why can't I take a cam girl private?
Sometimes privates shows with cam girls don't work the way you'd like.
Some cam girls don't do privates, they would rather be in a public room and get paid in tips. In those cases the "start private" link or button may simply not exist.
For models who do have that link, it isn't automatic that she'll agree when you press it. If you ask to go private without discussing it with a model first she may decline or reject your request because she wants to agree with you first what is to be included.
Another reason privates might not be available is that you do not have any credits or have a paid up account with a credit card.
Even if you have an account with credits or tokens it may not meet the minimum amount the cam girl has specified.
Models can specify a minimum amount of time a private should last and/or the amount of tokens you should have before you can request a private.
Which site is the best for Private Cam Girl shows?
Every cam girl site has a private show system, and a few only have that and nothing else. The majority of sites offer both "free chat", which is paid for by tipping, and the choice of taking girls into a private show.
Which site counts as "best" depends on what you want. Ultimately you need to find a site with a girl you like, at a price you find acceptable.
If you haven't got an account at the top sites, then you really need to check out each one to see what they have available.
Seem like a lot of choices? Indeed it is, and each one has new girls you haven't seen before!
The best site to take a girl private is the site where she works. Some cam girls do work on multiple sites, even at the same time. In that case, she probably isn't allowed to tell you, and it is up to you to go through the major sites and see where she is broadcasting, then do the mathematics to work out which one gets you a better price.
Remember that how much she is paid may depend on the cut that each site is taking, so if you care about her income and the fairness of her pay, then you'll have to look that up to see which one is best for her.
What does it cost to have a private cam girl show?
Well that depends a lot.
On the majority of sites charging for private shows is by tokens or credits. And how much those cost may depend on various special offers, this makes it hard to calculate the actual cost.
Generally speaking, and this is really very general, a private costs somewhere from $0.60 a minute to $10/minute, with the most common pricing being around $5 or $6/minute.
If that seems a lot, and many people compare it with how much you'd pay in a strip club or for a real-world sex worker, then remember that you only pay for those minutes you want.
There is no "wastage", and you only pay for exactly what you want. That means you can satisfy yourself for a reasonable amount. As with anything it is wise to set up a budget and stick to it, but ultimately spending cash for entertainment is no different here than anywhere else.
One thing to watch out for is that the different costs are really disconnected from the "quality" of your experience. It is just as likely to find a model who charges at the bottom end of the scale and gives you a great show, as it is to find a medium or high priced one.
Quality and satisfying private cam girl shows are all about making that connection with a model that appeals to you. Whether she charges a lot or a little doesn't make a difference.
If budget is an issue stick with sites like Chaturbate that let you filter to only the models in particular price ranges or sites such as AsianCamModels where the overall price range is lower.
Can the Cam Girl see me during a private show?
No.
Not unless you want to, in which case it depends on the site.
On sites such as Chaturbate, you could broadcast your own webcam, but the model may or may not be willing or interested in watching you.
You can read the whole cam2cam guide to learn the details, but generally, the answer to this is no.
Do Cam Girls like Private shows?
Yes.
Cam girls generally like private shows more than public shows. Almost all cam girls would prefer to do private shows rather than be in the public room. During a private show, they are paid better and get to focus on just one viewer at a time, meaning they don't have to think about keeping everybody in the room happy, only that one viewer.
It is even better if the viewer has a particular thing he wants to see or do, and explains that specifically when the private starts. Then the cam girl can just provide that and everybody is happy.
Camgirls get paid better for private shows.
The only exceptions are some girls who are very successful in managing a large room full of tippers, who are happy to just let her do her own thing and reward her with tips.
What don't cam girls like about private shows?
There are some bad aspects, but these don't take away from the overall benefit of doing privates. If you know about the negatives though you can do your part to help to reduce them.
First, while a private is ongoing the crowd she has gathered in the public room will rapidly drift away. Therefore when the private show is finished she will be back in an empty room and have to start all over again. Make sure that the time you spend with her in private has made it worth her while. She should have earned more in the private than she will have lost by having to restart building her room.
Secondly, some viewers won't explain or are not clear about what they want to see in a private show. Just saying "do whatever you want", which is a common statement from viewers, is not really helpful. It is much better if you are explicit. Say something like "masturbate with your fingers in doggy position until you cum". Any camgirl would be happy to do that. As professional Masturbators, we are good at cumming in any way or any position that you want, but you just have to say what works for you.
Occasionally viewers misunderstand the meaning of a private and think that the cam girl can or is willing to do things that she doesn't normally do, or are against the rules of the site if it is "in private". That isn't the case. If the site, for example, has a rule against golden showers, and most do, then it applies just as much in private as it does in a public show.
Some viewers presume that a private will include cam2cam and expect the cam girl to watch their cam. Almost always that means a dick cam. And while most cam girls don't mind this many do find it distracting or not really what they are into. If you want a girl to watch you jerk your cock and cum then it is best to clearly ask for this and find a girl who is happy with it. Cam girls do not watch cocks for fun.