Private Shows are the ultimate experience for the cam girl viewer, but they can get expensive very fast. Sometimes the expense is entirely justified and worthwhile, proportional to the satisfaction that the model is giving, but at other times it is simply an expensive site.
Getting a good rate and sticking to a sensible budget are ways that can allow the viewer to enjoy watching cam girls without worry. Don't spend more than you can afford is a good maxim with cam girls as with most things in life.
A little research in advance can help you to find the best deals and make sure that your hard-earned dollars go as far as possible. You don't need to sacrifice quality either as there is little or no correlation between the price you pay and the girl who will provide for you the best.
Partly that's because choosing a cam model is such a personal thing, the model who suits you isn't necessarily the most popular with someone else, but also because geography, middlemen, and business decisions just completely disconnect price from quality.
With some exceptions, each cam site allows for variable prices per model. This is supposed to allow "market forces" to ensure that each model is getting paid fairly for her time. It doesn't always work out like that though, many models work for studio bosses who provide the equipment and location, and take a sometimes-large, cut of her earnings. Those bosses will help the model to set a suitable price, but it doesn't always match with what you expect to pay.
Just like supermarkets and gas stations, there can also be price wars where different sellers, in this case, the models, price themselves higher or lower in an attempt to maximize their earnings. Some models prefer to set their price low and then spend a lot of time in private shows, while others would rather set a high price and perhaps wait between shows longer, but earn more during each show.
High quantity at a low cost, or lower quantity at a higher price. Which one earns the most for the cam girls? It is up to each girl to try different strategies to see what works best for her. Although doing more private shows may seem reasonable some girls just find it physically tiring and don't want to do so much. Although everybody enjoys masturbating, doing so for many hours continuously is fun only for some lucky girls.
Younger and more orgasmic girls who can cum easily may find that being in private, and hence masturbating, continuously all day is not just acceptable but the best way to spend their time. Other girls want to spend time in private chatting and getting to know their fans, building a relationship over a longer period, and not just masturbating continuously. For the many viewers who value this kind of longer-term relationship a lower per-minute fee can make it work for them while sticking to a reasonable budget.
Each model and each site is different so working out the typical cost of a private show requires some presumptions to be made. On most sites, you pay in some kind of token or credit, and the prices are set in that unit. But buying the tokens with real dollars may not always give you the same number, the exchange rate between dollars and tokens can vary according to time, special offers, and bulk purchasing deals.
For each site here I've checked the best and worse rates of buying tokens and determined a typical rate from a reasonable purchase. Using this rate it is possible to check the cost of shows in terms of dollars.
This article is for anybody who wants to watch cam girls but who also wants to make sure they are getting good value for money.
TL;DR
Don't want to read the details? Here are the prices, in descending order of typical price listed in dollars:
The Typical, Cheapest and Premium prices in US dollars for Private Live Cam shows at different Cam Sites
Read on to know about each one in detail and to learn how to get the best rates and what the options are for buying tokens that will ensure you don't waste money.
Flirt4free – A premium experience
Flirt4free has very little "free", except well "flirting". The name may be literally accurate but it fails to mention that shows here are costly, it is right at the top of the price range and so deserves to be called a "premium" website.
When you buy credits here they all end up at just over 11 cents per credit. To get 100 credits you will pay $111. There is a free deal of 120 credits with no charge, but that is a onetime signup offer and only applies to your first purchase so not relevant for ongoing purchases.
Different models at Flirt4free charge diffrent amounts, they can choose anything from 10 credits a minute to 150. The lowest prices are a special which isn't always there, while the top rate isn't that common either.
The most common price is 60 credits a minute, and about a third of the models charge this.
When you add up the models who are charging lower amounts it is more than half the models charging 60 or less.
Considering the models who charge the medium 60 credits a minute, if each credit costs 11 cents then the bottom line price is $6.66 per minute.
Look out for special deals from individual models that will give you a better overall rate, and remember that Flir4Free is one that has a proper gay adult cam section.
Typical $6.66
Cheapest $1.11
Premium $16.65
---
Bongacams
This Eastern European cam site has a great following for its large range of models and a wide range of model types. You'll find cute girl-next-door as well as sophisticated dominatrix at Bongacams. Combined with a good sprinkling of couples, trans and a few gay guys.
High quality video streams that including crystal cearl 1080p HD cams running full stream, as well as real-time "Cam2cam Prime" that gives you an experience close to that of a video call, means that you always get the best view of some of the best models in cam land.
Not suprisingly the prices are comensurate with the quality and are at the top end of the range. And that goes for all the live cam rooms available at Bongacams.
Unlike most sites there is a fixed rate here.
The set price for private chat for every Bongacams model is the same. It is 30 tokens per minute to participate in a group chat, 60 tokens for a private chat per minute, and 90 for full private.
30 tokens a minute for group chat
60 tokens a minute for private chat – into which other people can peek
90 tokens a minute for full private chat – with exclusive rights to view the model
How much you are paying therefore depends a lot on how you are buying your tokens as Bongacams has a variable rate, plus plenty of special offers and discounts.
The worst rate I've seen is paying $0.214 per token, while the best special offer has given me tokens at only $0.057 each. With that huge range it pays to pay attention to what deal you are getting, and to stock up on tokens when there is a favourable special offer going.
If you want to reliably get the best price for your Bongacams tokens then you should investigate how to purchase them via Bitcoin or other cryptocurrency such as ETH. The regular price for tokens paid for using cryptocurrency is about $0.068 per token. And most importantly it doesn't matter if you are buying the minimum of 40 tokens or the maximum of 2,000 tokens.
Whatever the number of Bongacam tokens you buy via Bitcoin you'll end up paying $0.068 per token. That is not including any Bitcoin fees you may pay miners or exchanges, but those are insignificant if you are doing a bulk purchase. When making small purchases you should learn how to reduce your Bitcoin fees while buying cam site tokens.
Rather not use Bitcoin? Then your second best bed is to pay using Euros. If you pay for Bongacams tokens using a credit card, and pay in Euros, then you can get a cheaper rate than buying in US dollars.
Larger purchases are more efficient and get you a better rate. If you have to use a US credit card then consider making a large purchase.
Again larger purchases are cheaper but generally, for a medium-sized purchase you'll pay about 12 to 13 cents per token. It worked out to $0.128 the last time I did the math, which as you will notice is almost twice the price you would have paid using crypto.
Special offers at weekends often give a 10% or 15% discount, and if you wait for those to get your puchases then you could end up with a 10 tokens on the dollar or about 10 cents per token. For the regular buyer this would be a typical cost.
This wide variety of prices for tokens make calculating the cost of a private show less precise, but you can look at some reasonable cases for comparison.
At 60 tokens a minute and 10 cents per token then this means your typical private show costs $6 a minute.
The lowest you can go would be participating in group shows, which are not really private but can be very few people looking on and so you can consider them "virtually private", and with tokens purchased a the rock-bottom cyrptocurrency prices then your show costs you only $1.80 a minute, but that isn't honestly quite the same.
A regular viewer who is always getting the cheapest tokens, but take the pmodel in the premium private for the truely exclusive experience, will pay $5.40.
The bottom line at Bongacams is it pay to pay attention. While typically it is an premium site it is possible to get deals here, but only if you plan in advance.
Typical $6.00
Cheapest $1.80
Premium $5.40
---
Stripchat
At Stripchat prices range from 8 tokens a minute to 200 for a private chat show, and that does not include special things such as cam2cam. The price of private shows is spread very wide.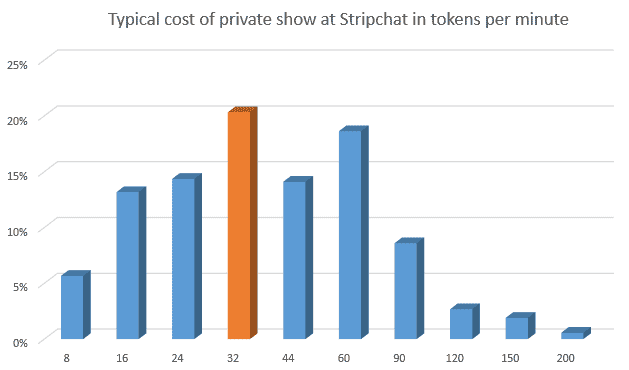 Prices for a normal private show and those for a private show with Cam2Cam vary as well with some models charging more and other models charging less for this.
The buying price of tokens at Stripchat depends on how many you buy at a time. For a minimum order of 45 tokens it will cost you 11 cents each, regardless of whether you buy your Stripchat tokens with a credit card or with Bitcoin. You can also use PayPal, Skrill and gIft cards but however you pay the price will end up about the same.
Getting a better deal on Stripchat tokens means buying more. If you buy a medium-sized pack of 200 tokens that costs you $21 so a cost of ten and a half cents each. You can get better than that price by buying your tokens in bulk. Spend $200 and you can get 2,350 tokens which means they cost only $0.085 each.
Doing the math shows that a typical model, charging the typical rate for which you have purchased tokens at that typical price works out to your private show at Stripchat costing you $3.36.
That sounds quite a bit, but remember that you can also get a cheaper model, and there are plenty of those, and use tokens you have purchased at the good rate of eight and a half cents each, then your private show is only 68 cents a minute! That is a very good rate indeed.
Premium chat models, even at the good rate, will cost you $17 a minute.
Typical $3.36
Cheapest $0.68
Premium $17.00
---
Camsoda
Tokens at Camsoda are cheap but you need plenty of them to get into a private show. There is a very wide range of prices being charged but most models are around the middle range. The minimum charge at Camsoda is 6 tokens a minute and the highest is 20 times higher at 120 per minute.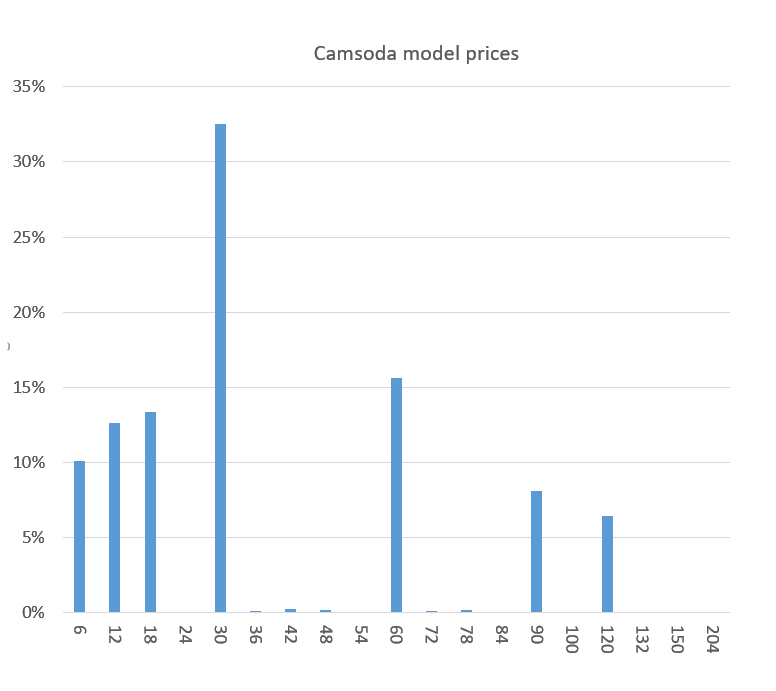 By far the largest number of models charge 30 tokens a minute, that is about one third of the models. If you add in the models who are charging at the lowest price points of 6, 12 and 18 tokens a minute then you can say that more than two thirds of the models at Camsoda charge 30 tokens or less.
More than two-thirds of Camsoda models charge 30 tokens or less per minute of a private show
There are a few models charging as much as 204 tokens, but these are really exceptions. The highest regular prices are 120 or 90 tokens.
The price of camsoda tokens also varies quite a bit, though not by the same extent. The lowest you can pay for a token is 8 cents per token, but to get that price you need to be buying a large number and sending it to Camsoda via wire transfer.
You can get almost as good a deal with any large purchase using cryptocurrencies as you can buy Camsoda tokens with Bitcoin and other coins.
The best rate you can get with a credit card is to buy packs of 550 tokens and pay using your card via the Segpay gateway. Then that 550 tokens will cost you $50, or just over 9 cents each: $0.091.
The worst way to buy Camsoda tokens is in small packs of 50 at a time, in that case, it doesn't matter whether you buy using an American credit card, Bitcoins or Paypal, you still get a bad rate of between 12 and 13 cents per token. Generally, Camsoda gives you a better deal the more tokens you buy at a time, with a small penalty for using Paypal.
For a medium sized pack of tokens you'll pay $40 via credit card to get 400 tokens, so it works out to 10 cents each.
At that typical price of $0.10 per token and with a typical charging of 30 tokens a minute it means that your private show works out to $3/minute, which is a moderate price. If you buy tokens at the best credit card rate, that is over 9 cents a token, and then spend it on the cheapest models, who charge 6 token a minute for their private show, thenyour total cost is only $0.55 per minute.
Now that is really cheap!
It does mean you are limiting yourself to the cheapest 10% of models, and you have to plan ahead and do bulk purchases of tokens, but that one pack of 550 tokens will last you for more than 90 minutes. That's more than an hour and a half of private cam girl show, which should be able to get you off plenty of times.
And don't think that those "cheaper" models are in some way deficient, in fact most of them are simply new models trying to build a fan base, or those from lower-income countries, particularly Colombia, where the price is a good deal for them.
You can find plenty of very hot models within the "limited" range of 6-token models. Over some days I counted more than 100 models in this group. And if you include the 12 token models then, although yo uhave doubled your price, you also more than double your choices.
A chart of the amount that models charge against how popular they are, measured in the number of viewers who follow them, shows that although the higher priced models are more popular, there is plenty of interest still the viewers who are following even the lower priced models. That shows they they are still desireable and worth taking a look into their rooms.
At the other end, if you want to hang out privately with the premium models who charge 120 tokens a minute, you'll probably be buying your tokens in bulk anyway and be getting a good price of 8 cents a token. In which case, even these "expensive" models will charge only $9.72 a minute.
Typical $3.00
Cheapest $0.55
Premium $9.72
---
LiveJasmin
Livejasmin has a range of mostly studio premium models who charge anything from 0.98 to 19.99 credits per minute. As with most sites the extreme prices are not the most common and you'll find over half of the models are charging 2.49.
That is the lowest price allowed except for the 0.98 special offer that models are not that keen on. Generally at LiveJasmin, you should expect to be paying 2.49 or perhaps 2.99 most of the time. Unless you are a bargain-basement hunting in which case you'll have a more limited range as models rotate in and out of the discount area.
The cost of buying credits at LJ doesn't vary a lot, but there are still better or worse deals to be had. If you buy more it costs less overall.
Buying very large quantities via credit card will get you the best rate, but we are talking thousands of dollars worth which is a large amount for a single purchase. At the more modest prices of under 200 dollars then you can get a pack of 158 credits for $179 which means $1.057 each, just over a dollar and five cents per credit.
The worst deal would be to buy a small pack of 17.99 tokens via Cryptocurrency and get charged $1.50 per credit. Although you can buy LiveJasmin credits with Bitcoin it isn't a good deal financially: you may consider it a premium for privacy.
Overall the typical purchase price of a LiveJasmin credit is about $1.13.
At that rate the typical model, charging 2.49 credits a minute, works out to $2.82 a minute in dollars. The cheapest special offers with the cheapest tokens are only $1.04, but that limits your range and requires massive purchases.
If you are a big purchaser then you might be interested in the premium models, but if you pay the maximum of 19.99 per minute then even getting your credits for a good rate will still mean it is costing you $21.13 per minute for that premium LiveJasmin private show.
That is the most expensive on this list.
Typical $2.82
Cheapest $1.047
Premium $21.13
---
Amateur.TV
This european site charges in a very small unit called "Coins". And unlike most sites listed here you need to pay at least a minimum fee to see any video with a girl at all. That basic price is 1,500 coins and is more like a group show than a private. Real private shows go up to 6,000 coins a minute, but the typical price is more reasonable at 2,100.
Even the most expensive rooms are not that expensive if you get your tokens at a good rate. To have premium rooms for less than $7 is a good deal.
Avoid buying coins in small bundles though as then your price works out pretty badly at almost three times the price of buying a large package. A thousand coins costs you $2.99, but if you buy a big package of 40,000 coins then each thousand is only $1.15 each.
Typical $2.62
Cheapest $1.72
Premium $6.90
---
Cam4
Prices at Cam4 vary a lot but 30% of models are charging 12 a minute.
How much yoy tokens at Cam4 dpends on how many you buy at a time. It can be as little as 15 cents each, or as much as 20. The only variable is how many you buy at a time. Never buy the smallest 50 token pack as that is the worst deal, if you want to get the best price then go for the maximum size 1000 tokens when there is a special offer on and for $160 you will get 1,050 tokens.
Prices for typical models at a typical rate of around 17 cents per token work out at $2.16 a minute, a good price.
Typical $2.16
Cheapest $0.91
Premium $18.24
---
Streamate
Stalemate is quite different from the other sites listed here as they don't ask for money in advance, but simply charge you when you go into chat. You can't get anywhere at the site until you have given over some kind of payment method.
Once you have got an account then you get to choose which model to take private, and most of them are charging $1.99 a minute.
Typical $1.99
Cheapest $0.99
Premium $14.99
---
XloveCam
At XLoveCam models can choose their own price for private shows, which seems like a great idea and generally is, except for when you want to see what is most common.
As you can see from this graph there are a lot of different ideas as to what is a sensible price to charge.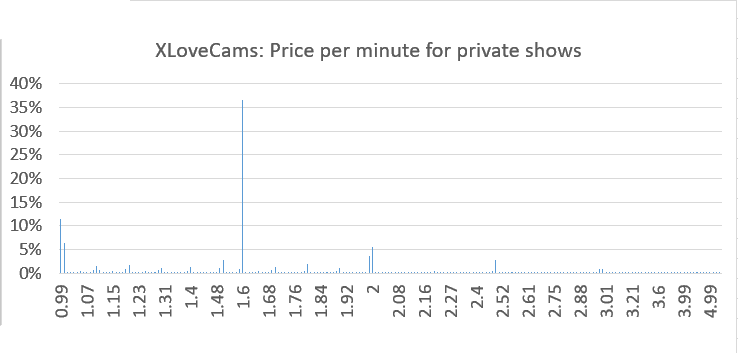 From the minimum of 0.99 to the maximum of 10 there are plenty of available price points to choose from, but only a few are common. Many models choose the minimum, or a cent higher at $1, which double that for two bucks is also popular. The graph above is trimmed off at 5 because there are so few models charging more than that.
But by far the most common price charged at XLoveCam is 1.60. That's the price in credits, but uniquely in this list a "credit" is simply one dollar. So therefore once there are no complex calculations but simply look at the credit price and that's the cost.
There are a few models at the very highest end. I see two models who are charging $10 a minute, but those are actually rooms with two girls so if you think about it on a "per-girl" rate then it is only $5 per girl!
Typical $1.60
Cheapest $0.99
Premium $10.00
---
XCams
At XCams diferent prices are possible but in practie about 90% of models charge 5 credits or "cd" per minute.
The cd at XCams cost between 20 and 22 cents each, so that the typical model will do a private show for 22 cents times 5 cd a minute. That means $1.10 per minute for private shows at XCams. If you want to get a better rate then you will have to buy $200 at a time using a credit card, that gets you 1000 cd.
Typical $1.10
Cheapest $1.00
Premium $2.00
---
Chaturbate
At chaturbate there is plenty of competition and this has tended to push the price of shows lower and lower.
Although there are a few premium rooms charging the maximum of 120 tokens a minute at CB you'll find most of what you want to see at 6 or at most 12.
Each token at Chaturbate costs a variable amount depending on how it is purchased. The worst rate for buying tokens is 12 cents each when you buy a minimum package of Chaturbate tokens using PayPal. The best rate of eight cents per token is obtainable either by using Bitcoin to buy Chaturbate tokens or by using wire transfer. The best rate via credit card is for large packs such as $44.99 to get 500 tokens, which works out at 9 cents each. If you buy some larger and some smaller packs then you will end up around 11 cents each.
A typical, and that means cheapest, model at a typical token purchase price therefore costs just 66 cents a minute. While the cheapest by credit card is only 54 cents. It is even cheaper at 48 cents if you buy your tokens using Bitcoin or wire transfer.
Even the top premium models, where you would be wanting to use the best possible rate to get the best value for your money, will cost less than $10 a minute.
Typical $0.66
Cheapest $0.54
Premium $9.60