One of the oldest live cam sites around Cam4.com has been serving live webcam streams since at least 2010 when I first noticed it, but unlike some other older sex cam sites it has kept up with the times and today is just as much a great place to visit as a viewer or a model as some of the newest choices.
You wouldn't be able to tell from looking at the modern interface, with plenty of models in free chat, doing live porn shows for tips and taking privates, that originally this was purely an exhibitionists site with little or no money involved. Broadcasters competed for small weekly prizes, but there was no tipping or private chat.
Other websites A-C
Try something you haven't tried before!
Today there are a few reminders of that in the advertising for other porn products, and even "premium cam" links that go to established sites like Livejasmin, but if you ignore those it is a great and current camsite.
On a typical day you'll find over a thousand chat rooms online, including female, male, trans and coujples. There are plenty of filters to help you narrow down the many choices to the sort of room that you want to watch, including geographic selections if you particularly want to find someone near you.
You can watch pretty much as long as you want at cam4 even without creating an account, but the system will prompt you to signup sometimes and you can't chat without an account, there are is no "guest123" type accounts here as there are on some sites MFC (link).
Does cam4 have free live sex cams?
What you will get at Cam4.com is everything for cuties just teasing and flashing to hard core sex, whether in the couples section or with toys. All the rooms are live, and there is plenty of sex going on in the cam videos.
For an example of the latter dayanna_sweet does a great show with a split cam showing not only her pussy being pumped to a messy puddle by a fucking machine, but at the same time her face so you can see her reactions.
Viewers tip her to make the machine go faster and it is fun to see her not just get so dripping wet she overflows and makes a huge mess, but also struggling to keep herself quiet when people are around her.
It's a great show and you can watch it all for free, without even doing a signup or giving an email address.
The heritage of this site as being real exhibitionists and not just models is that some of the most popular are mature or ordinary people, take funtime17fun for example who is a 51 year old lady, and I use the word advisadly, from the USA who does regular shows and has been doing so for 3 years.
When you are tired of the pop up "Join Cam4 for free" which appears occasionally, or when you want to chat with her and use other features of the site, then of course it is time to join up for real.
The system will want you to provide an email address, and it doesn't like those privacy ones like mailnintor.com and rejects most, but not all, of them. Sign-up does require you to click the verification link in the email, unlike for example (sexyasiancams) where it is optional. At cam4 you can't do anything with your new account until you do that verification, so look out for the email from [email protected] which contains the link.
Verification emails arrive very fast and look like this (need screenshot)
From: Cam4 <[email protected]>

Subject: Verify at Cam4 to Continue
There is a big red button to click and sensibly a full url for a verification link as well that goes: http://www.cam4.com/signup/confirm?uname=yourusername&rcode2=xxxxxxxxxxxxxxxxxxxxxxxxxxxxxxx
If I wanted to be picky I'd say it was bad security practice to include the username in the url, but in practice it probably doesn't matter.
Clicking the link verifies you and logs you right into the system at a Welcome page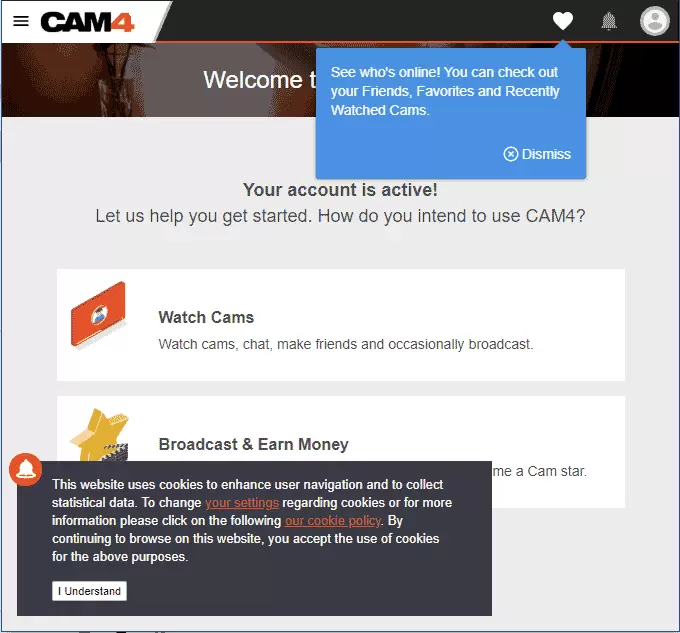 There is equal prominence given to "Watch Cams" and "Broadcast and Earn Money" which is like Chaturbate in that every member is both a potential viewer and a broadcaster.
This person-to-person feel of the site helps a lot to make it feel personal and more social, not just another porn site where you go to watch, but somewhere you can participate. The difference between live sex chat and watching recorded porn is exactly why people come to a site like this.
With an account and username ready to go it is time to explore and there are many levels of things to see here, not all of them obvious before you start digging.
Types of Adult Cams at Cam4
Start with the basic "Cams" menu item in the top left, or first item in the mobile hamburger menu. As well as the obvious choices between Females, Males, Trans Cams and couples there are also sections for "All" if you really don't care.
The options look a bit different on mobile to on desktop but whichever way you view cam4 you'll be able to find the gender you like, and it will show "trending cams" first. There is a sort button on the right which allows you to choose things like Oldest, Youngest, Most viewers or Least viewers.
If you combine the filters under the orange button on the left with the sorting you can quickly narrow down the view to just the type of cam that you are looking for.
If you are looking for the least busy chatrooms with average body, MILF with small tits, who is bicurious, has brown hair and is an Asian who is shaved. Then you will find me, try it out and save the filter for later by giving it a name!
This is a direct link to my Cam4 room.
Come into my chat if I am online and say you read my review here!
Different Show Types: Regular, Private, Group, Mobile…
The problem with the filter is that it shows online girls only at that moment, so if your perfect match happens to be offline then you will miss out. I wish there would be a filter option to show "recently online" or something like that. I know searching every model profile wouldn't be good as some models probably signed up years ago and no longer broadcast, but there are plenty of others who might be a match for your or my interests.
Cam4 Group Shows
You can also filter to find rooms that support private shows, because not all models are into privates which is a thing I fully understand. When you are a host in the room then going off to do a private really takes away from the vibe of the room.
Group shows can be more interesting and you'll find that you can search for rooms that support that. But "group" shows at Cam4 are not like those at CB where it's basically just a multi-person private, instead they are more like a ticket show or the Gold shows on streamate.
For a cam4 group show the webcam girls set the cost of the ticket, how many tickets to sell to achieve goal, show length and time limit for selling (as in if she fails to sell x ticket in y minutes, the whole thing is canceled).
Tickets cost a set number of tokens each, you can find shows with tickets cost 10, 25, 50, 100, 150, 200, 250, or 300 tokens each.
Once enough tickets have been sold then the show starts and only those who have purchased a ticket get to see the show.
Outdoor live sex cam shows on Mobile phones
While you are looking for the right model you'll find that the filter includes an option to look for girls who are broadcasting from their Mobile. That would mean someone using the Cam4 App on their Android phone to broadcast, this is a big plus for Cam4 in that they specifically have a real app, not just using browser based broadcasting.
The rules of Cam4 are more relaxed than at Chaturbate and you can do a online sex shows from any location, inside or outside, as long as you meet a few basic requirements. Basically they boil down to not having any unregistered people in view, and not doing it in any controversial locations (schools and churches are mentioned).
But if you want to broadcast to cam4 on a deserted beach, or on the top of a mountain with nobody around, then that is entirely allowed. It seems a great idea, but in practice that is hard to do. Who has good mobile data coverage on a deserted beach? Not me!
I don't think many other people as when we use the filters to look for "Mobile" mostly what you see is people using in their own homes using the phone to broadcast, which is not really the point. I've seen an outdoor mobile cam show at c4 from darkkristal broadcasting from what looks like some kind of open patio. You can see and hear cars go past in the distance so that counts.
One model, who's name I forgot as I was too busy staring, was in a hotel room and took her mobile out to her car and gave the lever in her car a licking blowjob! That was fun, and in the middle of the night it was dark outside while she walked around the parked cars. As she didn't really get much tips for it though I can't imagine it becoming a regular part of her shows.
Android App for Broadcasting Live Porn Shows on Cam4
It is different if you want to see guy cams though, I saw several really in the street or mall, all non-nude just guys walking around. But of course with random people in the background so that is actually breaking the rules and you can't expect that to last long even if you find it interesting.
The Android App itself for Cam4 has a pretty low score in the Google Play store, only 2.7 when I last looked, with plenty of complaints about it not working correctly. For some people it does work though so maybe it is just confusing. For some reason the support questions are all answered by someone from blyther.com so I guess that is who developed the App?
Are there HD Live Cams at Cam4?
If outdoor is not your thing but you'd rather have high quality cams so you can see a lot of details then you might want to use the "HD" filter to see cams at higher resolution.
The HD filter option is there to let you ensure you only find cams with the best quality video, but actually just because a webcam is technically "HD" doesn't mean the picture quality is necessarily great. I've seen plenty of fuzzy and badly lit cams marked HD.
How does Live Touch work at Cam4.com?
The technical flag with the most potential for interest is the "Lve Touch" which is their name for teledildonics, remote control toys such as the Lovense Lush and similar. But once again the tag only reflects some of the models who are using Cam4's special teledildonics software called Feel Connect app and toys from kiiroo.
If you haven't heard of Kiiroo then it is a less famous toy company that now offers the "ohmibod" line of toys which seems to have started the whole tips-for-buzzes trend a long time ago.
Due to their success over the last few years most models, me included, seem to use the lovense lush. They work nicely, they are a pretty color, and they have that nice pink tail which everybody is used to seeing. When you see the pink tail you know that you can tip to buzz her and that really helps to just make things clear.
But when you use the Lovense software, via the PC app or the mobile phone app, and have it connect to the toy that they are wearing, it doesn't show up in Cam4 as "Live Touch". At first I found that confusing but basically realized that we have to look for models with toys manually.
More fun with toys!
Ultimately it doesn't matter much because most models do have toys, and everybody likes cam shows with remote control toys because it just makes things more fun for everybody. Whether you want a hard core show, or teasing, or just sitting and having a cozy chat, that ability to let you the viewer reach out and give a pleasing buzz where it matters makes it all seem so much closer.
Because using a Lovense Lush without the Cam4 app doesn't automatically get you listed in the "Love Touch" filter the models tend to use the hashtag #livetouch to show that they support being buzzed. It is the single most popular hashtag in the tags section, but still only a hundred or so out of the many hundred online
Probably many models, like myself, just forget to put in that tag so do check out the girl you like and see if your tips are connected to her toy anyway despite whatever the filter and tags indicate.
Cat Ear Camgirls
Another things that you'll see plenty of here? Girls wearing cat-ears, like sarahmodel who looks so adorable in them. I mean a cartoon cat ear headband, I wear them sometimes myself because they look cute and so make me feel cute. You do see them on camgirls everywhere, but maybe it was just me but it seemed there were more on Cam4.
Whether it is by browsing or by filtering or looking at hashtags you'll soon find a room you like, don't forget to check out my cam4 room but if I'm not online there are plenty more to choose from.
Ads on Cam4
Take care when you click through that it actually goes to the room you wanted to go to. When you are either logged out, or are a free basic member, a lot of clicks on rooms end up going to various different sites. This is cam4 selling advertising space, and so you may see a pop-up of livejasmin or other major cam sites. Most confusing is when you click through and end up not on cam4.com but on https://cam4ultimate.com/, which seems so similar but actually is Streamate White Label and so with an entirely different list of rooms.
I'm not sure if that white label belongs to cam4, I do get that they need to generate more income than their main site gets and so are selling advertising, chaturbate is exactly the same, but in this case the naming of the cam4ultimate site does make it potentially confusing.
Across the top of the screen you'll also see extra tabs such as "Local Dates" and "Porn Games", these are also ads and not related to dating camgirls you find on cam4, or playing any of the online games that c4 supports.
Removing all the ads would be another reason to buy Gold membership, though if you pay attention you can still get what you want and navigate the site avoiding ads even though it takes longer. For example just a regular clicking on a chat window thumbnail works to take you directly to that room, ctrl-clicking to open in a new tab often didn't work but there seems to be a lot of randomness in it.
Chatroom interface at Cam4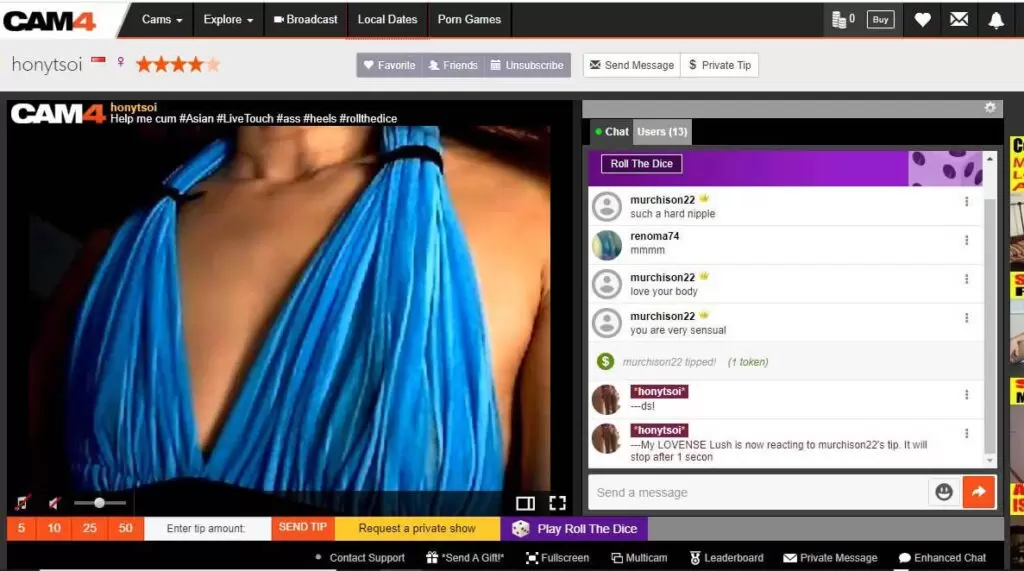 The chatroom layout is pretty standard with a video window on one side and a text chat area on the other. Some of the regular features you'd expect such as full screen are reserved for Gold members customers which is fine as the regular video is ok quality, depending on the broadcasts set up of course.
The music-note icon is an unusual option though, i was expecting that to mute the music that some girls play while they work but actually it is about muting the tip noises. You'll still hear them through the model's mic if she has her sounds turned on, but it stops them beeping on your machine which is nice if you find them annoying.
This can be particularly important in popular rooms where people start to tip lots of 1 token tips, something that really annoys most cam girls only they have to pretend they like it.
Across the top of the video screen are the regular options you would expect, but again a little different. You will find the typical " Favorite ", and "Add friend", But there is also Subscribe, which means to sign up for notification of regular scheduled shows, and My Shop which is just a link to paid videos in her profile.
That's a pity as "Shop" to me sounds like selling more things, but it isn't. This is not a place to buy or sell used panties or the like.
Send message to Cam4 Performer
Then there is "Send Message" which is like sending someone an email and of course Tips. It actually says "Private Tip" which is a tip that won't show to other viewers in the room. The regular tip button, which makes a public tip, is at the bottom of the video window and only there when a performer is online, the private tip allows offline tips as well..
Below the video window there are default buttons for 5, 10, 25, and 50 token tips as well as a text window to make it easy to type in a custom number if the model is asking for a particular mount in a tip menu for example. I ask 49 tokens for some specific flashes and you can just type in the amount and send it.
Play roll the dice at Cam4
A button to request private shows is right next to "Play roll the dice" which is the default game, it is a lucky draw where you spend 35 tokens and get a chance to win one of the six prizes the camgirl has specified. Something like "flash tits"' are common prizes, which is a good deal only the problem is you don't get to choose, it is random.
I guess this appeals to the gamblers out there but I didn't find it very popular in my shows.
There are two other games namely Token Keno and Spin The Wheel but these seem to be even less popular, I guess if you want to play games with a camgirl you should be going to plexstorm.com Make a stub and point to it )
Show in Private Cams
Want to take a model into a private show? Just as with all sites you can do a private cam show per minute, if the model has selected this option, or alternatively you can buy private camshows on a block basis.
Models get to create offers of particular blocks of time for a specified cost.
What you can't tell in advance is what type of show each model will offer until you go into her room. Click on the button for "Request a private" or "Go private" and you'll either be shown her per-minute pricing or be offered a variety of time-blocks that you can buy
While the per-minute way of paying for private cam shows is quite typical and is just what it sounds like.
The other which is "select a block of time for you private show" means that you will be selecting from a menu of choices that the model has prepared.
For example there might be "10 minutes, striptease and toys" show at 24 tokens a minute in the pictured example. That means you have a set cost, but also a set time. It is in units of 10 minutes, and if the time for a block is about to run out then you get an option to extend it if you are not quite ready to finish.
Try Cam2Cam at Cam4 for Free
Notice the "Try Cam2Cam for free!" option when you select a private, if you like to increase the intimacy and have two-way video and audio then of course that is a thing.
Check out the details of how to cam2cam at cam4 in this how-to.
If you prefer to buy time in blocks like this then it is actually hard to find models who are offering this. Unlike CB which has a "next cam" button, or stripchat which offers related (similar) cams, there is no way to quickly scan through cams looking for what you want.
Buying tokens on cam4
Once you have found the girl of your dreams, marked her as a Favorite, so you can find her easily, Added her as a friend so you can text message when she is offline, and Subscribed to her show schedule.
Don't forget when adding a model as a friend that he or she has to accept your request, it isn't automatic. Sending a gift or tip along with the request of course helps!
What are Cam4 Gifts?
GIfts are just a pretty way to given tokens, the gift ends up on her page and feels nice, but like Marlyn Monroe said
"A Gift may be quite continental, But Tips are a girl's best friend."

Marlyn Monroe
You can purchase tokens using either credit card or PayPal, in batches from 45 tokens up to a thousand. At the same time there is also a monthly "gold membership" on offer.
As a new customer you may want to make a smaller purchase at first, or consider signing up for a gold membership 7 day trial, which is free with a token purchase via card, but do remember to unsubscribe before the trial is up if you don't find it valuable.
Getting a discount on cam4 tokens
Your first purchase of tokens larger than the basic 45 or 50 come with a 50 token bonus, so it takes a little calculation to see where the best value is. The difference isn't large, but why not be efficient in your purchases?
Worst value is buying 45 tokens via Paypal for $9.95 plus $1 fee. That is the smallest paypal package and it works out that the tokens are costing you $0.24, or almost a quarter dollar, for each.
The above only applies for that initial purchase, for additional token buying the price basically comes down the more you buy the better, with credit card being a bit cheaper than paypal. They have those Paypal fees to pay after all.
Your cost per token comes down to only $0.16 or sixteen cents per token if you are buying 1,000 at a time.
Discount table
If you consider the basic cost of a token to be 24 cents then the tokens you get at 16 cents each are a third off or equivalent to 33% discount. On that basis the discounts go from 9% through to 33%.
| | | | | |
| --- | --- | --- | --- | --- |
| Tokens | Price | Price per token | Discount | Note |
| 900 via paypal | $159.99 + $1 | $0.18 | 26% | |
| 450 via paypal | $84.95 + $1 | $0.19 | 22% | |
| 225 via paypal | $44.95 + $1 | $0.20 | 16% | |
| 90 via paypal | $18.99 + $1 | $0.22 | 9% | |
| 48 via paypal | $9.95 + $1 | $0.24 | n/a | Worst price via paypal |
| 1,000 via credit card | $159.99 + 1 | $0.16 | 34% | Best value is bulk via Credit card |
| 500 via credit card | $84.95 + 1 | $0.17 | 29% | |
| 250 via credit card | $44.95 + 1 | $0.18 | 24% | |
| 100 via credit card | $18.99 + 1 | $0.20 | 18% | |
| 50 via credit card | $9.95 + 1 | $0.22 | 10% | (compared to PayPal) |
| "100 tokens free" | $19.95 monthly | | | |
Cam4 token buying discount calculation table
Payment process WNU.COM
Unlike some sites which provide multiple payment processors the only one you can use on cam4 is wnu.com, even their paypal processing is via wnu.com, and while that is a perfectly fine and respectable payment processor it is only one.
If your card has some issue with that company then you are stuck.
If you want to make purchases using some alternative payment methods then you are out of luck. While many webcam chat sites accept cryptocurrency such as BitCoin for payment, and some even allow gift cards or varies stored value cards for payment, none of those options are available with cam4, that's a big letdown and quite a surprise for what otherwise is a large and sophisticated company.
How much are cam4 tokens worth?
These tokens are worth $0.10 or ten cents each to the models that you tip , pay for private shows or give valued gifts to. One of the banners when you first join the chat says that 100% of the tokens go to the performer.
"You can use tokens to get more from the performers on CAM4.
Performers exchange tokens for cash. You can use them to make special requests, help reach a goal, pay for private time and more.
Performers receive 100% of the tokens you send."
My emphasis.
Camgirls earning money at cam4 via tokens
What they say is entirely true, but doesn't mention that what you pay for a token is not the same amount of money that a camgirl receives when she cashes in those tokens.
When a customer spends $10.95 to buy 45 tokens, and then tips them all to his favorite model it is true she receives the whole 45 tokens. But when she redeems those tokens for money each one only gets her 10 cents.
Calculation says 45 times $0.10 comes out as $4.50.
The viewer has spent $10.95 but the model has received $4.50, which is a smallish percentage at only 45%. If that same spending on her had been tipped to her at Chaturbate she would receive more, but the percentage is still better than some other sites such as Streamate.
To be fair, that is really the worst case scenario though. At the other end of the scale things look better.
Suppose this customer, now totally infatuated with our camgirl, splashes out on 1,000 tokens using their credit card which then costs them $160.95. Once again they spend all those tokens on the same girl, she receives all 1,000 tokens.
This time when she goes to cash out those thousand tokens turn into a full $100 in her pocket.
The customer spent $160.95, the model received $100 or 62% of the spending. That looks a lot better.
Free Tokens on Cam4
There are a few ways you can get "free" tokens, but of course there is no such thing as a free lunch so they are not entirely free.
First of all you could broadcast yourself! I receive tokens because people like to tip my ass, but I do have to wiggle and I can't turn them into cash until I show my real ID. However, if I just want the tokens to spend on other performers then that isn't an issue.
Another way of getting "free" tokens is that you get 100 a month if you are a Gold Member, but as you have to pay a membership fee this isn't really free either. With the membership costing $19.95 that works out to just under 20 cents per token which is quite a bad deal.
You can combine the first and second ways by earning some tokens, then using it to buy Gold Membership. You need 125 tokens a month to maintain Gold.
Lastly you do get a bonus 50 tokens on your very first purchase, as long as it is not the minimum. But that is a one-off and can't be repeated.
Using Skype with cam4 models
This is one of the few sites where Skype is allowed.
On many cam sites you will find guys asking the hosts "can you s k y p e ?", spreading out the letters so that it gets around censoring filters in the chat. But with Cam4.com using Skype is an accepted way to do the private show.
There are many benefits to doing Skype instead of using the built-in video chat room, though most of them are for the viewer and not the performer, so not all performers are enthusiastic about the idea.
What do you like about using Skype for a camshow instead of the website video? Let me know in the comments below.
Using Skype with Cam4 payment
When I first heard that Cam4 was integrated with Skype I thought that perhaps I could pay for cam show minutes using Skype credit, but no that isn't it at all, in fact it is almost the other way around.
If you and the host you want to do your actual video chat on Skype, which you might for clear quality, fullscreen and cam2cam, then you can both connect your cam4.com accounts to Skype.
To do that go into the "My account" section and look under "Payment & Subscriptions". Once you have entered your Skype username then cam4 will be able to know when you are in a Skype show with a cam4 model.
It is even possible to tip during the Skype show using a command inside the Skype text chat window, with all this it makes the whole process of using Skype for meeting your cam girl so much easier. One benefit for camgirls is also that they can rely upon cam4 to process the payments and don't have to worry so much about the financial side or worrying about timing and keeping an eye on the clock.
Chatting on Cam4
You don't have to use Skype though, cam4 works perfectly well as a cam site for video and chatting. The video quality is good and the text chat easy to use. Compared with a site like chaturbate the video quality seems a little weaker, but not so much you'd find it fuzzy on a PC. If you are using a big TV screen in your living room or den to watch your cam friends, or want to do full screen on a big monitor, then maybe you'll notice.
As a basic member what you will notice right away is that there is no option for full screen at all unless you are a Gold member. That is someone who is paying the monthly $20 fee to have Gold status. No amount of tipping or being a regular will do it.
Many people use c4 without being a Gold member though, so it works either way.
While you are in chat you will find there isn't much talking back and forth between members, and while moderators do exist but are a less commonly seen than on chaturbate. That seems to be part of the social style of the site.
Is Monthly gold membership worthwhile at cam4?
A monthly subscription of around $20, or 125 tokens if you have earned them, gets you a Gold membership at cam4.com, which comes with a range of benefits.
Some of them are things that are quite ordinary really and at other sites are just allowed for everybody, but a few are true benefits. Depending on your interests and how often you use the site you may well find the extra monthly membership a good deal.
Gold membership costs: $19.95 a month, and it recurs automatically
Gold membership benefits :
More features in chat such as full screen, emojis and multi-cam
Models will immediately know you are not a deadbeat
Cam4 in the forum
If you have any questions or useful information about cam4.com please drop me a note in the Adult Webcam FAQ Forum thread about cam4, or leave a comment on this post using the space below.
Other web sites like cam4
If cam4 seems right for you but you want to find some alternatives or things that are similar to cam4 then you should also try out:
Chaturbate because it is large and has all types of performers,
Skyprivate because it can let you arrange Skype shows, or
Flirt4Free to see a wider range of male, trans and couple choices.
Model signup for cam4.com at cam4bucks
To sign up as a model for cam4 go to cam4bucks.com, where you find all the details and special options for cam4 performers. Although any cam4 member can broadcast, if you are serious about camming then check out cam4bucks.com