Other websites D-L
Try something you haven't tried before!
Gigacams.com / Thuis.NL Dutch Camgirls
Amsterdam is famed for its liberal attitude towards sex and drugs, so it probably isn't surprising that The Netherlands is a popular place to host a camgirl site such as Thuis.NL. Amsterdamlivexxx might have been one of the first in the 1990s, but there is no shortage of European centered cam sites calling Holland their home.
The main website of this camsite is www.thuis.nl, but they also have an English skin at www.gigicams.com which gives the same options, but makes it easier for those who can't read Dutch!
Actually, even on thuis.nl you can click the flag to switch from the red/white/blue flag of The Netherlands to the Union Jack of the United Kingdom. That gets you a British-English user interface, but with prices still quoted in Euros.
Female only at Gigacams
Switch over to gigacams.com if you want to see prices in Pounds Stirling. I didn't see any option to see it in US$, but then the conversion is pretty easy and I don't think that the currency differences will stop you enjoying the site.
Like many European camsites it focuses more on private chats, without much attention to free shows, I couldn't even find any teaser chat rooms. Although it seems from the labels that the system does support free or teaser cam chat rooms, in practice I didn't see any examples while I was browsing the site. Perhaps it was the wrong time of day.
The main page of the site consists of the typical gallery of photos that you find at any camsite, and it is here that you will start searching for the girl of your dreams. At the moment they are all female as far as I can tell with no TG or males. Not even couples.
Signing up
Calling them "girls" is unfair as well because they do come in a wide range of ages and styles. From buxom black girls to mature blonds. A lot of the photos are "glamour" style with a helping of artistic posing and filter-like effects. It isn't Instagram though, at this site you will see plenty of skin on show though it is mostly bulging boobs and smooth asses wearing thongs rather than anything harder core. Professional looking photographic studio style shots in with recumbent models in black lingerie are also mixed with more casual beach bikini poses.
Signing up for the site is easy and gets you a free account without any credit card or other payment details. With a free account, you can mark certain models as your favorite and get notifications about them. Notifications arrive via email and are not particularly discreet, as I signed up with the English version of the site gigacams.com the emails are from Gigacams and have subjects such as "kelly just came online".
Confirm your email address
Creating the free account only needs that you provide a username, email and password. A verification email arrives quite promptly and clicking the link makes your account active.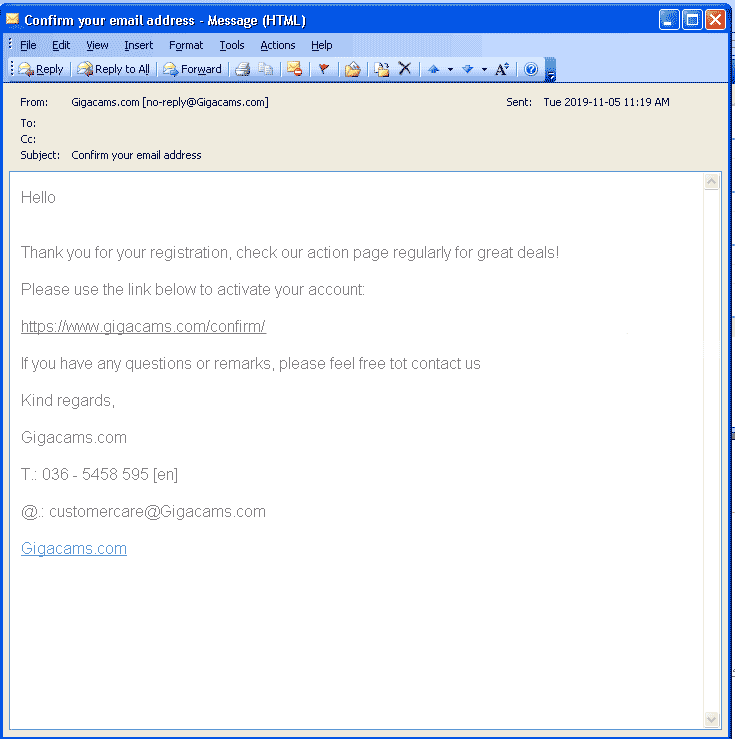 Facebook registration doesn't work
The signup page also has a "Register with Facebook" option, but I really can't see that as a great choice given the famously low concern that FB seems to have for privacy. Luckily clicking the button doesn't work and takes you to an error message. That's just as well I believe and time to go back to using an email address to sign up.
Basic, Medium or XXXL packages
When I tried to login to thuis.nl with the account that I had created on gigacams.com there was a brief error message flashed on the screen, but then I was quickly directed to gigacams where I found myself logged in so all well and good.
A big banner across the top of the screen says "Private cam and chat only £0.65" per minute. That works out, at today's exchange rate, at 86cents/minute which is really very reasonable.
So with free account in-hand, my session logged-in and promise of some discounted dutch delights it is time to start to browse through the models.
Credits are sold in packages, you can choose Basic, Medium or XXXL. Although each package size includes bonus credits you need to calculate carefully which package is best for you. If you buy 5 of the Basic packages at £8.70 which give you 1,000 credits each plus a bonus, then it works out as the same price and same number of credits as buying a single XXXL package of 5,000 credits with a bonus for £43.48.
Or in other words there doesn't seem to be a discount for buying in larger amounts.
+ Icon to see gallery
Each model's bio provides all the information you'll find for them, with most only having a brief text description of themselves.
The headshot with a "+" for zoom leads not to a larger version of the thumbnail shot as you might guess, but to a slideshow gallery. When you look into the gallery some of the models are starting off with a video that gives them a minute and a half to show what they've got to attract you.
Pay safely with PaySafeCard
Once you have selected your preferred Dutch camgirl then you'll need some money in the system before you can take her into a private chat.
This is the second site I've looked at recently that offered PaySafeCard as a payment method. Perhaps it is catching on now with camsites.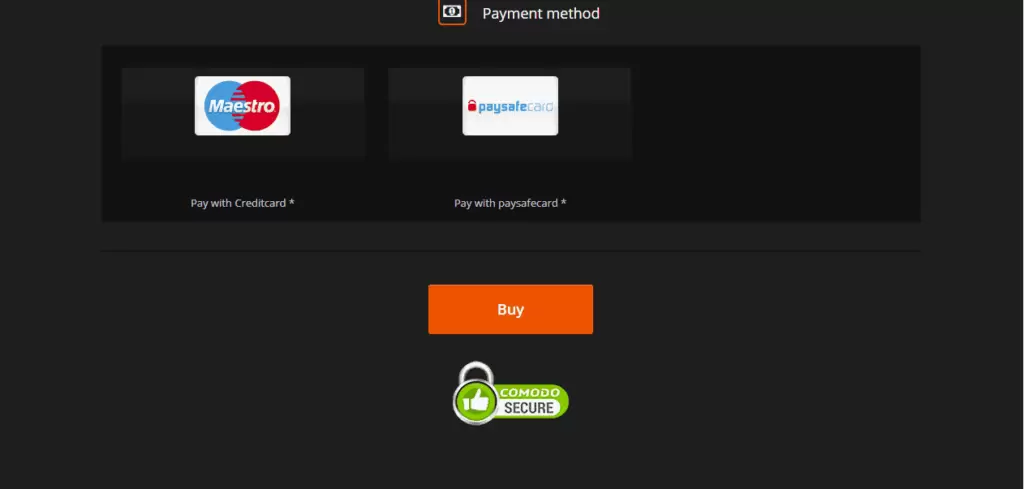 The logic is certainly good in that you can buy the stored value "card" anywhere, then spend it without releasing any public information. Despite the name, it is not really a card, it is actually more like a PIN with a stored value.
Chat and cam, Teaser, Peek and Email
You can buy cards in shops in some cities in Europe, or buy them online using an app, but it is the 16 digit PIN number that holds the value. You use those PINs at participating vendors such as Thius.nl and the camsite never knows anything about your personal details, after all you could have bought the card/PIN using cash in a convenience store.
Members can send emails to models and that is free, but when the model answers by email you will have to pay credits to read the reply. This is a bit like the way AdultFriendFinder.com used to work, and people didn't like it much back then either. As the whole point of a camsite is live interaction I'd rather save my money for that, but on the other hand if you want to develop a long term deeper relationship with a model it may feel right to be able to email or message her back and forth even when you are not online at the same time.
Each model can have a range of different options available on their profile page: Each one has a combination of: Chat and cam, Teaser, Peek and Email.
While "Email" is clear the other options seem too similar and I can't tell what the real difference is. I presume they represent different levels of interaction, like spying, privates, and 1-on-1 as some sites have it.
A notable thing about the models at Gigacams / Thuis is that there are a much wider range of ages than most camsites offer. After paging through over 200 model profiles I calculated an average age of 32, and with a plenty at the 25 and 35 ages that was balanced by plenty in their 40s.
Quite a difference to Chaturbate or even the Indian DSCGirls that are much younger on average. Even if the rules of a camsite don't forbid older women there are simply less of them, either supply or demand I'm not sure. But those older models are getting work or they wouldn't stay online.
Before you rush off and try Thuis / Gigcams you should know that you might not be able to load the website at all. If you are from one of the countries they ban, then the site simply doesn't load at all. For USA, Europe and Australia it should not be a problem. I tested from a few different locations (virtually, I didn't really travel around the world for this!) and found that in Russia and Brazil as well as Singapore I couldn't load the site.
Signup as a Dutch webcam model
If you would like to be a model at Gigacams then try going to http://www.club-sense.com/ where the offer for models is that you can make €0.40 per minute per client, but that is for video chat. A lower fee of 30 Euro cents is available for things like voicemail and email. It doesn't say so clearly but I presume that fee is per-email as you can't measure emails in minutes.
Comments on Gigacams in the Forum
If you have some comments about Gigacams, or the Thuis.nl site then leave a comment below or make a post about Gigacams in the forum.