Rampant TV is a UK-focused cam site which offers video chat with a select range of sophisticated glamour models and professional porn performers. With support for phone-only sessions, it straddles the space between phone sex and camgirl site, with a nod towards its origins as a pay-TV channel.
Combined with popular first-world models and an active community forum that covers everything from Babes to Cricket it is a one-stop-shop for the red-blooded Englishman, and a worthwhile spot for anybody to draw up a stool and have a chat.
At first, I was confused by the name of this site, why was it "rampant" and how was it "tv". Both of these questions were answered when I started to use the site. The "TV" theme runs throughout the site with sections divided into "channels" and a schedule of shows.
None of these are unique to Rampant.TV but when all put together it feels a lot like watching cable TV on a Media Centre system, which is probably exactly how it was designed. According to their own description they started as a pay-TV channel on the Sky TV satellite service, which is something that was very popular in the United Kingdom 20 or more years ago.
"Rampant members" in Victorian erotic novels
That clue of an English origin then made "rampant" make a lot more sense.
2. Heraldry
usually postpositive (of an animal) represented standing on one hind foot with its forefeet in the air (typically in profile, facing the dexter (left) side, with right hind foot and tail raised, unless otherwise specified)'two gold lions rampant'

Oxford English Dictionary
That's when I remembered references to "Rampant members" in Victorian erotic novels and realized that rampant probably conjures up images of stiff cocks and heavy breathing for many people. It isn't the other meaning of rampant that came to my mind first, things like "rampant destruction" and "rampant corruption". Thoughts that are totally unrelated to this site.
Having got my mental alignment all right the site makes a lot more sense and it wasn't long before I was diving right into a channel. When you first visit the site it shows big thumbnails of the available channels. Though they are named when you point to them, clearly the idea is that a picture tells a 1,000 words.
Just click the thumbnail to go straight into that channel where you find a quite typical video window and text chat combination.
You are in right away with no signup, no account, let alone any payment, you have high-quality video and a text chat room with a good looking model. They all seemed to be in bra-and-panties or similar not-quite-nude lingerie outfits, so seductive and certainly not shy but also not the complete nudity you'll see in other sites.
Occasionally you'll see nude or topless, or even a sex-toy show going on, but a most of the time for most models lingerie, or even dressing gown, chat.
Naughty private session
The free video cuts off quite often, but not because you've reached some free-video-time-limit as other sites have, but because models are often going into a private session and you are left as the outsider, watching in, but not actually seeing anything.
You can click the button to get alerted when that model is available again, presuming you have a working account and are logged in, but you are more likely to simply click on the left side of the screen where the other channels are visible.
The button at the top lets you expand the "Shows" section where you can go into a detailed calendar that lists when special shows are planned. There are not that many of them though, so unless you are looking for a particular model you want to watch, the regular list is probably more useful.
All the models I have seen are sophisticated model types, who know how to present themselves and to provide a good show. Each one is broadcasting from a "set", though some appear to be in their own homes there are none of the mobile outdoor shows that you might find on some other sites.
Top nude and topless models
While the models who are online changes over time some popular models who have been associated with Rampant.TV include:
Rampant.TV on Mobile Phone
If you just want to be a view on a mobile phone though then Rampant.TV works just fine. The mobilel interface is suitably compact and as easy to navigate as you expect. It puts your phone browser into "full screen" mode as soon as you go into chat, but that's a full screen of video and text below, not actual full screen video.
Chatting and tipping works fine on the mobile devices.
You can actually open the same room on both your PC and your phone at the same time to see which you like better, or to get the bigger screen on a computer while using your phone to tip. It all works very smoothly.
Create a Rampant TV account for free
From the chat in some of the rooms, it seems that at least some of the models are broadcasting both to the website and to the pay-TV channel, which have different rules it seems. I saw references to models not being able to even do a titty flash "because they are on TV", and later when the same model was "only on the web" flashes were allowed, though still not that common.
To get the best of any of this though you really need to have an account with rampant.tv.
To create an account on Rampant.TV click the green button and complete the simple form. Registration is free and does not need a Credit Card or other payment details. Do you do need to provide an email address that will be verified so it better be real!
It took me several tries to make this form work. At first I chose a username that was already taken, a comon problem with popular sites like this. Just as we all do I threw in a few extra numbers to make the nickname unique, but the register button refused to click. It stayed grey (or dark green actually) and I had to close and reopen this page several times before I could get it to accept the new name.
Luckily I'm persistent and eventually it worked and accepted my name, email and password.
Then you have to wait for the verification email before you can do more. On this screen there is even a nice button to change the email address if you got it wrong.
That button got a work-out for me as the first several email addresses I tried did not work, luckily I have a lot of email addresses to choose from and after a while of waiting, I switched to another one that worked. Just in the interests of science I, therefore, tried out a bunch of different addresses, and most of them worked. There was no problem with gmail.com, my main website email, or even some disposable free email services.
But two email addresses I have, which work for other things, didn't work here. Therefore if you don't get a verification email promptly, say within a minute, then try out a different address. Gmail should work fine.
The email is :
From Rampant TV <[email protected]>

Subject Please confirm your email address

Rampant.TV email verification
And the content of the email has your username, a long url string in red to click, and a picture of a blond topless model. Not a particularly safe for work email, but then you are not signing up to live porn sites at work are you? Nor should you be using your work email for signups, unless like me porn really is your work!
In my case naked models are entirely work-safe, I am nude and broadcasting as a model on another site, not Rampant.TV where I don't have broadcasting credentials, as I write this so for me the email is fine… Other people should be appropriately cautiouis about what emails they use when signing up.
Looking back at the email I realize there is also a button prompting me to become a "VIP" member, but in practice, the verification link works fine. More on the benefits of VIPship later.
RampantTV VIP Membership
The email mentions your member name, don't forget that as it isn't obvious in the "account" section once you have logged in.
To summerize you can either click
Red Verification link
Click Here button
Clicking the red link took me straight into a video channel, to use the Rampant TV term, with a live topless model working towards a goal. The Scottish model turned out to be Amanda Rendall, who has quite a following and an impressive videography as a porn star in the UK.
Her show goal was quite straight forward and to the point, no messing around here. But a large goal it was and though I watched for a while progress was slow towards it. Plenty of tips were connected to her vibrator though, so she was at least enjoying the wait.
Unfortunately the free account I created wasn't good enough to participate in the text chat in this room.
As much of the chat was tipping for the vibrator and a "staff" account urging people on there wasn't too much lost here though. I tried looking through the other rooms that were online, as there are not that many it is quite practical to look in every room, but each one had the "You need a credited account to comment" at the bottom.
Whether this is a hard-and-fast rule or simply the norm on RampantTV isn't clear but certainly it isn't easy to chat if all you have is a newly created free account. Buying any amount of credits fixes that though as when you have credits in your account text chat, and a lot more, suddenly becomes available.
Bonus 50 tokens for a 500 credit purchase
Buying some credits then is the next step, and there is anotherbig bold green button on the top of the screen to guide you.
The pricing is all in British Pounds Stirling (£) and allows you to buy from a hundred (100) to a thousand (1,000 credits), with larger amounts having a bonus amount of credits added in. The basic rate of 100 credits for £9.95, or about 10 British Pence per token. In US$ that is about $12.50 for 100 tokens, or 12 cents each.
The bonus 50 tokens for a 500 credit purchase is therefore about an 8% discount from the base cost. Like many sites Rampant.TV doesn't offer bigger discounts for larger amounts, if you buy tokens in packs of 1,000 it is actually slightly more expensive than buying them in 500s. While the difference is tiny it would be nice to see a sliding scale where buying more actually got you higher discounts, as some sites offer.
"Telephone Advice" from RampantTV
Once you have chosen the number of credits you would like the Purchase button takes you to the actual payment processor while appears to be vxs.com who accept Visa, Mastercard, and Maestro credit and debit cards.
Payments are billed to you with the description of "Telephone Advice" which is suitably discrete and meaningless, but also a connection to the fact that you can engage in chat here using phone, and pay for it like that as well.
Payment via card seems to be the only choice, if you want to pay via crypto or try something which is convoluted but private and secure like the gift card payment that Stripchat offers then you are out of luck here.
Become a Rampant VIP
Another way to go about getting access to Rampant.TV is to sign up for a membership deal. Like many cam sites, in fact, like many sites everywhere, they would like to have you sign up for a recurring subscription. They get a regular income which you can see must be good, and therefore there are some advantages that are reserved for those members.
The prices for these packages varies not only by which package you choose but by how you pay for them. There are options for the credit or debit card which goes to the same vxsbill.com processor, but this time for a recurring charge such as "Rampant VIP Diamond – £29.95 for 30 days recurring."
Alternatively you can choose to pay by SMS / Text, and this is handled by itelebill.com. The price for exactly the same package is much higher though at £45.00 by SMS every 30 days. That is about 50% more expensive, so it is hard to see why that would be an attractive option.
The three levels are Silver, Gold, and Diamond VIP and they come with 125, 300, and 500 credits respectively and cost £9.95, £19.95, or £19.95 each for 30 days respectively. But it is the add-on benefits that are really why someone would choose to sign up for this type of membership.
They all give access to some otherwise private channels such as "BSX", which seems to offer more hardcore shows, while the top membership level also provides access to model DM's. Any membership gets "double forum points", but more about the RampantTV forum below.
Private messages in Chat
There doesn't seem to be any way to initiate a private text chat with a model, but if she messages you then there is a private "reply" box that only she will be able to see.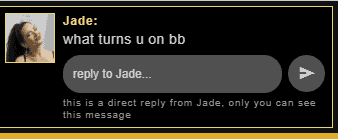 It is a little odd way around of doing things, but functionally it works except that what you type seems to disappear so this type of "private chat" is a bit confusing to follow.
Options in video chat
As you can see "call" is the first option and the pay-by-phone model is still a popular one here. The models are often seen holding an old-style cordless phone, or at least having it on their table.
As a viewer, you can call them, or have them call you. You can either call directly or if you are not in England and don't want international charges there is a thing called Firecall that allows you to phone a local access number in your country, then enter a PIN to connect to the right room.
Having the conversation with a cam girl performer via old-style analog telephone is something that is often offered by Skype camgirls, like those at LiveCamModelShows.com, but you don't see it as a regular feature of other cam sites.
Whichever way you contact the model it costs tokens of course, and if you are doing it by phone then your phone company may add on charges as well.
Whether by using webcam private shows, old school telephone calls or pretty much doing anything will earn you lottery tickets.
Each ticket enters you into a monthly lucky draw, the prizes being more credits. WIth a top price of a thousand credits and 750 and 500 as runner-up prizes, it is an attractive proposition if you like lotteries. Nothing adverse happens if you don't and simply ignore them though.
Privates, groups and tips.
After "Call" ther eare several more options listed across the top of the chat. THese are
Send your Webcam
Start Pervcam
Request private
Tip
am2camThat first option of Send your webcam is the cam2cam or two-way webcam solution of Rampant.TV and gives you two-way audio and video, presuming you turn on your camera and microphone of course.
Click the button and your browser will first ask for permission but then you get a small picture-in-picture showing your cam and the model's cam. You can choose to have the video running or not and with or without audio by muting or unmuting your mic.
How much this costs depends on the pricing of that model but 20 credits to 30 credits per minute are common for cam2cam. The start button worked easily and just prompted for browser permissions then started right away. I had more trouble with the stop button that didn't respond right away, but refreshing the screen fixed that.
Not all models offer cam2cam and the Send your webcam button may be missing in some rooms.
If you don't care about being seen but just want to watch a show then the button for you could be Start Pervcam, which is what on other sites would be called a group show. For a private show, there is not surprisingly a "Request private" button.
It is a request you should notice, some models may not want to do a private just at that moment so they do have to agree. Although privates-out-of-the-blue can have their attraction generally it is best to tell a model here, or in any cam site, that you want a private and what you are looking for.
Then click the button.
Finally, the Tip button is sometimes split into Tip and Vibrate if the model is wearing a toy, that little icon is typical of the Lovense Lush that most models, including me, prefer for comfort and fun.
Although the software is sometimes flakey it is a nice vibrator and works well when worn for a long time, and it has almost become a social-norm on all camsites that the pink tail peeking out means "tip to buzz me".
Words are not necessary anymore, just show the pink tail and people know what to do.
In whatever way you choose to interact with the models at Rampant.TV it will cost you credits, and charges are quite in line with the fact that these are professional glamour or porn models who know how to put on a great show.
It will cost you more than some of the discount, particularly third-world, cam sites. But costs are comparable with other major first-world sites such as Flirt4Free.
Charges are all shown on your account Billing History where you can see credits added and credits charged. It doesn't remind you who or in what way you spent them though, which is a pity.
For a first-world camming experience, particularly if the British styling appeals, there isn't much competition at this level.
The only big shortfall is that, like MFC, this is a purely female performer site. You won't find couples, trans, or any non-females here. No actual male-female sex, so you won't find any webcam creampies on this site sadly.
Rampant.TV forum
While several cam sites have some type of viewer and model discussion area, think of the technically-primitive but busy "forum" on CamContacts, at RampantTV they have taken it to a whole new level with a very active and engaging forum that involves everybody and everything.
With a quarter-million posts, growing at two thousand posts a month, it is one of the deepest cam girl fan forums in existence. Admittedly that is over about 10 years, but it is still impressively active. Particularly amazing is that some threads are 600 pages long and go back 8 years! Not something you would want to read in its entirety, but it shows how dedicated some members are.
The topics of discussion include the channels and particular models that you will find on the site, but also models off this site, though apparently on some related site. For example, there is a long thread about a Thai channel but I haven't seen that on the website, though obviously it is quite popular and the fans in the forum are very familiar with the models who broadcast there.
Forum topics also spin off into sports, including football. But here they mean British Football that is to say Soccer. If you want to have a detailed discussion about Manchester United vs Arsenal with people who also can discuss Thai ladyboy figures then this is the place to go.
To encourage active participation, the people who post and do so regularly can earn points that convert into minutes of "call" time with a cam girl. I doubt whether any of the posters are doing it just for the points, but it does show appreciation from the site for participation.
VIPs get double points, and that is one of the subtle but real benefits of signing up for a VIP membership, even the most basic one.
Recorded Videos and more
While the forum and the video channels are clearly the main parts of this site there are some other sections that you can check out as well. The aptly named "video" section is for recorded videos and is a mini-pornhub, but populated only with videos taken from the models on the site.
Each video is tagged according to which member recorded and uploaded it. Any member can also download the video as an MP4 file to watch later or to take with them. Strangely although the videos all say which model they contain there is no easy way to click from a video through to the room of that model.
No model bio page
That reflects that there is no model bio page as such, but I'm told that the idea is being looked into and so hopefully that will appear at some point in the near future.
The search option in the videos section only lets you search the videos, so you can find plenty more of any model that you like, but if she isn't online now then that's that.
Alternative names
Although Rampant.TV is the name under which I first found this site some of the material seems to also be available on babestation.com with more of an emphasis on the scheduled shows. The calling app and some of the financial side seems to refer to FireCall.TV which appears to be the back end of part of the system, so that name also relates to this.
Want to sign up to be a RampantTV model?
If you want to be one of the models who broadcast on Rampant TV then the signup link is at https://my.firecast.tv/ but there are no details given about how much the payout is or what the terms are.
It isn't clear if individual independent girls are going to be signing up, but if you think you fit the "look" of the models here and would fit in, then it would certainly be a great place to try.
In order to find out the details of their offer contact the Rampant.TV model representative Kanika by emailing her at kanika [ @ ] rampant.tv and tell her that Hony from the Adult Webcam FAQ sent you!
Rampant.TV feedback?
If you have any feedback about Rampant TV then leave me a comment below, or head over to my forum and post a message.