Seventeenlive, as implied by the name, they feature young teen cam girls although they are all at least 18 years old when they were photographed.  Different from standard pay per minute webcam site, Seventeenlive charges per month and so you can watch as much as you want once you've joined.
Other websites S-Z
Try something you haven't tried before!
For the monthly membership you get access to group chat, this is nude hardcore chat with no additional minute charges.
You can pay by credit card or you can pay by accessing through phone.  Their charges are as follows: (Jun 08)
3 day trial: €4.95 (about US$7.69) renewing into a 30-day membership
30 days: €17.95 (about US$27.87) auto-renewal  
90 days: €49.95 (about US$77.55) auto-renewal
Free chat on SeventeenLive
Free live video is possible even before you join up but I must say it is limited —  See the screen shots I collected below  So, if you really love to watch for many many hours a day then Seventeenlive is much cheaper and more economical.  If, however, you would like to browse around, have a free video chat with the girl before you decide to pay for more or not then I will recommend you to go to webcam sites like Cumtv, Livejasmin or Flirt4free.
Free live chat is available but they are quite mean about it.  When you first arrive their site, you will see the big free live video like this:
If you click the top left button for Seventeen Live, it will show you who's online.  Below each girl's pic, you will see what language they speak. Click on the girl's pic and you will be taken to her room.Although there is a text bar, you can't type and chat with the girls. Just watch!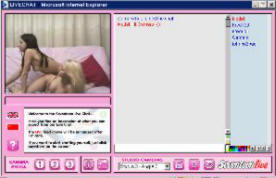 After a minute or so, the nice big video will become really small and they'll prompt you to pay.
The free nude video you get for the monthly fee is all group chat.  If you want to have private chat then that's extra per minute fees of €3/minute.
What you'll get in private chat
In pay chat they have a choice of three angles per girl — that's a bit like amsterdamlive receptionist, but only for all the girls.
Payment in SeventeenLive
Payment is by MasterCard or visa, or by "Anonymous access by (mobile) phone" but only if you are in one of the supported countries; basically Europe.  For example in the UK you would be prompted to dial a 0908 number to pay and then get a password to use on the site to prove you have paid. Recently, crytocurrency was added as another way of paying too.
Generally speaking there is a lot of nudity — much more than you'll see on a US site — that reflects European standards.  It's the same on the beaches right!
Besides studio girls, I can see the "become a model" for a private camgirl to signup too.
If you have any more information about Seventeenlive, please drop me a note in the webcam forum, thanks.
Summary
| | |
| --- | --- |
| Pro for Exhibitionists | Lots of traffic |
| Con for Exhibitionists |   |
| Pro for Voyeurs | You may connect with the cam girls via Snapchat |
| Con for Voyeurs |   |