CumTV is now one of the largest players in the cam area.  Although I still think of them as "cumtv" actually they have many names and now focus around the "cams.com" domain.  The company behind it — streamray.com — is now merged with the AdultFriendFinder people; who are in turn owned by Various Inc which is busily buying up the world's dating sites — the just took over Nerve.com for example.
Other websites A-C
Try something you haven't tried before!
What is Cumtv?
As for CumTV — previously it used a java based chat system but as of around mid-2005 they have migrated over to a Macromedia Flash-based video system. The flash-based version is supposed to be much better for the hosts — more stable and less freezing or crashes than the old version of the software.
One feature is larger video windows, you have to click the rather subtle diagonal arrow in the top left of the chat client but then you get either small, medium or large size chat window:
Cam2cam at Cum TV
As cam2cam is becoming more popular, cams.com has also implemented this. Basically, if you turn on your own webcam, the girls can see you too. Except in this case it's at an extra cost. Unlike imLive or Flirt4free which has no extra charge.
There are a reasonable number of girls online (around 600, not too excessive like over 1,000 in myfreecams ) and they are some nice looking ones. Also, there is plenty of FREE video chat — they don't force you to pay for anything but there are charges for getting girls into live private webcam sessions.
Emailing camgirls at cumtv.com
If you find a favorite girl you want to keep in touch with you can write emails to her by using her user name @ cumtv.com. This, however, is limited to premier members or basic members and you have joined her fan club.
Camgirlslive vs camboyslive
Cumtv also provides separate boy and girls sites: www.camgirlslive.com and www.camboyslive.com so check it out. The guys' site is not busy though, maybe only one or two guys at a time are online.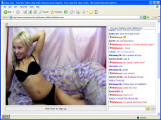 New in Feb 2006 is a feature that hosts can record videos which the customers can download including download to a video iPod. At first these were charged by the minute, but in 2009 the rules changed and it is now a flat $5 fee for each recorded video no matter how long. It isn't clear to me how much of that the host gets to keep.
Fan clubs
There are individual fan clubs for each host, and also Premier memberships available. Each of these gets you 10% off the cost of private chat (with that host only in the case of a fan club) giving you up to 20% off potentially. Premier membership fee is converted to your local currency. One month membership is about USD20, $40 for 3 months or $118 for a year (half the price if you pay it monthly). The next level of membership is V.I.P. which is free. It's more useful if you ever need to spend more than USD100 or more coz that's the limit for basic and premier members. Premier members also get 5 free recorded shows each month.
Similar to CumTV
Finally, if you are looking for more free half nude chat, you should check out Flirt4free or PeekShows. Read my review about Flirt4freeand PeekShows review.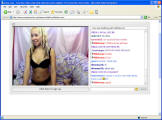 For hosts effective May 24th, 2007 Streamray.com will begin paying models up to 45% of revenue MINUS credit card (10%) and marketing expenses (25%). That's a direct quote, I presume the minuses are from the host percentage and not from the gross otherwise there would be nothing left. Still, that's a big cut they are taking out.
Also, you can choose to reduce your own percentage to as little as 15% — which places you higher on the list of hosts. Hence more traffic. So more business at a lower percentage potentially means more income — it's up to you really to find the right level that makes you happy.
They are also starting a new model incentive which begins with a $100 daily payout for the "Model of the Day" and a $1000 monthly payout for the "Model of the Month". Hosts that run a fan club get 100% of that income, well minus credit card and "marketing costs".
Chathosts can set geographic blockings but it seems as though it is only for US-based people as it is "state" based.
Summary of Cum TV
Pro for Exhibitionists

: Streamray is quite an ambitious company so it grows very fast and has many viewers. Signup page is here.

Con for Exhibitionists

: I haven't actually joined yet so I can't really say — it does seem sort of serious, I was not sure where to put it in this category or the next one. Though anybody can join so there are real exhibitionists.

Pro for Voyeurs

: The video chat window is big (even the free video chat window is big.) and it also has sound. I think many people will find that more interactive. Cam2cam is a better and more interactive experience.

Con for Voyeurs

: You have to pay if you want to see more and cam2cam is at an extra cost.
Pics: Archived CumTv girls pics click here.
News: about CumTV
22 May 06: Promotion: buy 100 live chat credit from CamGirlsLive and get 10 minutes recorded video free.
17 Feb 06: Free video Podcast is available in Cams.com now.
29 July 05: Testing a cam2cam system I've heard from Minnie, but not seen any girls offering it yet.
Sneak view of who's on now:
Also variously known as:
CamGirlMovies
CamGirlPages
ForLiveCams
FuckCamLive
LiveMilfCam
MatureCamsLive
PantyCamLive
PrivateCamsHow
SexyContacts
SexyPeekCams
WildCamDate
adultcams
Do they REALLY need to have that many different names for the same thing?!
CumTV review comments in the forum
Find more cumtv comments in the forum.