It is hard to know how to treat Camsoda, on the one hand, it is a pretty regular camsite a bit like Bongcams, on the other hand, they are trying really hard to innovate and taking live camming to the next level.
The trouble is they don't necessarily seem to know what the next level is, so they are just trying everything and of course some things stick while a whole bunch of them don't.
Other websites A-C
Try something you haven't tried before!
What is Camsoda
Camsoda is a modern and comprehensive webcam site that offers live chat with a range of nude and skimpily dressed girls, with options to pay money to get them to masturbate or do sex acts of your choosing. There is nothing here about drinking a can of soda or soft drinks, so I'm not sure exactly what the name is supposed to mean. Maybe it wants to create the feeling of bubbly and sweet? Those would be good attributes in a camgirl I suppose.
At first, I misread it and thought it was Camsofa, and Imagined girls on couches instead of on beds or chairs. That would be a cool comfortable view to have, but no, that isn't what it means.
As well as doing the "standard" cam site things that you will expect from every webcam site they also venture out into a range of different areas, from Voyeur cams to VR. How much these are real attempts at expanding into a new area, and how much are just PR stunts is not clear. A bit of both perhaps, though the diving-with-sharks incidents shows that they do care about PR a lot!
That doesn't take away from the basic offering which is a solid choice for real-time camming.
Who is online thumbnails
When you first visit the site what you see varies, it seems they are doing some randomness, and you may get a prompt to signup immediately, to get some free tokens, or see the who is online thumbnail screen.
Whichever way you go there is a good collection of rooms to browse.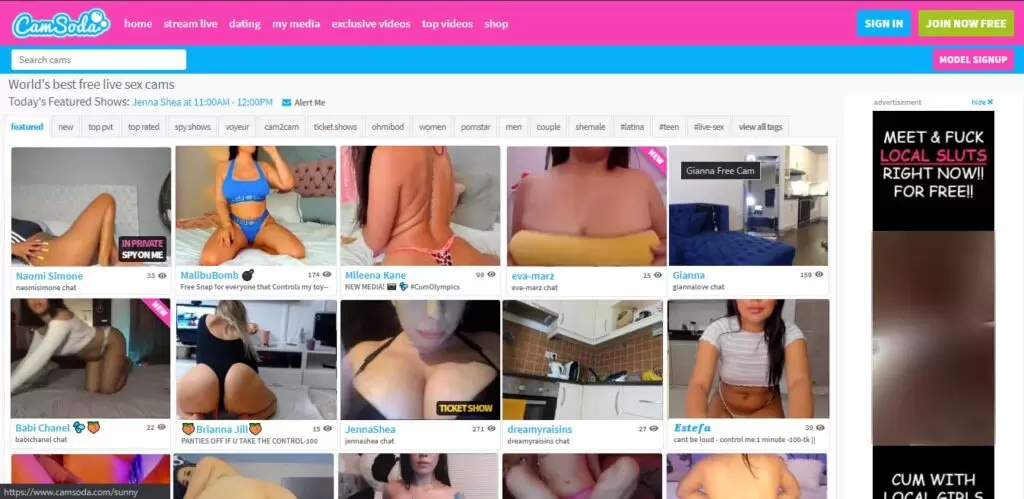 There is a great range of different rooms to go into, from hardcore machine sex through to girls in their kitchen flirting. Voyeur cams even make an appearance on the front page sometimes.
When you find a room that you like and enter you will be greeted with a comprehensive chat room interface with plenty of controls. It has everything you might need, but all rather jammed onto the screen so it is a little busy particularly compared to the sleek modern look of something like Firecams. On the other hand, it does make it easy to reach all the controls without having to remember which button to click or area to point to in order to reveal a control.
It won't be long before you get another prompt for signup though, clearly, Camsoda really wants to get you registered before you do much on this site.
Actually you can continue to do quite a lot though, the controls for the video which are only seen when you mouse-over it works fine even after you are asked to register.
If you click the fullscreen button then you do get exactly that, the entire screen fills. And without the overlay prompting you to register as a member.
Browse Free Webcam Hashtags
Just like at Chaturbate there are Camsoda Tags which are used to categorize what sort of things each room includes.
The top of the tags page shows all the common things that you would expect in any cam site, though the prevalence of Latina is interesting and isn't really what I was expecting. There doesn't seem to be that many more Latina models online but apparently there are, or at least more tagged that way.
Latina
Toys
Feet
Shaved-pussy
Curvy
Big-tits
Teen
18
Lovense
Fetish
Brunette
Ass
Petite
Nature
Cum
Amateur
Squirter
Small-tits
BLond
College
Anal
Big-ass
Squirt
Dildo
New
Scroll right to the end to find some very strange ones though:
Battleship
Boomboomroom
Homework
Underwater
Unfortunately, there were no rooms with any of those tags online when I looked, but I can imagine someone broadcasting them doing their homework while underwater!? I think that would be quite an amazing webcam to watch!
Camsoda Voyeur Cams
They have touched in on the lifecams / or voyeur house niche with live streaming "life streams", for those who don't want to chat but just want to be a fly-on-the-wall, or in this case an ip-enabled-cam-on-the-wall. Watch people sleep, do washing up, and sometimes have sex at https://www.camsoda.com/voyeur-cams
Features for Press Releases
After getting started in 2015 they have regularly turned out "newsworthy" developments, some would say "stunts", which have successfully got them press coverage in everything from Techcrunch and PCMag to the DailyMail.
First, it was "Holographic adult webcams in 2016, then "lifestreaming" in 2017, a camgirl Language school, then in 2018 vibrator buttons that order pizza and so on. They have jumped the shark when they managed to get one of their camgirls bitten by a shark.
Shark diving accident
In 2018 they had the idea to have a camgirl dive in the water near sharks, of course safely in a steel shark-cage.
For whatever reason, the event went wrong and the camgirl was bitten in the foot. Either the cage was wrong with gaps too big, or the girl was careless to let her foot go through, or some combination of those. Some people say it was a hoax.
Since then the promotional activities have been a bit more limited to things like female boxing matches and immersive porn VR.
Is Camsoda Safe
With https security on the connection, their own billing processing it is as secure as any other big site when it comes to money handling.
How can you buy tokens on Camsoda
They offer four differnt "Payment Types"
Credit Card
Paypal
Cryptocurrency
Wire Transfer / Check
Can you get free tokens at Camsoda?
Yes, sometimes there is a bundle of free tokens with your monthly membership. But only for members, and membership is not free. Therefore free but not free bonus tokens.
200 tokens FREE. No ads, send PMs and adjust tip sounds with a $9.95 per month premium membership.

This offer is not always available, sometimes the premium membership doesn't come with tokens, or only for the first month. Read the details carefully.
Camsoda Fetish Cams
There are plenty of models at Camsoda who can provide different types of fetish shows. If you are interested in foot fetish cams then Camsoda is in the top-3 for camsites that have foot models.
Does Camsoda work well on Mobile?
Yes, it works great on mobile.
All the controls you would expect are there are the video and text chat combination is clear and easy to use.
Not working on Firestick or Kodi?
Why exactly you would want to watch a camsite on your big living room media screen I'm not sure, it would put me off to have even the cutest body parts shown on a screen that large! but if you really have to, then you'll have noticed that it doesn't always work well with media center solutions like Firestick and Kodi.
Similar to Camsoda
It is very similar to Firecams.
Signing up as a model
A camsite is nothing without the broadcasters, and as broadcasters, models, chathosts, or talent we all contribute to the community experience that makes camming fun.
On some sites like chaturbate being a broadcaster is almost as simple as being a member, while on others such as LiveJasmin or even more so on Rampant.TV it is quite a challenge to become a model.
Camsoda is somewhere in the middle ground in that they do want everyone to become a model, and will prompt you occasionally about the benefits.
Something new to me is medical health insurance, though it is "support", not actually employee insurance. Which makes sense in the idea that all camgirls are not really employees but independent performers.
Camsoda in the Forum
Do you have more thoughts about Camsoda? I've only been looking at it a little while and not yet broadcast there, so you might want to leave me a message in the forum if you know more or have some ideas about what I should look at next with this site.
Alternatively just leave a comment below.