Now over 10 years old BongaCams.com is a good-looking site that offers a good variety of cam girls and groups.  Bonga Cams are always running some promotions that make it a site worth checking out.
Other websites A-C
Try something you haven't tried before!
How to get a Free account with Bongacam.com
Give them a username, a password and an email address in the little pop-up window and right away you have a usable free account.  The email address doesn't need validation.  There is also a space for a "Promo code" which I presume provides free credits or some discount, but I've not seen any so far.
Once you are logged in with your free account things start to work a lot better.  The video zoom, the text chat, and more.  T
here are a few rough spots though where they need to update their site; for example, when you click the zoom link it pops up a help box.
But the help is wrong, actually it isn't a green slider, it's a little double arrow in the bottom corner.
  Not hard to find it, but the mistake is disturbing in that it means they have been changing, improving, the site but perhaps not had enough time to get everything just right.
Bonga Cams Full Screen
Thinking of zoom, the full screen was very nice, real full screen with the smooth high-resolution video.  Of course, partly that's the girls who have good cameras, bright lights, and fast connections.  But on some sites even they are getting their video compressed to fuzzy blurs, but not here on bongacams.com, if the model can send clear video then they are sending that same high-quality video direct to your screen.
As I mentioned there are only a few hundred models online and of course, being on a small site you can expect that they will be split camming.  While I was watching I found the most popular cam girls online at that time was also split camming, under the same name, on LiveJasmin.
Comparing the video of the same girl on BongaCam and LiveJasmin I found the quality of the video to be identical, but when I went into full screen the big difference is that in BongaCam all I could see was the video, but on LiveJasmin I still had the choice to read the chat at the same time.
As a free registered member then, without any tokens, you are pretty low on the system but you can watch and chat for a while.  But only a short while, after less than 15 minutes, while I'm still taking a look around the system I get told I've hit my limit, daily limit it looks like, and need to buy tokens once to become a premium member.  Sounds like MyFreeCams, only over there you can watch as long as you want so this seems pretty unattractive by comparison.
Now I realize it's totally their business decision to decide how much "free" to give away as a promotional teaser, but in my opinion, this is too little as it is not enough to go around the different cam girls, find one you like, and start to get involved before the limit kicks in.   It isn't hard for a geeky person to get around the limit, but it is annoying and is liable to drive customers away… OR make they pay up and buy tokens of course which would be the intent.
Bongacams Premium Members
To get premium membership lowest-priced bundle of tokens for 1.92 euro, of course, the main reason is that then they have your credit card details which prove you are capable of paying, and perhaps you will buy more tokens later.  Paying customers make the world work and like any webcam site, BongaCams are keen to find out if you are potentially one of those.
Small numbers of tokens can be purchased using phone texting SMS, but for larger quantities, you'll want to use a credit card.  The SMS only works if you are in one of the few European countries they support: Bulgaria, Czech Republic, Estonia, Spain, Finland, Greece, Croatia, Hungary, Lithuania, Latvia, Poland, Portugal, Romania, Serbia, Slovenia and Slovakia.
So for most people, it'll be Credit Card payment
Credit Card Payment with Bongacams
15 Tokens for 1.99 EUR  (~0.13 EUR per token)
40 Tokens for 4.99 EUR  (~0.12 EUR per token
)90 Tokens for 9.99 EUR  (~0.11 EUR per token)
250 Tokens for 24.99 EUR  (~0.10 EUR per token)
525 Tokens for 49.99 EUR  (~0.095 EUR per token)
835 Tokens for 74.99 EUR  (~0.09 EUR per token)
Very nicely they do the arithmetic for you and demonstrate how much cheaper it is per token if you buy a larger quantity.  That minimum is I think the smallest minimum purchase I've seen in a long time.  It really lets you get into the system cheap, and is really more like a credit-card-verification purchase with a few tokens thrown in as a thank you as it isn't even a minute worth of private (that would be 25 tokens).
Visa, MasterCard, Discover, JCB, Switch/Solo, Maestro and Carte Bleue are accepted via either the SEGPAY payment processor or the EPOCH one.
They also take wire transfers for the whales among you to get your account filled up at a price of 8 euro cents a token.
The money that you spend on the site goes to models as tokens, and they can cash out their tokens at a rate of 0.05 euro a token, that's about 6 cents USD.  As the price of tokens varies for the customer you can't calculate a flat percentage and say that is how much they are paid, but according to their FAQ it works out at around 50-60%, which of course is an excellent payout.
Charging for shows is at a set rate, the models can't choose their own prices:
Private chat per minute, tokens: 25 – that is a regular price e.g. with spying by others

Voyeur/SPY chat per minute, tokens: 8 – a third of the cost, and you don't get any chat

Group chat per minute, tokens: 5 – cheapie group mode requires at least 3 viewers to agree first, but continues until the last has left or the girl ends it.
So if you want a real show you'll have to pay.  If you do a private at 25 tokens a minute, and you've bought tokens for 9 euro cents each that mean 2.25 euro a minute, or $2.80/minute in dollars.  Which is pretty cheap, around two-thirds of the cost for a regular private at Freecamstars.
Bitcoin Payment at Bongacams
Want more security and privacy? If you would rather avoid giving your credit card details out then consider paying using a crypto currency such as Bitcoin.  Bongacams is one of a growing list of cam sites that accepts cryptocurrencies as an option when buying credits.
At Bongacams you can pay using a long list of things from Bitcoin, Ethereum to Dogecoin.  The payments are actually handled by a third-party cryptocurrency payment gateway called CoinPayments.  Your cryptocoins are just another way to pay and Bongacam is quite happy to sell you tokens for coins.
When you are buying small quantities of Bongacam tokens it works out cheaper, as much as 23% cheaper, to buy them using Bitcoins instead of using dollars on a credit card.
Full details on how to buy Bongacam tokens with Bitcoins is here.
Cam2cam in Bongacam.com
Cam2cam is supported for any premium member, even in free chat, and can be seen by the most as well as anybody else in chat if they wish to open the window.  But of course most do not want to see, so it's a good thing that the site doesn't charge for this.
At Bongacams you can do Cam2cam on your mobile phone as well.
The list of cam girls, both offline and online, can be filtered and sorted, but the options are pretty basic.  Blond vs brunette vs redhead, weight, bra-size and age and that's basically it.  No ethnicity or specialties.  Perhaps when they have more online they'll do more categories, but at the moment if you are looking for a shaved Asian who does anal, then you'll have to check them one at a time.
There is plenty of tit flashes and casual nudity going on in free chat, but not a lot of shows, and I didn't see any shows-for-tips as such as you expect on free tipping sites.
What can your Bongacams' Tokens get you
It seems that each new site is taking the idea that has already been done at other sites but implementing them in the software.  So when you see that MFC or Chaturbate a room subject like "tits 10 tokens, ass 20 tokens"… etc.  Well, BongaCams instead of a confusing room title with all of that crammed in it is layed out in a set of icons at the bottom of the screen like this.
As well as a regular 
tip button there are also special tip buttons on some but not all rooms that list different things

You can click the red buttons to tip not just in general, but specifically towards one of these separate goals.  I'm not sure all the models really understand how this bit works as for many of them the area is blank or filled in with things that don't make sense.  But it's a good idea and I'm sure they will get it working with experience.
Sometimes you see rooms that are only showing a video to premium members, the so-called "Gold" and higher who have purchased tokens.  That's a way to keep beggars out of the room I suppose but it isn't very inviting either.  I know that cam girls hate people in their room who are only looking for freebies and are never going to be paying customers, but at the same time every paying customer was a new user at once time so on this type of site then there has to be a balance.  For sites like camcontacts that are really purely paid chat that is a different type of user and a different experience for viewer and model
both.  Of course, even they are trying, unsuccessfully so far, to move into the free chat style with their new camtocam.com site.  But that's another story.
Minor quibbles then at BongaCams: there is a "Next model" link but it doesn't really seem to take you to every model, seems more like a random choice.
A link above the text chat prompts you to start your own webcam.
If you switch the who is online thumbnail page view to Image type being "live" then the thumbnails are just that, live views.  Even of rooms that are in private chat, or have been switched to premium members only. The image doesn't get updated that often but at least it gets you an idea of what you are missing.
Bongacams Promotions and CashBack
What else is good at this site?  Well, they are running what looks like a permanent promotion called "Cash Back": Top 5 spenders each day get some free tokens, the top spender is getting 200 tokens.  I guess a big spender spends a lot more than that so it's no big loss but may even create some competition to spend more, at least that's what they are hoping I suppose.  Anybody on the top spenders list is presumably buying tokens in bulk, so getting them at the lowest rate.  Using that rate and multiplying up means that it's a $20 cashback which is no biggie but it's probably more for the prestige of being on the "top members" list!
If you'd like to comment more on bongacams.com please post a message in the forum, or read other peoples comments.  Thanks.
Tips for Models:
How to sign up with Bongacams as a model
Signing up on Bongacams as a model is pretty easy, there is a simple "Model Signup" link at the foot of the page.  A model account is really just a member account with special privileges I think.  As soon as you have given an email/password you get logged in and can right away see how your account will look.  One funny limitation I noticed, your email address has to be less than 32 characters.  I was testing with a test account which was longer than that and got kicked back!  Works fine with my real one though.
A big yellow box reminds you of the steps you need to take before you can start doing live webcam shows for money.
There are basically 5 steps to take to join Bongcam.com:
Complete your profile

Add your picture

Put in contact and payment info

Complete and "digitally sign" the contract

Scan a government ID and upload them
So you do NOT need a printer or scanner to sign up here, provided you can get a scan of your ID documents.  That is great for those without a printer/scanner at home.
The first view in the performer system you get is of your reports where it clearly shows what you are going to earn from working there: Chat shows pricing: Group chat per minute = 5 tokens, Private chat per minute = 25 tokens and Voyeur chat per minute = 8 tokens.  Remember each token is 5 euro cents or about $0.06 so slightly more than MFC or Chaturbate.
When you fill in your profile you can define a "Display Name", so you are not stuck with some unsuitable username like at chaturbate, the rest of the profile is standard stuff: age, Ethnicity, Language primary and secondary.
Strangely, for language options they are only allowing you to list English, German, Spanish, French and Russian.  What happened to Romanian, Arabic or even Italian?  The site itself can work in Italian if you click the little Green White Red flag at the top of the page, so why not acknowledge that there are camgirls who are primarily Italian speakers?  Italian cam sites like rivcams are booming too.
Height, Weight, Body Type … Though here they mix "Big and Tall" and "BBW" into one category which shows that nobody running this site is a BBW fan if they can't tell those are different interests!
Hair, strangely limited to Blond, Brunette and Red Head, what happened to Black hair?  Then Eyes, Bust (large, small or medium!).  Pubic Hair (hairy, shaved, trimmed).
Then the regular turn-ons/offs and "Fantasies".  A "Hometown" field is there and can be filled in as you like so you are not required to show your actual country as on Chaturbate.
It's funny isn't it how the choice of options by the site programmer shows really their interests, or lack of interests, or perhaps lack of imagination!  Still, it's an ok basis.
Next upload your profile pic, this is the one that will be shown as a thumbnail.  Though the viewers also have the choice to see the who's online screen with thumbnails of the current live feed.
On the Payment screen, you can choose only WebMoney and Paxum.
Payments twice a month.
Set up for your Cam Shows
During chat you can set your goals like this:
You can specify your speed and whether you allow private or group chat, as well as turn off video for free guests, e.g. non-premium.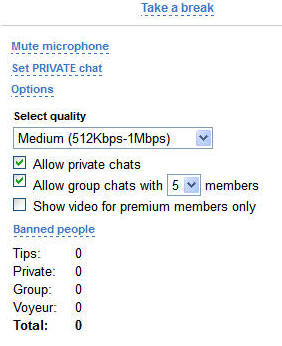 In chat right click on a user and you can see their token balance and stuff like that:
Altogether quite a good site for models.
My only problem at the moment is the fact that I found a message claiming that the whole site was for sale dated just a month ago.  So if the owners are trying to sell it that means their cashflow isn't great, so it's a worry if you work there and maybe their fail before the pay you.  So more than ordinary caution required.  Seems a shame as it looks like a good site with potential.
Seems to be ok now, they said they are no longer for sale.
Paxum payments are from "AVS Media".