by
Hony
Rated as
5
> Only a few models but some good ones and interesting features
out of
At first I thought adultwebcam4u.com a completely dead site but then I realized that no there are some hosts showing there, but it just really is a little. After watching for some time the most I've seen on at the same time is 5, and most of the time it's just one.
Often when I have been there it is "Angel" a very sweet faced BBW who is lots of fun and seems to manage to run a pretty good chat room. In her chatroom you'll find a bunch of regulars as some chatting back and forth. It's one of those text chats that don't let you see who is in the room until they speak though, but of course she can see as people join, even free guests.
As soon as I went in to free chat, no registration required, she did warn me that the system was going to time me out in 5 minutes. I think that's a common feature of this cam software which I'm starting to see more and more, it's called Moderna and quite low cost so many new start-up cam sites are using it. I'm presume it comes with a standard set of black and red templates as it seems most Moderna sites use this same basic design which I have to say doesn't appeal to me much.
Anyway after a while you'll find at AdultWebcam4U you get kicked out, but don't worry you can just register a free account to continue.
Just enter username, password and an email address and wait for the conformation email to arrive. The email is "From: AdultWebCam4U" with the subject "Confirmation email ". Click the enclosed link and you are confirmed and logged into the site with zero chips.
There is no prompting you to buy credits yet, though of course you can do so later.
Once back into free chat with Angel I can see more controls now and most importantly great options with the audio. She was playing a track and it was so clear because I realized the system was sending her music and her voice to me separately because they had individual volume controls like this:
What that allowed me to do of course is as you see here keep the music low but her voice at full, which is a great solution for people who don't like the music being played or at least want it more in the background. I wonder if anybody will do the opposite and pump up the music and mute the model!?
See also the Video Zoom slider? Slide that to the right and the video window doesn't change size but it just zooms in to what is being showed; then you can drag with your mouse to move which part of the models video you are zooming. Obviously this is great in a show if you want to zoom in a particular part of the model whereas someone else might want to zoom in a different area.
All great features of this new software that AdultWebcam4U are using.
Private chat rate is 10 chips/minute in the room I saw, then a little later in the day 3 chatrooms were live at 20 chips each minute or 30 chips per minute. That is all for "Private" but there is also a "true private", which is around 5 or 10 a minute more.
That implies there is a voyeur view somewhere but I couldn't see where.
Buying chips is directly from the site, they ask for your credit card and process it themselves. That's quite rare for a small cam site and I'm not sure it is a good or bad thing, maybe just "different".
Chips are 10 cents each so for $10, the minimum purchase, you get 100 chips. There is no discount for bulk so even for $100 you only get 1,000 chips.
That means even the most expensive privates I saw at around 35 chips are a minute are actually $3.5/minute which is medium priced.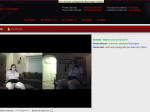 One of the rooms I visited, for Ariesfire, had two separate cams that could be chosen from a drop down box, or a view with both showing at the same time.
It's a very nice feature and I wonder how well it works for shows, I see right off that there would be a problem of which camera to 'play to', in that as a performer you like to know where your audience is then basically "point" yourself to them to make sure they get the best view (or hide the worst parts!). How do you do that with two cameras? Ariesfire was using both cameras to basically have a whole body shot from different angle, perhaps instead she should try something like the "face cam", "leg cam" etc that Amsterdamlivexxx pioneered years ago for their reception desk cam.
This new site knows that getting quality performers online is a priority as they get started up and so they have been proactively contacting people, you can see it in twitter and I'm sure it is elsewhere, who are experienced camgirls. A special offer of 90% payout for the month of July 2012 has been made, instead of a "regular 60%", provided that you do at least 20 hours.
All in all an interesting new site that is trying hard and making good use of the features of this new cam software they have.
If you'd like to comment more on adultwebcam4u.com please post a message in the forum. Thanks.
Signing up as a model is easy, there is a link in the footer and a simple form to complete. You have to download a PDF contract, print and sign it, and upload it together with uploading photo ID. There are no instructions on what is or is not acceptable so I suppose any normal government ID will do.
Next choose a payment method which can be Check (for US only), wire transfer which is free if over $300 (there is a $25 charge if you wanted a smaller amount). Or Xoom, which I doubt anybody except those from India would use.
In fact the very inclusion of Xoom is a bit strange, it suggest to me someone writing the software or working on the servers is from India or that wouldn't even include this option. No Payoneer, Paxum or any of the other common options that camgirls like for electronic payments
If you are in the US and selecting Check then there is a $25 minimum payment.
After specify your categories, such as female, BBW etc you get to set prices. From 5 to 100 credits can be specified so it really is up to you and there is no guidance so you better look at what others are doing first to get some sort of idea of what is considered reasonable on this site.
The things you can specify prices for are:
| | |
| --- | --- |
| | True private chat - That's a per minute for real private with nobody else |
| | Private chat - The more normal private which allows "voyeur" or as the call it Peek chat |
| | Peek chat - You get to specify your own fee for voyeurs |
| | Nude chat - Group chat is called Nude chat and allows unlimited viewers to pay the same amount and all be in the chatroom on the same terms. |
| | Photo gallery price - Finally if you have uploaded pictures for sale then this is a one off fee for access to the photo gallery. If you are trying to earn while offline by selling pictures then this is a weak way of doing it compared to somewhere like chaturbate where you can set a price for each individual photoset. |
Then it's your profile form with all the usual fields, "What turns me on:" etc. I thought it was funny that under "Build" as well as the usual items they have "obese"; which tells me that the programmer doesn't like BBWs!
A sense of humor is shown in the choices for Hair color, with "Clown hair", "fire red" and "pink" as options against the more common black/blond.
Payouts are 60%, or "Model will receive .06 per .10 chip that is used on Pay per minute , videos, pictures , and tips that they generate on the site www.adultwebcam4u.com"
The webcam broadcasting window is pretty straight forward, you can use this or the Flash encoder if you want to transmit higher quality video. The special controls relate to multiple cameras and to playing MP3 files.
I'd love to hear more about how it goes to work there, you can drop me a note in the forum, thanks.