Available either as an App on Android called "Free Chat – #1 Chat Avenue" or the website chat-avenue.com this historic free chat site has recently taken a turn towards camming with the introduction of webcam in the video chat room.
The site really is old, it started in 1999 which makes it one of the very first free chat websites, and like most of them at that point, they were neither commercial nor adult-oriented. Rather they were just ways for the geeky people who were using that new invention "the internet" to have some real-time chats.
Fast forward to today and Chat Avenue still caters to the casual chatter and draws people from all ages, locations, and types into friendly online chatting. But like most things on the internet it has developed an adult side that is the one of most interest here. Most of the time at "Chat Ave" as members call it you'll find just random jerk-off requests and casual get-togethers. It is a place for people to play out their fantasies and as such is good enough.
The video chat section is what is most interesting though as it combines multi-person chat with free camming to position itself somewhere near something like Chaturbate or maybe Cam4 is more similar. You'll find lots of guys here with cock cams, and very few women. Those you will find are just regular folks with their own webcam, so, not the hot cam girls you may be used to from a site like LIveJasmin or Flirt4Free.
To get started visit the site and make sure you are going into the right room. There is a large range of rooms to choose from at Chat Avenue and many of them are using different chat software. Only one of them is doing live cams, so go straight to that one and don't get confused by the many other rooms and many ads that all point to MyFreeCams or Streamate white labels.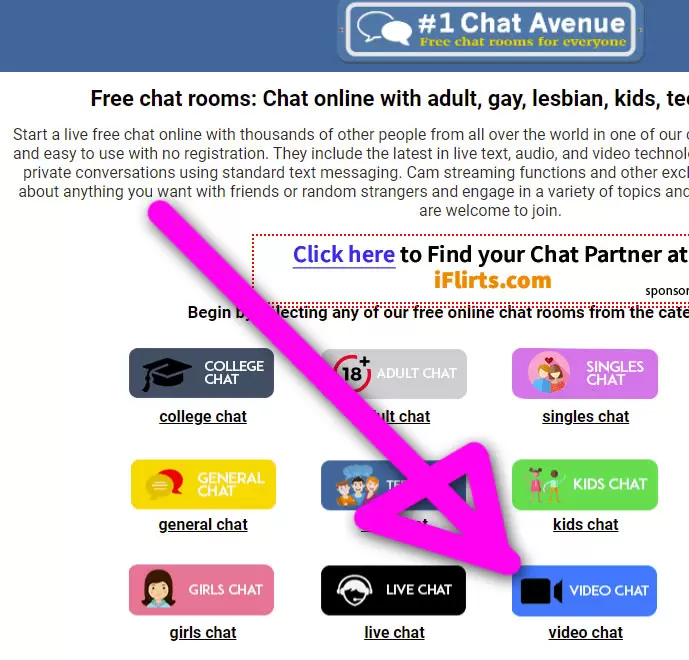 If you are coming here for adult play then obviously stay away from the various general-purpose chat rooms and particularly the ones that are intended for family and youngsters.
Don't bother with the "18+ adult chat" room either as that is just talk and lots of MFC ads posing as chat messages.
When the video chat page loads it asks for you to log in to chat avenue, but there doesn't seem to be an option to register a new account so you have to end up using the guest viewing button, but that works fine and you get to choose a username so although temporary it works fine.
Once inside the chat room, you'll find it empty and may think you have come to the wrong place but actually, you just need to choose a room.
Hit the ROOM LIST button at the top right of the screen and select the room with the most people. This may be a good time to turn on your camera as well by sliding the red switch to green.
And what do you get for all that selecting and clicking? You are now in a free text chat room which allows you to turn on your computer camera, and view the video streams of other people in the room who have also turn on their camera.
The free video chat room at #1 Chat Avenue looks like this.
It is fun and everything, but you won't see much except for this.
The rules of the room actually specifically say no nudity on webcam, but despite that, you will see cocks and occasional tit flashes but not really very much. And apart from a little cock jerking there is no masturbating happening here at Chat Avenue, so it is a little dull.
It is a bit more comparable to a voyeur house than it is to a typical cam girl site, and if you just want to watch people doing their daily life, particularly if you are gay and want to watch guys jerk their cocks on cam, then it certainly has some appeal.
Go and check it out and compare it to the regular free cam girl sites to see which ones is better for you.