List of webcam chat sites by alphabetical order:

List of sites under Webcam Sites A-F: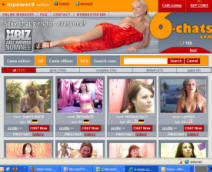 I found out about 6-Chats.com when I was browsing 1-adultchat.tv. Not sure how I end up here. Anyway, they look pretty much the same. At least the girls online seems identical.
There is free chat around though you have to search through the who's online page. They mix the 'free chat' and 'hardcore' so occasionally you may click on the 'hardcore' one which you'll need coins to chat.
The payment system is very similar to 1-adultchat.tv. US$49.9 for 12.5 minutes (ie. US$4/minute) or if you chat often, you may go for the US$99.9 option which gives you 33.33 minutes (ie. US$3/minute).