Which six sites are the top cam girl sites?
According to the analytics provided by the most accurate website popularity survey almost a third of the most popular porn site on the internet are cam girl sites.
Why is that important?
If you are to read the threads about cam girls in many forums, Reddit, or articles people write about dissing cam girls and their fans you might think that only "losers" or pervs watch cam girls. But the stats don't lie and they tell us that a lot of people are perfectly happy to spend their time, and their money on watching cam girls.
If you are not one of the regulars at a cam girl site then read on.
What are cam girl sites anyway? And why are they like Uber.com?
Think of cam girl sites as being the Uber of porn. Unlike a professional taxi driver, your Uber driver is just some guy with a car, though not really, who is picking up some spare cash using what he has got (a car and a driving license) to provide for people who need something (to get somewhere, right now). The exchange is based on money, and all that Uber.com does is match up the two people and if the driver accepts the recipient then the deal goes ahead. The rider gets to their destination and is happy, and the driver gets some cash in exchange for time, and wear and tear on his car.
Well, cam girls sites are just like a Uber for porn. Do you see how that works?
The driver is the cam girl.
The rider is the viewer.
The car is her body.
The ride is her masturbating.
The destination is her orgasm.
Am I stretching this analogy too far? I don't think so. Because it works fine even at this level of detail. And who is uber.com?
Uber.com is the cam girl site
Unlike ride-sharing where it is Uber with a few regional wannabes in the cam girl site space, there are many choices.
If cam girl sites are like Uber then they share some of the problems.
Firstly the driver is not just some guy with a car picking up some loose change. Not really. In practice, he is doing this full-time as his main source of income. Instead of a bit of extra money, it is his job.
For the majority of Uber drivers, they are doing it all day, to earn a living. The freedom of the road might have been great on the first day, but after that, it becomes a grind and you just do the best you can to earn as much as you can each shift.
Same for a cam girl.
Just lying there masturbating all day while getting paid for it is great for a day, maybe a few weeks, but after a while it becomes your job.
Unless you are lousy at it, in which case you earn nothing and drop out of the system. It's the same as Uber. People who can't hack it leave and so you end up with a pool of drivers/cam girls who are good at the job, some are great, most are middling and a few are terrible and on the way to failing and dropping out.
---
Cam girl sites are different from traditional porn because they are interactive, but also because they host a self-selection group of girls who are good at it.
Good at what?
Good at making the viewer happy to spend some cash on them. Remember this is self-selecting, if a girl is great in some other way but doesn't do whatever it takes to cause money to flow from the viewer, via cam site, to her pocket, then she isn't going to stick around. People have other things to do in their lives.
Therefore there are these sites with a host of girls who know how to extract money from viewers while making the viewers happy and willing to do it again. The customers are happy.
That's a big point there.
Girls on cam sites are experts at making you spend on them and be happy about it. If they weren't they wouldn't be there, at least unless they are a beginner.
A reason to not go into the "new girls" section at a cam site. Would you want an Uber driver you knew and just started working the job that day? I think not!
Types of cam girl sites
There are a lot of cam sites out there and each one is a bit different, but they fall into a few major categories.
Free chat
Premium chat
Subscription
Random
In free chat, you get to chat for free. Exactly how much you'll see and be able to do depends on the site, from very little at Flirt4Free where free is only for "flirting" through to Chaturbate or Strpichat where you will see everything from fucking machines to fisting for free.
Seeing is one thing, chatting is another. At most sites, you need to spend at least a little to be able to chat, particularly if you want a response from the girl.
At premium chat sites, or in the premium section of free sites, things are a bit different. It is purely a pay-per-minute deal—a lot like Uber and pay-per-mile.
Do you want to go further? Well, that's going to cost you more.
At some premium sites, you browse the models, maybe even have a clothed SFW chat, before selecting who you want. At others, it is more like a menu where you just have to choose based on the description. For a few sites like Skype sites, you have to make a booking, it is more like a professional service from your barber or tailor.
Subscription sites are few but charge you a flat rate for basic access. Extras always cost extra though.
And finally, Random chat is just that – randomly hooking you up with either hot cam girls, or more like other guys looking for hot cam girls. Being able to select from the pol only of hot girls, making it a lot less random, typically costs a subscription.
As you can see the four major types do overlap, but choosing a site from the right category gets you most of what you want.
What kind of girls will you find there
Girls, sure everybody has those bar and a few guy-specific exceptions.
Guys, most sites have hot guys if that is your thing.
Couples, groups, and more. They are popular but only a few are available at each site and some sites have none.
Trans, trannies, t-girls, and so on. A hot category at a few sites, and absent at many.
What makes a cam site popular?
One of the key factors that contribute to the popularity of cam girl sites is their interactivity. Just having hot girls is not enough, they also have to interact.
Without the interaction then it just becomes the same as pornhub.com or other "traditional porn", which is a passive experience.
At a cam girl site, you get to communicate with the girl and participate in how the show goes. More interaction creates a sense of connection and intimacy that is missing from traditional porn. Now it can be an illusion, I mean the cam girl doesn't really deeply care about you any more than the Uber driver does.
They will chat with you if you want, as the job is otherwise boring, but rarely is there a real connection that will last beyond the ride.
One big difference with Uber is that you don't get to choose that driver again, but with a cam girl you can mark a favorite and go back again and again.
Cam girl chat rooms viewers to chat with the girls in real-time, either through a chat window or through voice or video calls. This allows viewers to make specific requests, often from a tip menu, to give feedback, and engage in a conversation with the girl. In turn, the girl can respond to her viewer's requests and engage in a personalized way. Particularly if it goes to a private show or a large tip, where she will then focus all her energy on making sure the viewer gets what they want.
The interactivity of cam girl sites starts before an individual show or chat room. But by browsing and selecting which room to go into you get to decide what is going to happen. By choosing the girl you want to watch you can decide how it starts, then with tips or privates can influence the show. This creates a sense of control and involvement which can be a lot more fun than just watching regular porn vids.
If you are following a popular girl then you are automatically part of her fan community, even if not a formal fan club, and that means you are one of the gang, like a community. Viewers interact with one another in chat, or by working together to achieve tip goals or even by having a group show. It can be fun being part of the gang that takes a girl into a private room, and kind of virtual gang-bang. You don't get that at Xvideos.
Finally, the interactivity of cam girl sites also allows for a more diverse range of content. While traditional porn is often formulaic and predictable, cam girl sites offer a wide range of performances and experiences. Each girl has their own unique style and personality, and viewers can choose the girl that best fits their preferences.
Overall, the interactivity of cam girl sites is a key factor in their popularity. It creates a sense of connection, intimacy, and immersion that is missing from traditional porn, and it allows for a more diverse range of content and experiences.
Something different
And cam girl sites offer things that are different.
From fetishes and niche shows to personal connections, you can get a lot of things at a cam site that no other type of porn will allow. Sometimes just the huge selection of choices, in girls in fetishes in show types, makes it stand out and avoids the boredom and just jerk-cum-jerk-cum cycle of traditional porn.
Why are cam girls there?
It takes two to tango and cam girl sites are not a thing if there are no cam girls there. Not counting a few AI or cartoon-generated virtual cam girls, like ProjektMelody, any cam site needs real performers to make it work.
The way cam sites get them is just the same as for Uber, it offers a great way to earn some money using what they already have and a constant flow of customers.
Having a big fan group and lots of followers is good for the ego as well, can't deny that, but it is when it turns into regular fans and a regular income from them that it really starts to feel great.
Financial independence from doing what you are good at is great for anybody whether it is being a driver or masturbating.
And of course, being a cam girl is more than just masturbating, you are being a performer and putting on a show, and being a companion and showing how great you are at what you do.
A cam girl is her own boss and that is an important thing for many people. Sure some cam girls work for studios, and in the 3rd world where not everybody can afford broadband, a spare room, and a computer that is a problem. But for the majority of independent cam girls, the work for yourself and work-from-home is just as important as the money itself.
Being a cam girl instead of a grocery store checkout girl can be empowering. But it is just as much a good thing to go from a "profession" to being a cam girl. Being a doctor or nurse or lawyer or accountant or programmer are fine jobs, but they are boring and without a community that broadcasting can get you.
If you have always suspected that you are so hot guys will do anything for you then this is a safe way to try that out and find out if it is true!
Size matters
But if there are no viewers or the ratio of viewers to cam girls is poor, then you don't know what is going to happen.
A small cam site has a small number of viewers, which means not much happening for camgirls who try to broadcast there.
That last part is why some sites don't succeed. Without viewers, there are no customers for the girls, and frankly, they just go somewhere else.
Big sites with large numbers of cam girls and large numbers of viewers are where it is happening and why the largest sites on this list are the ones that make the most sense for both viewer and cam girl.
The top 6 cam sites
* Not really a cam site, but has some live streaming.
† Actually a front on WhiteLabel for Stripchat.

Let us break those down into how they fit with the things we have discussed
Stripchat.com
The new king-of-the-hill is Stripchat which mixes free shows and tipping for requests and flahses with the option for private shows, including exclusive privates with cam2cam. With great global coverage, they provide girls, and guys, from around the world.
While they are leading over Chaturbate some of that may just be the amount to advertising they are doing. It is a rare porn site that doesn't have a link to Stripchat, a pop-up banner or a pre-roll video ad for them.
That means some percentage of their "visitors" are just people attracted to have a look-see by the ads, but are not regular or interacting viewers.
Stripchat is a great place to start broadcasting if you want to become a cam girl!
Chaturbate.com
The leading free tipping cam site, after Myfreecams invented the category and before Stripchat took over, Chaturbate continues to be a huge site with plenty of choices.
Although the site seems a tiny bit primitive at times, for example, the search features are strangely weak, it doesn't lack in terms of cam girls. Even for broadcasters, including myself, who broadcast on a wide range of sites we often come back to CB for our "regular" regulars.
You'll find me in the Asian section, as an MILF!
Onlyfans.com
This one only marginally belongs in the list. Although OnlyFans models can and do broadcast live, and if you visit my page you'll find I am occasionally online there, it isn't their main draw.
But if you are a fan of a model and follow her on IG, chat with her on Telegram and buy her picture sets on OnlyFans or support her on Patreon why wouldn't you also look out for her live shows at OF?
Expect more of a "special show for my birthday" and things like that rather than a regular 8-hour shift of live porn shows.
LiveJasmin.com
The highest-ranked premium cam site this one focuses on girls who are just so perfect, like glamour models in old editions of Playboy magazine. They actually get coaching on hair, makeup, and deportment like an old-time air stewardess.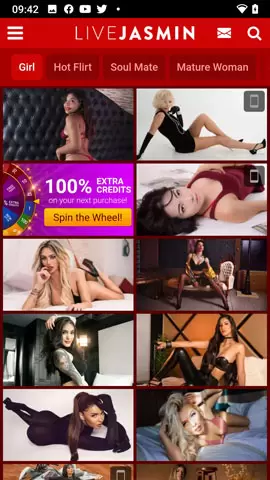 If your fantasy is fantastic women and not the girl-next-door, then you'll find great things at LiveJasmin. You won't find older models there though, so it isn't somewhere I've tried or would be allowed to broadcast.
XHamsterLive.com
Although this is on the list it is a bit of a cheat as this is some kind of joint venture with Stripchat. Perhaps it is a white label or something closer but the end result is the same girls, the same chats, the same payment as at Stripchat.
Just like Streamate, there are plenty of version of Stripchat round.
BongaCams.com
The last real cam site on the list this one.
Why not to use a cam site
Are there downsides to using a cam site? Sure there are, just as with anything there are plusses and minuses and you have to see what works for you.
For girls, the main downside of being a model is that it might not work out for you. Maybe you don't have the "it" factor that makes a successful model, and so you show yourself and spend your time but don't earn enough to make it worthwhile.
And once you have broadcast that is it, your face and body are on the internet and no amount of DMCA or geo-blocking will 100% guarantee that your friends and family, neighbors and people around you will not find out.
Want to become a primary school teacher? Want to become president? Maybe you shouldn't start broadcasting ever.
For viewers, the downsides are more varied.
The main problem is that it may just be too much fun. If you find that all your sexual, friendship, and community needs are met but the cam girls then why would you ever leave the house?
Just as with anywhere else on the internet where money is involved you have to watch out for scams and fraud. People will try to cheat you, and it only takes a few bad apples to spoil the barrel. Luckily cam sites know this is an issue and protect by verifying that cam girls are legal, and banning those few who take advantage of their position.
Spending too much is also an issue. After the cut that the cam site takes, and a studio too if one is involved, then the girls don't get most of the money you spend. That means they will ask for plenty of their time, and if you don't control yourself you can be over budget pretty quickly.
Where to go from here
Cam girl sites offer a unique and exciting experience for both girls and viewers. For girls, they provide a platform to perform, express themselves, and earn money in a safe and controlled environment. For viewers, they offer a more personal and intimate connection with the performers, as well as a sense of community and interactivity.
Avoid the issues by taking reasonable precautions. Make sure girls are doing it for themselves, and control your spending money and time to what you can afford.
Check out the top 6 cam sites and sign up for a free account so you can try out their features and see which ones work for you.
In the end, a cam girl site can provide a positive and entertaining experience for both broadcasting cam girls and watching viewers if everybody just takes a little care.