Hashtags might be been used first on Twitter on August 23, 2007 by Chris Messina but it has now become the main way of organizing any large group of things, whether it be tweets or documents. As cam girl sites become larger and the number of different models online at any time goes into hundreds then there has to be a way of finding just the right one and cam girl tags is a great way.
Why Tag Cam Girl Chat Rooms Anyway?
Some sites use filters as a way to find what you want to look for, and while that does work it can start to be a bit technical, with either too many filter choices, or not enough.
Tags are the perfect solution as they allow broadcasting cam girls to express what they want about themselves while making it easy for viewers to find them using the same terms.
Not all cam girl sites have gotten on board with the tagging idea though. Here is a list of 7 cam girl sites that using tagging, and the 10 live webcam sites which do not.
First up on the list for cam girl hashtags, and the number one on most lists about anything to do with camming, is Chaturbate.
#1 Chaturbate Tags
The tag or hashtag system on Chaturbate is the largest out there and they have a huge range of cam girl hashtags available to search by and to set. Any broadcaster can choose any word they want, just put it in your room subject with the hash # symbol and you've created a tag.
It is the third item on the top menu, after Chat Rooms and Broadcast Yourself, which shows how important the site considers tagging.
Whenever you create a new chat room you can set a subject line, and in the subject line, anything beginning with the hash symbol # may become a tag.
As you type there are suggested tags to use, and those are the "approved tags". If you select one of those then your room will be on the tags page and the hashtag is clickable and links to that tag page.
So you can have a tag of #fun and that works fine, but try #doesthiswork and no it doesn't work.
That does mean the tags available on Chaturbate tend to make sense, there are no spelling errors or "testingtesting123" tags that you find elsewhere.
With over 800 approved tags, 895 to be exact when I just counted them, pretty much anything reasonable is covered from super popular ones such as #lovense, #squirt, #anal, or #latina through to the very rare ones such as #handsfreecum, #canada, and #bra!
When I'm broadcasting on Chaturbate and someone enters my room via a hashtag then that's shown on my screen, this is a good clue to what that person might be interested in and so is a good starting point for a conversation.
Watch out for: All Chaturbate tags have to be lower case, if you enter "#FUN" in your room subject it doesn't work, you have to use #fun.
#2 Bongacams.com Tags
The hashtag choices on Bongacams overlap plenty with Chaturbate, but they allow them to be specified in different ways that make it a little easier to find what you want.
Whereas on CB you might find me under #smalltits, when on Bongacam I can clearly tag myself as #Anal Play. That's with capitalization and spacing to make it all more readable.
On Bongacams the tags are not part of the subject line but are separate tags that you apply when you set up your room. That allows you to keep the subject, or "topic" of the room distinct from how you have tagged yourself.
Finding models by tags is as easy as clicking on the thumbnail of the model when viewing a tag page, and when you enter into a room the tags for that are listed under "What We do on webcam". Even if it is a single girl room it still says "we". Each of those items is a link to a tag page with everybody else who is doing that thing.
Searching through the tags isn't that easy if you are looking for one that is not at the top of the list, there isn't any search and you need to scroll down and sometimes click the "show more" button a lot of times.
Once you have found a tag page that you like it is easy to bookmark it as the page is a separate URL, unfortunately you can't guess URLs that easily so you can't type your own. If you type something that doesn't exist you just get bounced back to the home page.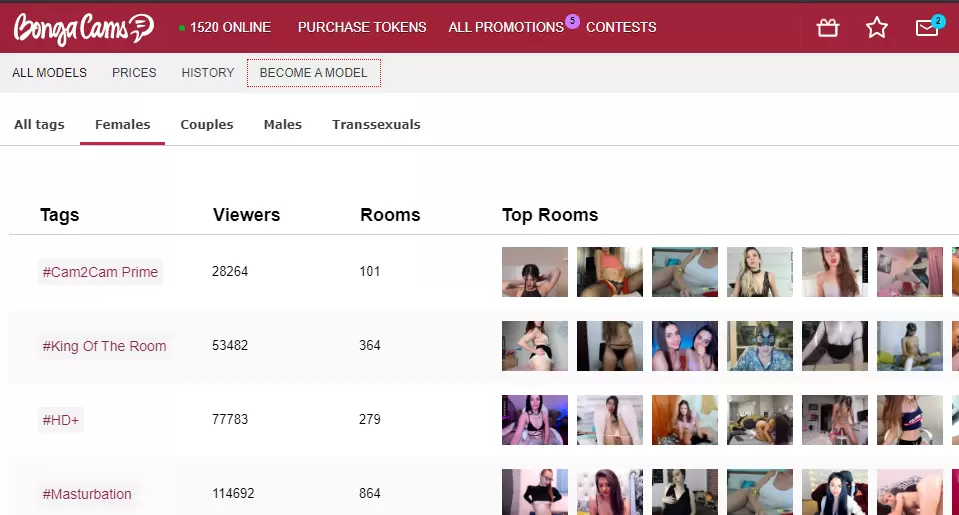 #3 Streamate Tags
You will find live chat rooms using tags at Streamate, but it is a little different from most listed here because there is no overview tag page for you to discover what possible tags there are.
Instead, there are individual tag pages such as "tag/sexy", but you can only get to those pages by clicking on the items under "Trending" in the navigation menu.
Even if you click the "Show more" that isn't much of a list and you can only select one of this limited set.
Great choices it is true, but a bit limited, and with no numbers to show which choices have more girls, making it less useful than perhaps it could be. The filters section in Streamate, or simply using the "Search all girls cams" feature is probably what you need to find something specific you want rather

#4 Stripchat Tags
At Stripchat they call the equivalent of the tags page "Categories" and you should click on the "view all categories" to see it, but effectively this is tags as there is a huge range that covers everything you might want to see.
There are separate tags lists at Stripchat for girls, couples, men and trans.
From popular ones such as Deepthroat through to the obscure like ASMR you'll find the main ones you want at the top of the page under Featured Categories, but there are plenty more as you scroll down.
Given that Stripchat can have several thousand webcam chat rooms live at any one time it is essential to have tags here to find what you want.
#5 Cam4 Tags
The tags at cam4.com are so extensive it can be hard to navigate the, but luckily the tags/all page has a search so you don't have to scroll through 49 pages of tags. Each tag specifies the number of cams and the number of viewers, as well as giving you thumbnails of the top few so you can get a preview of what's available.
From #spinthewheel to #feet you won't find any difficulty finding what you want. To make it easier the search box on this page automatically completes things you are typing, which is great if you are not sure about the spelling or just having trouble typing with one hand.
#6 Camsoda Tags
The tags or hashtags page at Camsoda has a huge range of different tags. If you scroll down to the bottom there are page links that go up to page 660! With 30 tags per page that multiplies up to almost 20 thousand choices of tags.
That is really more than you need or more than you can possibly navigate. It is almost as though the tags need some sort of organization, maybe they need to be categorized or even… tagged?!
On the first few pages, you'll find all the major ones such as #toys, #teen, and #big-tits. Enough to satisfy most needs, which is good because seriously there is no way to search through or find a particular tag you might want.
Looking for that creampie tag? It is probably there, but I couldn't find it by scrolling and just making up a reasonable-sounding URL didn't work, so it was back to searching which did find me the right rooms but isn't really how tags are supposed to work.
With no way to find the tags you want and no way to go from a room where tags are used in the room topic to a tag page, the tagging support at Camsoda is a lot less useful than the others.
#7 Myfreecams Tags
Despite the now-aging tech and design on show at industry-pioneer MyFreeCams you would expect them to have tags and you would be right.
The tags page loads as a separate window in which you have to navigate a rather ugly but fully functional selection of tags. There are even switches to change from tags to topics, but it doesn't explain the difference, I think something to do with what's in a room title vs how the model has tagged her room. And for each tag, there is a list of thumbnails and room details, but only for one tag at a time.
More importantly, there is a working Search box that searches through the tags. That means you don't have to scroll through 4,000 to find what you want. Though if you know your alphabet then you can sort alphabetically and scroll to the right place!
10 Sites that don't use Hashtags
You don't have to use tags to organize things, there were cam sites before hashtags even existed and there are plenty of reasons why you might want to organize your site without them.
Which cam sites are not using tagging for their models and rooms, and why is that?
Do you think tagging is the way to go for cam girl live chat rooms? Should every site implement tags, and if so should they be free-form or should they be based on an approved list to keep the number down?
Leave me a comment with your thoughts on cam girl tags, or post your experiences with them in the cam girl forum!