Ever noticed a cam girl who was live, but you can't see her video until you "buy a ticket"? That's a ticket show and both Chaturbate and Stripchat have them.
In this article, I'm going to explain these shows, including what they are, how they differ from private shows or tipping shows, pricing, and more. Whether you're a viewer looking to attend a ticket show or a model interested in hosting one, I'm going to help. Let's dive right in!
What is a Ticket Show
First of all, basically, what is a Ticket Show?
Ticket shows are a type of live cam girl show that offers an exclusive experience for viewers. They provide an opportunity to connect with your favorite models on a more intimate level. But at a much cheaper price than a private show.
Unlike private shows or tipping shows, ticket shows require viewers to purchase a ticket to gain access.
Tickets are generally not refundable if the show doesn't go to plan, or if you simply don't like it after buying it. Caveat emptor.
Differences from Private Shows or Tipping Shows:
Ticket shows have distinct characteristics that set them apart from private shows or tipping shows:
Interaction: While private shows offer one-on-one interaction and tipping shows involve tipping for specific actions, ticket shows are more like going to a gig in a club. You get a bunch of people who are fans of the performer, who all get together to watch the show together. What happens during the show is up to the performer, and though she will often take requests it is more the cam girl in the driving seat and the viewers, well, viewing.
Fixed Starting Time: Ticket shows have a predetermined start time, or start when a set number of people have bought tickets. This is advertised by the model in her description of her show. Stripchat always has a set delay of 5 minutes before a show starts, but the ticketing apps at Chaturbate allow for a variety of different start types.
Pricing and Bypassing Ticket Shows:
The cost of a ticket show varies depending on the model and the show itself. However, it's important to note that ticket shows cannot be bypassed. Purchasing a ticket is the only way to access the exclusive content and interact with the model during the show.
If you want to watch the show live, then you have to buy a ticket.
The model can choose however much she wants to charge for a ticket, at least within a range.
At Stripchat tickets may cost from 8 tokens all the way up to 1,000! Remember that this is a per-show fee and not a per-minute charge.
Chaturbate uses apps, and the original Crazy Ticket app that started the whole thing has a huge range of options but lets you set a price at anything you want. More on that below.
Discounts and Special Offers:
While ticket shows cannot be bypassed, models sometimes provide special offers and discounts to fan club members or moderators. The options are available at CB, but at Stripchat the discounts are really for privates. So this is a plus point for watching ticket shows at Chaturbate, at least if you're a loyal fan or actively engage with a model, these perks can enhance your ticket show experience.
Recording Ticket Shows:
Unlike private shows, ticket shows on Chaturbate do not have a built-in recording feature. This can be a major difference to keep in mind, especially if you enjoy rewatching shows. However, models may offer recordings for purchase separately.
Similarity to Streamate Gold Shows:
If you're familiar with Streamate Gold Shows, you'll find some similarities with ticket shows. Both offer an exclusive experience for viewers who purchase tickets, fostering a sense of community and excitement. At Streamate a model will offer a gold show, and if enough people agree to it then the show goes ahead and they all pay for it. This makes it similar, but not the same, as a ticket show.
Stripchat Ticket Shows:
Let's explore ticket shows at Stripchat, both from a viewer's and a model's perspective.
For Stripchat Viewers:
As a viewer on Stripchat, you can find ticket shows by browsing through models' profiles.
The red splash and the ticket symbol on the thumbnail show that this room is doing a live ticket show at the moment.
You can't tell if a room is about to start a short, but if you are in a room where the performers are going to do it then you'll see the announcement of a 5-minute countdown window.
After the 5 minutes, the video will stop, though you can still see the text chat, until you buy a ticket. That ticket remains valid for the whole show until the performance stops.
Look for ticket show notifications and descriptions to find shows that align with your interests. Once you've purchased a ticket, you'll gain access to the show and can enjoy the performance alongside other viewers.
Ticket shows are supposed to have a topic that says what is going to happen during the show, but many rooms are a bit vague. However, if you are a fan of this camgirl or group then you know what they do, and if you want to see more of them or the next level of intensity that is what they will reserve for a ticket show.
For Stripchat Models:
Stripchat models have the opportunity to host ticket shows, providing an intimate and exclusive experience for their fans. Models can set their own ticket prices, show duration, and special offers. It's a great way to connect with loyal fans and showcase unique content.
You can set the price from 8 tokens to 1000 tokens, but common prices are around 30 to 90 tokens for a ticket.
The show starts five minutes after you announce it, but you can cancel it at any time. To avoid dissatisfaction you should communicate with your viewers watching the show to let them know what to expect, particularly in terms of duration.
Chaturbate Ticket Shows:

Now, let's shift our focus to ticket shows on Chaturbate and explore the experience from both the viewer's and model's perspectives.
For Chaturbate Viewers:

As a viewer on Chaturbate, the process of accessing ticket shows is slightly different. Keep an eye out for models who use apps like "Crazy Ticket" to host their ticket shows.
These apps streamline the ticket show experience, allowing you to purchase a ticket and gain entry to the show seamlessly.
When you enter a room where a ticket show is ongoing the video feed is hidden.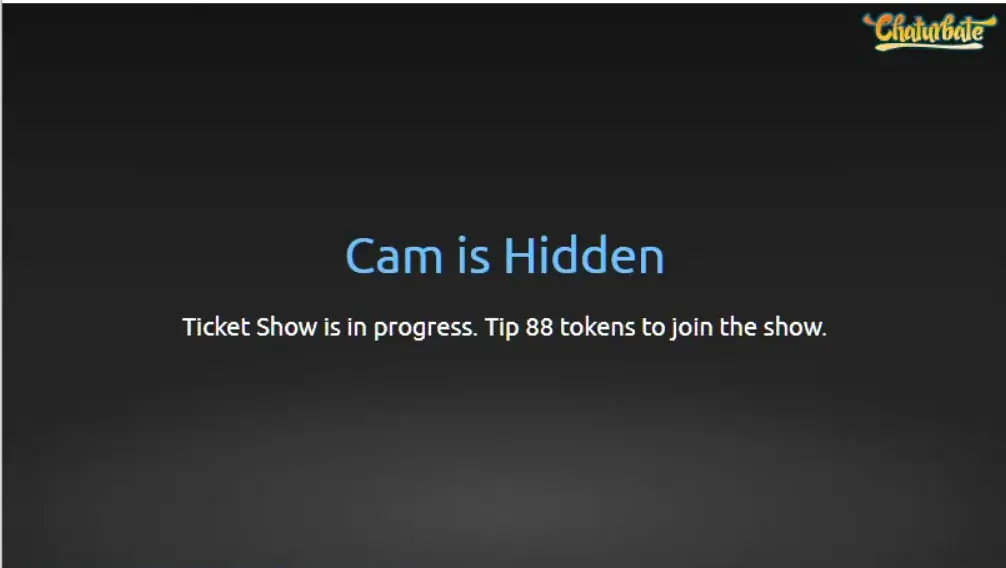 When you buy a ticket then the video will show as normal, like in a public room . After the cam girl has done her show she will end the show.

Then everybody will be able to see the video again.
Your ticket will only be valid for this show.
For Chaturbate Models:

Chaturbate models have the freedom to use various apps, such as "Crazy Ticket," to host their ticket shows. By utilizing these apps, models can customize their ticket show experience, set ticket prices, and offer unique content to their dedicated viewers.
Crazy Ticket is just one of the apps though, you can choose a different one including the Crazy Ticket "lite" app if you find this one to be too complex. There are also 2.0 style apps including "Ticket 2.0" that give a more modern interface, but still basically do the same thing.
Successful ticket shows at CB or SC demand that you build up a very large number of viewers, because realistically only a small percentage are going to buy a ticket.
Do the ticket shows if you personally feel that you want to keep something back from the public and only it do it in a paid show, but find group shows too hard to get started.
---
The ticket shows at Chaturbate and Stripchat offer a different way to enjoy camming for both viewers and models. By understanding the details of ticket shows, including pricing, differences from private shows or tipping shows, and the features offered by each platform, you can get the best out of them.
Whether you're a viewer seeking unforgettable moments or a model looking to earn more from your viewers, ticket shows provide a fantastic opportunity to connect, share, and explore.
Enjoy the journey and embrace the thrill of ticket shows on Chaturbate and Stripchat!
Let me know in the comments what you think of ticket shows, and if CB or SC are better for you.