At Chaturbate there are different types of paid live sex shows, the two main types are "Private shows" and "Ticket shows".
What's the difference?
Private Shows at Chaturbate
In a private show, you have the option to engage with a specific webcam performer on a one-on-one basis. During this session, you will be charged a fixed rate of tokens per minute, as determined by the performer.
Viewers have to request a private show, and the model can accept or decline.
Although private shows are more income for a model not every camgirl likes them, or is ready to do one right this second when you ask. If she does accept though then you get to go into a private room where only you and her see the text or video.
Using your keyboard to type you get to say what you want, and she will do her best to satisfy your requirements. It is the digital equivalent of a lap-dance in a private room in a club.
The duration of the show is variable, but most camgirls set a minimum of a few minutes. How long you stay in the show is up to you and her. Either of you can end it at any time when you are finished. In practice, a camgirl rarely ends a show and will wait for you to have had enough and will then leave the private room.
f you choose to leave the session early, before the minimum duration, the performer will still receive payment and you will be charged for the minimum.
The tokens used for the session will be deducted from your balance, regardless of whether you leave after only a couple of minutes into a mandatory minimum duration. Therefore you will need to have the right number of tokens to enter the private session, calculated based on the minimum length multiplied by the per-minute rate.
For example, if the minimum duration is set at 10 minutes with a rate of 18 tokens per minute, you would need a minimum of 180 tokens to enter.
Keep in mind that it is generally advised not to exit a private session prematurely if possible, as it will break the mood, and if you want to restart you'll be subject to that minimum again. Additionally, don't be surprised if the performer does not engage in extensive conversation about your preferences, as typing may be challenging for them while performing.
It is best if you tell her what you want to see, and then let her give you the performance. If you like what you see then stay, but if not then you are free to leave.
When giving additional instructions to the model remember that she may not be able to read and respond instantly, so make allowances for that. Not only is there a delay in the video feed, often of up to 20 seconds, but she may not have her eyes on her screen when she is turning her ass to the camera for example.
During the private show you and she are in a separate text chat room, but the public room will continue to operate for text chat with her other viewers. They don't get to see what she is doing or hear her, unless that is they choose to pay to "Spy" on the private room, which is a low-cost per-minute charged that gives them a view of her video, but no chance to talk or type to her.
Once the private show is finished the viewer leaves the room and goes back to the public room, while the model goes to a waiting room. She will typically get dressed and clean up and reset her pose and camera before reentering the public chat room and turning on her camera video stream.
Optionally a model may allow the viewer to record the private show, using the Chaturbate servers, and this recording will be available for the viewer to rewatch any time they want while they remain Chaturbate members. If she allows it then it is automatic and he doesn't have to do anything special, just watch and the video will become available a few seconds after the show finishes.
Ticket Shows at Chaturbate
Another option available is to participate in a ticket show. With this format, the model will use a "app" or "bot" which is an add-on software at Chaturbate to requires users to tip a specific amount, such as 30 tokens, in order to gain entry to the show.
The model is the one who decides to initiate a private show, typically as she has something special planned and wants people to pay extra, but a set fee, to watch it.
CrazyTicket and Ticket 2.0 are popular bots for this purpose and organize keeping track of who has bought tickets, and then turning the video feed on or hiding it for different people depending on whether they have a ticket.
Once you have paid the initial fee, you are not obligated to tip any additional amount to stay for the entire duration of the show. However, it's worth noting that some of the most generous tippers of the evening may choose to enter through the ticketing system, allowing the performer to earn a significant amount even with the flat fee.
When a ticket show is active, the performer's stream is often displayed as "Hidden." This means that the performer has control over when the show actually starts, giving users the opportunity to tip for a ticket before the show becomes "Hidden." Therefore, ticket shows and hidden shows can be considered synonymous in most cases.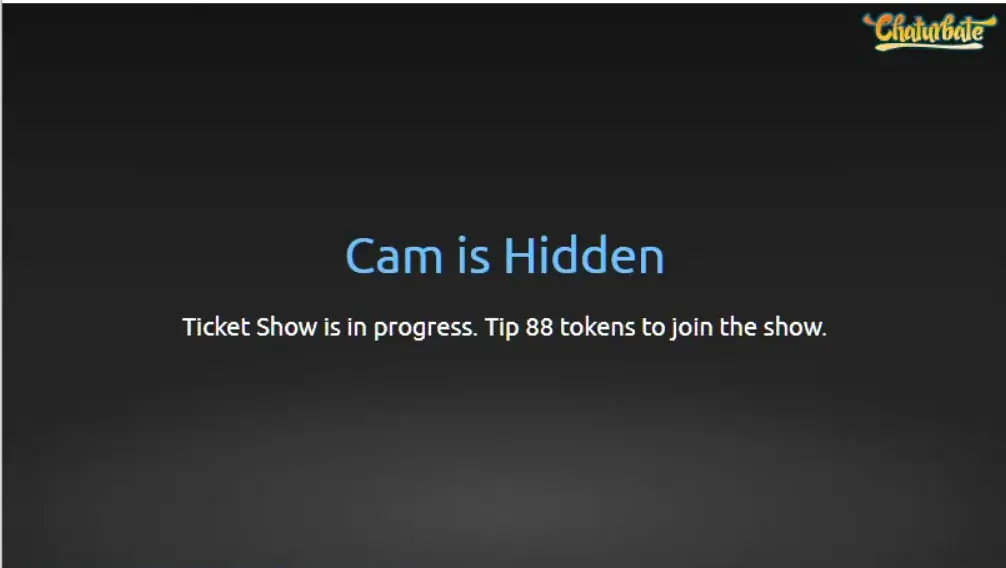 Those who have not paid for the ticket be able to stay in the room and will still see all the text chat and tips that are happening during the show, but won't be able to see video or hear audio.
Chaturbate does not make a public recording of the show available so there is no way to rewatch it, at least not using the Chaturbate server. Of course, you can always rewatch in your head using your memory and imagination!
The difference between a password show and a ticket show:
Private show:
The viewing customer and the camgirl model go into a separate text chat room
The public text chat room continues to operate, but has no video feed, only text
Other viewers from the public room can choose to "spy" and watch the live video of the private room show, but will not see the text of the private room
If the model has the feature turned on then there is a recording of the show organized by Chaturbate and stored on their server, not all models allow this
The viewer will be charged per minute for being in the private show, from 8 tokens to over 100 tokens a minute. Tokens are deducted every 10 seconds from the viewer's balance and credited to the performer's.
Private shows are administered directly by the Chaturbate website
Ticket show:
Everybody stays in the public room, but the video is turned off for people without a ticket
There is really no way to see the video without a ticket, bypassing the screen that says "hidden" is not possible.
Ticket shows are not recorded and can't be played back
The cost is a flat rate per show and is from 10s to 1,000s of tokens per ticket, there are no refunds and no rainchecks. Funds are paid via tipping and are paid immediately on the purchase of a ticket
Ticket shows are administered by 3rd party apps that hook into Chaturbate video features.
Password shows
Occasionally a model will do a show behind a password, a password that is known only to whoever she tells. This might be her top fans, moderators, or someone she wants to do something special for. These are rare and most camgirls at Chhatururbate use Ticket shows instead.
The difference between a password show and a private show:
Private show:
The viewer and the model move into a separate private chat room
Other viewers from the public chatroom stay there and can converse, but can't see her video or know what she is doing, except they will know when she is tipped by the viewer who is in the private room with her
Password show:
Anybody can enter, but only if they have the password
People without the password can't even enter the room to see the text chat
---
Stripchat also has ticket shows, but they are a little different in how they are run. The basic idea is the same though.
---
Which type of show do you like most? Let me know in the comments!