In a work of unlimited free porn there is still a place for exlusivity, quality and just plain better performances. Even amoung interactive free porn shows in cam girl shows as I disuss here there are different levels of experience.
Stripchat provides a range of different experiences, from free or cheap through to ecustomised and unique personal experiences. It is the latter, which are known as Priate Shows, that I am going to discuss in this article.
If just watching free shows, or using tipping menus, isn't getting what you need then you should move to customized private shows where you can select exactly wha tyou want. If you are someone who knows exactly what they are want and are willing to pay for quality then there are plenty of options available to you here.
Are the prices going to be reasonable and commensurate with the quality of the experience you receive? That may depend on your budget and your personal standards. Read on to know more.
---
Have you taken me to a private show on Stripchat? Check out my room and see if I am online today! You'll find me in the Asian section!
---
3 Types of Private Shows
First, let's start with the basics. Stripchat offers three main types of private shows:
Regular Privates
Exclusive Privates
Spy Mode
Each type has its own unique features and price points, so let's start and take a closer look.
Regular Privates
"Regular" Privates are the most basic type of private show available on Stripchat. They allow you to have a one-on-one conversation with the model, using text chat, and they can last anywhere from a few minutes to an hour or more, depending on your preference.
During a Stripchat private show you can expect the camgirl to focus on understanding what you want to see, and then providing it for you. Before you start a private show the system will list what things she will do, but these are generally examples. If you have interests that are specific or beyond the norm then do chat with her first to ensure she is happy to provide that.
A typical private show might involve her adjusting her pose, clothing or toys to an angle that you are happy with, then masturbating until either you or she, or both of you achieve orgasm. Common additions would be for her to say or moan things that you have said you like to hear, or for her to adjust her pose and way of masturbating to be one that you find the most exciting.
ProTip: If you are seriously considering taking into a private tip her first in public chat a non-trivial amount, such as the default 20 tokens, to show that you are not a time-waster.
Individual Stripchat cam girls may select a minimum number of minutes, and if you agree to start a show with a minimum number of minutes then you will be charged for the entire minimum regardless of whether you finish early.
The cost of a Regular Private varies depending on the model's per-minute rate, which can range from 8 tokens a minute to more than 90. As each token costs 10 cents that means prices are from $0.70 a minute to more than $9.00 a minute. The majority of models are in the range of 8 tokens to 24 tokens, or $0.80 to $2.40 a minute.
A typical 10-minute private show will therefore cost you at most $24 and could be much cheaper.
There are premium models who charge 150, 200, or more tokens per minute but these tend to be specialists who know how to cater to some special fetish or need. If you need one of these cam girls to help you, or you simply are a higher roller who knows the value of a model's time then you won't have a problem with this.
Exclusive Privates
Exclusive Privates take the private show experience to the next level. Because a private show isn't as private as you might think. First of all regular privates allow spy mode, more on that below, and more importantly, there is no cam2cam. In an exclusive private not only do you get a one-on-one conversation with the model, but you also get to enjoy a more intimate and personalized experience because you know nobody else can see her, and you can turn on your own cam in order to have her see you.
Most models will also offer something extra in terms of what they are agreeing to do for you during an "Exclusive" Private show, and you will see details on what they offer in Private vs. Exclusive private before you choose.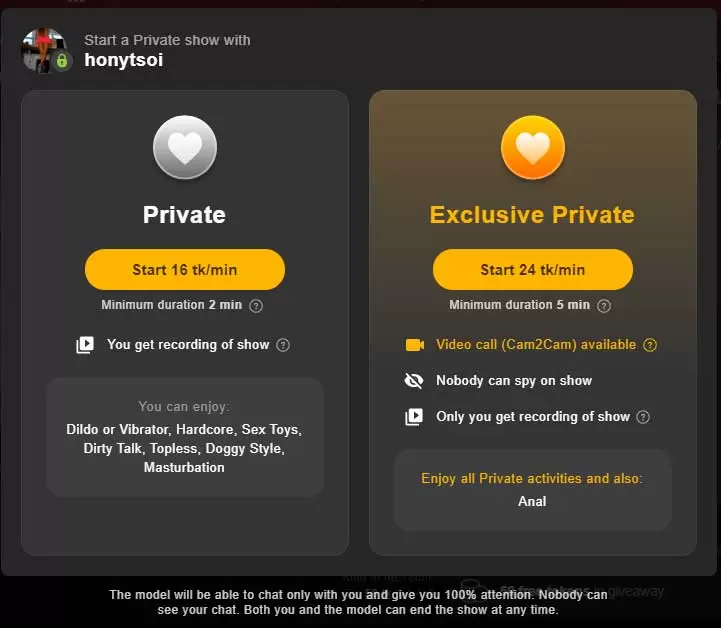 Using myself as an example I will do most things in a private show, but I reserve Anal play for Exclusive Private as it is a bit more effort and clean-up, so I charge a higher per-minute fee.
ProTip: Camgirls like you to have a good experience, particularly they want you to cum while in the show with them. Not only is this hot, but personally, I love it when a viewer cums while watching me, but it also means you the viewer are satisfied and a satisfied viewer is likely to be a repeat customer.
As a viewer you may be choosing Exclusive Private for the exclusivity, knowing that nobody is spying, or you might want one of the things that goes with Exclusive such as the two-way video calling, or the extra activities we offer.
Exclusive privates are priced separately from regular ones, but it is up to each cam girl to decide the actual price.
Pricing for Exclusive Privates doesn't always make sense as some models, particularly at the lower 8-token price point, charge the same for the Exclusive as they do for the Regular. But for the most part, models set their Exclusive to double, or at least 50% more than their regular.
Typical pricing is 8 tokens for private and 16 tokens for exclusive. You'll also see plenty of 24 tokens for private and 32 for Exclusive Private.
The highest price for an Exclusive Private is 250 tokens a minute, which means $25 a minute cost to you, while the model earns half that or $12.50.
Spy Mode
Spy Mode is a unique feature that allows you to spy on a private show without being seen. You can observe the model and the other users in the private show, but you won't be able to interact with them. Spy Mode is a great way to get a sneak peek at what's happening in a private show without having to pay the full price.
This is a great way to have a preview of what a particular camgirl is like in private shows without paying for the show yourself.
One downside is that you are not in control of the show so if the paying customer has a particular interest or viewpoint they want to see then it may not be a turn-on for you as well and the show may seem "bad", even though it is actually just right for her paying customer of that moment.
The cost of Spy Mode varies depending on the model's per-minute rate, but it's generally around $1.99 to $4.99 per minute.
Although there is a 15-second free preview which doesn't cost anything you do have to have some tokens in your account first.
Different prices for different private shows
Now that we've covered the different types of private shows available on Stripchat, let's talk about how models charge different amounts for their services. It's important to note that models can set their own per-minute rates, so prices can vary greatly depending on the model's popularity, quality, and region.
Some models may charge a higher per-minute rate for their services, but that doesn't necessarily mean they're better than other models. Rather they may live in an area with a higher cost of living, or they may need to pay fees to a "Studio" that provides the room and technical equipment for them to work, and demands a percentage of their income.
Another reason for a higher-priced private show at Stripchat is models who find success in public shows. Perhaps they simply find it more fun to interact with a crowd, as that is a great ego boost. Or they have developed a good routine for earning via tips, which works only in a busy public room. In such a case the model won't find a private show sensible from a business perspective, it may cause her earnings to drop, and so she will price Private Shows appropriately to ensure that anyone that does come her way will be good for her bottom line.
Camgirls are independent entrepreneurs, at least at some basic level, and the successful ones do give thought to whether their shows are earning them what they want.
Tips for Finding the Best Deals
While private shows can be a bit pricey, there are ways to find good deals on Stripchat. Here are a few tips to help you save some cash:
Look for models who offer discounts or promotions. Some models may offer special deals for first-time users or for certain times of the day. Keep an eye out for these deals and take advantage of them while you can.

Consider using Spy Mode. Spy Mode is a great way to get a taste of a private show without breaking the bank. You can observe the model and the other users in the private show without having to pay the full price. Once you have found the girl who is just right for you, then you can take her into a private show for yourself and take control.
Check out the model's profile. Camgirls often talk about prices they charge for specific things, and if a girl you like lists a particular thing that interests you then you know she will be more open to discussion of a private show centered around that. Take a few minutes to read through the profile and know if she is a good match.
Be flexible with your schedule. Different times of the day attract different models, from different countries. If you're willing to stay up late or wake up early, you may be able to find some great deals.
Look for discounts. Models can set temporary discounts, they only last for a set period but models may advertise that they are going to do them at particular times.
What about Group shows?
---
Stripchat "Group Shows" are an alternative show that is between a public show and a private show. It is an affordable way for multiple users to enjoy semi-private performances together. During a Group Show, viewers share the cost, making it more cost-effective than fully private shows. To join a Group Show, simply click on the "Group Show" button next to the model's broadcast window and reserve your slot for free.
You can also join an ongoing show by clicking the "Join" button.
During a group show only paying participants can chat, or see the video. The performer has the control to start or cancel a show, and users only start paying once the show begins.
---
Private shows are a great way to get a more personalized experience on Stripchat, but they can be a bit pricey. By understanding the different types of private shows available and how models charge different amounts, you can find the best deals and enjoy a great private show experience without breaking the bank.
Read more about Stripchat: