Do you want to spy on my private shows at Stripchat? If I am not doing an Exclusive Private then my regular privates can be spied upon, and that is a setting I'm fine with. The price is 8 tokens a minute, and I fully understand you might want to know what you are getting before you pay.
That is why there is a free preview. All good so far.
Today I was checking out the options and I saw that the preview is 15 seconds, which is not a long time I'll agree. But it didn't match my memory of how long the free Stripchat private spy preview would be.
What happened here?
Option 1 is I remembered wrong, which is happening more and more as a mature camgirl.
Option 2 is that it was changed.
Luckily I had some screenshots taken before which let me see that yes, it has changed, at least that's what it looks like. I haven't been doing privates for a while at Stripchat so I checked on another model and saw the difference.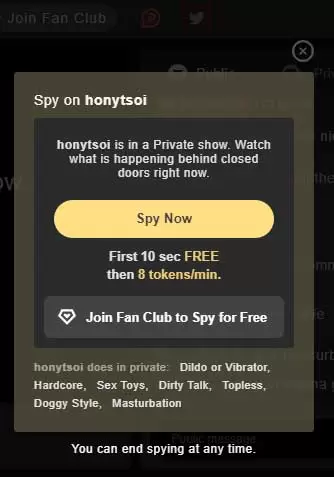 See that? The text has changed from "First 10 sec FREE" to "First 15 sec FREE" !
That is 50% longer! An entire 5 seconds more! /s
It changed sometime between 2021 and 2023, I'm not sure I can call this "news" though so I'm just letting you know.
A longer Spy preview means more time for the viewer to see what is happening.
If it means that viewers can see what they are getting and be convinced of the value of a Spy session that's fine with me and I'm sure with any model.
Do you spy on private shows? If you are a model do you mind being spied upon?
I feel that the fun of spying is quite different from taking a private show directly, it is more like watching a voyeur cam. Am I right?
Let me know in the comments!