Which type of Voyeur Cam do you want to watch? There are a range of different webcam sites that offer the voyeur experience. Some of them are one-on-one where you do things like "peek under a girl's desk", those are office cams that you find on the larger cam sites such as Stripchat.
You can also spy on private shows that cam girls are having with their customers. They may think they are in "private" but actually, by spying on them you get to see them having sex without them knowing you are there, at least until the model checks her income and finds that you have been paying to watch her.
Other voyeur cam sites let you see a range of cameras like DropCams that are set up around a house or apartment so that people who live there go about their daily life, while you get to watch. These "voyeur houses" have a range of different cam types, they include living room cams, bedrooms, and of course bathroom cam set-ups.
Typically you get to see some of the cam streams for free, while others need to be paid. As most of the girls who live in those rooms know they are being watched but pretend to not know about it, they decide whether or not to wear clothes in those more public rooms.
Many of them don't bother.
Particularly at RealLifeCam it is common to see people just chilling out nude or in their sleepwear, it depends a bit on the weather and you tend to see a lot more skin during summertime!
The first webcam girl ran what today we would call a Voyeur Cam:
Many people call her the first cam girl, in the days when it was a bunch of still images uploaded to a server, not a HD streaming video the way you see now.
But still first is first and Jennifer Ringley started a whole new trend, not only being an Internet personality but being the first lifecaster. She started the website Jennicam.com and mysteriously disappeared some years later.
Dedicated Voyeur Houses started in Amsterdam
The Dutch in general, and particularly those in Amsterdam are just so damn polite. They would never complain about someone doing what that person wanted to do. And if they want to stand half-naked in shop front window advertising sex-for-sale, then that's fine with anybody else in the city.
That means it isn't so surprising that when someone decided to fill a house up with hot girls and let them webcam and text chat with people at the very first AmsterdamLiveXXX has they also included a whole bunch of "voyeur cam" options. All that is gone sadly but there are still some great sites of that style which are now migrating to the east a bit and mostly are in the European zone that was once part of the Soviet Empire but is now full of hot girls who need a bit of extra income and so put live cams around their houses so you pervs can watch them do their ironing.
The 3 main voyeur cam sites
They are, in no particular order;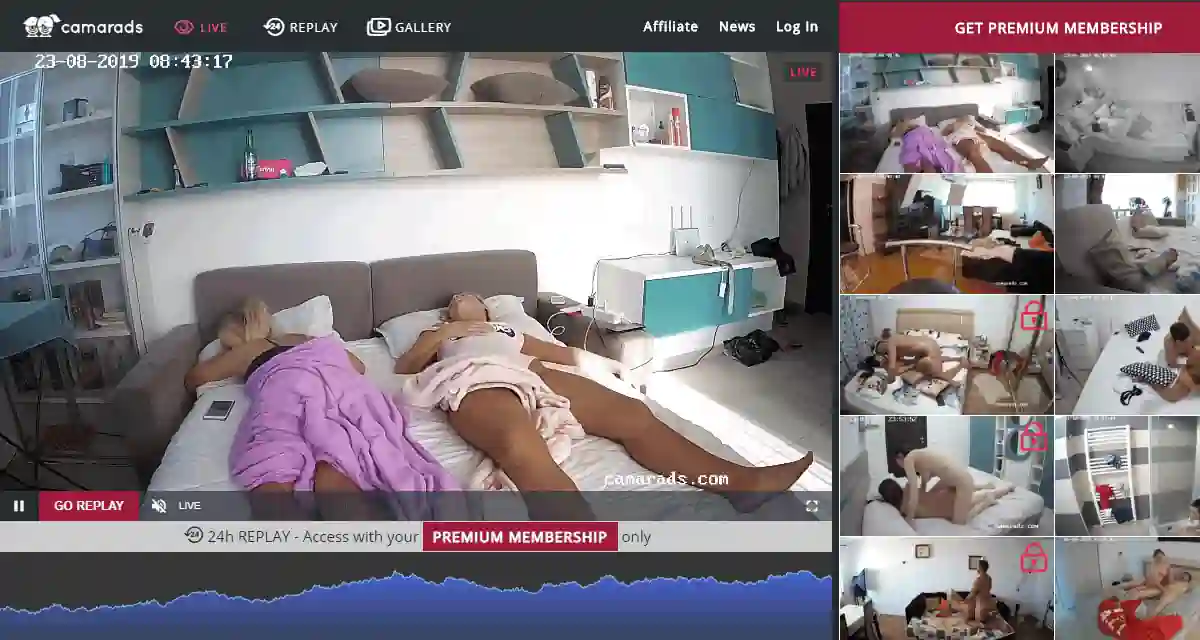 The best of the three sites this one has a huge range of "apartments", 32 at my last count, and spread over a range of time zones. They are not all in Russia, though many are of course. The range is important if you want to see someone awake and in their house when you are also awake. Each apartment has up to 15 cameras, of which there are usually two free ones that you can watch as long as you like.
Motion monitors so you know when someone is moving in the house, full-screen and HD views, good clear audio and simple map views to let you see where the cameras point all make this super easy to work.
It works well either on desktop or on mobile, with lots of special offers like 1 month free subscriptions it is an unbeatable deal. Even if you idon't subscribe for umlijmited access the two free cams in so many appartments mean that you can be occupied watching what is going on without getting bored.
I still don't get why so many people sleep on the couch in these apartments though, even though there are perfectly good beds in the bedrooms. Is this some kind of European thing I don't know about? Because yes, when you choose a voyeur cam at Voyeur-house.tv you are mostly looking at people living somewhere in Europe, more often Eastern Europe.
and an honorable mention goes to Jules studio who runs the house you find on Camsoda in their voyeur section.
And one more small offering:
Legal voyeur cams
Actual voyeurism is illegal in most jurisdictions and we are simply not going to go there. This page is about the legal voyeur cam sites that cater to the voyeurism fantasy and provide an illusion of voyeurism, as a kink or fetish for excitement. None of this is real. Just try not to think about that and enjoy the view anyway.