If you spend time on any cam girl site these days you'll no doubt be finding plenty of them are from Ukraine. But do you know anything about their home country that you could use as an opening for conversation? Although the country is a large and historic one located centrally in Europe it has been overshadowed for the last hundred years by its membership in the USSR.
Today it has political independence but still somewhat in the shadow of its big northeastern neighbor, Russia. What they certainly have though is a good supply of beautiful women who are working as Ukraine cam girls. If you look at well-established cam site such as Camcontacts you'll find that the majority of the models there are from Ukraine.
Two-thirds of the women chatting at Camcontacts are from Ukraine, far outreaching the next largest group which is the Russians who represent just 12%.
After looking at the country of origin of cam girls at Camcontacts over a few days the count showed a huge bias towards camgirl from Ukraine.
| | |
| --- | --- |
| Ukraine | 199 |
| Russia | 36 |
| Netherlands | 19 |
| South Africa | 12 |
| Philippines | 7 |
| Poland | 6 |
| Colombia | 4 |
| United Kingdom | 3 |
| Thailand | 2 |
| Romania | 1 |
| Spain | 1 |
| Belarus | 1 |
| United States of America | 1 |
| France | 1 |
| Finland | 1 |
| Germany | 1 |
Number of cam girls seen at camcontacts from different countries
Admittedly not all cam girls mention their real country of origin when filling out their profiles, and cam sites vary about whether they are required to be honest here, as with ages, names, and other details it is often best for a cam girl to make up a "persona" that she is happier with being public online.
With ratios like that though it isn't hard to know that you will probably find it is a girl from Ukraine who is the one you decide to chat with, and although any girl likes just ordinary and straightforward complements, after a while you might want to chat about something else.
Politics, sport, and religion don't seem great openers when a girl has opened not only her legs but her webcam to you, so why not talk about where she comes from? Asking questions is a great way to build a relationship, and everybody likes to talk about their home town or country.
Try reading this great travel article with 25 facts about Ukraine, and see which ones spark your interest and will make you want to know more!
While prices do vary a lot at Camcontacts the price per minute that Ukrainian cam girls charge for live cam chat seems to be around the middle of the road at just under $2 a minute.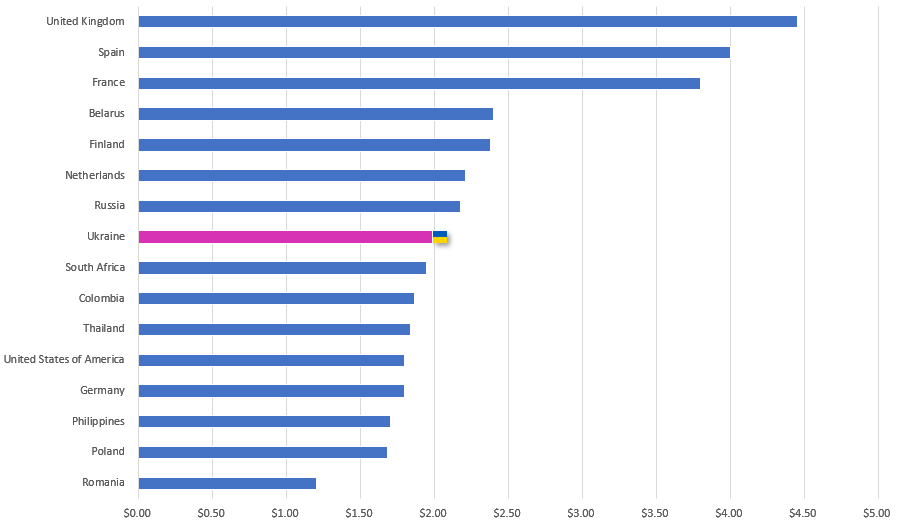 This is the standard chat at Camcontacts which is not exactly private, in theory someone else could pay to come into the same chat though in practice this is rare.
The figure of $2 a minute is only an average though and it hides the fact that there are many different popular price points at Camcontacts. Almost 20 of the models from Ukraine set their private show cost at the minimum of 90 cents ($0.90) per minute, but that is offset by a few who want 2 or 3 dollars a minute.
In fact, the majority of the cam girls from Ukraine broadcasting at Camcontacts are at the lower end of the price range.
This makes them just as economical as the cheap Filipina cam girls at AsianCamModels. Which one you go for depends, therefore, more on what sort of person you want to video what with and you don't have to be restricted just by your budget.
Do you have a special interest in Ukraine cam girls? Or do you just choose them as they charge less for private shows? Leave me a comment below or write about your experience with cam girls from Ukraine in the cam girl forum.