Have you heard of Bitcoin? If you are a fan of adult entertainment, porn in other words, and particularly of live porn such as cam girl sites then you should know about it.
TL;DR: Visit Stripchat or Chaturbate and pay with Bitcoin
Bitcoin is the decentralized internet money that is not connected to any bank or government and is safe and anonymous while being fully trackable.
There is a lot of clever mathematics and programming involved that is way over my head, but I do get the basics and understand enough to know that it has good points and bad points, just like everything in life, but is particularly relevant to camming.
We all know that being a cam girl, cam boy, or a fan of camgirls and/or boys is not something that is generally acceptable in a lot of society. Your folks might not approve, and the people at your bank might not approve. Your partner might not approve.
That's a sad situation when camming is a harmless hobby and an important outlet for many people. As well as a good career, or at least a job, for many.
There is no hiding the fact that sometimes we have to hide our involvement in camming, on either side of the camera.
This is where Bitcoin comes in
It is nobody else's business where I spend my money or earn it. As long as what I'm doing is legal and I pay my taxes like a good citizen then I should be able to spend and earn wherever I want. If I want bitcoin webcam sex then I should be allowed to have it.
Bitcoin makes that possible because it disconnects money from all those conservative institutions such as banks and card companies. Now you can do what you want with your own money.
If you want greater privacy then Bitcoin offers that, and anonymity, while at the same time being open and traceable by using some clever mathematical encryption.
Transactions using Bitcoin are faster than a wire, bank transfer, or ACH, though slower than a credit card. If you use the extra Bitcoin system called Lightning then it can be as fast as any credit card though.
Nobody can stop you from spending Bitcoin once you have it. There are no rules, regulations, or governing bodies to say "hey, we disapprove of that and think it is a sin so no you can't".
That just isn't possible.
It is also very safe because it protects against a number of risks from using credit cards.
With Bitcoin, the porn site never knows your name or any of your details.
There is no way with Bitcoin for a disreputable site to overcharge you or charge you again.
Bitcoin payments use one-off addresses that don't get reused, so there is no "card number" to steal or get hacked.
"Is it perfect?" you might ask. Unfortunately, far from it. There are several issues that plague this particular situation. Some of the problems that arise include volatility and access or on-ramps.
Volatility – Bitcoin prices are not stable
Access or on-ramps – You have to get started somehow
Volatility means the value of Bitcoin goes up and down. Lately, it has been going up pretty regularly so that's a positive, but it isn't guaranteed. This problem goes away if you just use it right away and don't hold on to it.
Onramps are ways you can get hold of Bitcoin. There is a continual game of cat-and-mouse between people and companies who wish to use Bitcoin and those bigots who want to ban it. That means the way you can get your hands on Bitcoin today might not work tomorrow, and there can be a few hoops to jump through. And different hoops next week.
Are the benefits of the coin, privacy, anonymity, and safety, worth the hassles? That depends on your personal circumstances.
How does Bitcoin fit in with Cams?
Bitcoin is a way of paying for something, and Cams are something people need to pay for. Bitcoin is semi-anonymous, and cam payments are something people want to keep private.
Sounds like a match made in cyber-heaven.
Is it as simple as that?
Kind of, but kind of not.
What are Bitcoin Cams?
Bitcoin cams are like any other live cam show, except you've paid with bitcoin or some other cryptocurrency instead of a "traditional payment method" such as a credit or debit card.
Using Bitcoin as a way to pay increase your anonymity and privacy, and in some circumstances can be faster than other secure methods such as bank transfer. It can be slower as well though, so there is a trade-off between speed and safety.
Why is using Bitcoin for Cams good?
You can get a number of different benefits from using Bitcoin instead of regular card payments. It not only increases your privacy and security but can get you a better deal on the camsite tokens.
Compared with other security-focused methods such as PaySafeCards or branded gift cards it can be cheaper and faster as well.
The largest actual, rather than perceived, the benefit is that when using cryptocurrency to pay for cam site tokens you can avoid the worry about sensitive information such as card numbers of real names being leaked or stolen.
If any of these benefits makes sense for you then the next thing to do is how to get started.
How to get started with Bitcoin for Cams
First, you have to decide if you are going to go get your bitcoin in advance so you have it ready when you need it, or whether you will be them only as you need them.
Buying in advance gives you the time to get the best deals and maximize your privacy benefits, but does take more time overall.
Cam sites that accept bitcoin always provide some kind of gateway that means you can pay another company with a card, and then instantly transfer the bitcoins you've bought to the camsite.
So it means the money goes something like this:
Credit Card -> Payment Gateway -> Cam girl site -> Tokens -> Tips / Privates -> Happy Ending.
The key point in this is that your credit card details go not to the cam site, but to a "payment gateway" such as CoinGate which won't tell the camsite anything about you. How do you know that? Well, you have to trust them, and I get that isn't a great option.
The avoid this problem you can buy your bitcoins in advance from an exchange, which knows nothing about why you are buying them.
But that does mean you'll have to store your Bitcoin somewhere. It could be at the site where you bought them, a Crypto Exchange, or it could be on your phone, or your PC in some kind of Bitcoin Wallet.
Sign up for an exchange that supports bitcoin, it could be the Strike app or it could be Binance or Coinbase, or any one of a dozen others.
Buy your bitcoins using a card or ACH or another kind of bank transfer such as SEPA. You can even buy bitcoins from ATM machines where nobody knows who you are.
That means it breaks the chain of connection for anybody who wants to know where you got your coins from.
Credit card -> Crypto Exchange -> Your Bitcoin Wallet
Then later:
Your Bitcoin Wallet -> Payment Gateway -> Cam girl site -> Tokens -> Tips / Privates -> Happy Ending
What's the point of this? Well, the point is that the camgirl site, no matter how close they are connected with the Payment gateway, never gets even near to your credit card details.
Which Bitcoin Cam sites allow Card to Bitcoin onsite?
Looking at the top two sites for Bitcoin cams:
For Chaturbate you need to already have your Bitcoin in hand, or in your wallet, and then you send them the tokens via the CoinPay/SmartPay gateway.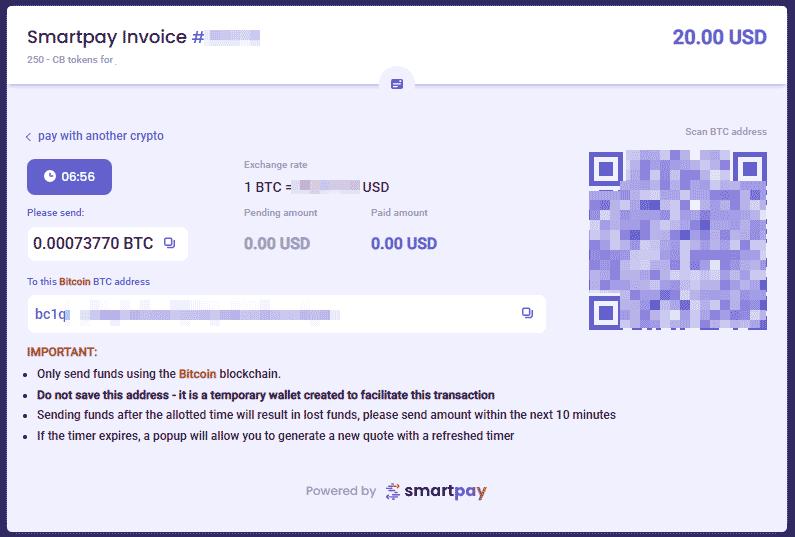 But for Stripchat you can also buy your bitcoin from the gateway, in this case CoinGate, at the point of purchase. You do have to scroll all the way to the bottom to find the button though.
Which way is better?
Getting your Crypto in advance always works out cheaper, but it does involve some advance planning so that has to be considered.
So what now?
Bitcoin cams are a growing part of adult entertainment. BTC provides a high level of safety and privacy with semi-anonymous payments.
Using bitcoin to pay makes cam site transactions less susceptible to hacking, fraud, or scams. It just makes things more secure.
Weighed against that are the downsides such as that price volatility if you hold the bitcoins yourself before using them, which you have to do if you want to maxim8ize the safety benefits, and difficulties with onramps, particularly in countries such as the UK where many banks are "anti-crypto" and won't let you use your credit cards to buy bitcoin.
Even with these problems, the benefits of using bitcoin for paying cam girls are enough to make it an increasingly common option. If you can get the same, or even better, deal when paying than when you use other security-focused payment methods then why not choose it.
Let me know your experiences with using Bitcoin for cam girls, or if you haven't done it yet but are interested let me know what you need to go to that final step. Drop a note in the comments below!