As someone who has been camming for over 20 years, I am not what you would consider a new cam girl, I am strictly in the Asian MILF category, but if I were to join up any of these sites for the first time then I'd be on the "New Models" page.
Here are 11 cam girl sites where you can immediately find the models who have just signed up and are therefore "new", at least for that site.
TL:DR
Bongacams.com
Cam4
Camcontacts
Camsoda
Chaturbate
Flirt4free
Livejasmin
Myfreecams
Streamate
Stripchat.com
Xcams.com
Why would you want to see new models anyway?
If you haven't already thought about new cam girls then you might wonder, what's so special about a new cam girl? There is a reason for the interest, or rather a bunch of different reasons:
Novelty: I find that many of the "New models" just have a feeling of freshness and excitement in their rooms. When I have been watching a site for a while I get to know all the regulars, and while it is nice to see them there is something different about a new face, and a new style or personality. It can be a refreshing change.
Exploration: Many viewers just enjoy the thrill of discovering new talent. If you are curious about the unique qualities and performances that new camgirl can bring to the table then this is you. Exploring new models also allows you to broaden your horizons and potentially find someone who matches your specific kinks and specific preferences and fetishes.
Interactivity: New cam girls often make more of an effort to make a good impression and build a loyal fan base. This means they can be more eager to chat with you and get that relationship started. When it works this can mean a more interactive and personalized experience for you.
Competitive Prices: This one is a bit dirty, but it is true. In order to attract fans and gain exposure, cam girls who are just starting may offer special deals, lower rates, or promotions. This can be appealing if you are on a budget or want to maximize your value for money.
Support and Growth: Some people just want to help and if you actively seek out new girls to support them in their early stages of camming then you have the chance of being helpful. By interacting with new models, providing feedback, and offering tips, good viewers can contribute to their growth and success. This sense of involvement and contribution can be rewarding for both the model and the fan. It doesn't always work out though as some cam models find the "helpful" viewers can get too demanding. There are a lot of ways to skin a cat, and that goes for cam shows as well.
Are New Models Better?
Whether new models are "better" or not is of course up to you to decide. If you are a fan of new, then yes of course, but not everybody is. Here are a few things to think about when evaluating the appeal of new models:
Freshness and Energy: New cam girls often have more energy and show enthusiasm in their performances. When you are just starting the idea of "working" by lying in bed and masturbating until you cum multiple times a day is very appealing! For younger women who can cum many times a day the first few weeks of being a cam girl are just a hazy blur of one orgasm after another while being paid for it. Life doesn't get much better than that, and viewers love to watch this.
Accessibility and Availability: When they are just getting started models tend to have not set their schedule yet, or decided on any set times to log off. That means they will be more available and if things are going well will simply stay around online as long as you want.
Skill Development: Successful cam girls often can do physically impressive things and new models know they are going to learn those skills. It can be fascinating to watch as a cam girl learns how to take a huge dildo, or to do anal for the first time, to deepthroat or do self-fisting. Positive feedback, including tips and privates, and encourage a camgirl to not give up and to learn these impressive but demanding skills.
Variety and Uniqueness: Each new cam girl brings more variety to a site by introducing their own personalities, styles, and performances. They may offer a fresh style or cater to particular niches and fetishes that are less represented by experienced models. Who would have thought that playing acoustic guitar in the garden would be a successful niche on Chaturbate? But it is! When you are looking for different or niche-specific shows then, exploring new models can provide a broader range of options..
When to avoid new models
New models are not always what you want though. Every benefit has a down side as well if you have a certain perspective on it. Here are a few situation in which you might choice to avoide new cam girl rooms:
Limited Experience: If they are new then almost by definition they have less experience compared to more established streamers. If you're seeking a highly polished and refined show, with a girl who knows exactly how to use the system has perfected her skills over time, it may be best to opt for more experienced models.
Specific Fetishes or Niches: If you have very particular fetishe or interest that requires a certain level of expertise or specialization, such as JOI or footjobs, it might be better to look for camgirls who have proven themselves in those areas. Experienced cam models often have specizlied in things they particularly know how to do. At Stripchat the site even tests to confirm that their specialities are real and they know how to do what they have promised.
Technical Competence: New cam girls are often not yet ready to get the video tech right. You can find bad lighting, fuzzy cameras and internet connections that drop just when things are getting interesting. If you just want to be able to see and hear clearly and have things work so you don't get distracted you may find a model who has cracked all the technical challenges to make more sense for you. Girls working out of studios where there is a tech support department to fix things when they break tend to avoid these problems..
Consistency and Reliability: When we have been working for a while we get a a track record for providing consistent performances and meeting the expectations of our viewers. While new cam girls may be fun and eager to please, there is a higher chance of them not being able to do what they promise in terms of their schedule, availability, and overall performance quality.
Personal Interactions: If you value personalized interactions and building a connection with a cam girl , it's worth considering that new streamers may still be developing their communication skills and establishing their online persona. More experienced models may have refined their ability to engage with viewers on a deeper level.
Risk of Discontinuation: New models don't always work out. After that first successful day there may be a bunch of days that don't work out and many new cam girls may just give up and try something else instead. If you want a cam girl that will be there not just today, but tomorrow and for a while then someone who has already demonstrated cnosistemtncy would make for a reliable choice.
What counts as a "new" model anyway?
Camsites normally have a period during which a model is marked as "new". It starts when they first sign up to the system, and lasts a number of days. It doesn't matter how much they have been online during that period, so some models who have signed up then got busy or not been able to broadcast are disappointed that they have "wasted" their new model status.
At some camsites, such as Chaturbate, if a camgirl explains the situation to the support staff they can get their new status reinstated.
The "new model" advantage offers several benefits for camgirls who are just starting out or joining a specific camming platform. Here are some key advantages that new models can enjoy:
Increased Visibility: Being featured on the "new model" page gives camgirls greater exposure to potential fans. If you are someone who specifically seeks out new models or enjoys discovering fresh faces then you will visit the new sections more commonly. Being found is important for new camgirls otherwise they will spend their time online but with no viewers, and no tips.
Novelty and Curiosity: We are hard-wired to think "new is good" by our evolution as explorers. So it makes sense that the new section of a cam site is hooking into the idea of exploring uncharted territory, witnessing the early stages of a model's journey, or being the first to discover a hidden gem. The sense of novelty helps for viewer and model as well.
Level Playing Field: Not so much "level" really as a boost to the same level. A dedicated section for new models provides them with a fair chance to be seen in the thousands of other cam girls who have worked for years at the site. That means getting noticed by viewers who are specifically interested in supporting and engaging with fresh talent.
Easier Interaction: Being on the "new model" page immediately tells everybody that you may not know the score for this site, what's normal, what is ok, and what is not. Although a few people may try to take advantage of the new cam girl's ignorance, most of them are just open to the other ideas described above. So go ahead and start conversations, engage with new models, and help them to establish their presence on the site.
Support and Encouragement: Viewers who actively visit the "new model" section are often more likely to provide support and encouragement to newbies. They know that a new model who is just starting out can FIND IT challenging and are more willing to offer tips, guidance, and positive feedback. This support can be invaluable for new models, boosting their confidence and motivation as they navigate their early camming experiences. At the same time, they should know when to stop, not everybody does but some do and that's great!
Promotional Opportunities: Camming sites may offer special promotional opportunities for new models, such as discounted private show rates they can set to be more competitive, better visibility in search results, and placing on the home page. These promotional incentives can help new cam girls attract viewers, build a fan base, and kick-start their camming careers at the site positively.
How to find New Cam Girls on 11 cam sites
Bongacams.com
See the Bongacams New Models by using this button.
You will typically find 50 new models out of the two thousand or so who are online.
If that button doesn't work, because you have a previous search set there, then adjust the Sort-by option to select New Models like this:
Cam4
Cam4 has a great range of new models, and they are particularly international in their range. Choose a country or stick with local girls to see what they have.
Use the button below to go direct to their newest models.
CamContacts
At CamContacts the new models are a type of search. Go into the search menu and see that you have a choice of :
Detailed search
Search by country
New chathosts
That last one is the one you want and will have 20 to 40 models available at most times.
Camsoda
Camsoda has a prominent tag for "new" right up there with featured, voyeur, star, versus and the like.
Chaturbate
Chaturbate is the biggest site and the one that many girls sign up for first. Therefore it is no surprise that their New-cams section is the largest.
I'll regularly see 300 new cams in this section, some of them with thousands of viewwers.
Flirt4Free
As a premium site Flirt4Free doesn't attract that many models as not many can come up to their standards. But You'll see maybe 40 at a time when you visit.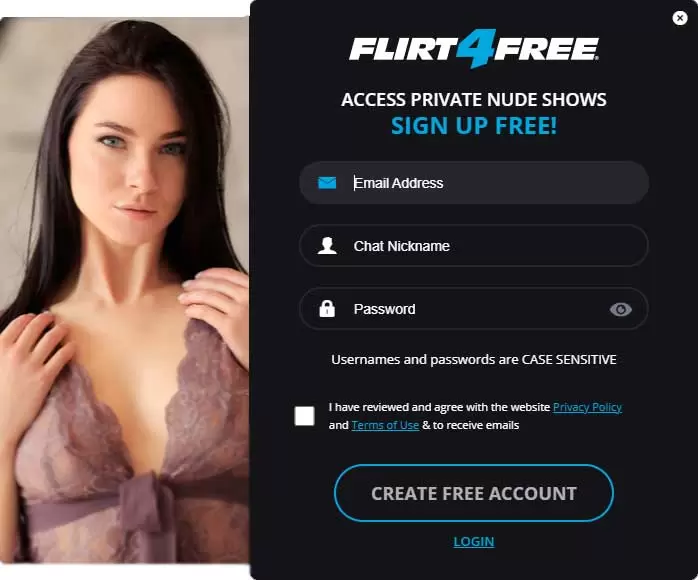 Go to the Profiles menu item and click it down to show "New Models".
LiveJasmin
LiveJasmin has New Models as a major category accessible from their main menu where you also get to choose things like "Fetish", Lesbian", "Mature" and so on.
Check out the right hand menu and expand "Categories" to find the New Models which is around the middle of the menu.
Each new model has a splash saying "new" on her thumbnail, but not all of them are online. The first few pages are online or at least available for a call. Scroll down too far and you'll be in the offline section though.
MyFreeCams
At myfreecams you get to choose your own definition of "new" as it is part of the "Explorer" menu. First click the Model Explorer on the top right and then you can see a choice of different newness :
"Models: All Online Models, or online models newer than 1 Month, 1 Week. "
Click the 1 Month or 1 Week links and you get to see just those ones.
Streamate
Streamate has a view/new section where they list their new models. You'll see a good range of new models but it doesn't say how new they are. Some of them are new enough to not know the rules which can be interesting, but means they are not going to be around for long!
Stripchat.com
As the second largest cam site you won't be surprised to find a huge range of new models here. In fact with over 600 models in their New Models special category but that is partly because they define a "new model" as someone who started within 14 days, which is half the time that new model status lasts on CB.
With this growth rate though they may soon be the biggest choice for cam girls. If they are not already by the time you read this.
Xcams.com
At XCams you have to click the link in the header that says "new", it is right next to the Top link.
Though they have great European and international camgirls here the number isn't huge and the New section might have only 20 or so new models to choose from.