Model who are looking for an option for split-cam or another site to broadcast, and even with a bit more choice or freedom, may consider Stripchat.
Stripchat review for viewers can be found here.
Benefits to Models
Ways to earn for Stripchat models
They claim Stripchat models get 50 – 60% of the revenue. But it basically comes down to $0.05 per token, just like Chaturbate. Stripchat provides multiple ways for us to earn. Besides the usual tips, goals, group shows, private shows, spy cam, and ticket shows, they also provide:
Sell your photos/videos on Stripchat. You can upload your photo gallery and videos to Stripchat for sale. If you don't have the time to take the video, you can just allow recording when you have a private show. At the end of the show, it will be saved to "My video" but unpublished. It is up to you to publish it. You have 4 to 5 options:

a. free as a teaser
b. only for registered users
c. only friends
d. you set a price and they have to pay
e. fan club members (if you have one)
Paid Exclusive Private including cam2cam – You get extra pay if you do cam2cam with the visitors. When they initiate a private show with you, they have an option to do just private or private with cam2cam. You will set a price for both. Stripchat's default rate is 24 tokens/minute for private and 32 tokens for private + cam2cam. It's up to you to adjust it. So, don't give it out for free unless you've pre-agreed with the guys. Updated: Cam2cam is available only for Exclusive Private which is a new feature.

Fan club – Once you have reached 1,000 followers with your Stripchat model account, you have the option to start a fan club. There are 3 levels of fans:
a. Soldier – the most junior fan, you get 100 tokens/month/fan
b. Lord – you get 200 tokens/month/fan
c. Prince – you get 500 tokens/month/fan
You decide what benefits they get. It can be free access to certain of your pics and videos, or even free spying on your shows. I presume the latter one will be reserved for the Prince level.

Lovense and Kiiroo are supported simultaneously. Just set up with Stripchat and your rates will be captured from the Extension automatically. You don't have to re-type it. I personally also sell a custom link to directly control my toy for x number of minutes. It's good for both tip-based viewers and private chat.

VR cam and VR private shows – If you've got a VR cam, you can broadcast in VR mode. Needless to say, the improved experience will allow you to charge more for the shows. And we know that those who bother to invest in a VR headset are more serious about the camming experience and are ready to pay more.

Referral program – Stripchat wants you to bring your fans from other cam sites to them, especially the ones who have no account with Stripchat before. By shouting out you are broadcasting in social media, follow by your custom link, you get an extra 20% of his spending on you if he has never joined Stripchat before. For example, if you get 1,000 tokens tips from this invited fan of yours, you will get 1,000 x 20% = 200 tokens plus the 1k tokens. That is 1,200 tokens worth in total.

However, if this fan of yours has tipped other girls, you don't get that 20%. I have confirmed this with the support. Therefore, if you believe you may bring lots of new customers to Stripchat and hope to benefit from it, I suggest you should sign up as an affiliate separately from your model account. And instead of using the "Tweet my show" button on the top right-hand corner when you broadcast, use the "Link Builder" function in the affiliate dashboard to create a custom link that goes straight to your room with your own affiliate ID. This way you will earn 20% regardless of who your fans spend it on.

Contest – Stripchat has two contests for models: hourly and monthly. Every 3 hours, the top 5 models who earn the most tips get $20, $10, $5, $5 and $5. Each of them will be awarded what they called StripPoints. Top one gets 1,000 points, then 900, 800, 750 with the 5th one gets 700. At the end of the month, these points will be counted up. Top 100 in the girls category and top 20 in boys and trans get cash prize:

#1: $1,000
#2: $500
#3: $250
#4-10: $100
#11-20: $75
#21-40: $50
#41-60: $40
#61-80: $30
#81-100: $20
Payout methods and options
Stripchat models get paid weekly. Every Tuesday they will send out the payment if you have reached the cut-off amount, except for international wire transfers which are done every other Tuesday.
Stripchat provides a lot of options for payout. They include ePayservice (min: € 50), Paxum (min: $/ € 50), COSMO Payment (min $50), international wire transfer (min: $500), SEPA EUR wire transfer (min: 100), Bitcoin Etherium (min: $200), ACH/Direct payments (min: $100 U.S. only) and checks (min: 100 U.S. and Canada only). No Webmoney.
Is it difficult to join as a model?
It is not difficult to join as a Stripchat model as long as you follow the instructions carefully. No matter which cam site you try to sign up with, most people choke on the identification documents and the picture that you are holding the ID document. In Stripchat's case, you have to submit 2 photos.
First, is your identification document.
Second one is a picture of you holding the same ID document in one hand and a piece of A4 paper with your Stripchat model name and today's date on the other. There are example pictures on the form. Just follow the exact same pose and you will be alright.
I got approved in less than 10 hours so that's good.
Fill in the application form
The application is very straightforward and easy. As I said, if you have your ID document and a piece of scrap paper ready, you are good to go.
First of all, go to Stripchat's model sign up page.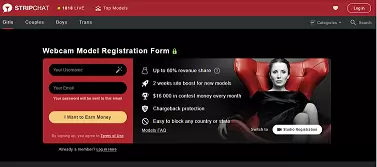 Enter your username and a valid email address. They are going to send your password to this email address. We typically use the same chatname across all cam sites because you'll never know. If you ever want to leave one site and bring all your fans to the other, you would want to have the same name so that your fans can find you.
Check your email now and click on the link in the verification email before you forget.
Next thing is to set up your model profile.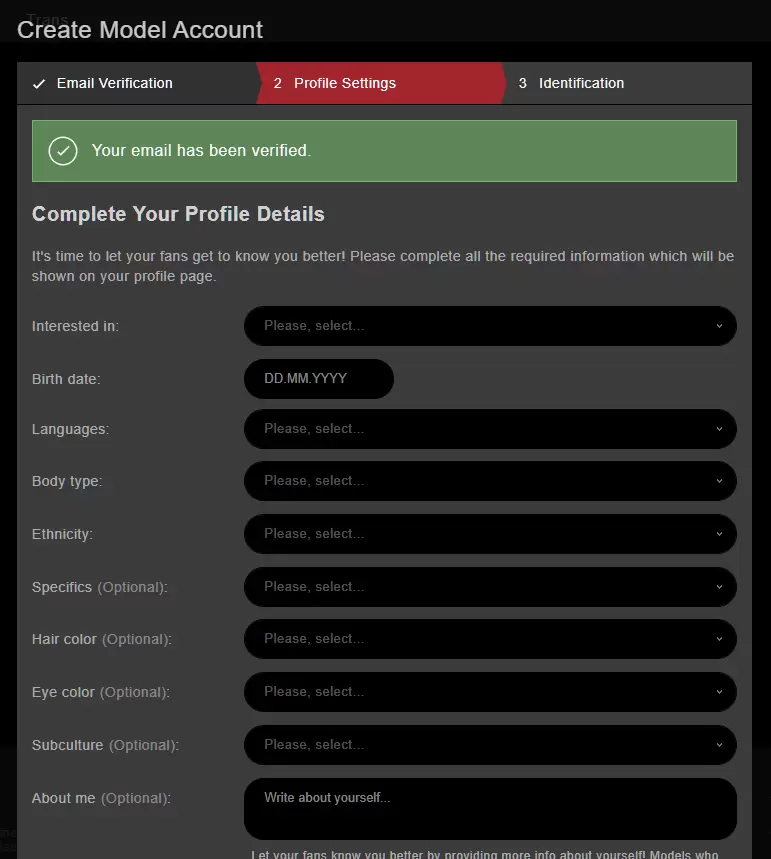 If you are curious about what they mean by subculture, here it is. You may be a mistress, BDSM, swinger and etc.
You can set your own pricing for the various shows here. Later on, when you are broadcasting, you may adjust it any time you want. You can find the settings under "My Details" below your video stream.
Stripchat by default suggests 24 tokens per minute for a private show and that's why you see that's the most common rates there. But you can always adjust it. Spying or group shows are 8 tokens while cam2cam during private show is 32.
Do notice that there is a separate rate for cam-2-cam or two-way cam during private shows. The guys are supposed to pay a different rate for the private show that has or has no c2c.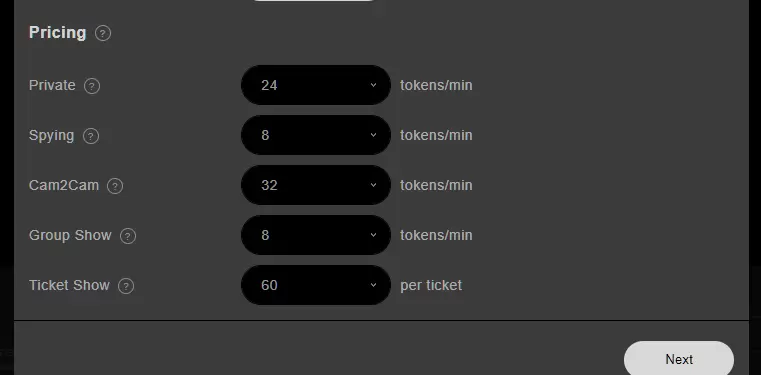 Once you have set up your model account, the last thing they want is for you to submit your identification documents and pictures to prove that you are the person who owns that ID. Please follow the instructions on the site. Check out the example photos they provide to make sure that you have it spot on. Don't forget to hold that piece of paper with your Stripchat model name and today's date, together with your ID document. If you get these all correct, you are highly likely to be approved within 24 hours.
Now you just wait for that confirmation email to say that your model account is approved.
A few tips about broadcasting in Stripchat
There is no easy way to turn off sound while you are broadcasting. So please make sure you are good to have the sound on.
Don't forget to tick the things you will do in public chatroom and private show. Many visitors based on that to choose one to go private.
Choose your first broadcast date so that you will be available in the next 2 weeks. It is because you will be marked "New" for 2 weeks since your first broadcast day. This normally draws some more attention to your room and is your chance to get your regulars and fans.
Be prepared to broadcast (almost) every day for at least 2 weeks to a month before you try something else. You need to broadcast regularly to maintain your fan base.
During broadcasting
Types of Stripchat visitors
Different color usernames show different status of the visitors.
Gold: Gold members have paid a monthly membership to get extra privileges from Stripchat. He is not a cheapy.
Green: Green members have tokens in hand
Grey: Grey members have never bought any tokens to spend
Grey with a green super-scripted "ex" means he has no token now but he has bought some in the past. Not a complete freeloader. Possible for him to top up.
Guest users: Guest users have not registered and have no name. See if you can convert them to join using your referral link.
Check the visitor's status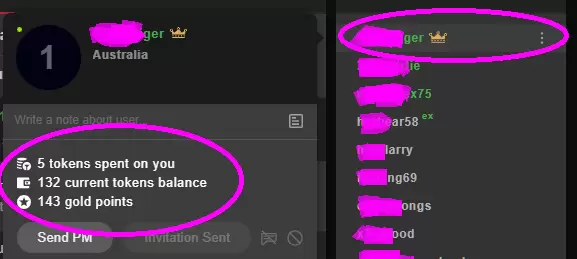 As you can see, on the right-hand side of your broadcasting screen, there is a list of users in your chat room.
Click on the 3 dots next to his name and a small window pops up. It shows a) how much has he tipped you, b) how many tokens has he got (though some can hide their token balance) and c) the no. of good points they have. The higher the better, because it means he's been spending a lot on other Stripchat models.
Add friend
After checking out the visitors' status, you may consider pressing on that "Add Friend" button to make a friend request to those who you think you may like to have around.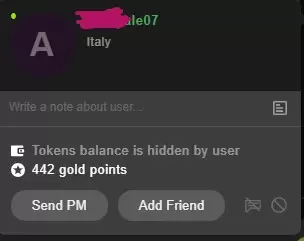 This is a quick way to build up fans especially when you are new to the site. Notice that being a friend of you, he can now PM you.
Add favorite
Don't forget to encourage them to add you as their favorite by clicking on the heart on the top of the screen. They can optionally request an email notification when you go online.
Conclusion
There are on average about 2,000 models online on Stripchat. Competition is still not as keen as most big sites. With plenty of payment options and ways to earn, it's worth a try.