Update: 2021 Oct. Seems Plexstorm is offline and has no specific plans to come back. People who are after gamer girl experiences are probably happy with watching Chaturbate girls play games now that this is allowed.
Plexstorm has been around since 2018 and continues to develop in a space where gaming and camming overlap. Often described as Twitch with nudity it is actually a whole lot more than that and is the best place for finding gamer girls nude.
If you like video games and you like camgirls, particularly camgirls-with-attitude, then you should definitely check out Plexstorm to see the choice of nude gamer girls.
Other websites M-R
Try something you haven't tried before
The first thing to understand about Plexstorm is that it is a small site, despite the sophisticated design and cutting edge technology the number of broadcasters here is small. And if you are looking for nude girl gamers then the number is even smaller.
In a way, it is a niche site, just as if you want to see Asian girls you go to AsianCamModels or you want to see British girls you go to Rampant.TV, or Germans then Visit-X, in this case, if you want to see gamer girls then Plexstorm is, without doubt, the right place to go.
When you first arrive at the site there is a slider carousel of "featured cams", a few of which will be NSFW, meaning there is nudity, or sometimes just the promise of it with some cleavage or suggestion.
Scroll down for more room choices, with a bit more than half of them being male you don't get much choice of females if that is what you want.
Click on the cam of your choice and you go straight into the lifestream. Exactly what is shown is entirely up to the streamer just as with any cam site, but the variety here is even more as putting the game screen into the video is the norm here.
In some rooms, the game is the main thing and filling most of the screen with the model gamer sticking into a small corner of the screen.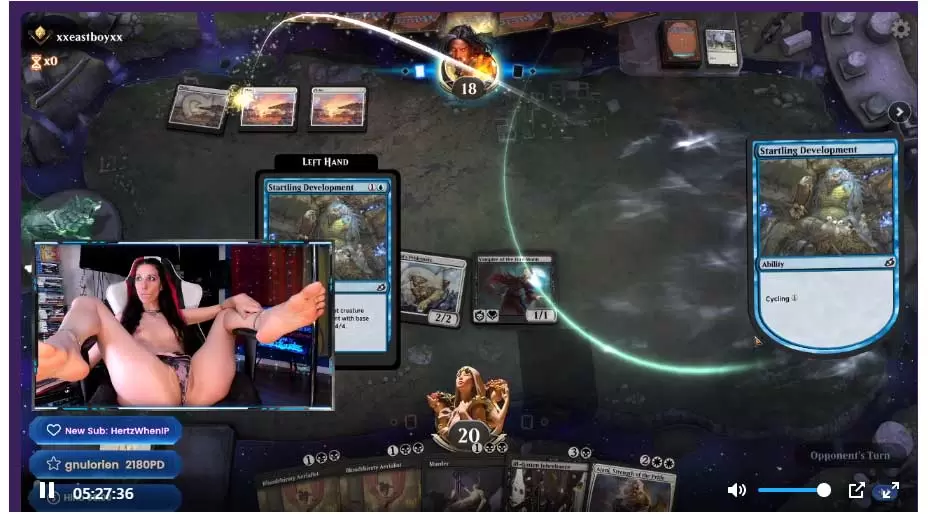 The controls for the video are quite typical, though the pause is unusual, but full screen and sound are just normal. There is also text next to the video as in this example.
Chill to Tunes with Nude Gamers
Sometimes the broadcasts are not playing games, but just chilling to music.
You can watch as much as you like but you can't type or do much unless there you have a registered account.
Chat with Nude Gamer Girls or Just Watch
SuddenManatee is one of the nude gamer girls that you'll find at Plextorm, that name sounds like an XBox handle.
Get Yourself a Free Account
More than just Male and Female
Look at those gender choices, they are a little different.
Male, Female, Non-Binary, Couple – and with Transgender as a tickbox. Does that make more sense to the people who need different choices?
Once you click Register you are immediately registered, there is not even a screen refresh, you are just immediately in.
Get your Verified account
But you can't do very much, not even text chat until you have verified. If you try you get a warning.
If you got your email wrong then there is a chance to change it here, but otherwise what you need to do is find that email.
From: Plexstorm [email protected]

Subject: [Plexstorm] Registration Confirmation
Click the included link and you get to a "E-Mail successfully verified." reponse.
Account options
The prominence of the "Start Streaming" button is not unlike the camsites that put Broadcast up there at the front, it makes sense as the more people who try broadcasting the more there will be for viewers to watch and that is what the site needs to take off and grow.
Unlike somewhere such as Chaturbate you can't simply hit the broadcast button and start streaming your webcam, they do require verification of age documents before doing any broadcast, not just before earning tips.
Warnings of importation information
The whole site emphasises the idea that, while this is about adult streaming, it does not have to include nudity.
Plexstorm is an adult streaming platform, where nudity isn't required at all, it's just allowed. Feel free to express yourself and interact with our lovely community.

Please keep in mind that everyone worldwide can see your stream content. You are the sole copyright owner of your stream content! This means you can take steps to protect your privacy/content, and reupload it elsewhere at will. Tell us if you have concerns about misuse of your content.

Feel free to add the Plexstorm logo and username, or your URL to your stream to aid with tracking down your content!
That positioning of just being between adult porn and none nude gaming is a delicate one which they keep stating, perhaps not every user of the site quite gets it.
Game Content Rules
Similar the rules about what is allowed is more a list of what is allowed, perhaps this is in contrast to other game streaming sites which are more restrictive.
Showing adult content like nudity is allowed, but is not required at all.

You agree that you are over 18 years old.

It is strictly forbidden to stream and show sexual violence, rape, child porn, animal porn, self-destructive behavior, harassment and other forbidden content.

Games rated adult only as well as any other Games are allowed.

Gameplays with mods and mods with nudity is allowed.

Game development, cosplay, painting, drawing, design or other projects with the adult and game aspect are allowed.

You are responsible for your content and the copyright of the games you broadcast.

Using sextoys during the stream is allowed.

Promote and advertise Brands, Games or anything else is not allowed without the permission of Plexstorm.
It is great to be clear and shows what direction the site wants to encourage, but it does read strangely. A few points jump out at me and that is the copyright and the "forbidden content".
Given that this is a list of rules it would seem that a more comprehensive list of what is forbidden would be good, perhaps linked from that rule?
And as for Copyright, I presume that is a concern anywhere with the music and graphics of a game being broadcast. I'm not sure how Twitch manages this but perhaps it just relies on game developers being happy to see any publicity for their titles, whether that includes nude players would make me less sure.
Video Games for Adults with Nudity
There is a "Games" menu item on the top of the screen and that leads to a big list of games, many of which are sex or nudity based themselves, and those would be happy to be featured here I would suppose. There is no indication of Plexstorm has checked with them, but if there were and there was an issue I presume they wouldn't be included.
Despite the long list of games with names like "Game of Whores", "GrandFuckAuto" and the like I didn't actually see many people playing games where it was the game itself that had nudity in it.
Rather the majority of girl gamers here are simply playing standard games, but in the nude, and with tipping menus for flashes or shows.
Tipping Gamer Girls for Flashes

There is tipping here which people do relating to games or just activities that the model/gamer is doing. I saw one model called LittleWhiteLies was getting tipped for spanking herself and putting on nipple clips. That did look good!
Chat about Plexstorm on Discord
There is a main menu item at the top for their Discord channel which really shows how the audience is very game-oriented. If you don't know what Discord is then you'll probably find this site a bit strange, but if Discord is where you hang out with your friends anyway then you really can't fail to get on in PlexStorm.
Post about Plexstorm in the Forum or Comments
Is PlexStorm your kind of site? Even though I didn't think it would appeal to me, as I am more of a puzzle girl rather than a gamer girl, I did end up watching quite a bit. It was fun to see LittleWhiteLies play FallGuys, even if she did get upset when she couldn't get as far as she liked.
Have you played on Plexstorm or watched another gamer play there? Leave me a post in the adult webcam faq forum or a comment below and let me know what you think about the site.