Camsoda vs Chaturbate

Camsoda is a great cam site with a modern interface and lots of very hot girls, but how does it compare with the leading cam girl site? Chaturbate has the edge in total quantity, but Camsoda is working hard to show that they are also worth considering.
Want a drink of refreshing Soda? Try a new cam site called CamSoda.
Read this guide and comparison to learn how to get the best out of it if you are coming from Chaturbate.
Overall appearance and Signup
There isn't a lot to choose from when you arrive at the Camsoda for the first time, compare to Chaturbate it is the same old just arranged a bit differently. Like pink instead of orange? Then Camsoda has the style for you.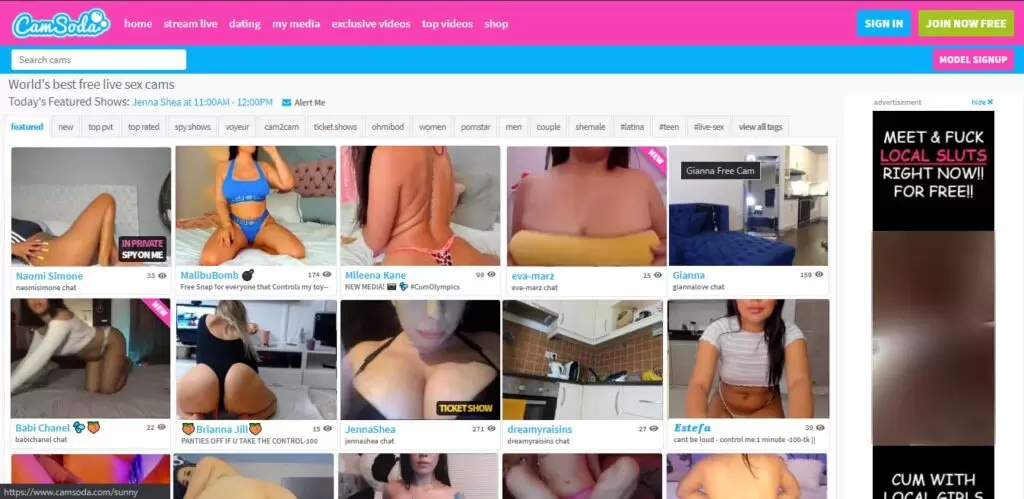 Camsoda gives you a bit quicker access to the various filters such as price and ethnicity by putting them up there in the top sidebar of the screen, but apart from that, the view is similar. Girls in the middle, a few ads off to the side where you can ignore them, tabs or tags to choose between some various niches and a long scrollable list.
If you are loading the site on your mobile phone then it is even more similar. Most of the navigation gets hidden and it is just a two-wide scrolling list of girls girls girls (or boys boys boys if you choose gay cams).
Click or tap on a girl to go into her chat room, and then the difference starts to be a bit more. On Chaturbate you can watch as long as you want, and on mobile, you get a small video that you can drag bigger and swipe back and forth.
Over on Camsoda, you'll be bugged regularly to create an account, and you won't be able to zoom in on the video or to watch at all if you don't.
Create an account on either of them and it is about even again with no rights to do anything if you haven't got any money, but at least you can watch as long as you want.
You can sign up with Camsoda using your Google account, which means your Gmail, if you want to avoid remembering one more password.
That is a great convenience and, if you have a Google/Gmail account just for porn, then that's a no-brainer win for Camsoda when you compare it with the Chaturebate equivalent that wants more details.
Result: Camsoda
New girl status duration
Both sites mark their newest models with a special "New" mark when you scroll through the list of sites. This gives you a chance to see who might not be familiar with the site and you can go and help them out and give them a boost! Both Chaturbate and Camsoda set the new girl marker for 7 days.
Result: Same
Models online: girls
How many girls are online? It varies from time to time but taking a quick look on an average day you can see many thousands online at Chaturbate, but rarely as many as one thousand at Camsoda.
That makes CB seem much better, but many hundreds of girls at Camsoda is still good enough for you to find the one that you like.
Chaturbate: 5488
Camsoda: 850
Result: Chaturbate is 5x bigger
Free video chat
Chaturbate: Yes, Unregistered guests can see the video, hear the sound, go full screen, but no text chat. Needs login to chat.
Camsoda: Yes, Unregistered guests can see the video, full screen, hear the sound, but need to free register to type. The free video for unregistered may expire after a while, forcing you to create a free account.
That means it really is a tie between the two sites when it comes to just watching the video for free if you don't mind making the free anonymous account.
Result: Tie
Monthly membership: benefit
Both sites let you pay a monthly fee for membership with a bunch of benefits.
Chaturbate: "Supporting member" Clean, Ad-Free Interface Custom Chat Font & Color Options Private Messaging Anonymous Tipping Animate Room Images One Time Free Bonus 200 free tokens which is worth $20.99 if you bought directly
Camsoda: No ads, change tip volume, private messaging, anonymous tips and chat, stealth mode
The prices are not the same though:
Chaturbate: $19.95/month
Camsoda: Premium members for $9.95 / month
Camsoda does vary the offers though so check out that the current price and benefits are the same. At times in the past they have offered a package more similar to the Chaturbate one, with twice the price but some free tokens included.
If you want to use the site for cheap then Camsoda wins, but if you are buying tokens anyway then the CB deal looks better. Who is going to buy just 200 tokens a month though? That is a very parsimonious amount, either you buy a larger quantity or you just watch for free.
Separating out the membership and the tokens lets you choose what you want to do so to this one Camsoda comes out ahead, unless you really only want 200 tokens a month.
Result: Camsoda ahead for most people
Models online: couple
Want to watch couples online? Both the sites offer a couples section. On Chaturbate you hit the link at the top that says COUPLE, while at Camsoda you turn OFF the Gender checkboxes for Female, Male, and Trans, leaving only "Couple" checked.
What you actually see is a bit different. On Chaturbvate it is a lot of hetro couples in their bedrooms, with a few MFF trios. On Camsoda the top of the Couples sections split half with girls only on cam, and half with studio MF couples. There also isn't the range of choices.
Chaturbate: 588
Camsoda: 42
If you want to see some couples-next-door, or just want a range of couples to choose from, then Chaturbate wins here. Lesbian FF couples are also more likely to be found on Chaturbate but that may simply be because of the greater numbers.
Result: Chaturbate has a better range
Model rules: What is ok and not ok
Both sites have very strict rules about what the models can and cannot do on cam. These are legal restrictions sometimes, like nobody underage of course, but others are just the rules of that site. They are generally aligned though and cover similar things.
If you are looking for cam girls who do things a bit differently and break a few taboos or social norms then you'll not find much chance at either Chaturbate or Camsoda.
Result: Tie
Using your mobile phone for Cam2Cam
Want a more face-to-face (or other body parts) experience? Then Cam2cam is the solution where you get to see her and she gets to see you, but this option doesn't necessarily work on mobile phones with the tiny screens and the different video technologies.
On Chaturbate mobile Cam2Cam is doable but not particularly convenient, you will have to do it by setting your mobile to desktop mode, then it works satisfactorily. Except there is no sound. On the plus side, you can turn on your camera at any time, even in public shows, but there is no guarantee that she will look at it unless you tip her.
At Camsoda the mobile Cam2cam technology is far more advanced, they launched it as long ago as 2017 so it counts as a mature technology that just works.
Clearly a big win for Camsoda.
Result: Camsoda clearly wins
What's allowed: pissing
Want to watch your fav cam girl take a leak? Golden showers are not allowed on either Camsoda or Chaturbate so you are out of luck in both places. Yes, people will ask for it, and probably some models will do it despite the prohibition but you'll then not find them around again as they will be banned.
If you really want to see cam girls pissing live then you'll need to try out Stripchat instead.
Result: Neither; try Stripchat
Fisting shows
Both sites also don't permit fisting, so if whole-hand insertions are your thing the same thing applies.
Result: Stripchat is your alternative
How much does a private show cost?
At both sites the costs for a private show are quoted in tokens, and there are a couple of different types of private shows, and the tokens can cost different amounts. It all gets confusing and requires a bit of calculation to work out the actual cost to your wallet of taking a girl into a private chat room.
Looking at a typical cam girl at each site, not a super cheap one and not a high-end premium one, but just a regular cam girl. And looking at the price you would pay for tokens if you were buying the tokens sensibly in medium-sized batches via a sensible method then it works out like this:
Chaturbate: $0.66 per minute
Camsoda: $3.30 per minute
Yes, Chaturbate is only a 5th of the price of Camsoda!
Really such a difference? Yes, there is, and it is mostly because not many Camsoda models charge their minimum price, whereas that is common at Chaturbate.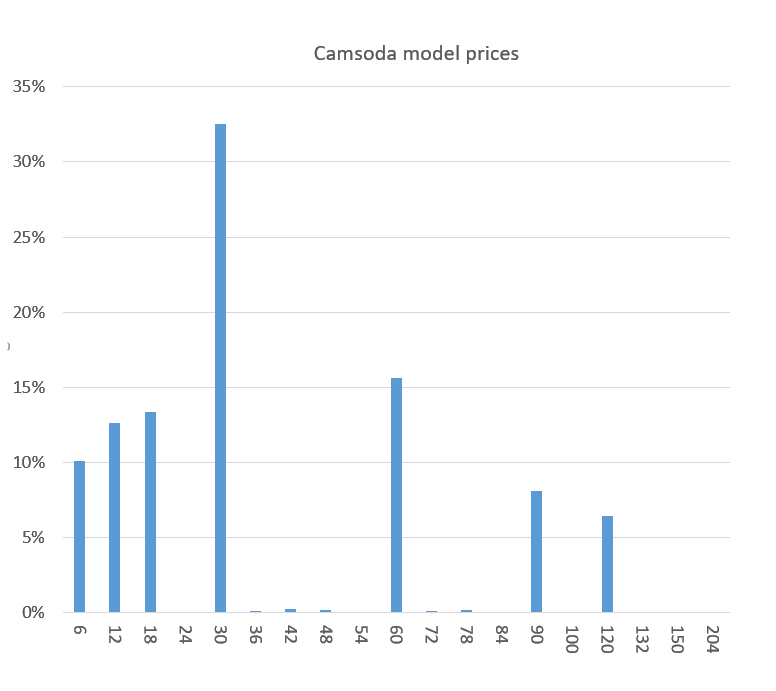 There are plenty of cheaper models at Camsoda, but they are not the majority.
See how very different this is at Chaturbate where more models are charging the absolute minimum than any other price.
Result: Chaturbate for discount models
Nudity in free public chat
Just want to watch and don't intend to tip or take cam girls into a private show? Then what you want is to engage in free public chat, but you hope to see nudity and more in that free show. In that case, both Chaturbate and Camsoda allow this.
Overall you will see more partial-nudity at Camsoda. Fishnets, lingerie, bra sets and things like that. Perhaps half of the top models are wearing something, but often only a partial outfit such as fishnet stockings only. Or a tube top only, without any bottom piece.
The other half of Camsoda models are entirely naked, and often doing hardcore masturbating with toys.
You will see some cothes at Chaturbate, but a bit less. And as with Camsoda it is often something like a top without a bottom. Cam girls know they shouldn't be covering the most important parts, and particularly as they are typically wearing a Lovense Lush they want their viewers to be able to see that pink tail so wearing panties is a bad idea.
Although this puts Chaturbate ahead, if you actually like the nudity tembered with some frilly lace or sexy outfits then the Camsoda girls may actually be better for you.
Result: Chaturbate wins for bare skin
Result: Camsoda ahead for lingerie
Cam girls in the great outdoors
Want to see girls broadcasting their lives while walking about in the great outdoors? Both Chaturbate and CamSoda do allow models to be outside their houses, but they both have strict limits on where a model can broadcast from.
The basic problem is that cam sites are very concerned about anybody who is not a registered broadcaster, and hence has proved they are of legal age and have actively given consent to have their video displayed to the whole world, should appear on their sites.
At Chaturbate the rules say that although outdoor broadcasts are allowed they have to be from within a private area where there is no possibility of anybody overlooking you. That makes even a backyard a possible no-go area if the house next door might overlook it.
Therefore while you do see outdoor-by-the-pool type broadcasts sometimes at Chaturbatre it is pretty rare.
The rules at Camsoda don't seem to be quite so strict, but the general idea is the same and so it is equally rare to see outdoor broadcasting.
That makes both Chaturbate and Camsoda basically tied, and it is a zero-all type of tie.
Result: Tied at (nearly) zero
If you want real outdoor broadcasts, like girls in the woods, or flashing shows from a coffee shop, then you'll have to try Stripchat instead where such things are common.
Thumbnails are live
When you visit the home page of any cam site you'll find a set of thumbnail pictures of the models online. These can be one of several types:
A stock "glamour" photo such as those commonly found on LiveJasmin, with occasionial clips of live video
A recent snapshot of the cam girl's current video
A live view of what is happening right now
A live view, but only if you point to it with your mouse
Each approach has its advantages, and at some sites they even let you choose which one you would prefer, but for the most part, it is fixed.
Chaturbate: Thumbnails are fixed, though you can set a refresh interval in "options", but Animated room images is reserved for paying customers who are "supporters"
Camsoda: Yes you get to see what is live, but only if you wave your mouse over the thumbnails to turn them on, and then they go still after a while.
Pointing at things with a mouse only works on a desktop of course, on mobile you are stuck and both sites just show you static images.
Result: Camsoda is better only on desktop
Email verification for free account
Both sites require you to enter an email address when you create a free account. But in both cases, the address isn't actually checked. You can log in to the site and use it as much as you want without ever clicking a verification email.
That does mean you can avoid giving out your real email address, but unless you enter something you can actually access you won't be able to reset your password or receive notifications.
This is a time for a good porn-compatible email address, perhaps another Gmail account or something that is distinct from your regular ones.
Result: Tied
Purchase tokens safely using crypto
Both sites let you buy your tokens anonymously using cryptocurrency, and both of them do it not directly but via a payment gateway called CoinPayments.Net. This is quite obvious at CB, but Camsoda disguises the gateway somewhat.
That gateway lets you choose from a wide range of different types of crypto coins. You can choose the token you like whether it be BTC, ETH, XMR or any other.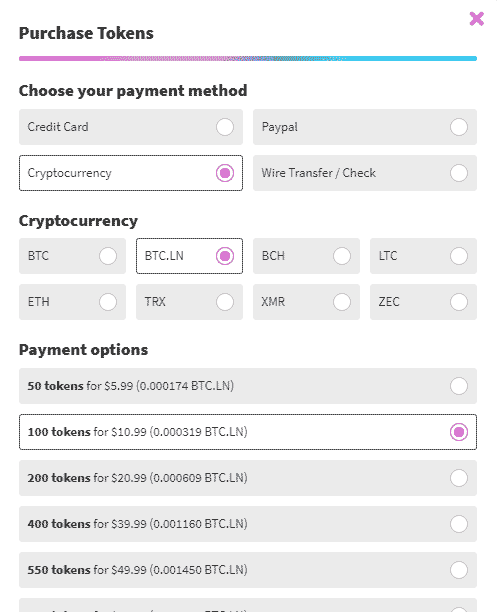 When you buy at Camsoda the system includes support for the Bitcoin Lightning Network or BTC.LN, which means that payments can happen instantly and with almost zero fees. This does mean you have to get some Lightning credits first, but you can get those from a variety of mobile and desktop wallets that will let you pay using a variety of cards.
Chaturbate doesn't offer the Lightning option.
It isn't perfect anonymity, but it does involve a chain of hard-to-trace transactions and at least means that the porn site name won't' appear on your credit card bill or bank statement.
Neither offers guidance on how to get your cryptocurrencies with which to pay the girls, for that you'll want Spankpay which is but that is only accepted at Flirt4Free.
Result: Camsoda wins via Lightning
Cam2cam on Desktop
Chaturbate: yes, changed in mid Dec 2020 from anyone can broadcast and c2c, to verfied with tokens users can chose "Show my cam" in a model's room. Viewers can turn on their cam any time, it doesn't mean the model will watch, but she might.
Camsoda: Yes, in private only , it is a different type of private with extra cost
Result: Chaturbate wins
Grey users allowed to chat
A grey user is one who has registered a free account but has no tokens in their account. Cam girls know that most greys are never going to tip them and so tend to ignore them. If you want to watch while not spending too much then staying grey is reasonable, but don't expect to be allowed to chat.
Chaturbate: Cam site allows grey to chat, but models can turn that off and then you'll see "This room only allows members to chat if they have tokens." when you press "send"
Camsoda: Yes, unpaid registered members can chat unless the models turns it off in which case y ou'll get "Your message could not be sent! This performer only allows users with tokens to participate in chat. Buy tokens to enable chatting!"
In practice, it is much easier to find a room that allows grey users to chat at Chaturbate, but you do have to browse through quite a lot and work your way down the list to beyond the more popular rooms to find one.
Result: Chaturbate in practice
Mobile phones watch full screen video
Want to make the most of your small screen on your phone? Going "full screen" works on both sites but quite differently.
Camsoda only works right if you turn your phone, and you don't get to see the text chat.
At Chaturbate you can see text and you can zoom and pan so that is better.
Neither of them is as good as Cam4 mobile, but at least at Chaturbate, you get to zoom.
Result: Chaturbate has zoom
Luxury privates: expensive girl at best rate
Want to splash out on the absolute best girls at the site? Top-of-the-line cam girls charge accordingly and if you want a private show with the most expensive girls then you are a "whale" and are probably buying tokens in bulk at the best possible rates.
The price you'll pay for those top models is similar but Chaturbate comes in a little cheaper. if you have the tokens to burn on the best though you may not care about the 10% difference.
Chaturbate: $9.60 / minute
Camsoda: $10.92 / minute
If you are really into the most glamourous cam girls then you are probably using LiveJasmin or a premium site like Flirt4Free or Camcontacts anyway.
Result: Chaturbate a little cheaper, if you care
Transexual models in live porn chat rooms
Want to see some chicks with dicks? Do t-boys tickle your fancy? Then the larger range of Chaturbate means you will have "girls" from which to choose. There are plenty available on CB but while Camsoda does have some the range is quite small. Maybe small isn't a good word though as Tranny's are always well endowed both up top and where it matters if you are to judge from what you can see at either site.
For the record, though I'm seeing more than 20 times the number of Transexual cam girls at Chaturbate as I see at Camsoda, only the rooms do overlap somewhat. The best rooms at Camsoda are often also split cam broadcasting at Chaturbate as well. Which site gives you the best view of the room may depend on how they are set up so it is best to try out both.
Chaturbate: 784 transexual rooms online at one moment
Camsoda: 30 tranny rooms at a time
Result: Chaturbate way ahead
Token buying price
Both sites cost their services in tokens, and you have to use real money to buy tokens. They both have a nominal value of around 10 cents each, but the exact price depends on how you buy them.
There are discounts for bulk purchases, and some channels for buying them are legitimately cheaper than others.
Not everybody is ready to make a large purchase or to do it via a wire transfer, so the actual cost of a typical purchase may be medium. After calculating the per token prices and the various fees the values come out almost the same, but not quite
Chaturbate: $0.09
Camsoda: $0.10
This matters as some things, such as the lowest cost private shows, are set to the same number of tokens at both sites. In that case it is 6 tokens a minute for a cheap private show at either Chaturbate or Camsoda, though these are much more commonly available at the former than the latter.
Chaturbate is cheaper, but really only by a little.
Result: Chaturbate slightly cheaper
Sound: default volume
This always bothers me, so much that I wrote an entire article about sound defaults at cam girl sites, but I think it matters if the sound is on or off by default
Chaturbate: On, 50%
Camsoda: Off
From a safety perspective, Camsoda's solution is much better. Who wants moaning and groaning suddenly coming out of our speakers without any warning?
Result: Camsoda for safety
Worst token buying price
Buying only a small package, and doing it via some sort of gateway that takes a cut? Then this could push up the price of your tokens quite a lot. If you are only trying to buy a small amount, perhaps just so you are not a grey chatter, and if you want to use a gateway for better privacy then the cost per token for that route matters.
Chaturbate: $0.12 per token
Camsoda: $0.13 per token
Result: Chaturbate is 1cent cheaper
Cheapest private shows at cheapest rate
Like private shows but really don't want to pay too much? Then you'll want to only go private with the cheapest models, which means 6 tokens a minute, and you will want to buy your tokens in a big enough bulk that you are getting them at the cheapest rate. At Chaturbate you can get the tokens for only 8 cents each, but the best possible deal at Camsoda comes out at just over 9 cents each.
Crunching the numbers means that this causes your per-minute cost to work out as follows:
Chaturbate: $0.48 per minute
Camsoda: $0.55 per minute
That's quite a big difference and means that if you really have to watch the budget then Chaturbate is a winner.
The lowest price at Camsoda is still pretty cheap, but over time it may add up so watch your budget.
Result: Chaturbate is 7cents cheaper
Gay guy cams?
No doubt here that Chaturbate comes out ahead. There isn't much call for gay cams at Camsoda and there are very few men online. If male broadcasters are your thing then Camsoda is pretty much a washout.
Chaturbate: 1666 gay cam models online
Camsoda: 7 male broadcasters
Result: Chaturbate the only choice
language: site interface
Want to use the site in another language? Both offer multi-lingual user interfaces, but the Chaturbate one is more comprehensive. That may not matter to you if one of the 6 languages Camsoda offers is the one for you.
Chaturbate: English, Arabic, German, Greek, Spanish, French, Hindi, Italian, Japanese, Korean, Dutch, Portuguese, Russsian, Turkish, Chinese
Camsoda: English, Italian, Spanish, French, German, Dutch
Result: Chaturbate 15 vs Camsoda 6