Choices can be good, but there is such a thing as "too many choices". How many cam girl websites are on the internet? Even when you exclude duplicates it is in the hundreds, and that is just too many to go through one by one. Each site has unique features, a selection of camgirls, and social conventions and community rules. It can be too much work to find the perfect site that is just right for you.
In this ultimate guide, I am going to explore the major choices that will cater to 99% of people, and give you just enough information to decide if a site is worth checking out.
I'll go into what or who you will find there, key features, how hard the site is to use, any niche specialties the site caters to, and what it is liable to cost you.
Whether you are looking for a fun interactive experience, a specific performer category, or a particular feature you will find it laid out in just enough detail here. On sites where I broadcast, I'll be able to share a little of the "inside information", and if you are choosing a site to broadcast as a camgirl, camboy, or exhibitionist to earn a few bucks then I'll have some tips for you as well.
Get ready to dive in. Use the Table of Contents below to jump directly to the sections that interest you as you find the ultimate cam girl site, just for you.
TL;DR Stripchat is a good one-size-fits-all cam girl site if you don't have time to try all these
And also good enough for most people as a cam site for making money as a cam girl.
Chaturbate:
As one of the most popular cam girl websites, Chaturbate has earned its reputation for providing an immersive and interactive experience. One thing that makes it stand out from many other sites is that everybody who signs up for an account is potentially a broadcaster.
While originally anybody could broadcast themselves masturbating while chatting, hence the name "chaturbate", now there are more strict rules about age verification and such to keep minors away from the site.
Even with those restrictions, there is a vast performer base, so viewers can explore a wide variety of performers and categories.
The platform operates on a tipping system, allowing viewers to show their appreciation for the performers through tokens. "Tip menus" allow broadcasters to offer things like "tit flash" for a specified number of tokens so you can, generally, get what you pay for.
Private shows are allowed on the site but are not the main focus, instead large groups of fans watching and encouraging masturbating camgirls is what you will mostly see here. Couples, trans and guys are also well represented.
Chaturbate's interface is getting a little long in the tooth but works serviceably on both PCs and mobile devices with a few key choices to customizable display options, ensuring that you can tailor your view of the chatrooms to your preferences.
Whether you're seeking free shows or looking to support your favorite performers, Chaturbate is a great choice for whether you are just starting with live interactive porn or whether you are coming from another older or more niche site.
The large range of broadcasting rooms here means there is quite some competitive price pressure so many things will cost you on the low end of the price range. Buying tokens is simple and consistent and you can get a better price by buying by wire or crypto.
Want to see my tits at Chaturbate? That will cost you around 50 tokens, which is about $5 in real money. As a broadcaster, I'll receive half of that when I cash out the tokens I receive from you.
Naturally, other girls, with tits bigger or (rarely) smaller than mine may charge more or less.
When it comes to private shows most of the Chaturbate girls are charging just 6 tokens, that is 60 cents, per minute, though some charge 10 or 20 times that much so really it varies.
MyFreeCams:
MyFreeCams, which we always refer to as "MFC" in the cam girl community, is a site that has carved out a niche focusing primarily on solo female performers. You won't find any men, couples or trans here. Apparently, the man who started it wasn't interested in anything but CIS female porn and so he made that rule and they have stuck with it.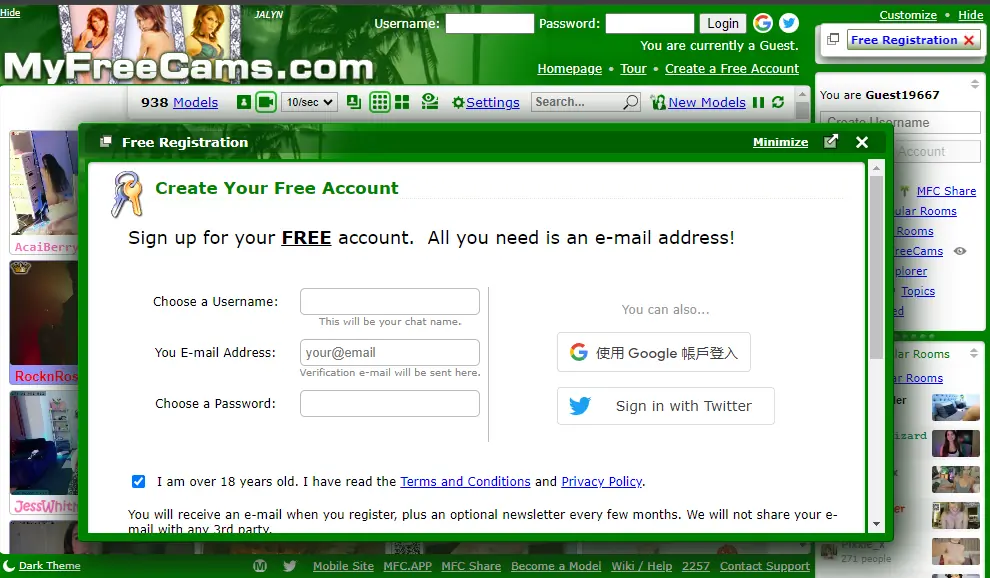 The main offering here is free public shows as MFC operates on a token-based tipping system. The site continues to have an active community of viewers who engage in lively chat conversations both in the video chat rooms as well as text-only and community chats.
Additionally, MyFreeCams offers a reward program where for every 10 tokens you purchase, which is about $1 worth, you get a "reward point". Think of it as air miles for camgirls. When you have more points you get a higher level, and from that you get special privileges.
The site is one of the oldest webcam girl websites on the internet and unlike most of the older ones it has never done a major redesign, instead new features have been added incrementally one on top of another. This means the site is very busy visually and can be quite overwhelming if you are new to it. Like anything it takes getting used to, but perhaps more so than most.
The option to sign up to the site with Google or Twitter does make the experience easier than some other sites, though an increasing number of cam girl sites do allow these types of "social signing".
You'll need to buy tokens at least one time to become a "premium member" with more rights on the site, but that can be for as little as $20 which gets you 200 tokens.
How far will those tokens get you? The prices here are similar to Chaturbate with tips for flashes being in the 10s of tokens, meaning a few dollars, while private shows will cost you that per minute. The range here is large both in terms of styles and quality of performers, and the prices you charge.
What stands out at MFC is that most of the "top rank" cam chat room are regular American girls broadcasting from their homes and are not in an organised studio. That means a lot more messy cluttered bedrooms are on show, but also gives you a sensation of talking to regular women.
If you're looking for a platform dedicated to solo female performers and a vibrant community experience, MyFreeCams might be the perfect fit for you. Unfortunately, it isn't a fit for me as I'm "too old" to work there!
LiveJasmin:
For those seeking a more polished and professional cam girl experience, LiveJasmin delivers on its promise of high-quality video streams and private shows. The majority of the live rooms here are hosting professional cam models who are working out of organized studios.
LiveJasmin's user interface reflects its commitment to providing a seamless experience, with an elegant and user-friendly design. If you appreciate a more sophisticated approach to cam girl websites and crave a top-notch visual experience, LiveJasmin is worth exploring.
They have all been screened for their ability to dress and make-up well, so you will find plenty of very glamorous models here. That doesn't always mean they are interactive or fun though, but it won't be hard to find ones that you like.
Don't come here expecting the girl-next-door, but if the pin-up girls in a magazine seem right to you then seeing them live and sexily dressed here will be just right for you.
Strictly speaking, this is a "no nudity in free chat" site, or a premium site, where although the girls are sexily dressed they do not strip or do anything explicit for free. If you want to see something more then you have to pay for it, either in a tip or menu item or in a private show.
That makes this less attractive for casually browsing hot girls, but if you are actually looking for a one-to-one dedicated sex show with a perfect-princess then you won't have to waste your time here with chat or negotiation.
Login to the site and buy some credits, for around $35 you can get a basic package, and buying more gets you a better deal. There are plenty of special offers and deals to be had, but ultimately you will end up paying several dollars per minute for a private show here.
Both the pricing and the quality are premium here so if you can afford it this can be a luxury experience.
The platform emphasizes glamour and high-end production, attracting a discerning audience.
I'm not glamorous enough to be a model here but I do like to watch some of the girls at times!
ManyVids:
If you're looking for a unique twist on cam girl websites, ManyVids offers a user-generated content platform that allows performers to showcase their talents through pre-recorded videos and custom requests.
The site is generally seen as an "OnlyFans alternative" and like that site is mostly about models distributing their pictures and videos in regular posts to their fans. Like OF it also allows streaming video, and while that isn't the main point of the site it is still somewhere you can watch a favorite girl perform.
MV doesn't have many restrictions on what performers can do in their live streams so you can expect to see as much, or as little, as they would post in recorded videos and photo sets.
ManyVids provides access to a diverse range of performers, catering to various interests and fetishes.
As a viewer you can explore an extensive library of content created by performers themselves, offering a more personalized and customizable experience.
Costs here are too varied to mention and you really have to look at each cam girl individually. Expect to subscribe for a few tens of dollars per month to each model you like to follow, and hope to find one that goes live regularly.
Although live video is one of the options it is more if you enjoy the flexibility of pre-recorded videos and interacting with performers through custom requests that ManyVids might be the perfect platform for you.
Setting up an account here as a model is easy, but it is too much work for me to create picture sets regularly so in the end I've not used the site much myself although I know it is popular with many people.
Skyprivate:
The range of girls isn't the best but there are both male and female providers here at the most important thing is that, along with CamLust, the actual video call is done over Skype. That means no websites are involved in the video of the session, and there is nothing to install or do if you already have Skype working.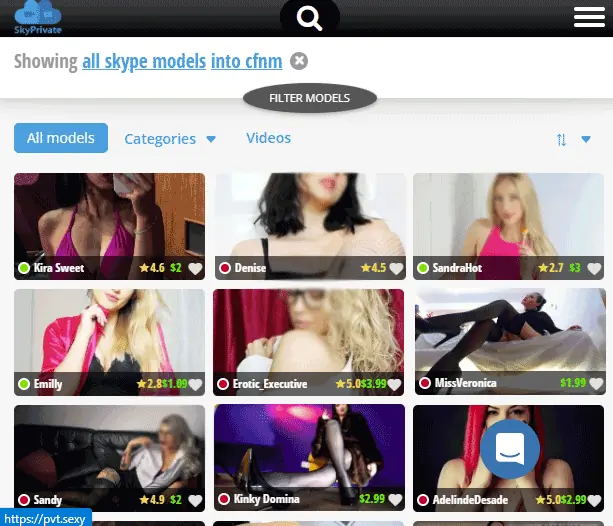 A good range of people from around the world use the site and you can pay either by the minute, typically a few dollars per minute, or pay a flat fee for a particular type of service you would like.
Both female and male providers are available here, though the majority are women. It is a good place to go for things that are a little out of the ordinary. Although it still has rules they tend to be a bit more relaxed than some sites. Ultimately it is up to individual performers to decide what they are willing to do, but you get to talk to them first to make sure that everybody is on the same page.
If you want a particular thing such as cock rating, jerk off instruction (JOI), or want to play the clothed female nude male (cfnm) game then this is a great choice.
For people broadcasting the strong attraction is that you receive 75% or more of the fee paid by the customer, and for the viewers, the attraction is a real one-to-one experience without the need to set up or pay separately for cam2cam.
This site is a great choice if face-to-face experience is important to you and yo are willing to spend a little time to discuss in advance, over Skype, what you want to get out of your camgirl experience.
For the full "girlfriend experience" (GFE) this is a sure winner.
Stripchat:
Stripchat stands out as a site that is constantly developing and taking online cam shows to the next level. With things like VR and certified specialists in niches, it aims to be all things to all people.
Large enough to need the excellent search and tagging facilities it offers Stripchat won't fall short in offering you the right type of live chat room.
Most cam girls here will be using interactive toys and that integrates well with the rest of the system. Additionally, Stripchat offers virtual reality shows, providing an immersive experience that blurs the line between fantasy and reality, sometimes you have to stop and remember that it is all virtual!
With a multilingual support system and a user-friendly interface, Stripchat caters to a global audience. The site tries to show you chatrooms that are in your location which can be good or bad. If you don't like it you can always use the search to find any type of girl, or niche you like.
Or if you like boys or groups or trans then there are plenty of choices here as well as it isn't a girl-only site.
If you're looking for interactive experiences and want to explore the world of virtual reality shows, Stripchat is a platform that shouldn't be missed.
Tipping for individual flashes will cost a few 10s of tokens here and there are lots of cheap and premium options.
Private shows here tend to cost a little more at Stripchat compared to Chaturbate and come in two levels, the basic and then the premium "exclusive private" which is, well, Exclusive.
I broadcast regularly on Stripchat and it can be fun and interesting, but with the huge range of models online I'm rarely found by viewers. Do check out my room!
BongaCams:
With its focus on international performers and language-specific rooms, BongaCams offers a unique experience for users seeking diverse cam girl options. The platform provides both free shows and private shows, with the free shows paid for with a tipping system. And private shows being by the minute.
The community here is rather price sensitive so the costs for things tend to be rather low. That's good if you want a discount as a viewer, but as a broadcaster it does mean the viewers seem rather "mean". While I do broadcast there regularly it isn't that good for earning an income.
BongaCams also offers regional filtering, allowing users to connect with performers from specific countries or regions. With a multilingual platform and a user rating system, BongaCams strives to create an inclusive and interactive community, however they can be a bit blunt at times and there is a tendency for viewers to be quite demanding.
If you're interested in exploring performers from around the world and engaging with a multilingual audience, BongaCams might be the ideal platform for you.
CamSoda:
CamSoda prides itself on being a platform that pushes the boundaries of adult entertainment. Over the years Camsoda has added a wide range of different features, some of which have come and gone.
Examples of things that are, at the time of writing, still active include voyeur rooms, behind-the-scenes viewers, and recently "versus" where two separate rooms compete to see who can get the most tips in a short set time period while you watch both rooms side-by-side on screen.
The platform provides free shows and integrates interactive sex toys, allowing viewers to actively engage with performers. CamSoda is also known for its commitment to technological advancements and adult entertainment innovations.
A large number of the girls at CamSoda are working out of professional studios so you will get high-quality video feeds and nicely decorated rooms, but also quite some bored performers who are doing their shift and not really that interested.
Expect to see plenty of Eastern Europeans here as the site is popular with both viewers and models from that part of the world.
If you're seeking an interactive and cutting-edge camgirl experience, CamSoda is a platform that will keep you captivated.
Flirt4Free:
If you are in search of premium and exclusive content, Flirt4Free is an excellent choice. As one of the oldest and most established site they know what the customers needs. The platform offers free chat options, premium private shows, and VIP memberships for those who want an elevated experience. As the name implies only the "flirting" is for free, so you can see what sort of person you are talking to, but for an explicit show you will have to sign up for and pay for a per-minute private show.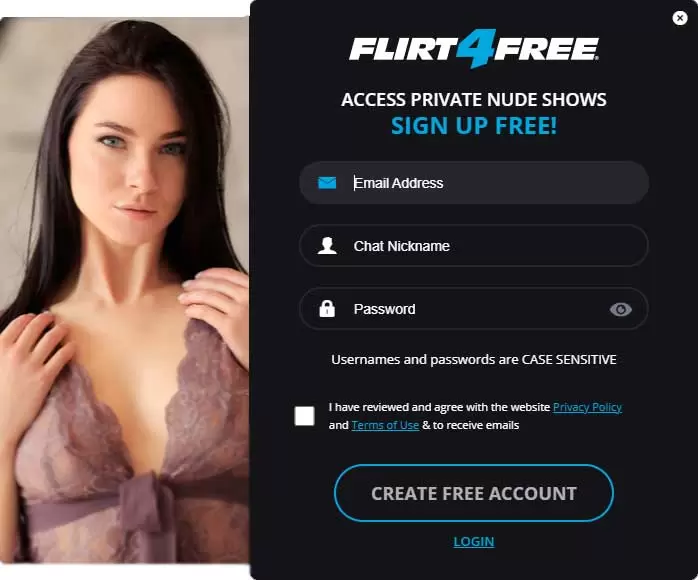 Although they do have a range of discount deals it is generally a more expensive environment, but quality is what you pay for here.
With high-quality video streams and model competitions, Flirt4Free delivers a polished and professional environment. If you desire access to premium content and exclusive interactions with performers, Flirt4Free might be the perfect platform to fulfill your desires.
You will find a good range of male models here which is probably better than any other major site.
Although I have tried to broadcast here I'll admit that I am not really at the quality level that the customer at F4F expect so I'll be content to just watch.
ImLive:
If you're looking for a friendly option and a community-oriented platform, ImLive offers a vibrant and inclusive cam girl experience. ImLive provides a wide range of performers across various categories, ensuring that viewers can find their preferred type of content.
The platform offers free chat options, private shows, and group shows that cater to different budget levels.
While independent at-home models used to be common here today you'll find mostly professional studios with their distinctive too-near-to-be-real bedroom sets. High quality video and audio as well as experienced women are the plus side of that equation though.
Despite the age of the site they have continued to add new features that make it more engaging, recently a "voyeur" mode was added that lets you see 6 individual solo cam girls at the same time, but only in a teasing mode.
Everybody at ImLive will be clothed, at least mostly wearing clothes, and it isn't until you get into a private show that you will see much nudity. A private show will be around $3 to $6 a minute, and the hosts can offer regular customers a discount code to reduce the price.
Watch out for the fact that credits here cost more than similar tokens at other sites at around 11 to 12 cents each.
ImLive also features a robust loyalty program that rewards users with discounts, free content, and other perks. With its emphasis on community and interaction, ImLive fosters a welcoming environment for both performers and viewers.
Cams.com:
Cams.com is a cam girl website that combines the best of both worlds: free chat options and premium private shows. The platform features a diverse selection of performers, including solo models, couples, and transgender performers.
With a few hundred female live chat rooms online at most times of the day they give a good range, and there are some filters to let you choose things like age and body type. Don't go here for male models as there are really many where though quite a few trans models do use the site.
A large number of Colombian cam models work here and are operating out of studios that provide them with a neat working environment with good cameras and internet connections. They are often not native English speakers though so your ability to communicate will vary from girl to girl.
As a premium site little or no nudity is seen in the free rooms but you can send a tip for a flash or start a private show. There is no clearly shown tip menus here but tips are welcome.
Pricing is in system tokens which you can buy for $ using a credit or debit card. Unlike some other sites the tokens get cheaper the larger the package you buy. For medium sized pack you'll pay $50.
Private show vary according to the model but can be as little as $3 a minute and go up to $5 or more. You won't find very low cost models here unless they are doing a promotion.
As a registered viewer, you can engage in free chat rooms to get a taste of the performer's style before opting for a private show. Cams.com also offers interactive features like tip-controlled vibrators which allow you to control a performer's sex toy. If you're looking for a platform that provides both free content and exclusive private shows, Cams.com offers a balanced experience.
Cam4:
Cam4 is a cam girl website that focuses on user-generated content and live performances. The platform encourages performers to showcase their creativity and offers a wide variety of categories and fetishes. The site is very international and tries to match you up with people in your country. While it isn't a dating site it does at times feel a bit like one.
With its token-based system, viewers can tip performers during live shows to show their appreciation or to ask for specific things.
The culture of the site is quite friendly but also not very generous.
Cam4 also features an extensive filtering system, allowing users to search for performers based on specific criteria. If you enjoy the diversity of user-generated content and want to support performers directly, Cam4 is a platform worth exploring as a viewer but not a great place to earn as a broadcaster as people don't spend much there.
You will see a wide range of amateur people broadcasting their cams at Cam4, but also some big studios particularly those from the southern part of the Americas.
Find me online in my room sometimes, but I must admit rarely as I find too many of the visitors to my chatoom there seem to be trying to see if I'm available for a real-life date which I am not.
If you are happy to just watch online though the nCam4 is a great option to try.
XLoveCam:
XLoveCam is a European-based cam girl website that caters to a global audience but ends up with a lot of French people. The site features a wide selection of girls, including solo models, couples, and transgender performers. XLoveCam offers free chat options and private shows, allowing users to engage with the live rooms in different ways.
The platform's user interface is clean and intuitive, making it easy to navigate and find your desired content. If you're interested in exploring European performers and a user-friendly experience, XLoveCam is a platform to consider.
A few hundred women broadcast here most days, with a handful of trans or male rooms. The split is around half and half between Latina performers and White, though often from Europe or elsewhere. You won't find many if any American camgirls here.
While tipping or "gifts" are allowed at this site it is mainly intended for those who want to have private shows. At prices starting at around $2 a minute and rarely going above $3 it is one of the cheaper sites on a per-minute basis. Unusually the prices are quoted directly in $ and you don't have to worry about converting prices quoted in "tokens".
For French speakers, this would be a #1 site to try either as a viewer or a performer.
Camsoda:
Camsoda is a cam girl website that prides itself on its interactive and immersive features. The platform offers free shows, private shows, and an array of interactive experiences. Users can control performers' sex toys through the site's "tip-to-vibe" feature, creating a more engaging and intimate experience. Camsoda also features virtual reality shows, allowing users to immerse themselves in a virtual world of adult entertainment.
With its focus on interactivity and technological advancements, Camsoda offers a unique and captivating cam girl experience.
---
Where do you go from here?
The world of cam girl websites offers a plethora of options to suit every preference and desire. Whether you're looking for free shows, interactive experiences, specific performer categories, or premium content, there is a platform available to cater to your needs. From popular sites like Chaturbate and MyFreeCams to more specialized platforms like ManyVids and Stripchat, each website brings its unique features and user experiences. Take the time to explore these cam girl websites, discover your favorite performers, and immerse yourself in the exciting world of adult entertainment.