There are a lot of cam girls, spread over a lot of cam sites, but each site has a mix of hot and not girls. How exactly do you find the best ones without spending all day scrolling?
One great way is to go to the camgirl sites that have some sort of separate "Who's the hottest camgirl on here…" page. Sometimes it is based on how popular they have been in the last hour, day, week, or other time period. And sometimes it is a secret formula combining their earnings, votes, viewers, or other things so that "the algorithm" can rank them as the best.
Using the "Top models", "Contest winners" or "Awards" pages allows you to jump directly to cam girls who know exactly what they are doing. They are not just a pretty face, or cute tits, but also know how to put on a good show and connect with their viewers.
Unfortunately being a "good performer" doesn't always relate to being good-looking or having a killer bod, so it is important to find girls who combine the two. The secret can be in anything from their voice, their personality, even the camera and internet tech in their room, to just the way they connect with their viewers, the style they present themselves, or the range of toys or outfits they have.
First of all, know that this is only going to make sense for large cam sites. Not every cam site will have an effective ranking algorithm, but you can be sure that a large cam site will.
There isn't much point in doing this on small cam sites anyway, with few girls to choose from, so I'm going to focus on the major sites where they have a lot of girls and show you how to find the best ones.
For a TL;DR list of those sites:
Stripchat.com
Bongacams.com
Xcams.com
Chaturbate
Flirt4free
LiveJasmin
Camsoda
Xlovecam
MyFreeCams
Stripchat.com Top Models
Now the most sophisticated of the large cam sites they not only have a huge range of girls, but great ways to find exactly what you want.
If you want to just jump directly to the good stuff then the way to do it at Stripchat the way is to use the Top Models link.
If you are watching on a desktop then you can just hit the link with your mouse, but on mobile, it is hidden behind the three dots menu at the top right.
Once you are in the Top Models section there are some options but the Leading Girls of the Month shows you what you need. These are the Stripchat cam girls who have provided the best service for the last month and so earned the most "StripPoints". You are sure to find a suitable one on this list, and you know they will provide a great show.
Not all of the top models are online at any one time, so browse through them and mark the ones you like as "favorite" with the 🤍 button. Those with the red "LIVE"
mark are there to see and chat with right now.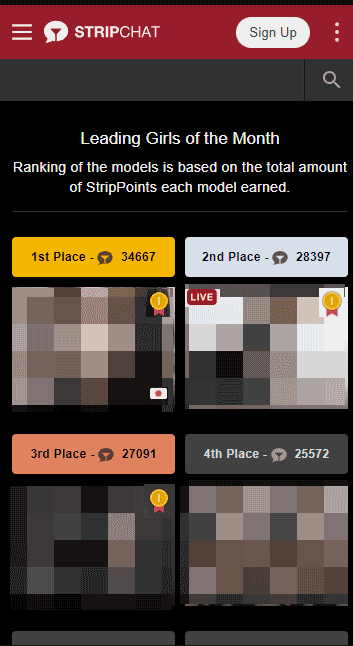 Bongacams.com Top Models of the Week
Bongacams has their models in a contest. On a phone, it is in the menu. Click the menu button
and choose the Contest to see what is on offer for the week.
Because of the way it is split into different categories by location, you can choose if you want to see, for example, American camgirls or Latina ones.
The default view is the current contest which means you are seeing the most up-to-date information about who is hot right now. The listing shows girls who are being successful in the weekly contest and includes both live and offline models.
Look out for the green LIVE
tabs to see who you can chat with right now.
xcams.com
At XCams the top models view is hot particularly obvious. It is rather hidden in the menu across the top of the page on desktop and hidden inside the menu on mobile phones.
Tapping or clicking the link sets a filter to show only the top models at the site, which doesn't really look much different as all models here are hot.
Browse the site either with a free account, which can be created using Google or by using an email and password. This is the best choice as you only need a valid email, your Gmail will do, in order to use the site and see what the girls have to offer.
Notice that this isn't the largest of sites and barely has a few hundred models making it into my list of top model sites.
There is an option at XCams to be a "guest user", but you still have to validate you are a real potential customer by providing that you can pay. Choices of Visa, Mastercard, PaySafeCard PayPal and Crypto mean you have secure choices where you can be rebilled without permission.

Chaturbate Hourly Contest Stats
Although Chaturbate does have a competitive element to it with a competition for the hottest girls they don't really emphasize that part. When you visit CB you don't even see the "contest" until you are in a chat room with one model.
Try going into any room, my one is a good choice if I am online, then scroll down to where my Bio link is. Besides that there is a tab for Contest Stats.
This is different from the top model pages on most sites where you get to see who is overall the best for the week, month or at least a day.
At CB the focus is more on the here and now and is a current top hour competition. The good side of that is when you find that all the top rooms are still broadcasting right now so you can visit them.
The limitation is that you don't get to see hot models who might not be available right now, but if you visited their bio you might like them and come back to them when they are available. For this reason, the CB top models choices aren't as powerful as the Stripchat one, but it is still worth checking out if you want to see what's good at CB.

Flirt4free
Flirt4free is big on contests and special events and so when they are running their "Fiesta" or similar promotions you will get to see their winners.
Every cam girl at Flirt4free is hot, after all it is a premium cam site, but you'll find that the competition winners are the ones who are actively streaming there.
Scroll to the bottom of the site and choose one of the Award or "Flirt of" choices such as:
Top 20 Adult Webcam Models
Webcam Model of the Week
Flirt Awards
Flirt of the Month
Flirt of the Year
Webcam Hall of Fame

LiveJasmin
LiveJasmin has a Best of the Month page which you can reach from the awards icon
.

Camsoda
Camsoda has a "Top rated" tag which just shows you the, well, top-rated cams. These are the best rooms that are currently online. It tends to be a mixed bag and sometimes you wonder how some of those models get such a good rating. They must be very good at what they do because their thumbnail images are often quite normal.
Normal for Camsoda that is which means hot, but not necessarily outstanding.
Look out for the Camsoda Stars icons, but also the Versus which is a cool feature where two girls in different rooms appear side-by-side on the screen and you get to vote on who is doing better.
Competitions like "Who can give the messiest dildo blowjob" can get quite competitive!

XLoveCam
XLoveCam is all about Europeans though with a few internationals mixed in.
They have also recently started to do VR Live Cams that previously only Stripchat had much choice of.
All the free rooms are non-nude, except on Mondays it is free topless for 24r hours.
If you click the "Sorting" icon in the menu you can choose a range of sort orders, but the "Best rating" gives you the current top models. Votes and the Number of Fans are also great indications of whether that cam girl has happy customers.
It doesn't say how often these rankings are taken so it is a bit of a mixed bag. None of them are bad as such, but you might not agree that the highest rated are the best for you.
MyFreeCams
MyFreeCams just have their competition as a small menu item. They have some of the best range of hot, particularly white and American girls, on any cam site.
The top model competition at MyFreeCams is referred to as "Miss MFC".
In the menu on the top right click the Miss MyFreeCams button to see who the winners are this month. The stats reset per month so you do get to see who is hot right now, and by only showing the online models at the moment you do get to easily find girls who you can chat with right away.
Each one has a ranking like "#3" beside them. If you see that then you know this model is #3 this month, you might not find #1 online depending on when you are watching.
The top few winners of the yearly competition since 2016 have all received actual prizes, not just points. In 2023 the prizes are these gold and diamond necklaces!
See if you can help your favorite MyFreeCams model to win one but voting with your tokens at MyFreeCams!