Question: Does a Mobile App exist for Chaturbate?
Answer: No, and it isn't necessary – with one big exception
Very few cam girl sites have their own app, and Chaturbate is not one of them. There is no "Chaturbate Mobile App" as such.
If you want to be able to browse cam girls at Chaturbate using your phone then all you have to do is visit the site using the browser on your phone. Install Chrome on an Android phone or use Safari on an iPhone for the best results, but it will work ok from any browser.
Chaturbate Mobile "App icon"
To create an icon on your home screen that goes straight to Chaturbate then add an app icon by browsing to the website first then, on the browser menu (3 dots on Chrome for Android, share button on iPhone) choose the "Add to Home Screen" item. On Samsung Internet use the three dashes menu, select Add page to, then specify Home screen.
All the things you want from Chaturbate work on a mobile phone, although "Cam to cam" does require you to choose "desktop mode" to reach them. For the rest of the things you might want to do it will work fine on any device. You can even use the emoticon keyboard on Chaturbate mobile.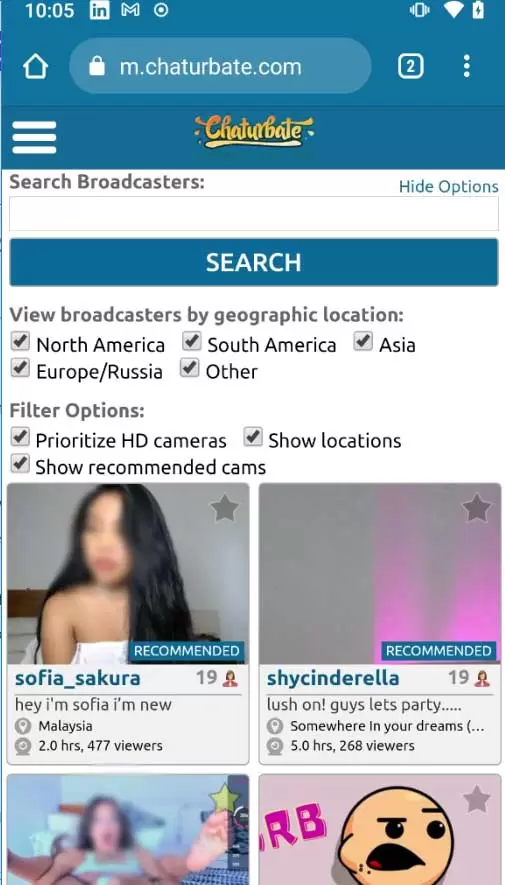 You can easily browse or search for models that you might like, you can access the menus and find your recorded shows, add to your tokens or anything else you need to do.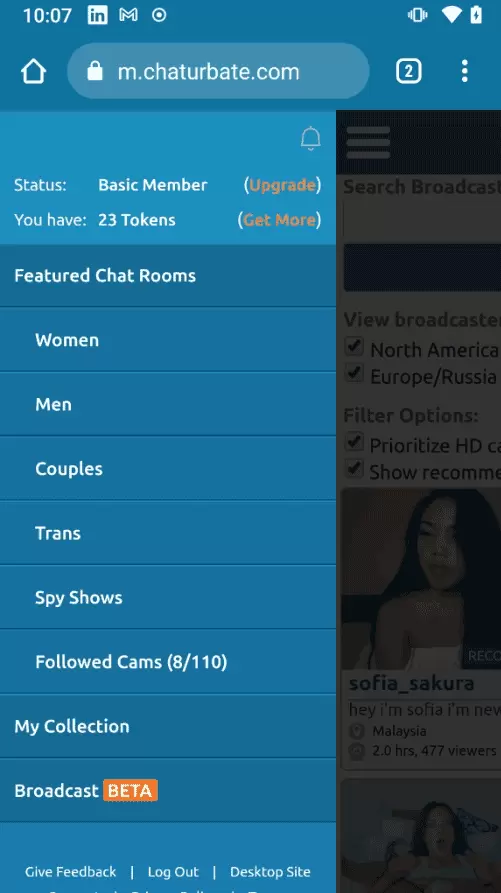 A few special options you should watch out for at the bottom of the screen.
Chaturbate Mobile Broadcast BETA
This does work but it is quite restricted in how it operates. There are no chat controls, only video broadcast, and it insists on horizontal or wide-screen video. This is no good for doing cam2cam with models.
Although you can reach the desktop site by choosing the "Desktop site" option from the 3 dots menu of your browser it actually works better if you choose the Chaturbate "Desktop Site" option at the bottom of the menu. That gives you a kind of blended mobile and desktop site. To go back to mobile you'll have to edit the URL though to turn it from https://chaturbate.com into https://m.chaturbate.com.
Chaturbate Mobile Login
You can use the same account that you have created on your PC or Mac to also login to the mobile version so you get all your favorites, your user name and details are the same.
Watching Chaturbate Cam Girls on Mobile
When it comes to viewing model rooms there are a number of different combinations of video, chat text and controls that you can get to. Each one has advantages or disadvantages, it depends on how much you want to see detail of the video and how much you want to read the chat, to chat yourself, or to access the tip button.
The basic phone view lets you see video and the chat room text, and you can control the size of the video by dragging the video window to make it bigger or smaller.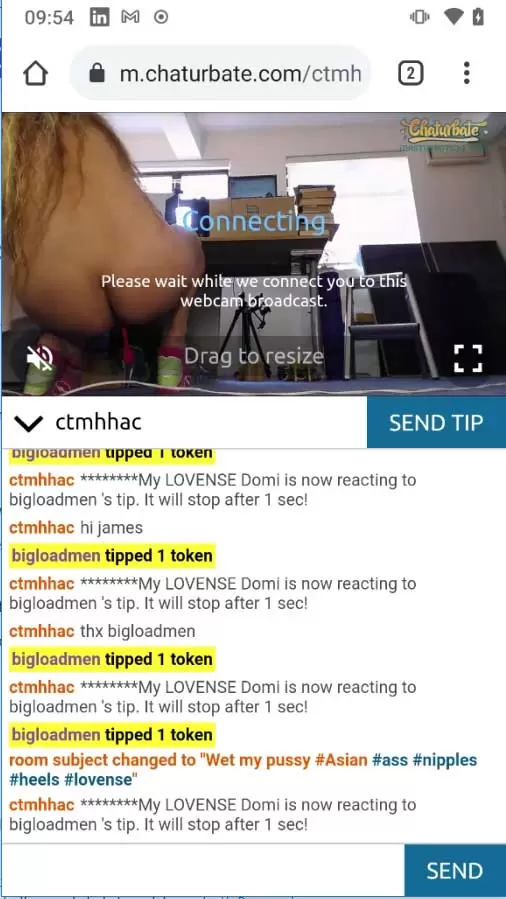 Hit the fullscreen button, the four corner symbol in the bottom right of the video, in order to into the interactive theater mode. In that mode you can still zoom in and out and side-pan to-side in order to get the most detail and look at the part of the boardcaster you wanto focus on. The text is overlayed and can be dragged up and down out of the way if it obscures your view.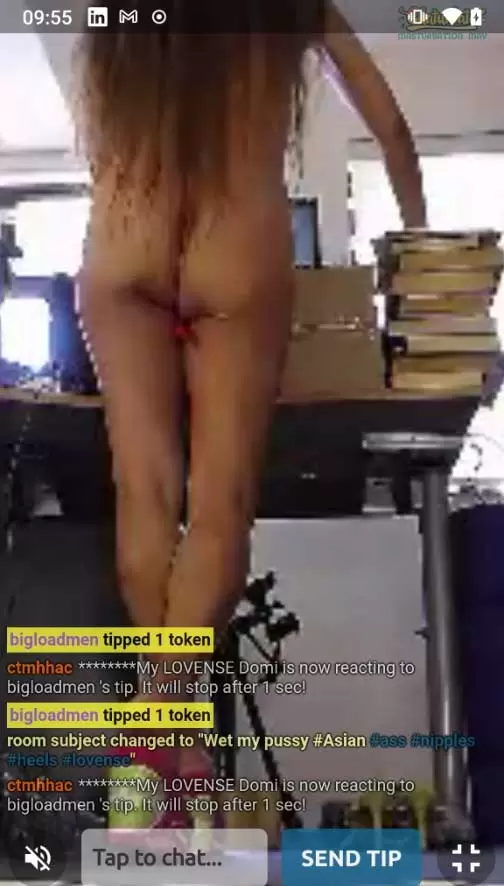 Turn yourmobile device sideways, into landscape mode, in order to watch broadcasters who are streaming their video wide-screen. In this case the text chat is at the right side and can be dragged bigger or smaller as you want.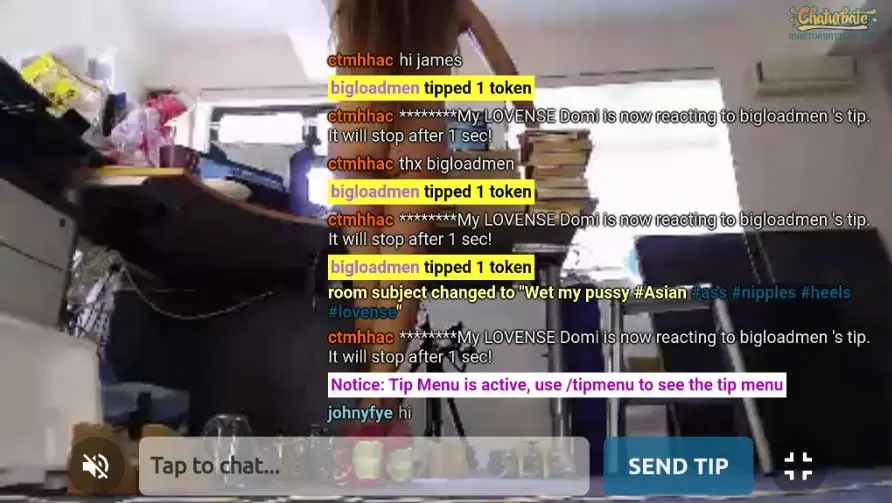 If you don't touch the screen for a few seconds then all the controls fade out and you get to see just the video. On a small screen device like a phone then this is the best way to use the limited screen realestate and let you see the girl up close without distraction.
Just tap anywhere to get the controls back, including to exit from full screen or move to another cam girl's room.
Note: The screen shots above are a bit fuzzy as I took them on an old phone, if your phone is better then it will be much clearer, up to HD quality if your internet connection supports it.
Don't forget to turn your phone sideways for cam girls who are streaming in wide-screen, though you can also pan-left-and-right by dragging the image to how you like it.
One big thing missing from Chaturbate Mobile: Private shows
The big thing missing from the Chaturbate mobile controls is that there are no controls to start a Private show.
Even if you go full screen or not full screen, or basically do anything there is no way to get to the private show button.
You have to pretend to be on a desktop by using either the button at the bottom of the Chaturbate mobile menu, whichi works best, or using the browser "Desktop site" option.
This is less than ideal as you are zoomed all the way out and it makes it hard to read the text, navigate the screen and adjust the video all at the same time.
No outdoor cams on Chaturbate mobile
Another thing not found at Chaturbate is cam girls broadcasting from the mobiles, whether at home, in the garden or outdoors in a parked car. Although technically possible using either the Beta WebRTC broadcaster or a combination of RPTM streaming app and a web browser this is all so clumsy that nobody uses it.
If you are content to watch the cam girls, perhaps with some tips for requests, and generally hang out in chat while you are using your mobile phone the Chaturbate is great.
Visit it today on your mobile and try it out.