Some people think that liking nice feet is a sexual "fetish", which may or may not be true but doesn't change the fact that feet can be very hot. Whether it is just enjoying nicely shaped feet, smooth soles, a great pedicure or wanting to have a foot-job there is no shortage of reasons why a guy would want to salivate over another guy's feet.
Interested in female feet? THat's another section.
Luckily most guys know perfectly well when they have nice feet and don't hesitate to put them on show, and to tag themselves appropriately so you can find them.
Which sites will give you the best chances to find feet cams in the gay section?
Flirt4Free – Gay Foot Models
With one of the biggest ranges in price from the cheapest to the highest, you'll find something at every cuteness and price-point that you like at F4F. Although this is a male and female cam site the hetro section is well separated from the gay and once you have visited the gay section it won't bother you with females at all.
Flirt4Free knows perfectly well that their men are rather above average and present them appropriately. Each model has a good glamour picture showing them posting, typically topless and with that twinkle in their eyes.
Sadly nobody actually shows their feet in their profile pictures but if you do a filter for "Foot Fetish" by clicking on that in the categories menu then you'll see what you have to choose from. It may only be less than 10 models, but they are all great.
Look out for :
Ken Steell – a cute twink with a good cock that he flashes, even probably when he shouldn't he waits for people to top towards a Group Pledge then he'll start a show. Do a mutual jerk-off by choosing Cam2Cam with him, or have a cam2cam "audio-only" where you can talk to him but don't have to show if you don't want to.
Ryan Arison – Also often in a private show, and when he is not he can be nude and just using a hand to cover his cock, a bit like hand-jock-strap!
Will Sommer – Will hangs out in Calvin Klein boxers and works his big cock while waiting for someone to take him into a private show. His shows start at 10 credits per minute. Each F4F credit costs about 11 cents so that works out to just $1.10/minute.
Neill Magic – Is often in a private show but if you want to have your own show with him that is 40 Flirt4free credits per minute. Call it $4.40 a minute. Those prices are for the "Multi User Show" at F4F, for a really private show then it costs 60 per minute.
Michael Addams
Brat Ampton
A great choice for premium foot fetish guys. The fact that they have a dedicated category for foot fetish cams makes them a clear leader here.
Stripchat – Search for the feet
Although Stripchat is a much larger site than F4F, and has a plentiful guys section, it doesn't have any easy want to narrow your search down to cute feet.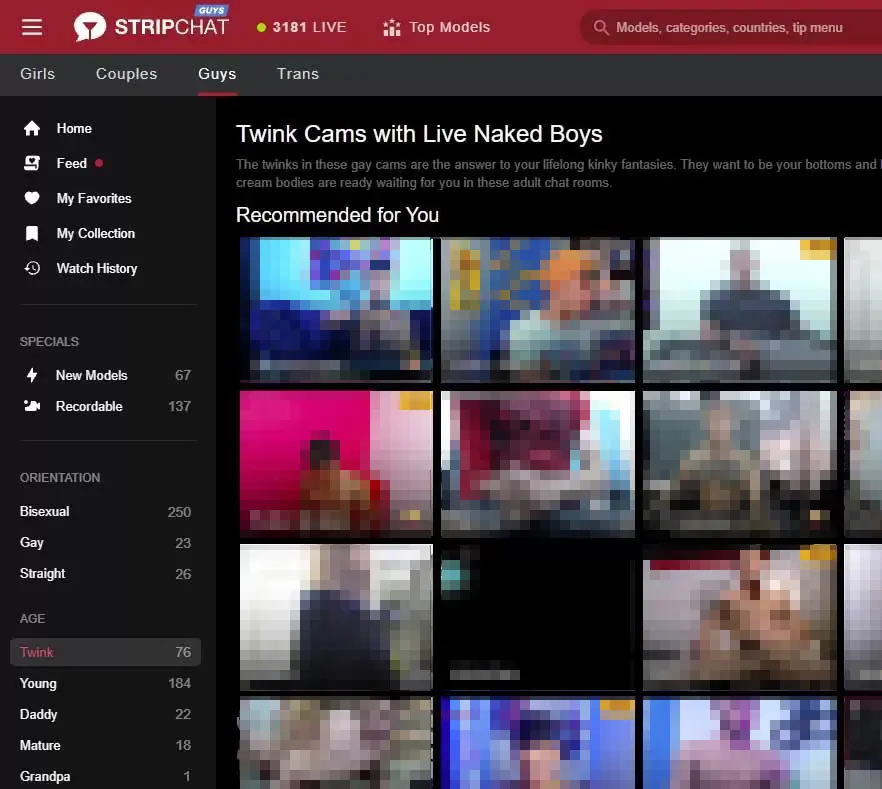 There are nice foot fetish models here but they can be hard to identify. The closest you can get is to look for models who have "feet" in either their Tip menu or in their "Private activities".
Either of those shows they know feet are important and are willing to let you watch them.
And if you have your own great feet and want to earn some money with them, why not sign up as a Stripchat model?