Do you have an account at Skrill? While popular for remittance the payment app has never quite got the popularity of PayPal or even Paxum or Payoneer, but if you already have an account then maybe you'll think it is a good way to pay for your cam girl tokens.
If so then you only have a limited range of sites to choose from. Unfortunately, Skrill doesn't seem to have caught on in the majority of the world despite their attempts to spread out to Asia, Africa and Latin America.
Paying via Skrill gives you an additional layer of privacy and anonymity when making token purchases at Cam Girl sites as you can use your Skrill account without revealing your card or bank details.
This is great for viewers who value discretion and need to ensure their privacy is maintained.
You do have to check out the exchange rates that Skrill is offering though. How much of your $ gets converted to how many cam girl tokens? Generally, this exchange is best with wire transfers or cryptocurrency payments, but you may not care about that if yo already have funds in Skrill.
Three Skrill Accepting Camgirl sites
BongaCams.com
LiveJasmin.com
StripChat.com
Why would you accept any of these three as your best place to buy camgirl tokens or credits using Skrill?
They are all great sites, but they are different.
Stripchat
Stripchat is great if you want to see the largest possible range of girls. It is simply a larger site and you will not find it unusual for there to be 5 thousand or even 8 thousand models to choose from.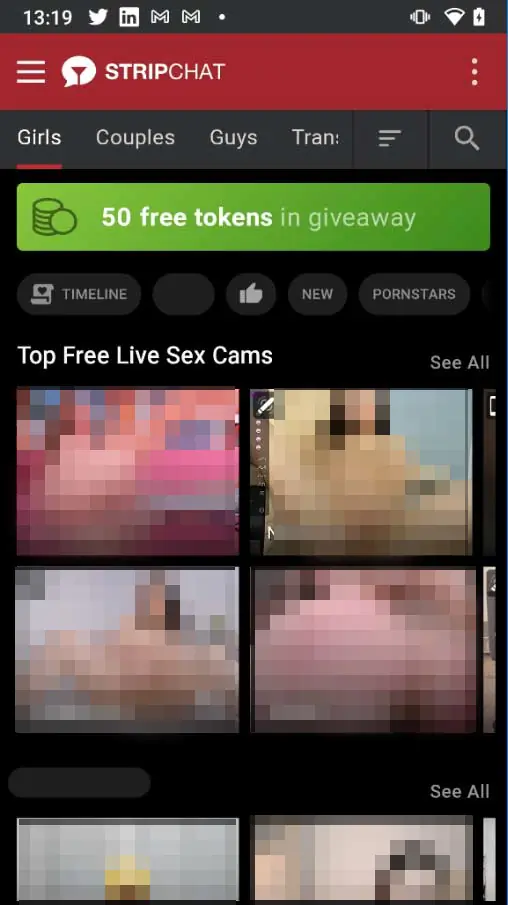 Afar too many in a way, but at least you know that you can filter down to that specific variety you like.
LiveJasmin
LiveJasmin on the other hand may have "merely" hundreds of models, but they are all of a permium quality that you won't always find elsewhere. LJ girls have been given training on hair, makeup, and deportment. You won't find any casual girl-next-door types here, but if you want exotic courtesans then this is a great choice.
Bongacams
Lastly, BongaCams has a European focus and a good range of models to choose from, they are often cheaper on a per-minute basis as well, but on the downside most of the models there are also working somewhere else and may not always pay much attention to their Bonga screen.
Ultimately the choice is yours, and with only three sites it is reasonable to sign up for each and try out their features. Get a free anonymous account first, then see which one has the cam girls that appeal to you.
Only after you have created the account and selected your model do you bother using Skrill to buy credits. Although they all encourage you to deposit money as soon as you sign up it really is up to you whether you do so or not.
Take your time and select the best site and the best model, and then deposit an amount via the Skrill site or app that makes sense according to your budget.
Try them out and let me know which one works best for you. I'm also curious as to why you choose Skrill as a payment method for your adult needs, what about it makes it work best for you? Let me know in the comments!